The leather industry is worth hundreds of billions of pounds a year, and it is expected to grow in the coming decade as more people around the globe seek to purchase "luxury" goods. Given that leather is made of animal skin, it is perhaps surprising that although many non-vegans are turned off by the thought of wearing animal fur, very few feel the same revulsion at wearing leather.
As such, a massive number of animals will be required to satisfy consumer demand for leather shoes, furniture, handbags and other goods. Unless, of course, vegan leather is able to satisfy a good proportion of that demand without the need for any animals to die.
According to PETA, "More than a billion cows, pigs, goats, sheep, alligators, ostriches, kangaroos, and even dogs and cats are slaughtered for their skins every year." While some of this could be argued to be making use of a by-product of the meat industry, this argument falls down in many instances, as we'll discuss later.
In this article, we will explain exactly what vegan leather is (hint: it's not made from animal skin!), and we'll give details of the most popular vegan leather options and the advantages and disadvantages of each. We'll also examine why leather is so bad from both ethical and environmental perspectives compared to vegan leather alternatives, which have less of an environmental impact than that of conventional leather.
What Is Vegan Leather?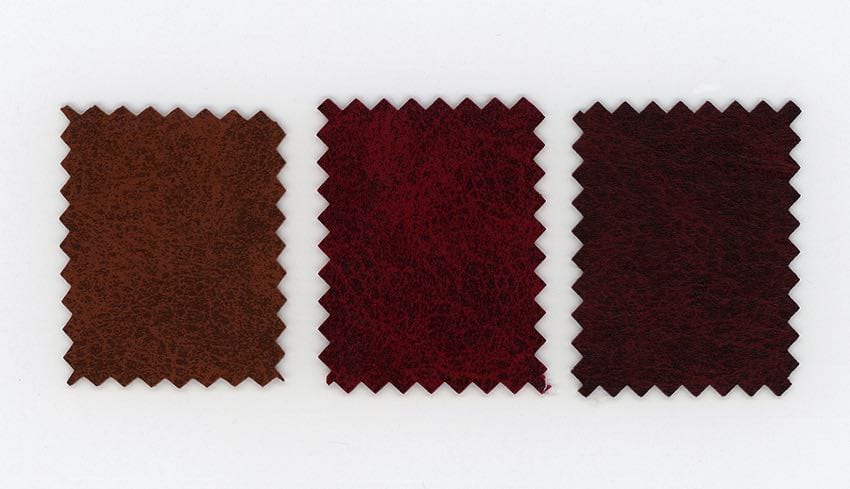 Vegan leather refers to any leather-like material that is made without the use of animal skins or processes that have harmed or exploited animals. There are many other names for non-animal leather including: faux leather, synthetic leather, leatherette, PU leather and pleather (this awful portmanteau word is mix of "plastic" and "leather").
Types of Vegan Leather
There are various types of vegan leather but they can essentially be split into just two categories:
Natural Vegan Leather – These are materials made from either plant-based materials, such as cork, pineapple and walnut, sometimes collectively referred to as "plant leathers". Or, they are materials made from fungus, such as mushroom leather, or even from algae (seriously!).
Synthetic Vegan Leather – Synthetic vegan leather refers to materials, such as PU leather, which is made from polyurethane, or other plastic-based options. Sometimes collectively referred to as "pleather", these are generally made directly from petrochemicals, but sometimes they can be made from recycled plastics.
It could be argued that a third category of "lab-grown vegan leather" exists as it could technically be viewed as a mix between natural and synthetic. However, for such materials to be "grown", they invariably use biological natural organisms, such as fungi or algae as a base, so we shall classify such materials as natural.
Benefits of Vegan Leather
There are advantages and disadvantages of all varieties of vegan leather, but the big plus for vegans is that none of them are made from the skins of animals. Aside from that, there are big environmental benefits of most vegan leather options compared to animal leather.
This has been well documented, for instance in the 2017 Pulse of The Fashion Industry Report, which compares the environmental impact of animal leather with that of various synthetic leathers. We'll discuss it in more detail below, but in short: leather is pretty bad for the environment, with cow leather being just about the worst material out there in environmental terms!
Vegan Leather Versus Animal Leather
Here we'll give an overview of the main advantages of vegan leather compared to animal leather, then we'll delve into specific vegan leather options in more detail. Here are the main advantages of vegan leather over animal leather:
1. Vegan leather is infinitely better for animals
Clearly, the number one advantage for most vegans is that vegan leather does not require the death of any animals whereas animal leather, by definition, does.
2. Vegan leather creates less carbon dioxide emissions
The carbon footprint of cattle farming and animal farming in general is well documented, and vegan leather generally produces a fraction of the amount of CO2 than animal leather does.
The amount of greenhouse gas emissions varies between vegan leathers, with the natural vegan leathers – such as those made from pineapples or fungi – producing less than something like PU leather.
3. Vegan leather production requires no/fewer potentially toxic chemicals
The tanning process of animal leather often makes use of toxic chemicals, such as chromium, pentachlorophenol and various toxic solvents, whereas the release of potentially toxic hydrogen sulphide can occur from the de-liming process of animal leather.
Again, some vegan leather is better than others on the chemical front, with synthetic leather being made from chemicals and sometimes having chemical by-products, but all produce fewer detrimental toxic chemicals than animal leather.
4. Vegan leather requires less water
Animal leather requires a lot of water. With the vast amounts of water required to keep the cattle and other animals alive in the first place plus the water used in the skin preparation tanning and finishing processes of animal leather production, the overall water footprint of animal leather is gigantic.
Not only that, for every metric ton of animal leather hide produced, 20 to 80 cubic metres (that's 20,000 to 80,000 litres!) of polluted wastewater is generated.
5. Natural vegan leather is particularly non-polluting
Animal leather causes a lot of pollution, but it is also true that synthetic leather relies on the extraction of fossil fuels (unless recycled plastics are used) and as they (very gradually) break down they can contribute toward plastic pollution, including the growing issue of micro-plastics in the world's oceans and waterways.
6. Animal leather may last longer
Because of the fact that animal leather products have been treated (often with all kinds of chemicals including those that contain cyanide), they can last a very long time. In one sense, this can be seen as a plus point – until they eventually go to landfill.
Some vegan leather products are unlikely to last as long as animal leather products, but then they are much more likely to be biodegradable (in the case of natural vegan leather) in a safe way, though this is not the case with synthetic vegan leathers.
Natural Vegan Leather Versus Synthetic Vegan Leather
It should come as no surprise to learn that vegan leather that is made from plants or mushrooms is going to be significantly less damaging to the environment than synthetic vegan leather in almost all cases. This is partly because the plastics used to make synthetic leather come from petrochemicals that rely on the extraction of fossil fuels, with all the associated environmental costs that industry entails. In addition, the plastic pollution caused by micro-plastics from clothing, such as synthetic leather, can have adverse consequences in the oceans and waterways of the world.
Synthetic leather products might in many circumstances be cheaper to produce and buy than natural vegan leathers (such as Mylo), but they are far less sustainable, which will certainly be a consideration for those who have come to veganism for environmental reasons.
The good news for those vegans who are concerned about the environmental impact of their clothing choices is that there is a growing number of good quality natural vegan leather options available. We'll run through the main ones in the next section, whilst also touching on the most commonly encountered synthetic leather options too.
What Are the Main Types of Vegan Leather & Which One Is Best?
In this section, we will take a look at the main vegan leather options available to consumers and outline some of the pros and cons of each. In assessing which vegan leather is best we will look at various factors including environmental impact, cost, durability and general look and feel.
Though some people will be seeking the option that best replicates "real" leather, some vegans will be less focussed on that. But we'll give a relatively objective overview to allow you to make your own decisions about the right vegan leather for you.
PU Leather
Also known as polyurethane leather, this synthetic vegan leather, which is a thermoplastic polymer, has a similar appearance and feel to animal leather, and it is waterproof and easier to clean. It has a tendency to crack, however, and some people think it looks cheap.
Note that this is not to be confused with bi-cast leather, PU-coated leather or split leather (which are NOT vegan) which have a layer of PU leather or similar coated over cheaper cuts of animal leather. 100% PU leather is vegan, but not as environmentally sound as most natural vegan leathers (though still far better than animal leather!).
Mushroom Leather
There are various mushroom or fungus-based natural vegan leathers being produced at present, from the aforementioned Mylo (made from mycelium cells) to MuSkin (made from the caps of Phellinus ellipsoideus fungi), all of which are far more sustainable and ethical than animal leather.
Cork Leather
Cork is a natural, sustainable vegan leather material that has many potential uses (as wine drinkers will know!), including as a leather-like material. Because it can be made by removing the outer layer of bark from a cork oak tree without needing to cut the tree down, the bark can grow back and be repeatedly harvested, as detailed by Peta-approved cork product maker, Corkor.
Cactus Leather
A natural vegan leather called Desserto has been created from the nopal cactus (Opuntia), also known as the prickly pear, in Mexico. Cacti require a lot less water than many plants used to make materials (especially something like cotton), and plantations can last around eight years because mature leaves are harvested from the cacti without damaging the plant.
Therefore cactus leather could prove to be a very sustainable option, even when compared to some of the other natural vegan leather options mentioned here. And though Desserto might sound more like an ice cream brand than an exciting new vegan leather, we think it could be something of a game changer as consumers increasingly look towards cruelty free and sustainable options for clothing and other products.
Pineapple Leather
Using pineapple leaf fibres that are a by-product of commercial pineapple farming, a new natural vegan leather material called Piñatex was created by Dr Carmen Hijosa and has proved popular with clothes retailers, such as H&M among others. Ticking many boxes for sustainability as well as looking and feeling great, we are sure pineapple leather is set to grow in popularity in the coming years.
Wood Leather
As well as the bark of cork oak trees as mentioned above, other trees have been used to make vegan leather, including walnut.
PVC
Made from polyvinyl chloride (PVC), this synthetic vegan leather is similar in style to PU leather but it is even less environmentally sound and many environmentalists recommend avoiding it.
Coffee Leather
It seems leather-like materials can be made from all kinds of plant-based sources, and that includes coffee, as shown by the funky high-end vegan-friendly trainers made by German brand Nat-2.
Is Bicast Leather Vegan?
Bicast leather – which may also be written as bi-cast or bycast – is a material that is made from leather that is usually a low grade animal-based material but with a layer of polyurethane, vinyl or some other material to improve its appearance. It is commonly used for furniture, though it has a habit of cracking or scuffing and exposing the low grade leather layer.
Despite some people thinking that bicast leather is another type of faux leather, this is not the case. Bicast leather is partly made from "real" leather, and that means animals skins. Therefore bicast leather is not vegan.
What's the Beef with Animal Leather?
It would be a valid question to ask, what is the problem with leather in the first place? From a vegan perspective the answer is obvious: leather is made from the skin of animals. Animals can't generally give their skin up without, well, dying. Some people suggest that leather is simply making use of what would otherwise be waste by-products of the meat industry, and hence making leather from animal skins is a way of reducing waste.
It is true to say that the majority of leather is taken from animals that have been slaughtered for the meat industry and that the skins often account for around 10% of the economic value of the dead animal. But the value of the hides and the demand for leather products increases the attraction and profitability of animal husbandry.
Ostrich Farms
What's more, in many cases, such as ostrich farms in South Africa, the skins can account for up to 80% of the value of the animal, with its meat being the by-product. In such a scenario it is not a case of making use of what would otherwise be a waste product. The ostriches are killed for their skin, with the meat being sold as an extra financial bonus.
Unborn Calves
There is also the issue that some of the softest leather that is deemed by many to be the most luxurious is made from the skins of newborn or even unborn calves, in the case of slink leather. According to the vegan charity Viva!, "almost 150,000 pregnant cows are killed each year in the UK," as well as numerous dairy cows who have become less "productive" and their calves.
Low Animal Welfare Standards
Another issue is that animal welfare standards in some of the world's biggest producers of leather (China and India for example) are not always exactly tip top, to say the least. There has been plenty of documentary evidence of animal abuse taking place in these countries, and as well as cows, sheep, and pigs, skins are also taken from dogs and cats in China to be made into leather, according to the People for the Ethical Treatment of Animals (PETA) whose 2014 investigation exposed dog-leather processing plants in China.
They suggest that even luxury handbags, shoes, belts or other leather products that have been made in Italy and sold in high-end designer shops are likely to use leather that was produced in China or India. There is sometimes no easy way to check exactly where – or from which animal(s) – your leather products originated.
Environmental Impacts of Leather
Aside from the obvious ethical problems with leather in relation to animals, there are many environmental concerns with the leather industry. There is the problem of the carbon footprint of cattle rearing (cow skins account for the majority of leather produced), and indeed other animals. But there are other major issues in relation to pollution, including water usage and chemical runoff with high levels of hazardous chemicals, such as chromium.
Dangerous Chemicals
While it is possible such potentially dangerous chemicals could be collected and dealt with safely, there is strong evidence that such safety measures do not take place to anything like the required extent in many of the world's biggest animal leather producing nation, such as India.
Water Usage
The amount of water required to produce leather is vast, and there is also humungous quantities of wastewater too – 20 to 80 cubic metres of it for each metric ton of leather hide produced! According to verified reports, this wastewater is "is turbid, coloured, and foul smelling" and contains potentially dangerous levels of chromium, acidic and alkaline liquors, chlorides and sulphides.
Vegan Leather Conclusions
As we have seen, when we compared animal leather and vegan leather, there is really no contest: vegan leathers of all types are infinitely better when it comes to suffering caused to animals and significantly better when it comes to environmental and sustainability factors.
But that is only half the story. Given the significance of plastic pollution and the carbon footprint and environmental impact of the petrochemical industry, choosing natural vegan leather (such as cork leather, pineapple leather or fungi-based leather) is significantly better than opting for one of the synthetic vegan leather options, such as PU leather or – in particular – PVC.
Of the natural vegan leather options we investigated, the two that stand out for us on the face of it are cactus leather and cork leather, with cork leather just about edging it for us. It is durable, waterproof, very eco-friendly, it looks and feels great and, for those based in the UK, it doesn't have to be transported too far which much of the cork leather originating in sustainable cork oak plantations in Portugal or sometimes Spain.