You might be an Elvis Presley fan who wants to strut your stuff in blue suede shoes. Or you might be eyeing up a pair of soft, durable suede winter gloves. But, if you are a vegan, we have some bad news: suede is not vegan. It is a type of leather that is made from animal skin.
Unlike some of the more ambiguous or questionable items we feature in the Is It Vegan? section of our site, when it comes to suede, things are very clear. Anything that is made directly from animals – as genuine suede is – simply cannot be classified as vegan friendly. That is the case even if some people argue suede and leather are merely by-products that would otherwise be thrown away (something we'll address in more detail later).
If you came to seek a quick and simple answer to the question "is suede vegan?" we hope you are sufficiently satisfied. Just to reiterate, suede is not vegan. But, in this article, we'll explain a little more about what suede is, how it's made and what vegan-friendly suede alternatives are available. Many will overlap with those featured in detail in our vegan leather article; it includes details of vegan leather alternatives made from pineapples, cork and even mushrooms!
What Is Suede?
As mentioned, suede is a type of leather and it is made from the underside of the animal skin. This differs from leather which is made from the outer layer of animal skin. Thus the properties of the materials differ, with leather being more hard-wearing and robust, suede being softer and more delicate.
The suede part of the animal skin is sometimes split from the smoother outer layer. Sometimes it is simply leather that is turned upside-down with the softer, fuzzy layer showing. When the suede layer has been split from the outer layer, the subsequent material is softer and more pliable.
How Is Suede Made?
Suede is commonly made from the skin of lambs but it can also be made from many other animals. Other animals used to make suede include pigs, calves, deer and goats. It is impossible to make suede without animals dying. As such, it is akin to fur – something many people feel an aversion to on cruelty grounds. According to PETA, some animals are "skinned and dismembered while they're still alive".
The skin is removed from the animals in an abattoir or similar processing plant. The skins are then washed and treated with various chemicals to remove hair, flesh and impurities. The resulting hides can then be dyed or left "natural". Suede is sometimes sanded or scraped to improve its suppleness.
What Is Suede Used For?
The name suede derives from the French term gants de Suède, which translates as "gloves from Sweden". It is thought that suede was commonly used for gloves due to its pliable nature. Aside from gloves though, suede is commonly used for many other garments (including shoes, blue or not!).
Suede jackets, handbags, and upholstered products also often utilise suede, and it can be used to line various leather products, as well. Basically, suede can be used for many of the same things that other materials, such as cotton, leather or linen, might be used. Vegans, though, will seek something that isn't made from animal skins, and thankfully, there are plenty of alternatives.
Vegan-Friendly Suede Alternatives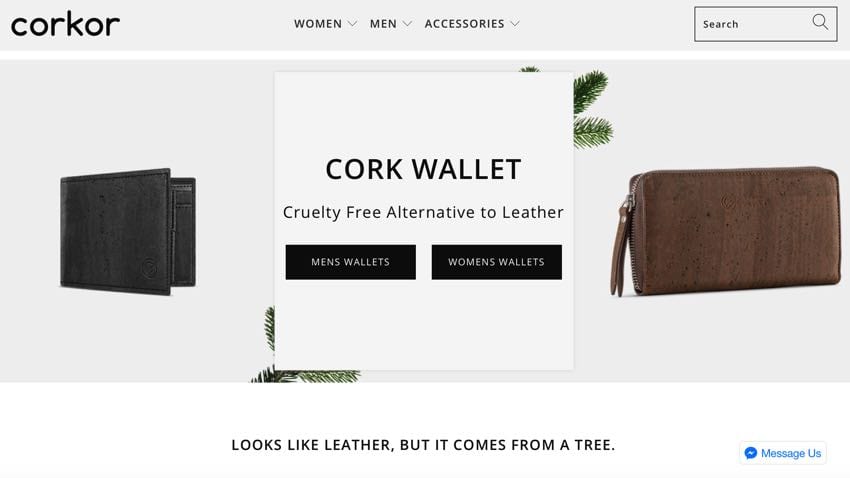 As detailed in our vegan leather article and indeed our articles on silk and cotton, there are loads of vegan friendly fabrics available. These vary in style, feel and appearance, as well as in properties such as durability and water resistance. Broadly speaking, they fall into two categories:
Synthetic – These are made in laboratories using various chemical processes and are usually made, at least in part, from petrochemicals. Examples include PVC, nylon and polyester.
Natural – These are materials made mainly from plants, but also include those developed from other living organisms, including mushrooms. Examples include cotton, linen, hemp, flax and Mylo.
As detailed later there also are a new breed of "plant-based synthetic fibres" that straddle the two categories above. Some use both natural and petrochemical-derived substances so do not fit neatly into either category.
Vegan 'Suede' Materials
When it comes to materials that directly replicate the properties and appearance of suede, the options are not overly plentiful. But there are some vegan-friendly materials that certainly appear to fit the bill. And there are new materials being developed all the time, especially as the interest in veganism and more sustainable fashion grows.
Microfibre
Some of the most effective faux suede materials are made using microfibre. This synthetic fibre is usually made from polyesters and/or polyamides, and their strands are less than 10 micrometres in diameter. Suede-like microfiber materials include the Alcantara and Ultrasuede brands.
Cork
Cork-based materials can be effective vegan alternatives to both suede as leather. Various producers, including Corkor, have developed a number of suede-like products including slippers and wallets.
Recycled Plastic
The sometimes-vague terms "vegan suede" and "eco-suede" often refer to a material made from synthetic fibre but often recycled plastic. Sometimes it can be a combination of plant-based materials (including plant-based polyester – see below) and recycled plastics.
Mushrooms
There are a growing number of vegan leather and suede companies utilising mushroom and fungus in their products. As well as Bolt Threads (the makers of Mylo), German brand ZVNDER is also producing some nice-looking suede-esque products… from tinder fungus! Another option that could be used as a substitute for animal suede is MuSkin, developed from the Phellinus ellipsoideus fungus.
Corn Waste & Bamboo
Essentially, with some skill and science, there are numerous possible plant sources of suede-like material. A good example is the eco-trainer brand Flamingos Life who utilise corn waste, bamboo and recycled plastic bottles to produce some sharp faux suede and leather-like sneakers.
Plant-Based Synthetic Materials
Most synthetic materials are developed from petrochemicals, but there are a new breed of plant-based synthetic fibres being developed. These include the Ecodear (partially) plant-based polyester produced by Japanese materials company, Toray. They use polymerisation of an extract from sugar cane along with another ingredient derived from petroleum (crude oil).
As such, it is not 100% plant based, even though it seems to be marketed as a "plant-based material". It is a step in the right direction though and similar materials could be used as alternatives for suede in the coming years.
People who cite environmental reasons for going vegan, or eco-minded vegans in general, might well prefer natural materials to synthetic. This is because anything that relies on petrochemicals necessarily supports an industry that continues to do untold damage to the environment. On the other hand, materials made from recycled plastics may well be seen as okay for many vegans, especially those that are mixed with plant-based materials.
Is Suede Just a By-Product That Would Otherwise Go to Waste?
There is a common argument that suggests that suede and leather are simply by-products of the meat industry. The animals are being killed anyway, so using their skins is better than letting them go to waste, it suggests. But this ignores the fact that, by weight, the skin is one of the most profitable parts of the animal.
Cows might be bred for milking, sheep for wool and goats for meat, but selling their skin when they are slaughtered makes it a much more profitable enterprise. Without the ability to sell animal skins to the leather and suede trade, it is probable that meat farming would be far less sustainable. It is certainly possible that meat would be far more expensive too, which would surely mean less was consumed. As such, buying suede helps to prop up the meat and dairy industries and animal farming in general.
Add to that the fact that much of the world's suede (and leather) comes from China and India. These countries are not renowned for their animal rights records. There are multiple documented examples of animal cruelty and mistreatment in relation to the leather and suede trade.
There is also no way of knowing, in many cases, what specific animals have been used to make suede. There are reports of cats and dogs, and illegally poached endangered animals being used for leather and suede. The suede industry could therefore be hastening the extinction of endangered species and certainly contributing towards the mistreatment of animals.
Suede Is Not Vegan, But There Are Plenty of Alternatives
Just as meat, milk and fur coats are not vegan, suede – made from animal skin – is not vegan. Like leather, fur and silk, suede is a material that puts human desires before the rights and lives of animals. It is impossible to make genuine suede without killing animals. Though some would argue it is simply a by-product of the meat industry, suede and leather effectively prop up animal farming by making it more profitable.
Buying suede (and leather) could also be encouraging poachers of endangered or protected animals, including elephants, alligators and crocodiles. Moreover, if you are not a vegan but simply a cat- or dog-lover, you should be aware that some suede and leather has been made using these animals.
Thankfully, there are plenty of vegan-friendly alternatives to suede, as detailed above. These vary in style, price and how similar they are to animal suede. But all share the crucial point: no animals were killed or harmed to produce them. The new breed of mushroom and plant-based materials that mimic suede and leather will be particularly appealing to anyone concerned about the environment and wildlife.
This applies to vegans and non-vegans alike, and we expect such materials to grow in popularly in the coming years. If a handbag made from plants or fungus looks and feels the same as one made from the skin of a lamb, the choice would seem an obvious one. Hopefully, a growing number of people will agree with us.