There are many vegans out there who are not keen on giving money to companies whose business model relies on the death of numerous animals. If you are one of those people, it's fair to say that Nando's will not be at the top of your list of must-visit food outlets anytime soon.
For others though, there is a school of thought that suggests that ordering vegan food from such companies will help them change their business models to incorporate a greater proportion of plant-based food and thus reduce the amount of meat on the menu. There are others still, perhaps those who are vegan for health reasons, who aren't too fussed about the company and just want a decent vegan meal. But, can you get a good vegan meal at Nando's – the fast food company that specialises in peri-peri chicken? Well, let's take a look.
Vegan Food Options at Nando's
For former omnivores who perhaps had a taste for Nando's flame grilled chicken, the vegan alternatives at the fast-food chain are a little limited. It is fair to say that Nando's are yet to really embrace the concept of veganism, unlike other food outlets, such as Domino's and – in particular – Papa John's.
Nando's seem particularly reluctant to even use the word "vegan" to describe any of their food (and for good reason in some cases, as we shall discuss later). Instead, they opt for the sometimes vague term "plant-based". This could be a result of the controversy that followed the release of the Rebel Whopper at Burger King, which was plant-based but not vegan.
Having said that, Nando's do explicitly state that one of their products is "completely vegan", but that's their Vegan Perinaise, one of the growing number of very good vegan mayonnaise options available to buy in supermarkets. Hard to describe several helpings of mayo as a meal! Mayo aside, when it comes to food sold in their restaurants, there is a real reluctance to use the term "vegan".
Is the Great Imitator at Nando's Vegan?
Despite being mentioned on the Veganuary site as one of the vegan options at Nando's, we're not convinced the Great Imitator at Nando's is actually vegan at all. The plant-based chicken alternative is made predominantly from pea protein, which sounds very positive on the face of it. In theory, this should be an excellent source of vegan protein and a great option for vegan fans of Nando's core chicken range.
The problems arise, however, in the FAQ section of the Nando's site, specifically the answer they give to the question "Is there anything on your menu suitable for vegans?" to which they give a rather evasive answer that includes the following in relation to the Great Imitator:
It's suitable for those following a plant-based diet, however, although our kitchens aim to keep all plant-based products away from ingredients derived from animal origin, we cannot guarantee this. This is a plant-based recipe; however, the wrap and baste contain shellac.
Now, as we've said when looking at other vegan fast food outlets, and indeed many factory-made foods in general, the very small risk of cross-contamination is one many vegans are happy to accept. So, it was all looking so positive until they had to go and spoil it by mentioning shellac!
What Is Shellac & Is It Vegan?
You might be familiar with shellac in relation to nail polish or treatments but it is also used in various foods, most often as a glazing agent for various smooth sweets. But what is it? Well, this is where it gets a bit gross… shellac is made from the secretions of the lac bug. Given that this definitely exploits the insects (which are animals) and almost certainly kills at least some of them, shellac is not vegan (based on the accepted definition from the Vegan Society). We go into more detail in our article with the handy title, Is Shellac Vegan?.
With this in mind, the use of the term "plant-based" rather than "vegan" is rather telling. To suggest something is plant-based implies – to most people – that it contains no ingredients that have derived from animals. But then to say that the wrap and baste contain shellac flies in the face of this claim. Perhaps Nando's think they can get away with calling something plant based as it is largely made from plants, a definition some people ascribe to the term. Perhaps it was an oversight. Either way, the Great Imitator cannot be classified as 100% vegan.
What Plant-Based Food Is Available at Nando's?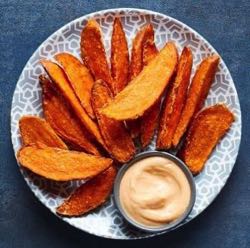 Here we will detail all the food items at Nando's that they identify as plant-based. We will attempt to ascertain which of these are also vegan, based on the usual definition. Bear in mind that even the plant-based food at Nando's is prepared in the same kitchens that handle meat and other animal products.
As such, there is a risk of cross-contamination with such animal products. If this is an issue for you we would recommend opting for one of the many 100% vegan restaurants out there.
Plant Based Option
Description
The Great Imitator Wrap
See above. Contains shellac, hence this is not vegan (and not really plant-based if they are being accurate with their description given that shellac comes from insects, not plants).

Cheese is also cooked on the same grills so there is a very real possibility of cross-contamination with dairy too, certainly a larger risk than is often the case when it comes to this issue.

Houmous with Peri-Peri Drizzle
Served with pita bread that is cooked on the same grills as cheese… would it be that much hassle to have a cheese-free grill somewhere in the kitchen?!
Spicy Mixed Olives
Mixed olives with mushrooms, garlic and red pepper – these appear to be fully vegan.
Sweet Potato Wedges with Garlic Perinaise
No faulting these vegan-friendly wedges and the aforementioned vegan Perinaise.
Spicy Rice
This should be vegan-friendly, but on their site, it suggests you should check the info when you visit Nando's "as the recipe may change". So, really it might not be vegan after all.
Corn on the Cob
How can you stop a vegetable being vegan… serve it with butter! Sheesh, Nando's, are you deliberately trying to sabotage any chance of veganism here? Obviously, you could request it without butter to make this a fully vegan option.

Not really worth making the trip out for though, is it? Especially as they're cooked on the same grills as cheese! We strongly suspect Nando's think they are doing their bit by vaguely catering to vegetarians and possibly have never heard of veganism!

Chips
Rather basic chips and not as nice as the wedges, but vegan nonetheless. You can spice them up with the peri-peri salt if you like and they'll still be vegan.
Long Stem Broccoli
Served with a garlic and lemon dressing this looks like a fully vegan option.
Little Tomatoes
Yep, nothing to stop these being vegan.
Garlic Bread
Listed as plant-based so we assume they use margarine rather than butter, but these are cooked on the same cheesy grills as many of the other items, so people wanting to avoid cross-contamination should avoid this product.
Mixed Leaf Salad
A bland salad served with a balsamic dressing that is light on flavour. Vegan? Yes. Tasty? Hmm.
Mango Gelado
The one plant-based dessert available at the time of writing, there is "possible manufacturing contamination" listed for egg and milk.
Sauces/Extras
Peri-peri Drizzle, Chilli Jam, Peri-BBQ, Garlic Perinaise are all vegan.
A Brief History of Nando's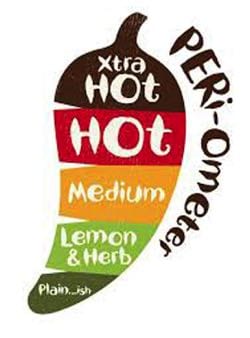 Unlike many of the restaurant chains that have successfully expanded around the globe, Nando's does not originate in the United States. Instead, it was founded in 1987 in Johannesburg by South African-born, Robert Brozin, and Fernando Duarte from Mozambique (the country from which peri-peri sauce is thought to have originated).
After buying a Portuguese-African food outlet called Chickenland, they renamed it Nando's and began their expansion. After a couple of years, they had three restaurants in Johannesburg and even one in Portugal (Portugal has links to Mozambique having occupied the country for many years until 1975 when Mozambique became independent). The growth continued and by 2012 they had 1,000 shops around the world.
Since arriving in the UK in 1992, Nando's has proved very popular, not least due to some canny PR based on issuing "Gold Cards" to a handful of celebs.
Conclusions: Vegan Food at Nando's Is Sadly Lacking
Unlike some other fast-food style and general food brands such as Domino's, Pizza Hut and even McDonald's, Nando's appear very much behind the curve when it comes to veganism. Though they have made a token effort to include a few "plant-based" products on their menu, they are clearly not going all-in given that the one main meal currently on offer contains shellac (which is not vegan).
If you wanted to go along for a snack of spicy wedges or chips with a side salad, you would be fine as a vegan. But if you are seeking anything more substantial or imaginative, or certainly anything that resembles the real peri-peri chicken they are famed for, we're afraid you are going to be disappointed until Nando's ups their game on the vegan front.
Even their lack of a cheese-free grill for many of the otherwise vegan items shows they are not too fussed about chasing the vegan dollar. And, that is understandable to an extent given that their business model is built upon the carcasses of birds. It is still a little disappointing in this day and age, but vegans can vote with their wallets and opt for any of the many more vegan-friendly restaurants and food outlets out there.