Not so long ago, if you wanted a decent vegan pizza, your best option was to make your own and just miss off the cheese. But, in recent years, many big food manufacturers and restaurant chains (including Pizza Hut) have cottoned onto the fact that vegans love pizza as much as non-vegans. And though there are many traditional toppings that are off-limits for those on a plant-based diet – not least dairy cheese – there are numerous tasty (and often fairly nutritious) options available.
In this article, we'll focus on what vegan options Pizza Hut offer their customers. We're pleased to say that they have made some very positive moves in recent years and they now offer a fine range of plant-based options, including several pizza bases. So, let's get stuck in to see what's on the Pizza Hut vegan menu.
A Note on Allergens
Note that even the vegan options are prepared and/or cooked in an environment that handles meat and dairy products so there is always a small chance of cross-contamination. In truth, this risk is hard to avoid unless you stick to eating at home with foods made only by dedicated vegan companies, or only eat out at 100% vegan restaurants and takeaways.
Vegan Food Options at Pizza Hut
As you can see from the Allergy Information Booklet, there are plenty of options for vegans at Pizza Hut. Here we'll give you brief details of what those on a plant-based diet can feast upon.
Which Pizzas Are Vegan at Pizza Hut?
Vegan Margherita – This is made using the Violife Vegan Ch**se (that is made predominantly from coconut oil), which is one of the best vegan cheeses out there when it comes to melting and flavour. A very tasty, if rather simple, pizza.
Vegan Pepperphoni – This is the same as the Vegan Margherita but with the addition of meat-free "pepperphoni" (nice name!), which is made from a wide range of ingredients including carrageenan, potato protein and pea protein.
Vegan Virtuous Veg Flatbread – For the slightly more adventurous among you, this Vegan Virtuous Veg option includes the Violife ch**se, spinach, mixed peppers, red onions, mushrooms, cherry tomatoes and a bit of rocket.
Vegan Veggie – Another solid vegan option with Violife ch**se, spinach, red onions, mixed peppers, mushrooms and sweetcorn.
Vegan All About Mushrooms – Yep, you've guessed it, there are plenty of mushrooms on this pizza.
Vegan BBQ Jack 'N' Ch**se – If you are a fan of jackfruit, you'll love the Vegan BBQ Jack 'N' Ch**se pizza. Don't order the standard BBQ Jack 'N' Cheese by mistake though as that is decidedly not vegan.
Which Pizza Bases Are Vegan at Pizza Hut?
When it comes to your pizza base/dough preferences, vegans are not left without choice at Pizza Hut. It's only the standard stuffed crust base and cheesy bites base that aren't vegan.
Vegan Stuffed Crust – Note that the Vegan Stuffed Crust is vegan, as the name more than suggests, but the standard Stuffed Crust is not, so always be sure to be clear about which you want when ordering.
Original Pan – For those who prefer the old school Pizza Hut bases, you're fine.
All American Thin – If you find the pan base too doughy, opting for the thin alternative could fit the bill nicely.
Gluten Free – If gluten is an issue for you, you'll be pleased to hear the gluten free bases are also vegan friendly. Check out our article on vegan and gluten free too.
Flatbreads – All the flatbread bases are vegan friendly and offer a lower calorie option than the other bases.
Which Pizza Toppings Are Vegan at Pizza Hut?
For those who want to construct their own vegan pizza, there are all kinds of options available using the "create your own" choice. Most of the vegan-friendly pizza toppings available at Pizza Hut are fairly obviously vegan. And, most of those that aren't are quite obviously not vegan (most of which mention some kind of meat). Here are the toppings that are perfectly fine for vegans:
Vegan Ch**se
Unseasoned Tomato Sauce
Seasoned Tomato Sauce
BBQ Sauce
BBQ Drizzle
Balsamic Drizzle
Black Olives
Peppers
Mushrooms
Red Onions
Sweetcorn
Green Chilli
Cherry Tomatoes
Jalapeños
Pineapple
Rocket
Spinach
Caramelised Onions
BBQ Jackfruit
Meat Free Pepperphoni
Garlic Mushrooms
Other Vegan Food at Pizza Hut
Here are the details of the vegan food options at Pizza Hut for those who want to go off piste and steer clear of a pizza. From chicken-style nuggets, to fake bacon bits to sprinkle on your salad, and a couple of tasty dessert options, there is a reasonable choice even for the pizza-phobic!
Food
Description
Southern Fried Nuggets
These Southern Fried Nuggets are made with Quorn, which is interesting because the Quorn Southern Fried Bites that are sold in supermarkets actually contain rehydrated free range egg white.

Based on the aforementioned Pizza Hut Allergy Information Booklet, however, the Quorn nuggets sold at Pizza Hut do NOT contain any eggs (or any other animal-derived ingredients). Which begs the question why don't Quorn remove eggs from their retail product too?

I Can't Believe It's Not Cheesecake
Perhaps not one for those who have become vegan for health reasons, this dessert is well made and fairly decadent. If you've still got room after ploughing into a load of vegan pizza, of course!
Raspberry Ice
Possibly not the greatest vegan ice cream you will ever taste, but the Raspberry Ice here is free of animal ingredients so is fine for vegans.
Tomato Pasta
Until relatively recently, tomato pasta was one of the few relatively safe options for vegans when travelling around many parts of Europe or further afield.

Often fairly bland, if this is the only option available one wonders whether it is worth making the effort to visit a restaurant. Thankfully, this is far from the only option at Pizza Hut.

Mini Corn on the Cob
It's corn. It's on the cob. It's vegan.
BBQ Sauce
Whether in the pot as a dipping sauce or spread as an alternative to tomato on a pizza base, the BBQ sauce used by Pizza Hut is vegan friendly.
Tomato Ketchup
Thankfully, the tomato ketchup used by Pizza Hut is also vegan (indeed most ketchup is vegan).
Fries
Just like the fries at McDonald's, Pizza Hut fries are also fine for vegans to consume.
Lettuce & Carrot Mix
Nothing strange here – basic salad, all vegan.
Cherry Tomatoes
Yep, you've guessed it, Pizza Hut have done nothing to render their cherry tomatoes non-vegan.
Cucumber
As above.
B*con Bits
Made from soy and wheat gluten, the b*con bits are a great vegan addition to add a bit of a smoky crunch to your salad. Note that they do contain palm oil, which some vegans choose to avoid.
Vinaigrette
A nice enough salad dressing which contains mustard but is fine for vegans. Note that the Thousand Island Dressing is not vegan as it contains egg.
Tortilla Chips
Though not all Doritos are vegan, you can rest assured that the tortilla chips served at Pizza Hut are vegan friendly.
Pizza Hut Vegan Food – Nutritional Values
Here we'll give you some of the nutritional info for a few of the most popular vegan-friendly pizzas at Pizza Hut. We'll give the (obviously non-vegan) Pepperoni Feast pizza as a comparison. The data given is based on per slice of an individual pan 9" pizza.
| Typical Values (per slice0 | Vegan Margherita | Vegan Veggie | Vegan Pepperphoni | Pepperoni Feast (Non Vegan) |
| --- | --- | --- | --- | --- |
| Energy kcal | 176 | 156 | 156 | 182 |
| Fat g | 8.1 | 6.0 | 6.5 | 8.7 |
| Saturates g | 4.6 | 2.6 | 2.6 | 3.1 |
| Carbohydrate g | 22.1 | 21.5 | 20.6 | 19 |
| Sugars g | 0.5 | 0.6 | 0.6 | 0.8 |
| Protein g | 3.5 | 3.8 | 3.7 | 6.7 |
| Salt g | 0.8 | 0.6 | 0.7 | 0.7 |
As you can see, there's no massive difference between the nutritional stats of vegan and non-vegan pizzas. The non-vegan options tend to have a bit more protein on account of the dairy cheese, but those seeking vegan protein can get a little more of a boost with the vegan ch**secake – though there's a fair bit of fat and sugar in there too!
A Brief History of Pizza Hut
Just like another worldwide food brand McDonald's, Pizza Hut was started by two brothers. Dan and Frank Carney founded the restaurant chain back in 1958 in Wichita, Kansas. After six months, they opened their second food outlet and they started to franchise the business in 1959. Rapid growth saw them spread far and wide with the first Pizza Hut in the UK opening in Islington, London in 1973.
Profits rolled in and Pizza Hut was purchased by the cola giant PepsiCo in 1977 before being spun off (along with Kentucky Fried Chicken and Taco Bell) into a new company called Tricon Global Restaurants Inc, later to be known as Yum! As of 2019, Pizza Hut was the biggest pizza chain in the world with over 18,000 restaurants around the world.
Conclusions: Vegan Food at Pizza Hut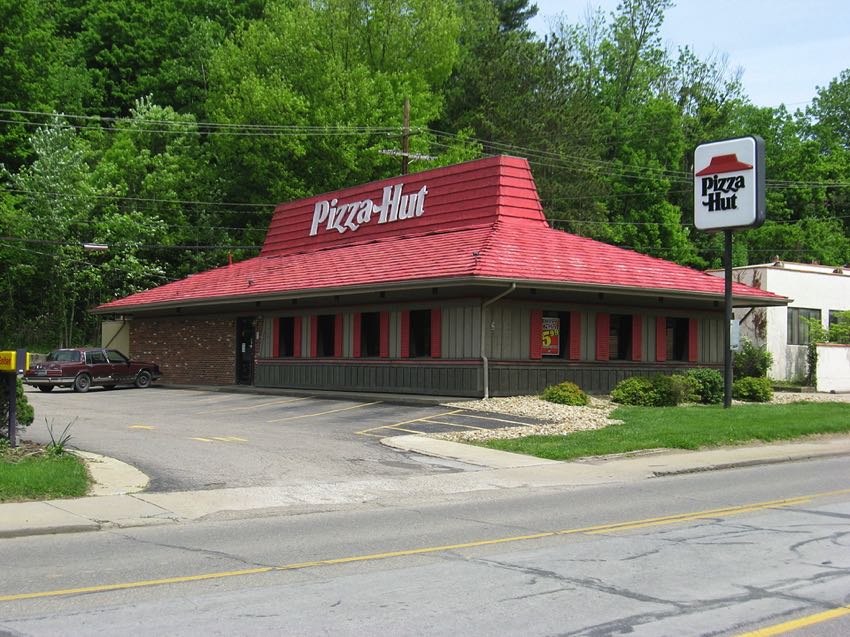 As we have seen, vegan pizza lovers are well catered for at Pizza Hut. Not only are there lots of vegan-friendly toppings, but there is also a decent choice of bases too, including a vegan stuffed-crust option. Aside from pizza the options are a little limited, but then they are for non-vegans too given that the main focus of the restaurant chain is pizza!
That said, the vegan ch**secake is worth a try and we like the fact that the "bacon" bits for the salad are vegan friendly. All in all, we're quite impressed with the range of vegan food available at Pizza Hut and it certainly offers a more rounded selection than McDonald's.