When it comes to ice cream it used to be the case that non-dairy or vegan-friendly versions were not particularly up to much. All that has changed in recent years, and now there are many non-vegans who actually choose vegan ice cream over the dairy options. As such, this article is less about vegan substitutes for ice cream as simply giving you the lowdown on the best vegan ice cream options available in the UK. And though this will clearly be of serious interest to vegans, we suspect a good number of non-vegans will be more than willing to try some of the great products mentioned below.
If you are looking make your own ice cream, we don't cover that here but we have a very simple Vegan Ice Cream Recipe that is easy to follow and which can be used as a base for all kinds of flavours. Note that when making your own vegan ice cream, it really does pay to have a decent ice cream maker… the end results are worth the investment!
Towards the end of this article, we'll go into some detail about what makes standard ice cream non-vegan. We'll also outline the main ingredients used in vegan ice cream that are substitutes for the non-vegan ingredients (mainly dairy milk and derivatives) used in standard ice cream. So, without further ado, let's get stuck into the best vegan ice cream flavours, starting with our Top 5 Vegan Ice Creams, and then going through the best vegan ice cream options by brand.
Please Note:
Here we are focussing on ice cream that comes in tubs and containers and not those sold as ice cream cones, lollies, choc ices and so on. We have also not included sorbets or similar desserts in this particular article. For top vegan sorbets,
check out our dedicated article here
!
Top 5 Vegan Ice Cream Flavours
1. Booja-Booja Caramel Pecan Praline
Wow, just wow! Made with just seven ingredients (water, coconut syrup, cashew nuts, agave syrup, pecan nuts, sea salt and vanilla extract), this luxuriant, flavoursome ice cream ticks all the boxes.
2. Roar Coconut Mango Passion Fruit Oat Cookie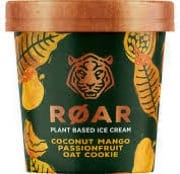 An imaginative flavour combination that works really well, with the swirl of zesty mango and passionfruit contrasting nicely with the earthy oat cookies.
3. Ben & Jerry's Peanut Butter & Cookies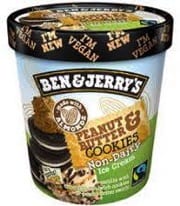 Ben & Jerry's have a couple of top 5 contenders amongst their vegan ice cream ranks, but for us the flavour that really offers something a little different is their Peanut Butter & Cookies flavour: vanilla ice cream packed with crumbled Oreo-style cookies and peanut butter swirls! Healthy? No way! Tasty? Damn right!
4. Yorica! Double Chocolate Cookie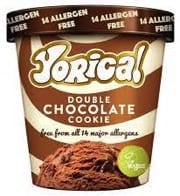 There are quite a few very nice chocolate-flavoured vegan ice creams out there these days, but this option from award-winning London-based ice cream maker Yorica! takes some beating in the chocolatey stakes!
5. Coconuts Organic Rum 'N Raisin
This vegan, organic ice cream is bursting with dark rum flavours (but don't worry, it won't get you tipsy). Made primarily from coconut cream, the texture is very similar to 'real' ice cream (thanks to the addition of guar gum) and this is a worthy Top 5 flavour for us.
Vegan-Friendly Ice Cream by Brand
Here we will present the best and most popular vegan-friendly ice creams made by the top brands in the UK, and we'll add in own-brand versions from the main supermarkets and a handful of independent producers. This is unlikely to be an exhaustive list as new flavours (including limited-time ones) and even new brands, are launched very frequently, but it will give you a good idea of the main ice cream producers and their vegan-friendly flavours.
Please Note: The ice cream in this article we identify as vegan does not contain any animal ingredients based on the best information at the time of writing. Some, however, may have been manufactured in factories that handle milk or other animal products or have been made by companies that also produce products using animal products. Some of the ice creams mentioned also contain palm oil, which we'll point out on a case by case basis by adding an asterisk (*).
Overview of Brands
Should you wish to jump ahead to check out a specific ice cream, please find a list of the brands covered in this article:
Ben & Jerry's: Which Flavours Are Vegan?
According to consumer information company Statista, in 2018, in the UK "an estimated 7.8 million people used Ben & Jerry's ice cream, making it the leading ice cream brand overall by its number of users".
Being a forward-thinking company, Ben & Jerry's realised that producing vegan options would be good for business and they started doing just that in February 2016 when they started making vegan-friendly ice cream flavours in the USA. At the time of writing, they have four vegan-certified flavours available in the UK, but given there are 15 vegan-certified flavours in the USA, we're confident there'll be more to follow soon.
Clearly Ben & Jerry's are not a fully vegan company as they produce plenty of ice cream that uses dairy. They are also owned by Unilever, who not only produce lots of non-vegan food, but also own some beauty and cosmetics brands that have tested on animals in the past. If you can see past all that though, there is no doubting the fact that Ben & Jerry's make some of the best vegan ice cream there is.
| Ice Cream Name/Flavour | Notes |
| --- | --- |
| Cookies on Cookie Dough | You like cookies? This is the flavour for you! Cookie swirls, cookie dough and chocolate chips… and no animal products in sight. |
| Chocolate Fudge Brownie | As chocolatey as chocolate ice cream gets, with a generous helping of vegan-friendly brownie running through it. What's not to love?! |
| Coconutterly Caramel'd | Caramel, cookie and chocolate chunks all swirled through coconut-infused ice cream. |
| Peanut Butter & Cookies | See Top 5 Vegan Ice Cream Flavours |
Booja-Booja Vegan Ice Cream
Vegan chocolatier Booja-Booja have been making high-end vegan-friendly ice cream since 2007, and when it comes to flavour, texture and sheer sumptuousness, they are hard to beat. Unlike many of their rivals they use cashew nuts as their base when making their ice creams. Many of the flavours contain just five or six mostly organic ingredients.
| Ice Cream Name/Flavour | Notes |
| --- | --- |
| Honeycomb Caramel | Caramel-flavoured ice cream with honeycomb caramel bits strewn throughout. Creamy and delicious. |
| Heavens On Earth (Mint Chocolate Truffle) | Mint-flavoured ice cream with rivulets of chocolate truffle running through it. It tastes as nice as it sounds. |
| Raspberry Ripple | An old school pick but this version has a luxurious, summery flavour that will tantalise the taste buds. |
| Caramel Pecan Praline | See Top 5 Vegan Ice Cream Flavours |
| Chocolate Salted Caramel | Containing hand-harvested sea salt from Cornwall, as salted caramel ice creams go, this is one of the best around. |
| Hazelnut Chocolate Truffle | The nutty edge to the chocolate-flavoured ice cream adds a nice earthiness, while the truffle swirls give it that extra bit of extravagance. |
| Hunky Punky Chocolate | Made with just four ingredients: water, cashew nuts, agave syrup and cocoa powder, this flavoursome offering shows that simplicity can work wonders when it comes to producing top quality ice cream. |
| Keep Smiling Vanilla M'Gorilla | Strange name, but there is nothing strange about this extremely well-executed vanilla ice cream. Creamy, flavoursome, satisfying. Contains no gorilla. |
Do Häagen-Dazs Have Vegan Ice Cream?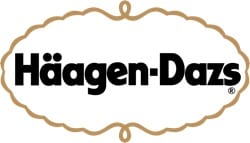 At the time of writing, Häagen-Dazs have a number of non-dairy ice cream flavours… in the United States! Sadly, as things stand they have not released the likes of their Amaretto Black Cherry Almond Toffee Non-Dairy flavour in the United Kingdom.
We've contacted Häagen-Dazs to ask what the hold-up is, and we'll update this article when we have further information. At least there are plenty of other options though!
Alpro Vegan Ice Cream
Belgium-based food company, Alpro, started in 1980 and have been one of the big players in the plant-based food world. Among other things they produce soya and other non-dairy milks, yoghurts and, of course, vegan-friendly ice cream. Using mainly soya milk (though coconut milk is used in some), Alpro has seven ice cream flavours in the UK at the time of writing.
| Ice Cream Name/Flavour | Notes |
| --- | --- |
| Coconut | Smooth, simple coconut-flavoured ice cream made with 13.3% coconut milk. |
| Madagascan Vanilla | Another relatively no-thrills option, this soya-based ice cream has vanilla extract and vanilla seeds added. |
| Hazelnut Chocolate* | A nice, nutty chocolate flavour, but note that this does contain palm oil, albeit from a sustainable source. |
| Almond Salted Caramel | Perhaps the most imaginative of Alpro's rather simplistic flavours, the contrast between the almond and the caramel works well. |
| 360 Velvety Chocolate Swirl | Named 360 because they contain 360 calories per 450ml tub, this soya-based ice cream is tasty enough without being mind-blowing. This range is great for those watching their calorie intake. |
| 360 Passionate Mango Swirl | A zesty mix of mango and passionfruit is swirled through the ice cream giving it a refreshing taste. |
| 360 Caramel Macchiato Swirl | For fans of slightly elaborate coffees, but in dessert form, the hint of coffee works well enough with the caramel. |
Halo Top – Do They Make Vegan Ice Cream?
Halo Top were founded in 2012 and offered low-calorie ice cream options using stevia as a replacement for some of the sugar. They are not a vegan brand though and only a couple of their flavours sold in the UK are dairy free and vegan friendly.
They tend to use coconut milk, and rice and pea proteins, among other ingredients. Their dairy free ice creams contain 320 calories per 473ml tub and are not a bad source of vegan protein, as well as being a tasty treat.
| Ice Cream Name/Flavour | Notes |
| --- | --- |
| Peanut Butter Cup | A nice enough peanut butter flavoured ice cream that is quite smooth, and satisfying, but lacks the luxuriance of some of their rivals' offerings. |
| Sea Salt Caramel | Again a perfectly acceptable ice cream with nice rather than fantastical flavours. If seeking a lower calorie option, it would tick most boxes. |
Roar Vegan Ice Cream
Despite being owned by ice cream giant Froneri, who are in turn part-owned by Nestlé, Roar is an ice cream brand with a conscience. They have partnered with a tiger charity (Panthera.org) to help raise awareness of the plight of tigers in the wild, so for most vegans, this will be an extra reason to give Roar ice cream a try.
But the fact their ice cream is extremely palatable will be reason enough for many. Roar ice cream is currently available to buy from Ocado or in Tesco and Sainsbury's supermarkets.
| Ice Cream Name/Flavour | Notes |
| --- | --- |
| Hemp Seed Chocolate Brownie | A very fine execution of a chocolate brownie flavoured ice cream, the hemp seeds adding a nuanced edge that brings out the cocoa notes. In other words: it's delicious. |
| Coconut Mango Passion Fruit Oat Cookie | See Top 5 Vegan Ice Cream Flavours |
| Hazelnut Chocolate Cookie | A more subtle flavour than the Hemp Seed Chocolate Brownie but not less satisfying for it. |
Yorica! Vegan Ice Cream Flavours
Yorica! specifically produce ice cream that is free from the 14 major allergens (covering things like dairy, eggs, tree nuts, soya and sesame, among others). Their ice cream is all vegan too… and very flavoursome and creamy to boot. At the time of writing, Yorica! ice cream is available at Holland & Barrett, Waitrose and Ocado.
| Ice Cream Name/Flavour | Notes |
| --- | --- |
| Double Chocolate Cookie | See Top 5 Vegan Ice Cream Flavours |
| Vanilla | A simple, no-nonsense vanilla flavour that doesn't try to be anything flashy. Made using coconut, rice, sunflower oil and Madagascan vanilla seeds, this is a decent if not spectacular vegan vanilla ice cream (we prefer our own vegan ice cream recipe). |
| Salted Caramel | For those who like plenty of flavour without too many bells and whistles (or fish-shaped chocolatey bits!), this salted caramel flavour will certainly appeal. |
Swedish Glace Vegan Ice Cream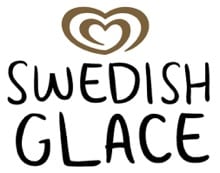 Swedish Glace is a non-dairy ice cream brand that, despite the name, is from from Lithuania and is part of Wall's and is, therefore, ultimately owned by food giant Unilever.
Available in most supermarkets, Swedish Glace is a popular mid-range option for seekers of non-dairy, vegan ice cream.
| Ice Cream Name/Flavour | Notes |
| --- | --- |
| Vanilla | A fairly standard vanilla flavour that is good value compared to many of the more premium brands. Made with soy, coconut oil and various stabilisers and emulsifiers, it's not the most flavoursome, but if you're looking for a well-priced ice cream to accompany your vegan apple pie, this fits the bill. |
| Raspberry | A surprisingly zingy raspberry flavour that works well and is priced very much for the mass market. |
| Heavenly Chocolate | Not so much heavenly as, well, passable. Would work well at a kid's birthday party but there are many better chocolate-flavoured vegan options out there that would be more likely to satisfy ice cream connoisseurs. |
| Cinnamon Toffee Sauce & Hazelnut Pieces | A little more elaborate than the previous three flavours, and with a higher price point, there are more almonds than hazelnuts in this, but the overall result is reasonable. It isn't a patch on some of the more luxurious brands mentioned above though. |
| Coconut Blueberry Sauce & Coconut Sprinkles | Something of an experimental flavour, but perhaps an experiment that could do with a few adaptions before the perfect combination is discovered. |
Coconuts Organic Vegan Ice Cream
Launched in 2015 as Coconuts Naturally, a name you might recognise from the founder's appearance on Dragons' Den in 2018, since 2019 they have been called Coconuts Organic. They offer a range of simple but highly palatable ice cream flavours, as detailed below. They are available to buy from some Tesco stores, Marks & Spencer, Ocado and through the Coconuts Organic website.
| Ice Cream Name/Flavour | Notes |
| --- | --- |
| Choc Orange Swirl | Akin to a Terry's Chocolate Orange in ice cream form, this flavour combo works for some, not for others. But if you love the thought of orange, chocolate ice cream and a swirl of chocolate sauce, this is certainly for you. |
| Rum 'N Raison | See Top 5 Vegan Ice Cream Flavours |
| Double Caramel | Made for ice cream lovers for whom single caramel just isn't enough! |
| Creamy Coconut | Given that the whole brand revolves around coconuts, it's no surprise to find a coconut flavour ice cream available, and it is very nice indeed. Unlike some cheaper coconut flavours out there that are bright white in appearance, this ice cream is a reassuringly natural light brown colour on account on the unrefined coconut sugar used. |
| Pure Chocolate | An opulent and quite gorgeous chocolate ice cream that has one of the best mouthfeels around when it comes to vegan ice cream. |
| Pure Caramel | Smooth, fulfilling and luscious, this pure caramel does away with any gimmicks and focuses on taste and texture. |
| Mint Choc | A mint and chocolate combo will please some more than others, but here it certainly works for us. |
Oatly Vegan Ice Cream
This Swedish company started life in the 1990s and built their brand through their rather excellent oat milk products. As well as the milk alternatives and oat-based creams and custard, they also produce a few very nice vegan-friendly ice cream flavours. Oatly vegan ice cream is available in most supermarkets.
| Ice Cream Name/Flavour | Notes |
| --- | --- |
| Vanilla | A smooth, well-balanced vanilla ice cream that tastes a cut above the like of Alpro or supermarket own-brand options. |
| Strawberry | Fresh and flavoursome, due in no small part to the 15% strawberries contained in it, this summery flavour is vibrant and very pleasant. |
| Chocolate Fudge | A slightly more luxurious option, the Chocolate Fudge flavour from Oatly is not a healthy option, but it sure is a tasty one! |
| Hazelnut Swirl | Another winner from Oatly, the Hazelnut Swirl is as smooth as vegan ice cream gets, except the nutty bits of course. |
| Salted Caramel | It doesn't quite compete with the Booja-Booja Chocolate Salted Caramel flavour, but it isn't far off. |
Supermarket Own-Brand Vegan Ice Cream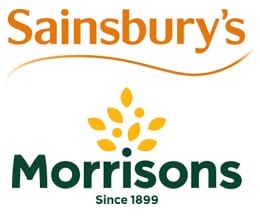 Given that there are so many vegan ice creams sold in supermarkets these days, some of them have been a little slow off the mark when it has come to making own-brand versions.
This might be because trying to undercut the brands mentioned above will inevitably lead to a noticeable lack of quality in comparison, which is something that is a lot more apparent with something like ice cream than, for instance, with digestive biscuits, vegan chocolate or even crisps.
| Ice Cream Name/Flavour | Notes |
| --- | --- |
| Sainsbury's Deliciously Free From Vanilla/Strawberry/Choc Iced Dessert | Sainsbury's produce three basic flavours of their 'iced dessert' (read ice cream), which uses a combination of coconut oil and chickpea flour. That might sound a little strange to some and whilst it's not the nicest vegan ice cream option out there, it is decent enough value for money. |
| Morrisons Vegan Salted Caramel Crunch Ice Cream | Using various ingredients including coconut oil, pea protein, caramel sauce and plenty of sugar in various guises, when it comes to a good value ice cream that tastes more expensive than it actually is, Morrisons have it down well here. |
| Morrisons Vegan Chocolate Brownie Ice Cream | They've done a little less well with their Chocolate Brownie Ice Cream, but it isn't disgusting, it just lacks the smoothness and, well, flavour of some of the other options we've mentioned. |
Local/Artisan Vegan Ice Cream
There are lots of small, independent ice cream producers who you will probably find near you who produce either exclusively plant-based ice cream or who at least have some vegan-friendly flavours amongst their offerings. It's always worth asking local ice cream makers to consider making vegan ice cream if they don't already… it could be a win-win situation if they do!
Make Your Own Vegan Ice Cream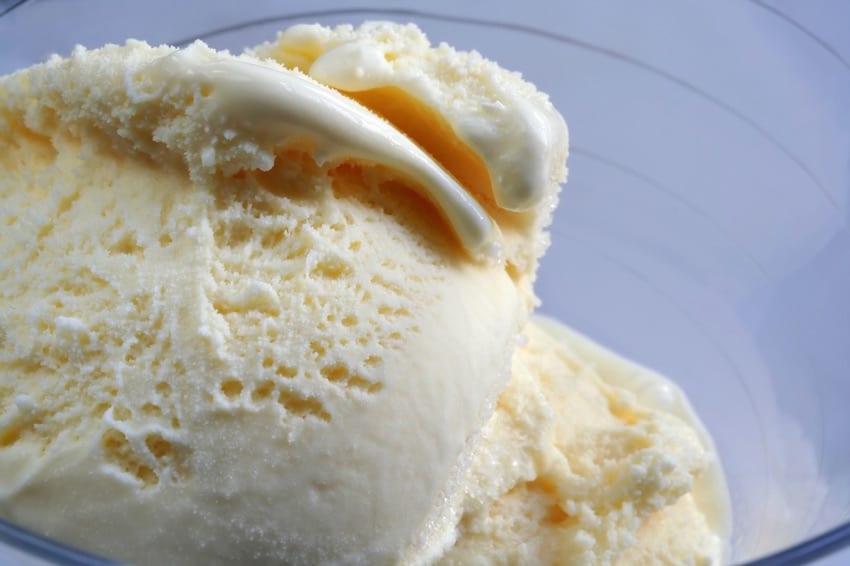 If you really want to know what's going into your ice cream or you have a favourite flavour that you can't easily source at your local supermarket, why not try your hand at making your own? Whilst an ice cream machine really makes a difference in terms of creaminess (and it's also a lot less effort!), it's not completely essential. Have a look at our Vegan Ice Cream Recipe for inspiration!
What Makes Standard Ice Cream Non-Vegan?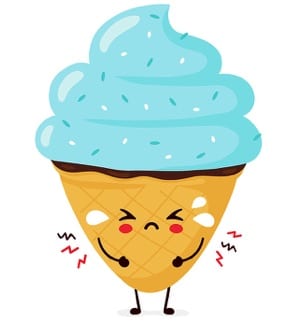 There are many non-vegan ingredients, or ones that might be non-vegan, that are added to ice cream, with some being more obvious than others. Here we'll run through the main culprits and explain – if explanation is needed – why they are (or might be) non-vegan.
We will also run through the various vegan-friendly substitutes for each of these ingredients. As you will see there are plenty of options that ice cream manufacturers, or those making their own vegan ice cream, can use to produce high quality, flavoursome plant-based icy treats.
Milk
The primary ingredient that stops most ice cream being vegan is dairy milk, or some derivative of dairy milk with cream, clotted cream, milk powder, buttermilk, butter, casein and whey powder all being common additions to ice cream and ice cream products.
It should come as a surprise to no one that dairy milk comes from cows (it is almost always cow's milk in traditional ice cream), which are animals, and hence milk and all products made from it are not suitable for vegans to consume.
Vegan Substitutes for Milk in Ice Cream
The most common substitutes for dairy milk in vegan ice cream are coconut milk, oat milk or soy milk. Some producers attempt to get a similarly creamy texture through a sometimes rather elaborate combination of plant-based oils, nut pastes, stabilisers and emulsifiers, which sometimes works. But using oat or coconut milks appears to give the best results if you are seeking ice cream that doesn't have 20 ingredients.
Eggs
Eggs, or derivatives of eggs, are often used in ice to help produce a thicker and smoother texture and to help bind various ingredients together.
Vegan Substitutes for Eggs in Ice Cream
There are plenty of vegan-friendly thickening agents and stabilisers that can be used instead of eggs, including the likes of locust bean gum, guar gum or carrageenan, or some combination of them.
Chunks: Chocolate, Caramel, Cookie Dough, Sweets & Other Additions
There are various additional bits and pieces that are added to some ice creams to jazz things up a bit, whether caramel swirls, fish-shaped bits of chocolate, jelly sweets or just about any other sweet treat you can think of.
Vegan Substitutes for Various Chunky Additions in Ice Cream
These may or not be vegan, and should be dealt with on a case by case basis. For instance, if making your own ice cream into which you want to add some crushed biscuit pieces, just ensure you buy vegan-friendly biscuits (there are loads of them to choose from!).
Similarly, most dark chocolate is vegan anyway, so it isn't too difficult to find some, whether a bar that you are going to break up or chocolate chips, that contains no milk or other animal products.
Honey
Honey (and sometimes beeswax) can pop up as an ingredient in some ice cream, both as a sweetener and a flavouring. As we explain in our Is Honey Vegan? article, the exploitation of, and probably harm to, bees makes honey non-vegan.
Vegan Substitutes for Honey in Ice Cream
Unless the flavour of ice cream is specifically honey (which vegans would avoid anyway) there is no need to use honey given that sugar in its various guises will do the trick nicely. Maple syrup or agave nectar are other vegan-friendly options to use instead of honey in an ice cream recipe.
Palm Oil
Palm oil is a tricky one for vegans. When trying to answer the question is palm oil vegan?, various factors have to be taken into account. Obviously, it comes from a plant, but the environmental destruction (including destruction of the habitats of endangered species) should also be considered. The jury is out on whether or not palm oil should be consumed by vegans, so you will have to make up your own mind.
Vegan Substitutes for Palm Oil in Ice Cream
For ice creams recipes that require the addition of oil, there are numerous vegan cooking oils available that can fit the bill, some of which could enhance a particular flavour. For instance, ice cream made with coconut oil might add just a hint of coconut, while a nut-based ice cream could benefit from a little walnut or hazelnut oil. Of course, many ice creams don't contain any additional oil at all.
Other Additives
Various additives are often included in shop-bought ice cream and these include colourings, flavourings, stabilisers, emulsifiers and preservatives… and many of these are not always easy to identify as vegan or non-vegan. In general terms, the fewer such ingredients the better, and some of the best ice cream brands pride themselves on using just a few natural ingredients.
Vegan Substitutes for Additives in Ice Cream
As we discuss in our E Numbers article, there are a few E numbers and other additives that you ought to be aware of. But if you are making your own ice cream, it's all about keeping things fairly simple at first, and that goes for the ingredients you pick as much as anything. In short, only use ingredients you know are vegan. So, vanilla pods, which come from plants, would be fine, but some vanilla flavouring that is packed with E numbers is probably best avoided.
While many of the ice creams mentioned above contain all sorts of extra additives from stabilisers to emulsifiers to flavourings and colourings, quite a few don't. So, it certainly isn't essential to include a range of additives in order to produce good quality ice cream – just try Booja-Booja's four-ingredient Hunky Punk Chocolate flavour for confirmation of that!
Conclusions: Vegan Ice Cream

The good news for vegans is that there is lots of great vegan ice cream out there. Although they can differ a fair bit in terms of the quality, there are a number of products that really hit the mark. Essentially, for every animal-derived ingredient in standard ice cream, there is a good vegan substitute that does the job at least as well.
Whether you want to make your own vegan ice cream or sample the best of the flavours and brands that are already out there, there are choices galore. Even though it's not the healthiest vegan food out there, there's nothing wrong with treating yourself every now and then.