Sorbet is a frozen food that is traditionally served as a dessert or a mid-course palate cleanser (though in modern times it may be savoury too). It is usually a mix of fruit juice and sugar that is churned and frozen to create a smooth, cold dessert, akin to ice cream but typically fresher, "cleaner" and sharper.
Is sorbet vegan? Well, the short answer is that some sorbet is vegan and some is not. However, whilst most traditional ice cream is not vegan (though of course there are now lots of great vegan ice creams too), much sorbet is naturally vegan. What we mean by this distinction is that whilst ice cream lovers must actively seek out specialist vegan versions of their favourite frozen treat, when it comes to sorbet you should be able to find lots of standard versions of the product (or indeed recipes) that just happen to be plant-based.
In this article, we will explain why some sorbet is vegan and some is not and what ingredients you should look out for. We will also highlight some mainstream vegan sorbets you can easily buy in the UK, and briefly explain what exactly we mean by "sorbet" in the first place.
What Might Make Sorbet Unsuitable for Vegans?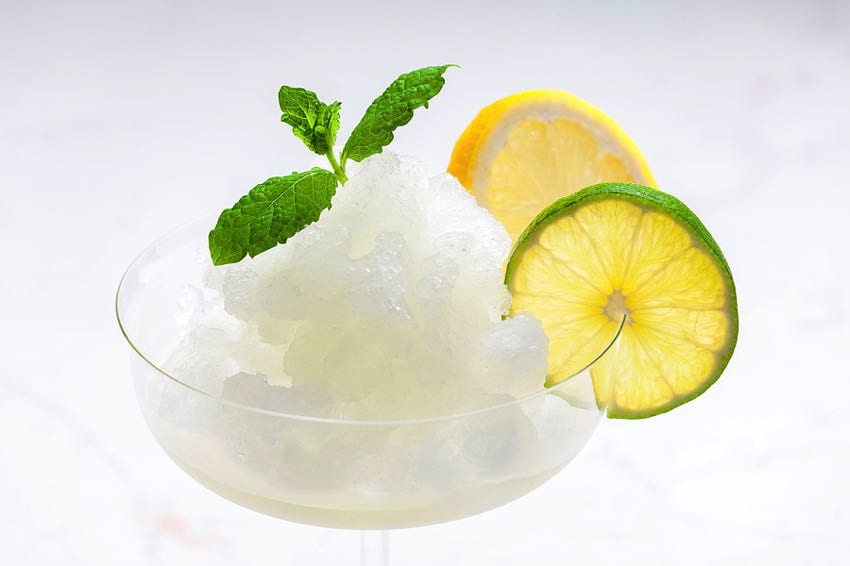 There are a number of things that might go into a sorbet that would make it unsuitable for vegans. Some are more likely to crop up than others, whilst some may bother some vegans and not others.
Colours & Additives
First off, there are all the "usual suspects" of colours (any bright red sorbets may contain carmine, made from cochineal insects) and additives. There are not too many non-vegan E numbers and certainly not too many that would be used in sorbet, but this is always something to check.
Cross Contamination
Another thing to be aware of with mass-produced foods is the risk of cross-contamination. Many factories that produce sorbet may also produce dairy ice cream, or handle other non-vegan ingredients. Whilst this will concern some vegans, others will be satisfied that, as they are not knowingly or deliberately consuming anything animal-based, they are okay.
Sugar
Another issue that we speak a lot about here at VeganFriendly is sugar. Sugar is certainly a key ingredient in virtually all sorbets and some is still refined using bone char. Many would consider a sorbet using such a sugar to be non-vegan. However, one of the key difficulties is knowing whether or not a producer has used vegan-friendly sugar.
If in Doubt, Contact Manufacturer
If the sorbet is not labelled as vegan you would need to contact the producer, and even then you may struggle to get a clear answer. Some vegans simply feel their time is better spent advocating for veganism and encouraging and helping friends; although the simple solution is to pick one of the great vegan sorbets we highlight below.
Main Non-Vegan Additions
Whilst being sure about the vegan credentials of a sorbet's sugar can be tricky, there are other ingredients often used that are far easier to rule out as being non-plant-based. The most common non-vegan ingredients to look out for when it comes to sorbet are as follows:
As usual, if you are eating sorbet in a restaurant, at a friend's house or other similar environment, it is always best to ask if it is vegan and/or whether it contains any of these ingredients.
If you are looking to make sorbet yourself then finding a suitable vegan recipe should be easy enough. Just choose one with none of the above and no other animal-derived ingredients, such as this one from the BBC Good Food site. Just make sure you use 100% vegan sugar, which is easy enough given major UK brands, such as Silver Spoon produce vegan granulated sugar.
If, on the other hand, you are buying a tub of sorbet in a shop, then this is what to be aware of:
Eggs
Eggs and egg-derivatives feature in many sorbet recipes and some mass-produced products. Whether this is introduced as raw egg whites or "cooked" Italian meringue (egg whites whisked with hot sugar syrup), any sorbet made in this way is not vegan friendly.
Eggs tend to feature in older, more traditional recipes and the reason they are used is to help the texture. They help to emulsify it and stabilise it, creating a smoother, creamier consistency which also lasts longer.
When it comes to checking the ingredients of a pre-made sorbet, spotting eggs should be relatively straightforward. That said, derivatives of egg may be listed as albumin, globulin or any of a huge number of other terms. One common concern is lecithin (which takes its name from the ancient Greek lekythos meaning egg yolk) but increasingly soya lecithin is used and this is vegan friendly.
Honey
Honey is possibly a newer addition to sorbets and is chiefly used as an alternative to sugar. Whilst some advocates of the rather meaningless concept of "clean eating" argue that honey is a healthier alternative to sugar, the point is moot for vegans as honey is not vegan friendly.
Honey may also help with the consistency of sorbet by lowering the freezing point and thus making it softer. As with eggs, honey should be easy enough to spot on most labels and ingredients lists.
Dairy
There are lots of different and sometimes overlapping words for various similar frozen desserts. Many are not always sure what the difference between ice cream and gelato is, or sorbet and ice cream, or sherbet and sorbet (sherbet is more of an Americanism and typically includes milk). Whilst sorbet does not usually contain milk or other dairy-based items, some may do.
Many people would say that a sorbet that includes milk is technically a sherbet. However, as sherbet in the UK tends to refer to something else (a tart, sweet powder), such a food may still be sold as sorbet. Dairy, in the form of milk, buttermilk, cream or some other derivative, is again used to create a smoother and creamier texture.
As with eggs, whilst this is often simple enough to spot on a list of ingredients, sometimes unfamiliar names may be used to describe dairy-derived additives. Ones to look out for include buttermilk solid and DMS (dry milk solids), though once again there are many more.
Best Vegan Sorbets
The easiest way to avoid non-vegan additions and save yourself the vegan chore of analysing long lists of ingredients is to simply by purchasing an explicitly plant-based sorbet. However, because sorbet is often naturally vegan, many do not market themselves in this way and may not even be labelled as such. Below are a selection of great sorbets that are either certified as vegan, labelled as vegan friendly or that we have checked ourselves and which we are highly confident do not contain any animal-based ingredients.
In truth, there are not too many to choose from, with many sorbets stating they are suitable for vegetarians but not vegans. We are sure that many of these are actually fine for vegans but just haven't been labelled as such. In many cases this is due to the risk of cross-contamination with milk, whilst non-vegan sugar could also be to blame. If you can't find one of the products below and want to check a product which appears to be vegan but is marked as suitable for vegetarians, a quick email or call to the producer's customer services department should see you right.
Frill the Frozen Smoothie Bursting Berries
This high fibre treat is packed with a blend of berries and also some banana. With no artificial ingredients or additives and no added sugar it is sweetened with dates. Whilst it may not be sweet enough for some sorbet lovers and would be viewed by some as more like ice cream, we reckon it is a great addition to a vegan freezer. If ice cream is more your thing, be sure to check out our feature on the best vegan ice creams too.
Hackney Gelato Sorbetto
Hackney Gelato are a small London-based firm that produce premium frozen desserts nationwide. They provide four brilliant flavours of sorbetto, another name for sorbet. All are 100% vegan (although some retailers warn they are "Made in a facility that also handles Milk, Egg …") and have won a number of coveted Great Taste awards.
Choose from Alphonso mango, raspberry, coconut or dark chocolate – all are stunning. This is not the cheapest sorbet around but for a special occasion it is absolutely worth it.
Remeo Sorbet
Remeo is another luxury (yes, we mean expensive) brand that make top notch ice cream, and their Sorbetto N.3 Limone Siciliano is vegan. Containing just seven ingredients – water, sugar, glucose syrup, inulin (from chicory), natural stabiliser (carob seed flour), lemon essential oil – it is totally natural and totally delicious. This super-smooth, zingy sorbet is the perfect palate cleanser or dessert for when you are too full for dessert.
What Is Sorbet?
As we have mentioned, sorbet is a frozen dessert that usually combines fruit juice and/or puree with sugar (or other sweetening agents). Sorbet is one of the oldest frozen desserts around and may be almost 2,000 years old, with roots going back to ancient Rome and Persia.
It is believed to have been refined in Italy in the 1600s, with the English word sorbet deriving from the Italian sorbetto, itself coming from an Arabic word sharab, meaning syrup.
Traditionally sorbets contained around 30% sugar with balancing acidity sometimes added in the form of lemon or lime juice. Alcohol, egg, honey and other substances have been added over the years to produce a lower freezing point to enable a softer, smoother dessert.
For a long time, sorbet remained a food only for the wealthy due to the difficulty in storing it at low temperatures. From 1913 with the invention of modern refrigeration techniques this became less the case and throughout the 1920s and 1930s sorbet, ice cream and other such frozen treats became more and more popular and commonplace.
Conclusion: Some Sorbet Is Vegan & Some Is Not
As with many of the items we discuss in our Is It Vegan? area, there is not a single answer to this question. Whilst it is easy to make vegan sorbet at home without having to deviate from a standard recipe or use any special vegan substitutes, many recipes do include items that are unsuitable for those on a plant-based diet.
The chief culprits are egg, honey and dairy but food colourings and other animal-based additives may be used. Many mass-produced sorbets are naturally vegan but not always marketed as such, sometimes due to the risk of cross-contamination. However, to be absolutely certain there are some excellent (albeit often expensive) vegan sorbets available, whilst making your own is also a relatively simple process.