Pret a Manger, or "Pret" as they are more commonly called, began life in the 1980s and,, despite a rocky start, it has grown into a popular food brand that has more than 450 shops in nine countries. Based predominantly on good quality sandwiches and decent coffee, and reliant to a large degree on commuters and city and town centre workers, it was always going to take a hit during 2020's global health crisis. But with the launch of their Veggie Pret outlets and a commitment to providing many fine plant-based options, they are in a good position to ride that storm out and continue to thrive in the future.
In this article, we'll go through the many vegan food options available at Pret, including their sandwiches and wraps, their soups, salads and side dishes and even their vegan croissants, which is brilliant considering most croissants are not vegan. So, let's start with the quite vast array of vegan-friendly sarnies available at Pret.
Vegan Food Offered at Pret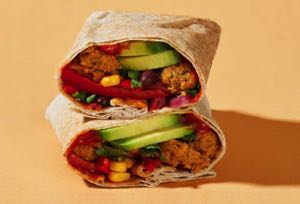 Fans of vegan sandwiches have been well catered for at Pret for quite a while. But in recent times they have really upped their game, not least with the introduction of their Veggie Pret stores, that feature vegetarian options only, most of which are vegan friendly to boot. Here we'll take a look at the sandwiches and wraps that are suitable for vegans, then we'll move onto the other food options for those on a plant-based diet.
Note that Pret tends to change the products they offer more regularly than some of the other food chains we feature on this site. As such, it is possible that there will be other vegan-friendly items on their menus, potentially just in selected outlets, or that some of those mentioned below may not be available (at least not in all Pret shops). Some options – such as the Sticky Aubergine Hot Rice Bowl – are available through the delivery-only Dinners By Pret.
Note also that there are warnings attached to most of Pret's vegan-friendly products about the possibility of cross-contamination with dairy or egg products, which vegans should note. But all the ingredients of the products we list below are vegan friendly so if you don't have allergies (and you're not bothered about the contamination risk) these will generally be considered fine for those on a plant-based diet.
That said, Pret do state that they "can't guarantee any of our products are suitable for those with allergies due to a high risk of cross-contamination." They explain that whilst their "vegan products are made to a vegan recipe" those with egg or dairy allergies should avoid and some vegans may be put off by the stated "high risk" of cross-contamination. As is often the case, this may come down to personal choice but many vegans consider cross-contamination as an acceptable risk.
Vegan Sandwiches & Wraps at Pret
Vegan Sandwich/Wrap
Description
Falafel, Avo & Chipotle Flat Bread
This filling and wholesome vegan-friendly flat bread features sweet potato falafel and avocado as its predominant ingredients.

With red pepper, pickled onions, sweetcorn, black turtle beans and coriander, there is plenty to get stuck into here. The addition of garlic, chipotle pepper and lime juice, among other ingredients, add a good dose of flavour too.

Smashed Avocado Open Sandwich
It might be a bit of a cliché that vegans love avocados but there is no doubt that this high-fibre, high-protein, vitamin-rich favourite of those on a plant-based diet can work well as a healthy snack or lunch item.

There are some concerns about avocados in relation to the exploitation of bees, as we discuss in our Are Avocados Vegan? article, but even taking that into account, it's a better option than a bacon bap!

Humous & Chipotle Wrap
Wrap fans will enjoy this humous, crunchy carrot, red pepper and mooli slaw option that has a nice dollop of chipotle ketchup to enhance the flavour and add a little kick.
Vegan Eggless Mayo & Cress
Who need an egg mayo sarnie when you've got an "eggless mayo" sarnie. As eggs are not vegan, this gives those on a plant-based diet the chance to sample a tofu-based "egg" sandwich… this will particularly appeal to those who've been vegan for years (and hence have forgotten what real egg actually tastes like!).

Really, though, it's not bad. Though we would suggest there are more interesting and satisfying vegan options available at Pret.

Mexican Avocado Flat Bread
This makes for a flavoursome and relatively hearty vegan lunch option. With 22% avocado and 13% black beans, it should come as no surprise that there's a decent dose of vegan protein Pret A Manger in here.

Add in the vitamin D in the yeast and the vitamins and minerals in the red pepper, lime and lemon juice, garlic, and spices, and the iron-rich wholemeal flat bread and you've got yourself a very nutritious wrap.

Meatless Meatball Hot Wrap
For those who prefer something hot, the Meatless Meatball Hot Wrap could be right up your street. The meatless meatballs are made mainly from pea protein, and they are spiced up with red tapenade, chipotle ketchup, garlic and herbs.
Vegan Ragu & Red Pepper Hot Wrap
An alternative to the above if you don't fancy fake meatballs, this veg-rich hot wrap includes crunchy red peppers, roasted tomatoes, Kalamata olives and onions, with a load of lentils thrown in too to up the protein levels and help fill you up.
Avo, Olives & Toms Baguette
A fresh and summery baguette with avocado, Kalamata olive tapenade, rocket and tomatoes, with some fresh basil, pine nuts, lemon juice and herbs to complete things.
Other Vegan Food at Pret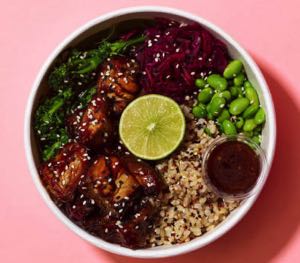 As well as the sandwiches, wrap and flat bread picks, there are plenty of other vegan-friendly food options at Pret. As detailed below these range from soups to salads to "bowls".
In addition to the table below, Pret also offers a decent range of vegan crisps, other vegan snacks and vegan-friendly drinks. So rest assured that you will be very well catered for as a vegan!
Other Vegan Options
Description
Humous & Falafel Mezze
A varied and tasty salad-like dish that includes a decent range of vegan favourites from falafel to quinoa and pickled cabbage to humous. It offers a fine dose of vegan protein and also includes plenty of fibre too.

The mustard dressing is a nice addition to the existing flavours and the whole dish holds together really well as a fine, filling and nutritious alternative to a sarnie.

Pret's Mushroom Risotto Soup
This "side soup" (Pret's description) includes tofu and wild and brown rice, so is another decent source of protein. With plenty of herbs it is tasty too and the perfect option for an autumn snack.
Sticky Aubergine Hot Rice Bowl
A varied and tasty hot bowl for Pret's delivery-only service, this contains long-stem broccoli, pickled cabbage, edamame soya beans, brown rice, sticky hoisin aubergine and a tamari and ginger dressing.

With a decent dose of rice protein and plenty of vitamins and minerals, this wholesome dish is one of the healthier food delivery options out there and is certainly preferable from a health perspective compared to something like a Domino's!

Vegan Sweet Potato Katsu Hot Rice Bowl
Slightly simpler than the aubergine option, but still packing in plenty of flavours. This hot bowl includes roasted sweet potato, edamame, spring onions, carrot and mooli slaw, brown rice and katsu curry sauce. It contains plenty of protein, fibre, vitamins and minerals.
Pret Soup
Pret offers some nice vegan-friendly soup options including Pea & Mint, Souper Tomato Soup and Red Thai Veg Soup, the last of which in particular is packed with flavour.
Sweet Potato Wedges
Fairly standard wedges that could probably do with spicing up a little in our view.
Very Berry Croissant
With jam made from strawberries, redcurrants, raspberries, blackcurrants and blackberries, the Very Berry Croissant is certainly appropriately named.

Using shea butter and sunflower oil instead of the dairy butter usually found in croissants, they have done a very good job producing pastry that is both light and flakey (something that is quite tricky as we discuss in our Is Pastry Vegan? article.

Chocolatey Coconut Bite
It's chocolate, it's coconutty, you can bite it… and it's vegan. A nice little sweet treat if you fancy something after your favourite vegan sarnie.
Dark Chocolate & Almond Butter Cookie
This dark chocolate cookie stands up well to most vegan biscuits out there in our opinion.
Acai & Almond Butter Bowl
A healthier alternative to the cookie or chocolate bite, this tasty bowl includes sliced banana, acai berry puree, shredded apple, pomegranate seeds, almond butter and granola. It includes almost 10g of protein and just under 7g of fibre. It's high in sugar though.
Mango & Banana Bowl
Another vegan bowl option, this one includes blueberries, coconut chips, turmeric, blended mango and banana and granola.
Pret's Fruit Salads
They offer various vegan-friendly fruit salads including a SuperFruit Salad. For some unstated reason, the Mango and Lime fruit salad at Pret is only vegetarian but not vegan, which is a little strange, but there are plenty of other fruit options to choose from.
Pret Vegan Food – Nutritional Values
Here we give you the nutritional details for four of the best vegan-friendly options available at Pret.
| Typical Values (Per serving) | Falafel, Avo & Chipotle Flat Bread | Humous & Falafel Mezze | Mexican Avocado Flat Bread | Meatless Meatball Hot Wrap |
| --- | --- | --- | --- | --- |
| Energy kJ | 1997 | 2961 | 2023 | 2131 |
| Energy kcal | 478 | 712 | 482 | 510 |
| Fat g | 19.3 | 50.2 | 16.9 | 22.3 |
| Saturates g | 3.9 | 5.9 | 5 | 5.7 |
| Carbohydrate g | 58.9 | 51.3 | 62.8 | 52.9 |
| Sugars g | 13.8 | 9.6 | 10.1 | 9.4 |
| Fibre g | 12.3 | 11.2 | 8 | 8 |
| Protein g | 10.7 | 11.5 | 15.6 | 19.8 |
| Salt g | 1.2 | 2.1 | 1 | 2 |
As you can see, all the vegan-friendly options here have decent quantities of fibre and protein, with the Meatless Meatball Hot Wrap packing in almost 20g of vegan protein, which is up there with many vegan protein powders or protein bars. A couple of the options above have a fairly high amount of fat, but the saturated fat levels are low and the wide range of vitamins and minerals contained in most of Pret's vegan options mean these are well-balanced and generally very healthy options.
A Brief History of Pret a Manger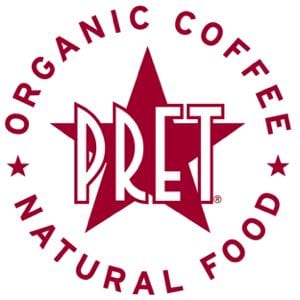 The name Pret a Manger comes from the French Prêt à Manger which means "ready to eat", which is certainly apt for a food brand that pops up at railway stations, airports and on high streets that are busy with commuters and office workers. Technically, the brand began life with a shop in Hampstead in 1983/4, but it went into liquidation. The brand was bought from the liquidators by Sinclair Beecham and Julian Metcalfe who started a new company and opened their first Pret a Manger shop on Victoria Street in London in July 1986.
The aim was to produce fresh, handmade food on the premises rather than getting pre-prepared food delivered in, and this emphasis on freshness and some imaginative and flavoursome products led to their brand growing in popularity, particularly among office workers, many of whom had fallen out of love with less healthy fast-food options.
Their early success meant Pret was able to expand both in the UK and further afield and they opened their first US shop in New York in 2000 and expanded to 74 US-based outlets by 2016. Given their name is based on the French for ready to eat, it seemed an obvious step to move into the French market and by 2016 Pret had 19 outlets in France. In 2016 they opened their first Veggie Pret, serving vegetarian-only food, and with most options being fine for vegans too, this was a cause for celebration for those following a plant-based diet.
They state their mission is "To serve freshly made food and good organic coffee, whilst also trying to do the right thing." The company backs this up to a fair degree by attempting to improve sustainability and also by setting up the Pret Foundation in 1995, a charity that helps alleviate poverty, hunger and homelessness.
Conclusions: Vegan Food at Pret
Pret, or Pret a Manger if you prefer, is one of the more forward-thinking of the high street food brands in the UK. Not only does it offer a wide variety of vegan-friendly options, but it has also opened several Veggie Pret shops that show it is very serious about both plant-based food and its claim to be striving towards a more sustainable business model.
We are very impressed with the range of vegan food on offer at Pret and they offer some imaginative flavour combinations that really raise the bar when it comes to fast vegan food. The fact that many of the Pret products are fairly healthy too is an added bonus.