To veteran vegans, or indeed quite a lot of other people, asking the question "can vegans eat eggs?" might seem – how shall we put this? – just a little strange. Given that being vegan means that a person does not consume any animal products, it would seem fairly obvious that eggs are certainly not on the menu for vegans.
Just in case you were dozing during your primary school science lessons, we'll run through the reasons vegans do not eat eggs (hint: they are laid by animals!), and we drill down into a little more detail to answer such questions as whether or not eggs from home-reared chickens could be vegan, whether or not egg whites are vegan (they're not!) and, a slight aside, what vegans can use instead of eggs in recipes. We'll also put an end to the whole chicken and egg debate, just for the hell of it!
Why Eggs Are Not Vegan
For the purposes of this article, we are focussing on eggs from chickens. Many of the points made about these particular eggs can be applied to the eggs from other birds (such as geese, quail or ducks), or indeed from fish (for instance, caviar, which are the eggs of the sturgeon fish) or even reptiles, albeit that these are not typically eaten in the UK.
In order to understand why eggs are not vegan you need to understand two basic things:
That eggs come from animals and hence are 'animal products'
That vegans do not consume animal products
Many vegetarians consume eggs on the basis that they are not technically the 'flesh' of animals, and they could be referred to as an 'ovo-vegetarian'. Others, including those coming to vegetarianism through religions, such as Hinduism, consider eggs to be meat and hence avoid them. But whether classified as meat or not, they clearly come from animals, so in the same way milk, honey and wool are out of bounds for vegans, so too are eggs.
It really is quite simple and we can only assume there is some confusion about the difference between veganism and vegetarianism. Of course, there is no such thing as a stupid question in our eyes so if you weren't sure about eggs, hopefully you now are.
Are Egg Whites Vegan?
Despite strange rumours to the contrary, "even" the egg whites are out of bounds for vegans. Given that the white cannot be obtained other than from the egg, which in turn cannot be acquired without it having been laid by an animal, it should stand to reason that egg whites are not vegan. Or indeed the egg shell for that matter (yep, some people really do eat the shells!).
Presumably this rumour or belief comes about because in very simple terms the yolk can be perceived as the part of the egg that produces the chicken. We won't go into details about this because, ultimately, it is not relevant. Irrespective of what the yolk and egg are made up of and what role they play in reproduction, as stated above, it is impossible to obtain the white without keeping and exploiting chickens and "stealing" their eggs.
What Do You Call A Vegan Who Eats Eggs?
This is not a sub-standard joke from a Christmas cracker; there are some people who identify as vegans who still eat eggs. Let's be quite clear here: a vegan who eats eggs is not a vegan, simple as that. People like to coin words for all sorts of dietary habits, and it has been suggested that vegans who eat eggs should be referred to as 'veggans'.
But that's just nonsense really. They would be closer to being ovo-vegetarians than vegans. The same goes for so-called 'seagans' – people who follow a mainly plant-based diet but who eat seafood – who cannot be classified as vegans either.
What About Eggs from Rescued Chickens?
There is some debate among vegans about whether it is okay to eat eggs that are laid by backyard chickens – those living at rescue sanctuaries and those kept as companion animals. From an ethical perspective, this is really a matter of personal choice. Some would argue that it is fine for vegans to eat such eggs if the following conditions are met:
The chickens are exceptionally well cared for, given enough space, appropriate food and accommodation and time with other chickens to allow them to live as fulfilled a life as possible
The chickens would otherwise have been killed or exploited
The chickens have not been purchased from hatcheries or others benefitting from breeding or selling animals
The eggs would otherwise go to waste
While many vegan organisations and more hard line vegan advocates would suggest that vegans should never eat eggs, if the abovementioned criteria are met, it could be seen as falling within the bounds of a vegan lifestyle. After all, if the eggs are simply thrown away instead of being consumed, the vegan in question would have to get that nourishment from another source. While that other source might be locally produced vegetables, it might alternatively be soy grown in fields that were once rainforests. As such, it could be argued that from an environmental and indeed ethical perspective, eating the eggs that came from a backyard hen is the better option.
Of course those people who are vegan at least partly for health reasons might not want to eat eggs wherever they come from given the levels of cholesterol, though the science about the positive or negative health implications of consuming eggs is somewhat inconclusive.
Vegan Alternatives to Eggs in Cooking
It is often only when people go vegan and spend more time than they used to examining food labels that they really appreciate just how many food products contain eggs (or egg protein). Thankfully, food producers are becoming more open to creating foods that don't require the addition of eggs, with some of the major supermarkets really embracing veganism, even if it is purely from a profit-driven stance.
Here are some of the easiest vegan egg alternatives, whether you want a vegan omelette or you fancy baking a cake.
Easy Vegan-Friendly Egg Alternatives
| Food or Product | Best Vegan Egg Alternative | Notes |
| --- | --- | --- |
| Scrambled Eggs | Firm Tofu | With whatever flavours you fancy and a little turmeric for colour, tofu can be fried up to give a fine imitation of scrambled eggs |
| Meringues | Aquafaba | The water in which chickpeas have been soaked whips up nicely due to its protein, just like egg whites |
| Baking | Egg Replacer | Various brands of egg replacer work well, including those made from tapioca or potato starch |
| Baking | Silken Tofu | Adds density to various baked goods, including brownies |
| Baking | Bananas | Mashed banana can help add flavour and moisture to muffins and cakes |
| Cheesecakes | Silken Tofu | Can be used to produce 'cheesecakes' with creamy textures |
| Binding | Flaxseed | Crushed flaxseed mixed with water can be used as an excellent binding agent in a range of dishes |
| Baking | Apple Sauce | As with banana, helps bind, sweeten and moisten cakes and muffins |
Eggs in Vaccinations & Medicines
While it stands to reason that people who call themselves vegans should not consume eggs or products containing eggs, there is a caveat. As outlined in the widely accepted definition of veganism, vegans are people who follow the vegan ideals "as far as is possible and practicable". One area of life that falls within this part of the definition is when it comes to vaccinations and medicines.
As we discuss in our vaccinations article, there are some vaccinations, the common flu vaccine for instance, that use egg proteins in their production. There are also some medicines that might contain ingredients derived from eggs (or other animal products). Note also that all medicines in the UK will have been tested on animals at some point in order to have been classified as safe to administer to humans.
But given that the health of the person in question is clearly of the utmost importance, in these scenarios it would be foolhardy or even dangerous to refrain from getting vaccinated or taking certain medicines because of this.
There are an increasing number of over-the-counter medicines that are vegan friendly and vegans could always ask their GP if there are vegan-friendly versions of whatever they are being prescribed. But overall, this is one area of life where vegans should put their own health ahead of that of the animals.
What Came First: The Chicken or the Egg?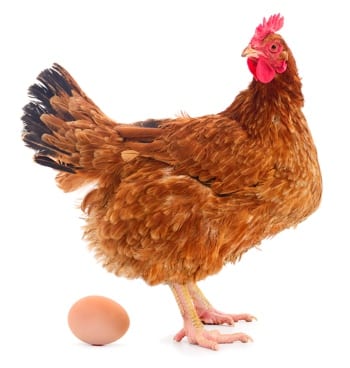 The whole "chicken and egg" conundrum has been debated for years (usually by students who have nothing better to do and may or may not have been smoking plant-based substances!). The argument proposed by some asserts that the thing that laid that egg must have been a chicken. Hence the chicken must have come first.
But, the proponent of the alternate would ask, from where did that chicken come? Outer space? No, an egg. Hence the egg must have come first. As such, this becomes a paradoxical situation that apparently has no solution.
And though there are vehement advocates of each option, we can turn to good old science for the answers. And that answer is rather straightforward: given that some animals (like the Hylonomus reptile) were laying eggs about 300 million years before chickens had evolved and were domesticated (about 5,000 years ago), so the egg clearly came before the chicken! There, that's the argument done and dusted.
Basic Assumptions
Some people might see that as something of a (vegan) fudge, and that would be fair enough, really. But, thankfully, science is not a one-trick pony, and we can rely on it even if we focus on chicken eggs specifically. As long as you accept the following two basic assumptions:
That the egg to which the question refers is a chicken egg, as opposed to the egg of any other non-chicken animal/thing
That the chicken to which the question refers is indeed a chicken, based on the accepted taxonomical definitions, as opposed to any other non-chicken animal/thing
How Did the Very First Chicken Come About?
Essentially we are asking the question – how did the very first chicken come about? This comes down to genetic mutation (the basis of evolution) alongside interbreeding, which combined to produce the animal that fits all necessary definitions of a 'chicken'. Given that the modern chicken (that is Gallus gallus domesticus, in scientific terminology) is a descendant of the red junglefowl, and possibly other wild birds, the very first chicken must have descended directly from something that wasn't quite a chicken.
The final genetic step towards chickenhood was taken when the non-chicken egg was fertilised, thus producing the DNA required to fulfil the necessary attributes of an actual chicken. So, the first chicken hatched from an egg that was laid by a non-chicken: hence the egg came first!
Neil deGrasse Tyson
This clearly won't convince everyone, of course. But there are far greater minds than ours who suggest this is the case. Everyone's favourite astrophysicist (you do have a list of your top five don't you?), Neil deGrasse Tyson, puts it succinctly: "Just to settle it once and for all: Which came first the Chicken or the Egg? The Egg — laid by a bird that was not a Chicken". So, that's that then.
Conclusions: Eggs Are Not Vegan
Now, leaving idle debate aside, we can return to the matter of whether or not eggs are vegan. Anyone with the most rudimentary knowledge of biology should not be at all surprised by our rather obvious conclusion that eggs are not vegan. But vegans and vegan wannabes will be heartened by the fact that there are various vegan-friendly egg alternatives available, whether you want to make an omelette or bake a cake.
There is the slightly grey area in relation to backyard chickens, but as with the concept vegans keeping pets/companion animals in general, it really comes down to the moral choices of the individual.