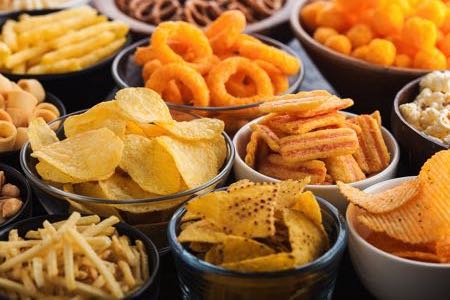 With the crisp market in the United Kingdom worth over £1 billion a year, it is understandable that so many companies want to grab their piece of it. But which crisps are vegan friendly? In this article, we'll give a detailed (and we do mean detailed!) guide showing the brands and flavours of vegan-friendly crisps available in the UK.
We've focussed on the most popular brands (including the supermarket own-brand options) in this article, though there are plenty of niche vegan-friendly crisp brands out there that can be found at various vegan-focussed supermarkets (like TheVeganKind Supermarket) and smaller local health shops.
Note: The crisps in this article we identify are vegan do not contain any animals ingredients based on the best information at the time of writing. As ever, information is subject to change. In addition, some may have been manufactured in factories that handle milk or other animal products.
Vegan-Friendly Crisps by Brand
Here we'll present the best vegan-friendly crisps based on the most popular crisps brands in the UK, including the own-brand versions from the main supermarkets. Let's first run through the brands we're covering, then we'll go into a lot more detail for each.
Jump To: Walkers | Doritos | Pringles | Kettle Foods Inc | KP Snacks | Golden Wonder | Tesco | Morrisons | Asda | Sainsbury's | Waitrose | Aldi
Walkers – Are Walker's Crisps Vegan?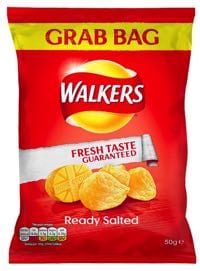 One of the most famous crisp brands in the world, Leicester-based Walkers have been going strong since 1948. In 1978 they were purchased by Frito-Lay, a division of the food and drink giant PepsiCo.
The crisp brands that fall directly under the Walkers umbrella include the following: Walkers Crisps, Walkers Oven Baked, Walkers Max, Walkers Hint of Salt, Walkers Poppables, Walkers Bugles, Walkers Mixups, Walkers Tear 'n' Share, Walkers Crinkles, Monster Munch, Wotsits, Quavers, French Fries, Squares, Walkers Delo, Sunbites, and Sensations. We'll go through each of those below and assess their vegan credentials.
Note that at the time of writing all crisps from Walkers are made in factories that handle milk, which could be a problem for some vegans, and certainly for anyone with a severe milk allergy.
Crisp Name/Flavour
Notes
Walkers Crisps
The archetypal crisp against which all others are judged, there have been some weird and wonderful flavours of Walkers Crisps over the years (Cajun Squirrel anyone?), alongside the timeless classics.

Here are the vegan-friendly flavours from the current options in this classic range of crisps: Ready Salted, Salt & Vinegar, Prawn Cocktail (see below), Worcester Sauce, Pickled Onion, Roast Chicken (seriously!), and Marmite (see below)

Marmite Crisps
Whether you love it or hate it, there is no doubt that Marmite is something of a wonder food for vegans because it contains much-needed B vitamins that are not present in many vegan foods.

So it stands to reason that these Marmite-flavoured crisps from Walkers are also vegan (cross-contamination risk aside), and also very tasty (if you are a lover, of course!). These are so good we thought they deserved their own entry in the table.

Prawn Cocktail Crisps
Shock horror: there are no prawns in Walkers Prawn Cocktail crisps! The 'Prawn Cocktail Seasoning' they use is actually a combination of a range of ingredients including sugar, salt, citric acid, potassium chloride, dried yeast and dried onion.
Oven Baked Crisps
Lighter and with less fat than the conventional Walkers crisps, the Oven Baked range take some getting used to for crisp fiends, but they are worth the effort.

The following flavours of the Walkers Oven Baked range of crisps are vegan friendly (aside from the milk cross-contamination issue): Sea Salt and Sticky Barbecue.

Oven Baked With Veg
Available at the time of writing in two flavours (Beetroot with Sweet Chilli Jam, or Sweet Potato with Paprika), these have significantly less fat than other options in the veg crisp niche (for example, the Beetroot and Sweet Chilli Jam crisps have 14g of fat per 100g, compared to around 32g of fat per 100g of the Tyrells Mixed Root Vegetable Crisps. These aren't quite as nice though!
Crinkles Simply Salted Crisps
Crinkles only come in two flavours at the time writing. The Simply Salted flavour is vegan, while the Cheese & Onion is not.
Squares
For novelty value, crisps that are square do give a few seconds of entertainment, but they are not particularly satisfying beyond that. The Salt & Vinegar Squares and the Ready Salted Squares are vegan friendly.
Salt & Shake Crisps
Now branded as Walkers, though previously a mainstay of Smith's, the rather novel Salt & Shake concept was particularly popular in the days before parents realised that encouraging kids to put extra salt on their crisps maybe wasn't a great idea. Still enjoying a small niche market, there is little between these and the Tesco version (other than the price).
Hint of Salt Natural Sea Salt Crisps
With a little less salt than the standard Ready Salted crisps, these will appeal to those who care about such things. They taste pretty similar.
Max Crisps
These deep-ridged crisps that pack as satisfying a crunch as almost any other crisp out there come in a range of flavours, with the following being fine for vegans (who don't mind the risk of cross-contamination with milk): XXL Chicken & Chorizo, Original Sea Salt, Bold BBQ Ribs, Punchy Paprika, and Chilli & Lime.
Deli
The Deli range from Walkers is their attempt to leapfrog the likes of Tyrells and Kettle Chips and aim squarely at the Waitrose crowd. They're not too bad, despite essentially being a thicker and more flavoursome version of Squares.

The Deli flavours that are vegan friendly are: Mediterranean Balsamic Vinegar, Roasted Garlic & Mediterranean Herbs (Pita Chips), and Anglesey Sea Salt.

Sunbites
Made with three wholegrains (corn, wheat and oats), the Sunbites range offer a fair amount of fibre and protein, as well as a different texture to conventional crisps that appeal to many.

Here are the vegan-friendly flavours in the range: Sun Ripened Sweet Chilli, and Lightly Sea Salted.

Sensations
A class above the standard Walkers crisps, these have a premium feel to them, with fancy flavours to match.

Here are the vegan-friendly options: Onion & Balsamic Vinegar and Lime & Coriander Chutney Poppadoms.
Note that Walkers add and remove flavours and make changes to their ranges fairly regularly so if you stumble across any flavours not mentioned in the vegan-friendly table or the list of those to avoid, just check the ingredients. Milk is always marked in bold in lists of ingredients in the UK and that is the main thing to watch out for in Walkers crisps.
Which Walkers Crisp Flavours Are NOT Vegan?
As Walkers are the best-selling crisp brand in the UK (based on the most recent figures in 2019 provided by Nielsen), we have decided to make things simple and also include the crisps they offer that are not vegan.
Walkers fans have plenty to go on based on the above table of vegan-friendly Walkers crisps (assuming the vegans in question are fine with milk products being handled in the same factory). To be on the safe side, and for those who are interested, here are the main Walkers crisps that are not vegan based on the inclusion of animal-derived ingredients.
Monster Munch (All Flavours) – We're sorry to say that all three flavours (Roast Beef, Pickled Onion, and Flamin' Hot) contain ingredients derived from milk and hence are not vegan friendly
Cheese & Onion – Contain various milk derivatives, including cheese powder, lactose, and whey
Smoky Bacon – No pigs here, but they do contain dried milk lactose
BBQ Pulled Pork – Alas, these do contain pigs in the form of 'pork powder'; interestingly, this is the only Walkers 'core' flavour that is unsuitable for vegetarians
Sunbites Cheddar & Caramelised Onion – Contains various milk products, including cheese powder and butter
Oven Baked Cheese & Onion – Contains various milk derivatives, including dried cheese and whey powder
Oven Baked Salt & Malt Vinegar – Contains lactose from milk
Oven Baked Sour Cream & Chive – Contains various milk products, including cream powder and buttermilk
Oven Baked Roast Chicken & Thyme – Whey powder from milk (rather than anything chicken-related) is the non-vegan culprit here
Max Loaded Cheddar & Onion – There are loads of milk-derived ingredients in these
Max Sizzling Flame Grilled Steak – Butter extract and dried milk whey are the problems here with no steaks to be found amongst the ingredients
Max Zingy Salt & Malt Vinegar – Another one falling foul of the milk lactose inclusion
Max Fiercely Flamin' Hot – Yep, it's those pesky milk derivatives again
Max Chunky Cheese & Onion – Milk, milk, milk… you get the picture
Max Jalapeño & Cheese – The clue is in the name… cheese from milk
Max Hot Chicken Wings – Why use whey? Well, they have, and it's from milk
Max Fiery Peri-Peri – Contains lactose and whey powder from milk, annoyingly as these look darn tasty!
Spicy Sriracha – A new flavour in the classic range, we unfortunately have no idea what they taste like as they contain sour cream powder from milk
Beef & Onion – No beef here, but they do contain dried milk lactose
Smoky Bacon – Dried milk lactose again scuppers the vegan credentials of yet another Walkers flavour that would otherwise be fine
Tomato Ketchup – This will come as a blow to many vegans… the Tomato Ketchup flavour crisps from Walkers contain dried milk whey
Crinkles Cheese & Onion – More milk-based ingredients in this flavour, unsurprisingly
Wotsits – It should come as no massive surprise that the famously cheesy Wotsits contain ingredients derived from milk and so are not vegan
Quavers – The same goes for another popular cheesy crisp, unfortunately
French Fries – While the Ready Salted and Salt & Vinegar flavours do not list any explicitly non-vegan ingredients, the manufacturer suggests they 'contain milk', so these (along with the Cheese & Onion and the Worcester Sauce flavours that do contain milk derivatives) are best avoided for peace of mind
Cheese & Onion Squares – Vegan fans of cheese and onion flavour crisps are not doing well when it comes to Walkers… here's another with milk products
Deli Cornish Cheddar – Another with milk-based ingredients
Deli Sweet Chilli With Dorset Sour Cream – With sour cream powder from milk, these are no good for vegans
Deli Flame Grilled Spanish Chorizo With Roasted Onion – One of the few flavours of any Walkers crisps to be unfit for even vegetarians, these contain 'pork powder', as well as milk derivatives
Honey Glazed Barbecue Sunbites – Honey doesn't pop up in crisps too often, but it does here, thus making these non-vegan
Sour Cream & Cracked Black Pepper Sunbites – More milk in here, we're afraid
Cheddar & Caramelised Onion Sunbites – These are whey out of order for vegans (see what we did there?!)
Sundried Tomato & Mozzarella Sunbites – Cheese powder from milk is one of the culprits here
Sensations Thai Sweet Chilli – Buttermilk powder scuppers this flavour for vegans
Sensations Roast Chicken & Thyme – No chicken in these, but there is some dried milk whey
Sensations Mango & Red Chilli Chutney Poppadoms – Buttermilk powder renders these non-vegan
Despite bosses of Walkers (and Gary Lineker) wanting us to believe otherwise, there are plenty more crisps in the world than just Walkers. So, let's take a look at the main alternative options for vegan crisp lovers.
Doritos – Which Doritos Flavours Are Vegan?
Also owned by Frito-Lay (PepsiCo), Doritos are flavoured tortilla chips that have been around since the 1960s and have grown into one of the most recognisable snack brands in the world. As we discuss in our Are Doritos Vegans? article, and like many of the crisps in this article, Doritos are manufactured in a factory that also handles milk.
This will be of concern to some vegans, but more so to people with severe milk allergies. Many vegans, however, will judge Doritos and other products by the ingredients they contain, and on that front, there are some Doritos flavours that qualify as vegan friendly. See below to find out which ones.
| Crisp Name/Flavour | Notes |
| --- | --- |
| Lightly Salted | For a basic tortilla chip with good dipping strength and no overpowering flavours, you could do a lot worse than the Lightly Salted Doritos option. |
| BBQ & Chilli | For those seeking a something with a bit more of a kick, without going over the top, these should fit the bill nicely. |
| Chilli Heatwave | The Chilli Heatwave chip ramps up the spice a little but they are by no means tongue-sizzlingly hot, especially if coupled with a mild salsa. |
Okay, there might be only three vegan-friendly flavours of Doritos as things stand, but that should satisfy all but the most fervent of tortilla chip fiends. It is perhaps surprising that the Cool Original flavour is out of bounds for vegans, but they contain milk, cheese powder and milk proteins (for some reason!).
Note that Doritos have regular spin-off products and special flavours, but because they change these so regularly, we've stuck to the standard flavours here.
Pringles – Which Pringles Flavours Are Vegan?
Pringles are reportedly the fourth most popular snack brand in the world, and since they were developed by Proctor & Gamble in the 1960s they have been embraced by crisp fans the world over.
And, the good news for vegans, as we discuss in our Are Pringles Vegan? article, is that there are a good number of flavours that are fine for those following a plant-based diet. See below for the details.
| Crisp Name/Flavour | Notes |
| --- | --- |
| Original | With a worryingly addictive taste-crunch combo, the Original Pringles are a solid addition to any party or vegan barbecue. |
| Sweet Chilli | Whoever designed this flavour clearly understood how to maximise the chances of someone devouring a whole tube in one sitting. Dangerously tasty. |
| Paprika | Another fine option, though there is a slightly non-paprika tang to the flavour in our experience. |
| Smokey Bacon | Perhaps surprisingly vegan, any former omnivores who crave a bacon fix might choose these (though how close the taste is to real bacon, we really can't remember!) |
| Texas BBQ Sauce | Arguably the most pleasant vegan-friendly Pringles flavour, we recommend never buying more than a single tube or you really might end up consuming far too many calories for your own good! |
With five options to choose from, Pringle-loving vegans are well enough catered for. They will have to forego the other flavours though, including Prawn Cocktail, Salt & Vinegar, Steak, Hot & Spicy, and Steak.
Kettle Foods Inc – Are Kettle Chips Vegan?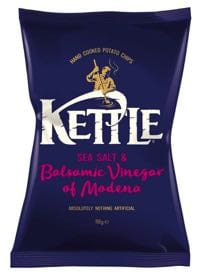 The makers of Kettle Chips were founded in 1978 and produced their first crisps (or potato chips as they would say, being from Oregon, USA) in 1982. They have a factory in Norwich and over 90% of the potatoes they use for UK crisps are sourced from within 35 miles of that factory, which at least gives them something of an ethical edge.
The crisp brands sold by them in the UK are: Kettle Chips, Ridge Cut, Veg Chips, Kettle & More. We'll list the vegan-friendly flavours of each range in the table below.
Crisp Name/Flavour
Notes
Kettle Chips
One of the first and arguably still one of the best of the premium ranges of crisps to appear on supermarket shelves, Kettle Chips have a superior consistency, crunch and flavour to many conventional crisps.

The vegan-friendly flavours are: Sea Salt & Balsamic Vinegar, Lightly Salted, Sea Salt & Crushed Black Peppercorns, and a recent addition, Vegan Sheese & Red Onion.

Veg Chips
Both the Lightly Salted and the Sea Salt & Balsamic Vinegar flavoured Veg Chips are fine for vegans.
Kettle & More
None of the Kettle & More flavours are vegan at the time of writing (which should come as no great surprise for the Norfolk Pork Sausage flavour in particular).
Ridge Cut
None of the Ridge Cut flavours are vegan at the time of writing.
That Kettle Foods Inc have created a flavour specifically for vegans is a good sign and we are hopeful they will create similarly vegan-friendly options in the future whilst also making more of their range suitable for vegans where possible.
KP Snacks – Which KP Crisps Are Vegan?
This famous old Slough-based snack company started life in 1853, making them one of the oldest crisp and snack brands around. As well as producing nuts galore, they also produce a shedload of crisps under the following brands: McCoy's, Hula Hoops, Tyrrells, Pombear, Popchips, Skips, Space Raiders, Nik Naks, Wheat Crunchies, Discos, Roysters, Frisps, and Brannigans… but which are vegan? Check out the table below. As with some other manufacturers, there is the chance of cross-contamination with milk and egg.
| Crisp Name/Flavour | Notes |
| --- | --- |
| Skips | Hurray! No prawns here, and Skips are vegan friendly (subject to the usual cross-contamination risks). |
| McCoy's | One of the oldest and best-loved ridge cut crisps, the following McCoy's flavours are vegan: Salted, Salt & Malt Vinegar, Paprika, and Hot Mexican Chilli |
| Hula Hoops | Loved by kids (and adults) who can't resist putting a Hoop on each of their fingers before scoffing them, both the Original and the Salt & Vinegar flavours are vegan friendly. |
| Tyrrells | A high-end crisp brand that compares (and competes) with Kettle Chips, there are plenty of vegan-friendly Tyrells flavours including: Lightly Sea Salted, Sea Salt & Cider Vinegar, Sweet Chilli & Red Pepper, Sea Salt & Black Pepper, Posh Prawn Cocktail, Naked (no salt), Sea Salted Furrows, Sea Salt & Vinegar Furrows, Mixed Root Veg Crisps, Balsamic Vinegar & Sea Salt Veg Crisps, and Lightly Sea Salted Sweet Potato Crisps. |
| Pom Bear | A decent option for snack-eager kids, the Original flavour is vegan friendly (though the Cheese & Onion flavour isn't). |
| Space Raiders | A throwback to the 1980s for many, the Pickled Onion Flavoured Snacks are vegan (but the Beef are not… because of milk lactose rather than cow!). |
| Nik Naks | Good news, Nik Nak lovers: none of the three main flavours – Nice 'N' Spicy, Rib 'N' Saucy or Scampi 'N' Lemon – contain any animal-derived ingredients and so are fine for vegans. |
| Wheat Crunchies | These cylindrical crisps certainly pack a crunch, with a fine amount of flavour too. The Crisp Bacon and the Worcester Sauce flavours are vegan but the Spicy Tomato and Cheddar & Onion flavours are not. |
Golden Wonder Vegan Crisps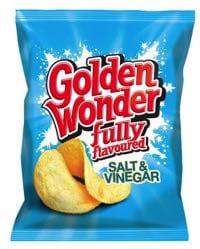 It is fair to say that Golden Wonder, who started life in Edinburgh in 1947, are not quite the crisp maker they once were. Since their heyday they have sold off some of their most iconic crisps including Nik Naks and Wheat Crunchies (to then KP Snacks owner United Biscuits) and Wotsits (to Walkers).
They also sold their Pot Noodles brand to Unilever. Although they are not as significant as they once were in the crisp world, Golden Wonder still have a fair range of crisps that are available in various supermarkets. See which ones are vegan below.
Crisp Name/Flavour
Notes
Golden Wonder Crisps
Their standard crisps are comparable (if slightly inferior) to the standard Walkers crisps.

The following flavours are vegan: Salt & Vinegar, Sausage & Tomato, Ready Salted, Smoky Bacon, Tomato Ketchup, Spring Onion, Pickled Onion, and Prawn Cocktail.

Rough Cuts
Basically a cheaper version of McCoy's, these are nice enough and the following flavours are vegan: Bang Bang Spicy Thai and Rock Salt.
Golden Lights
Under 100 calories a pack, the Sea Salt flavour option is vegan friendly.
Which Supermarket Own-Brand Crisps Are Vegan?
Some time ago supermarkets came to the realisation that creating their own versions of well-loved food products could be a real money spinner. By creating similar (but often slightly less enticing) products, but charging a good deal less than the big name brands, supermarkets gave consumers the choice of prioritising brand or economic value. This is apparent across many different food product ranges, including crisps.
Here we'll provide details of all the vegan-friendly own-brand crisps offered by all the major UK supermarkets. Note that products change from time to time and it can be beneficial to check labels occasionally to ensure no non-vegan nasties have been added. Many of the supermarkets detailed are getting increasingly good at marking their products as vegan however.
Note that most of the supermarkets mentioned below also sell a good number of the crisp brands mentioned above (though the discount supermarkets such as Aldi and Lidl often have alternatives to the better known brands we've featured).
Tesco Vegan Crisps
The biggest supermarket in the UK by market share (according to Statista and Kantar), Tesco was founded by Jack Cohen in 1919. They have a vast number of own-brand products with a good number of crisps… including the surprisingly vegan Bacon Rashers Snacks! Tesco have become increasingly good at labelling their own brand products as vegan friendly in recent years, including all these crisps.
Crisp Name/Flavour
Notes
Finest Lightly Salted Crisps
Tesco's Finest range offers high quality crisp options but with a price tag that is significantly below the likes of Kettle Chips or Tyrells (unless they are on offer).

The lightly salted version is nice enough, but we prefer the more interesting options mentioned below.

Finest Crinkle Cut Lightly Salted Crisps
Like the standard Finest Lightly Salted crisps, but decidedly more crinkly.
Finest Sea Salt & Cider Vinegar Crisps
A superior crisp to the lightly salted version, the cider vinegar gives these a bit of bite and they compare well to the higher end versions, such as Kettle Chips.
Finest Crinkle Cut Sea Salt & Cider Vinegar Crisps
A crinkled version of the abovementioned.
Bunny Bites Snacks
The bunny-shaped, fluffy snacks are made from a mixture of potato, tapioca and maize and seem to go down quite well with toddlers… (and adults nursing hangovers). They're not exactly gourmet crisps, but they fit the bill perfectly for a children's party.
Bacon Rashers Snacks
Vegans who suffer from the occasional pang for certain flavours from their past might find these Bacon Rashers Snacks somewhat satiating. They are essentially the vegan alternative to Smith's Frazzles (which contain lactose and whey from milk), and people who used to munch a bag or two of those will find these just the ticket.
Finest Sea Salt & Black Pepper Crisps
Another very nice crisp from the Finest range, and again a decent value alternative to some of the branded options.
Salt & Vinegar Sticks
Cheap, not particularly tasty or satisfying. However, there is always a place for vegan-friendly sticky crisps like these for kids' parties and the like.
Finest Root Vegetable Crisps with Sea Salt
These parsnip, sweet potato and beetroot crisps are tasty enough though they can make the fingers a little greasy. They are, however, robust enough to dip in hummus without breaking (usually), which is always good.
Finest Crinkle Cut Sweet Chilli Crisps
Arguably the nicest flavour of the vegan-friendly Finest crisps on offer from Tesco, the Sweet Chilli Crisps have enough kick to stimulate your taste buds, without going so far as to numb them.
Shake to Salt Crisps
The Tesco version of the Walkers/Smith's Salt & Shake Crisps has a small sachet of salt in each pack. Unlike the branded version, these are not made in a factory that handles milk, so might be preferred by some vegans.
Potato Chip Snacks
Like the Sticks mentioned above, but slightly thinner and crunchier, these are perhaps more akin to Walkers French Fries (though less curved). Great value and nice enough. Could be used for elaborate sculptures at kids' parties.
Lentil Curls
This legume-based snack makes a change from potato crisps, and though they are a little lacking in flavour, you could spice them up with paprika if you so desired.
Reduced Fat Ready Salted Crinkle Cut Crisps
These Reduced Fat crisps are far from fat free, but they pack a satisfying crunch so we'll forgive them.
Lightly Salted Tortilla Chips
A cheaper and less robust alternative to Doritos, these are fine as party or barbecue fodder but they tend to snap too readily when used to scoop up salsa.
Mini Poppadoms
Not big enough or sturdy enough to effectively dip in your lime or mango chutney, these vegan-friendly poppadom-style crisps are a nice enough accompaniment to a tasty vegan curry or dal.
Salt & Vinegar Crisps
A standard salt and vinegar option that might be preferred by some vegans to Walkers (which, as mentioned, are made in a factory that handles milk).
Ready Salted Crisps
Some people love ready salted crisps, in all their banal blandness. The Tesco own-brand version does what's expected of them and are good value.
Morrisons Vegan Crisps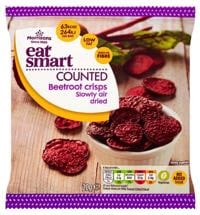 Found in 1899 by William Morrison, initially as an egg and butter stall in a market, Morrisons have since become a little more vegan friendly! Another massive supermarket (the fourth largest in the UK), it is not surprising to see they have a solid number of own-brand crisps, but there aren't as many vegan-friendly options as some of their rivals offer.
| Crisp Name/Flavour | Notes |
| --- | --- |
| Ready Salted Flavour Crisps | Basically as standard a crisp as you can get, but at under a quid for six packs, these tick the value box for sure. |
| Salt & Vinegar Twirls | A zingy, twirl of a crisp that is good value and good enough as an extra at a party/buffet. |
| Spicy BBQ Popped Chips | Flavoursome and light, these popped chips compare well to others in the genre, especially on price. |
| Eat Smart Apple Crisps | It might be stretching the definition of crisps a little, but if veg can do it, why can't fruit? A nice alternative to the starch-heavy options in this article. |
| Eat Smart Beetroot Crisps | These beetroot crisps are also worth checking out for those seeking a change from their go-to potato-based snacks. |
Asda Vegan Crisps
Constantly battling it out with Sainsbury's to be the UK's second biggest supermarket (behind Tesco), Asda began life in Leeds in 1949. Despite their size, Asda lag behind some of the other supermarkets when it comes to own-brand products, and especially vegan-friendly crisp options.
| Crisp Name/Flavour | Notes |
| --- | --- |
| Salt and Vinegar Flavour Crisps | As good as most basic salt and vinegar crisps out there. |
| Ready Salted Crisp | Standard, cheap, vegan. Nuff said. |
| Cheeky Monkey Potato Snacks | Very similar to Pom Bears, these monkey face-shaped crisps will keep screaming toddlers occupied for at least 30 seconds. |
| Bacon Bites | Like the Tesco Bacon Rashers Snacks, these are vegan friendly, and reasonably edible. |
| Onion Rings | Party fodder that is not meant to impress (and is unlikely to do so). |
| Potato Loops | Asda's answer to Hula Hoops do the job nicely. |
| Ridge Cut | Asda's Salt and Vinegar and their Ready Salted Ridge Cut Crisps are vegan friendly. |
Sainsbury's Vegan Crisps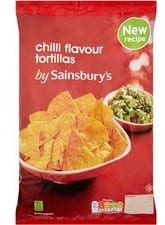 As mentioned, Sainsbury's are usually vying for second place in the supermarket wars with Asda, and appear to be edging ahead in recent times. Founded way back in 1869 in Drury Lane, London, they have built up steadily over the years and were the UK market leader for much of the 20th century. They have a decent number of own-brand crisps, including some that are perhaps surprisingly vegan… Flame Grilled Steak Ridge Cut Crisps, anyone?
| Crisp Name/Flavour | Notes |
| --- | --- |
| Flame Grilled Steak Ridge Cut Crisps | Akin to McCoy's in flavour and texture, these sturdy crisps are perfect for vegans seeking the kind of flavour that is rarely available to people on a plant-based diet. |
| Ready Salted Crisps | Standard, good value ready salted crisps. |
| Taste the Difference Vegetable Crisps | These parsnip, sweet potato and beetroots crisps offer a decent alternative to the higher end (and higher priced!) veg crisp options, such as those from Tyrells. |
| Prawn Cocktail Crisps | Utilising paprika extract and tomato powder instead of prawns for the flavour, these are a nice enough option for those seeking the taste of a 1980s dinner party. |
| Salt & Vinegar Crisps | Another standard flavour that ticks the value and taste boxes without trying for or achieving too much more. |
| Taste the Difference Gourmet Sea Salt & Cider Vinegar Crisps | Those seeking a higher end alternative to standard salt and vinegar crisps will be pleased with these, especially as they are significantly cheaper than the likes of Kettle Chips. |
| Taste the Difference Sweet Chilli Crisps | A slightly more adventurous own-brand option from Sainsbury's and this Thai Sweet Chilli option packs a nice kick. |
| Taste the Difference Sea Salt & Peppercorn Crisps | Another flavour from the Taste the Difference range that is going head-to-head with Tyrells and Kettle Chips, and another that competes very well, all things considered. |
| Onion Rings | Great as cheap party snack options, but not particularly tasty in all honesty. |
| Tortilla Chips Salted/Chilli | The Sainsbury's alternative to Doritos are decent value and are nice enough, if a little too prone to breakage in the bag. |
| Bacon Crispies | Nothing originating from a pig has been put into these Bacon Crispies, and though the taste will not please everyone (or the concept for that matter), they are fine for vegans to consume if they so choose. |
| Salt Potato Twirls | Another cheap party snack option that doesn't really do much for us but which no doubt has its place. |
| Salt Crunchy Sticks | As above… some people like them, we could take them or leave them, really. |
| Salted Popped Potato Chips | Marketed as a healthy crisp option due to their reduced fat levels relative to standard crisps, these own-brand popped crisps are nice enough without having anything resembling a wow factor. |
| Mini Poppadoms | Are poppadoms crisps? Well, Sainsbury's think so, and the mini ones they produce are vegan friendly, so that'll do for us. |
Waitrose Vegan Crisps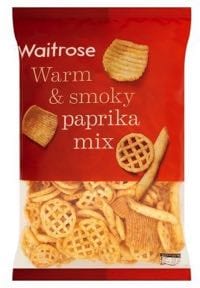 Now the food arm of the John Lewis Partnership, Waitrose & Partners actually began life in 1904 as a small grocery store in Acton, in west London. Opening its first supermarkets in the mid-1950s, Waitrose gained a reputation for high quality produce and one that caters particularly to higher end customers (it even has a royal warrant from the Queen and Prince Charles!).
They have a handful of vegan-friendly own-brand crisps, as detailed below. We had hoped for a little more imagination from Waitrose, but they sell so many branded vegan-friendly crisps that their customers will not be left wanting.
| Crisp Name/Flavour | Notes |
| --- | --- |
| Essential Ready Salted Crisps | The name says it all. Nothing overly interesting to say about a fairly plain crisp other than they are decent value. |
| Essential Salt & Malt Vinegar Crisps | As above. Perfectly acceptable salt and vinegar option for those seeking good value. |
| Essential Salt & Malt Vinegar Sticks | Just like the Salt and Malt Vinegar Crisps… but stickier. |
| Essential Salted Tortilla Chips | A reasonable (cheaper) alternative to Doritos that will suffice for anyone who isn't a tortilla chip aficionado. |
| Essential Prawn Cocktail Shells | One of the better value alternative to KP Skips (which apparently may contain milk or egg based on the potential of cross-contamination), this option from Waitrose will satisfy many crisp fiends who used to love their Skips. |
| Love Life Your Count Ready Salted Crinkle Reduced Fat | Reduced fat and tasty enough… but not as healthy as a carrot and a few nuts! |
| Crisp & Crunchy Mini Poppadoms | Another mini poppadom option to accompany your vegan curry or simply enjoy as a snack in its own right. |
| Paprika Mix | Spicy potato snacks in a variety of shapes, these are a good value party snack option. |
| Habas Fritas | Made by roasting and salting broad beans, if vegetable crisps can be included in this category, then so can these. They are very crunchy and surprisingly tasty too, and with just broad beans, sunflower oil and salt listed as ingredients, they are one of the simplest 'crisp' options there is. |
Aldi Vegan Crisps
Actually made up of two brands, Aldi Nord and Aldi Sud, this German discount supermarket began life in Essen in 1946. It is the Aldi Sud side (known as Aldi to most) that operates in the UK and which causes all manner of strife for the traditional UK supermarkets by having to temerity to charge less for a range of food products. Marketing their own-brand crisps under the Snackrite brand (rather than Aldi) there are a number of vegan-friendly options available.
Some of their Snackrite flavours are vegan friendly, as are many of the various smaller-brand options they sell in their stores, but it's always best to check individual labels due to the high turnover of products.
Best Vegan Crisps in Conclusion
Whilst many types of crisp do contain a milk-derivative or other non-vegan ingredient, there are lots and lots of options for vegan crisps fans. As is the case with vegan biscuits, vegan sweets, and indeed many vegan-friendly products, the main issue in relation to vegan crisps is the chance of cross-contamination or cross-contact with animal ingredients during production. The risks are generally small, but those with particular allergies (especially milk) should be particularly vigilant, whilst those who do not even want to chance cross-contamination should look to specialist vegan crisps.
Overall though, at least for the vegans who are prepared to risk the chance of cross-contamination with milk products, there is a vast range of crisp options available. In terms of the supermarket own-brand vegan-friendly crisp options, some fare better than others.
We have seen over recent years, however, that all the supermarkets are making strides in the right direction in terms of effective vegan labelling of products and in producing more (and better) vegan-friendly own-brand products in general, with crisps being just one example.