Croissants are a delight whether served for breakfast or brunch, but sadly, that is not something a vegan-from-birth could ever know because croissants are not vegan! Is this going to be the shortest article in the history of our site and in particular the Is It Vegan? section? Well, possibly, but we certainly won't leave our answer there.
Read on to learn why croissants are not (normally) vegan and discover what a croissant is (if you don't know). We'll also throw in a bit about the history of the croissant, give some information on vegan-friendly croissants and, the big one, we'll explain how you pronounce the darn things!
Why Croissants Are Not Vegan
We have said that croissants are not vegan (at least twice already!) but at the same time we have noted the existence of "vegan-friendly croissants". Sometimes the existence of a vegan version of a given food means our answer is more along the lines of "sometimes it's vegan, sometimes it's not", or "it's usually vegan, but…"
However, with a croissant, we feel it is far more accurate to say that it isn't vegan, even though it is possible to make a vegan baked good and call it a vegan croissant. That a well-known bakery (Gregg's, in case you missed it) produces a vegan sausage roll or steak bake doesn't change the fact that sausages and "steak" are not vegan.
Butter is the Main Offender
The point we are trying to make, is that a croissant is a very particular thing and any standard recipe for it would always be non-vegan. The principle reason is that butter is a truly integral part of a normal croissant recipe. Butter is made from milk; milk comes from animals… et voilà! Croissants are not vegan.
A description of a good croissant is more or less legally required to include the words buttery and flaky and, as anyone who has ever watched The Great British Bake Off will know, it is the butter that is vital to the lamination that creates the flaky texture. It is also pretty vital to the buttery-ness!
Whilst even non-bakers will probably know that a croissant contains butter (and lots of it!), perhaps not everyone would be aware that the initial dough that is then layered with the butter also includes milk. But the non-vegan ingredients in croissants don't stop there…
Is a croissant the most non-vegan item in the bakery, you might ask? Having compared a number of recipes for traditional croissants it soon becomes clear that a typical iteration of this bready pastry is not just on the vegan naughty step but is in the vegan gaol, serving a life sentence or three.
Typical Ingredients in a Croissant
A typical ingredients list reads:
Flour
Sugar
Salt
Yeast
Milk
Eggs
Butter
Aside from salt and butter, all of those ingredients are covered in the area of our site dedicated to looking at whether something is vegan or not. Now, whilst we cover many items that are vegan, we cover many that are not, or at the very least have issues those on a plant-based diet should be aware of.
Milk & Eggs Are Definite No-Nos
Clearly milk, by which we mean dairy milk, is not vegan. And eggs and butter (see our feature on margarine for info about vegan alternatives) also derive from animals of course. Yeast can confuse some people because it is alive, but as we explain in our article about it, it is not an animal and therefore is vegan, as is salt.
Sugar & Flour Are Sometimes Problematic
When it comes to both sugar and flour they are often vegan nowadays but there are things vegans should be wary of. This is especially true of processed items that include these because, with sugar in particular, it can be impossible to know if it has been processed with animal derivatives unless you contact the manufacturer (and even then you can't be sure of getting a straight answer).
Ultimately though, the provenance of the sugar and flour are irrelevant. Just about any standard croissant you encounter will contain at least two (and probably three) of butter, milk and eggs. For that simple, clear and undeniable reason, croissants are non-vegan.
What Is a Croissant?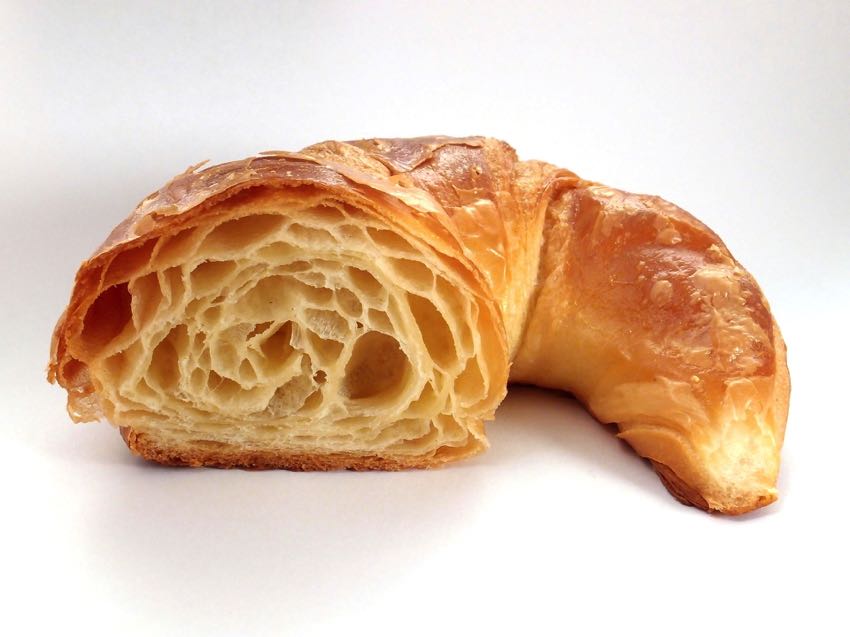 A croissant is, oh just wait for this, a croissant is Austrian! "What?!", we hear you all exclaim. Well, whilst the word itself is French (see more below), it was originally invented in Austria, specifically in Vienna. According to the late Raymond Calvel, a bread expert and former professor of baking in Paris, as told in Harold McGee's legendary food tome, On Food and Cooking, "Croissants first made a splash at the 1889 Paris World's Fair, where they were one of many kinds of Wienerbrod, or Vienna goods brought from the city that specialised in rich, sweet pastries".
Now, the French ran with the idea, tweaked it a little and more or less stole it but there seems widespread agreement that the first "croissants" were Austrian (although just to really confuse things, some say they were created by Hungarians celebrating victory over Turkey!). Either way… Mind. Blown.
However they started, there is no doubt at all that these crescent-shaped enriched doughs were, it is believed, altered by Parisian bakers in the years that followed, chiefly by adding the butter to create a laminated dough.
Given how integral this step is to the treat we now know as a croissant, to our eyes it is probably more accurate to say that the French did invent it. But, as with vegan favourite the falafel, we could probably argue all day about food origins and get precisely nowhere. So, we'll move on.
How Croissants Are Made
Croissants use a fermented dough that requires little kneading and thus is firm yet flexible. It is made from flour, milk and yeast and sometimes even the initial dough is enriched with butter. The dough is left for around an hour, although traditionally the first rise would have been more like six hours. A slow rise creates more flavour and a lighter croissant.
Air is then allowed to escape before the pastry is chilled, rolled and covered with a thin sheet of butter. This twin layer is folded a number of times to create multiple layers which ultimately lead to the laminated effect. The dough is folded, rolled and chilled up to five more times before being rolled to a thickness of around half a centimetre.
This thin, buttery pastry is then cut into triangles and rolled into shape before a second low-temperature rise of around an hour. At this stage, the croissants are ready for the oven and combination of the fermented, slow-risen dough and the multiple layers creates a finished product that is golden, buttery and flaky on the outside but light, fluffy and moist inside.
Croissants are typically enjoyed at breakfast but can be used in a range of other ways too, including to make sandwiches and desserts, such as bread and butter pudding. That is, assuming you are not vegan, or you use vegan croissants.
Vegan Croissants
Well, to solve the cliffhanging teaser we ended on, and to ease the fears of vegan croissant-lovers, yes, vegan croissants exist. Hurrah! A croissant throws up many issues for the hopeful vegan baker: chiefly how to create the same texture and taste without using butter, milk, or eggs.
However, vegans are a resourceful bunch of bakers and they have managed to develop recipes for 100% plant-based croissants. Let's start with some shop-bought pastries where the hard work is done for you. The table below shows just a few of the options vegans have when it comes to this Austrian/Hungarian/French food!
| Croissant | Typical Price | Notes |
| --- | --- | --- |
| Go Vegan Organic Whole Wheat Croissants | £4.99 for five (TheVeganKind Supermarket) | Bio organic and you can feel it in your wallet! Pricey product is made in Italy and uses agave syrup, vegetable margarine and a sourdough starter. Tastes very sweet and vanilla flavour is too strong. Texture isn't bad but can be dry. |
| Delifrance Vegan Croissants | £1.50 for two | Uses spelt flour and quinoa seeds but lots of E numbers. The margarine used contains palm oil. Texture is good without being fully flaky, although crunchy seeds not to everyone's taste. |
| La Boulangere Vegan Croissants | £2.50 for six (Most supermarkets) | Palm oil-free, this mainly uses shea fat and sunflower oil to create an excellent value vegan croissant. Good buttery flavour and probably the best we've tried, although plastic-reducers won't like the packaging. |
| Caffè Nero Vegan Raspberry Croissant | £1.95 each | Released in January 2020, Caffè Nero's new vegan-friendly croissant uses plant-based oils instead of butter and has the same proofing and resting times as their buttery version. Filled will raspberry jam and topped with a sprinkling of raspberry sugar glaze, this is one for the sweet-toothed vegans. |
| Pret Very Berry Croissant | £1.70 each | Going head-to-head with Caffè Nero, Pret also brought out a vegan croissant offering in January 2020. Their Very Berry Croissant replaces dairy butter with shea butter and sunflower oil, and includes jam from five berries (strawberry, redcurrant, raspberry, blackberry and blackcurrant). It doesn't look as much like a conventional croissant as some of these options, but its flaky crunch and berry flavours are sumptuous. |
Are Vegan Croissants Any Good?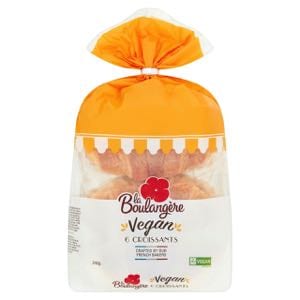 We got a non-vegan friend whose waistline attests they are no stranger to a full-butter croissant to test the five vegan products above. Feedback was balanced and in truth, despite what other vegan information sites might say, none of these will be troubling traditional French bakers anytime soon.
That said, all were very edible and, as with many vegan substitutes, we imagine once you got used to them you would more or less forget what a non-vegan croissant was like. For vegans who have tasted a traditional croissant, expecting the exact same texture and taste is probably unrealistic but these three options are all worth checking out.
The first three in the table are widely available in major supermarkets and online specialists such as TheVeganKind Supermarket also stock others from time to time. Our tester's favourite of the shop-bought options was La Boulangere, which is excellent news as they are also the cheapest of the brands we looked at. While the Caffè Nero option came out as the overall winner for taste and texture, though clearly not price.
Of course, making your own vegan-friendly croissant is, like with many foods, an option that is often even cheaper and gives you full control of the ingredients. This way you can decide what flavours to add, you can omit palm oil if that is a concern for you and you can tweak the recipe in order to get it just as you like it.
Croissants are not the easiest thing in the world to make, with various technical steps and processes to follow. However, if you do want to give it a whirl, we suggest this vegan croissant recipe is a great starting point. Good luck!
How Do you Pronounce Croissant?
Well, you've made it this far but do you even know how to pronounce the word croissant? Ultimately, it may well be a question of how French you want to go – it is, after all, a French word. We suspect if you give it the full Gérard Depardieu in your local small-town Asda the best you could hope for would be a quizzical look. Equally that same full-effort-French-accent in an artisanal Parisian boulangerie may be met with a blank stare as if you have just asked them a loaf of Warburtons.
For everyday usage (oh, we are always saying croissant on a daily basis) we suggest something along the lines of kwa-son should do the job nicely enough. Check out this handy Youtube video if you still aren't convinced!