Doritos are the snack of choice for millions of people around the world and these triangular corn-based tortilla chips (or crisps, if you prefer) come in a variety of enticing flavours. But are Doritos vegan friendly? Can vegans tuck into these tasty snacks without any guilt? Well, that depends on two factors:
Which flavour of Doritos you choose – some Doritos flavours contain milk-derived ingredients
How strict your personal rules of veganism happen to be – there is a chance of cross-contamination or cross-contact with ALL Doritos flavours
What Are Doritos?
Doritos are flavoured tortilla chips that are made by US snacks giant, Frito-Lay, who are a subsidiary of the behemoth that is PepsiCo. They were originally created by the Casa de Fritos fast-food restaurant based in Disneyland, California in the 1960s and were based on the traditional Mexican snack totopo.
The popularity of the snack product caught the attention of Frito-Lay who made a deal with the creators. Frito-Lay launched Doritos nationwide in the United States in 1966 and their popularity rose to the point at which Doritos earned astounding sales of $1.2 billion in 1993. They are sold in numerous countries around the globe and they have expanded the number of flavours, with the addition of various limited edition options, over the years.
What Are They Made From?
The main bulk of Doritos tortilla chips come from ground corn (or maize), with vegetable oil and salt the other key ingredients. Various flavours include a wide range of other ingredients, some including dairy products. Various flavourings and colourings are added to different Doritos flavours, but check the individual packets for the full details.
All Doritos 'Made in a Factory That Also Handles Milk'
The main problem is that when assessing the nutritional information of any of the tortilla chips flavours available in the UK on the Doritos products page in their UK-facing website, there is something of a troubling statement for vegans. For all the flavours that don't list any dairy products amongst their ingredients (and hence which are obviously non-vegan), it states on the site: 'Made in a factory that also handles: Milk'.
For quite a few vegans, that statement means it is game over. Doritos will be cast asunder, never to be consumed again. But for others who perhaps take a more nuanced or pragmatic view, it could well be the case that the mere possibility of cross-contamination with milk products that are handled in the same factory is not enough to put them off the flavours that don't explicitly contain milk or other non-vegan ingredients.
If you fit into the former category, well, at least you know (and you might want to scroll down to the 'Vegan Alternatives to Doritos' section below). For those who fall into the latter category, you will no doubt be wondering which Doritos flavours do not contain any dairy products.
Which Doritos Flavours Are Vegan?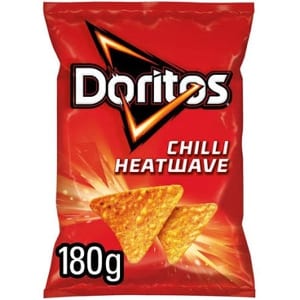 As mentioned, there is a school of thought that suggests that none of the tortilla chips offered by Doritos in the UK are vegan friendly. And another that suggests that those flavours that don't contain non-vegan ingredients are fine for vegans. The side of the fence you sit will depend on your own vegan ethics, but we are not here to judge either side. Rather we are here to provide the information to enable you to make an informed choice about what you consume.
The vegans who decide to judge a product by the listed ingredients alone and who discount the possibility of cross-contamination as just that, a possibility, would view the following three flavours of Doritos as vegan:
Lightly Salted
BBQ & Chilli
Chilli Heatwave Doritos
None will be certified as officially vegan friendly by any of the organisations that feel able to make such pronouncements, at least as long as they are made in a factory that handles milk products. But there are plenty of other food products that aren't certified as vegan that clearly are fine for vegans to consume, so that won't matter to all vegans.
Doritos Flavours in the UK
Here are the main flavours available in the UK at the time of writing, with details about what makes some of them definitely non-vegan. It also states what makes the rest a matter of personal choice for those following a plant-based diet.
| Flavour | Is it Vegan? | Notes |
| --- | --- | --- |
| Tangy Cheese | No | Contains whey from milk, cheese powder, buttermilk powder, milk protein and skimmed milk powder |
| Flame Grilled Steak | No | Contains whey from milk, milk lactose, milk |
| Cool Original | No | Contains milk, cheese powder, milk proteins |
| Chilli Heatwave | Yes, apart from risk of cross contamination | Contains no explicitly non-vegan ingredients |
| BBQ & Chilli | Yes, apart from risk of cross contamination | Contains no explicitly non-vegan ingredients |
| Honey Glazed Ribs & Lemon Blast | No | Contains buttermilk powder, lactose from milk |
| Habanero Chilli & Guacamole | No | Contains whey from milk, flavourings from milk, sour cream powder, cheese powder |
| Lightly Salted | Yes, apart from risk of cross contamination | Contains no explicitly non-vegan ingredients |
| Hint of Lime | No | Contains cream powder, milk powder, whey from milk |
In theory, there is nothing amongst the ingredients of the Lightly Salted, BBQ & Chilli or Chilli Heatwave Doritos that are strictly non-vegan. This is especially the case with the Lightly Salted variety, which has only the following ingredients listed: Corn (Maize), Vegetable Oils (Sunflower, Rapeseed, in varying proportions), Salt. None of these ingredients is anything other than vegan friendly.
The problem is that, as we mentioned, it states on the Doritos UK website that these flavours are made in a factory that handles milk so there is a chance of cross-contamination and/or cross-contact. How big the chance of contamination is remains open to question, and it is probably advisable for those with milk allergies to avoid these products, just to be on the safe side. But many vegans will feel that given there are no specifically non-vegan ingredients in these Doritos flavours, they are fair game.
Of course, there's a flip side to every coin, and the most stringent vegans would perhaps decide to avoid these Doritos based on the chance that they might have come into contact with dairy products. Other, even stricter vegans, might even decide to avoid anything made by the company based on the fact they clearly used dairy products in other flavours.
As always, where you draw the line on these issues is your call, but we know plenty of vegans who don't bat an eyelid when grabbing a handful of Lightly Salted Doritos, once they realise there are only vegan-friendly ingredients listed on the packet.
Vegan Friendly Alternatives to Doritos
If you are partial to a few tortilla chips from time to time but you don't want to consume Doritos on the basis of the possible milk contamination, fear not. There are plenty of vegan-friendly tortilla chips on the market, and here are some of our favourites.
| Brand/Flavour | Why We Like Them | Where to Buy |
| --- | --- | --- |
| Luke's Organic – Kale Multigrain and Seed Chips | Great crunch and texture and noticeably healthier than Doritos as lower in fat and higher in fibre; they even contain some calcium, iron and potassium | TheVeganKind Supermarket |
| Mister Free-d – Tortilla Chips with Blue Corn | A fun, purple-looking tortilla chip (on account of the blue maize flour used), these both taste nice and add a bit of colour to any buffet table | Planet Organic |
| The Real Coconut – Himalayan Pink Salt Coconut Flour Tortilla Chips | These coconut flour-based tortilla chips have two and a half times the fibre content of Doritos, and the Himalayan pink salt gives them a satisfying zing | Planet Organic |
| Tesco – Lightly Salted Tortilla Chips | For a tasty low-budget vegan-friendly tortilla option, you could do a lot worse than the Tesco's own-brand tortillas | Tesco |
| Proper Chips – Barbecue Lentil Chips | The use of lentil flour in these vegan-friendly tortillas means there's a higher protein content than Doritos, with a bit of iron thrown in too… and they taste great! | Ocado |
Are Other Doritos Products Vegan?
Doritos are most famous for their tortilla chips, but they also produce a number of dips to go with them. At the time of writing, these come in the following four flavours:
Mild Salsa – Vegan
Hot Salsa – Vegan
Cool Sour Cream and Chives – NOT Vegan
Nacho Cheese – NOT Vegan
The good news for vegans here is that both the Mild Salsa and the Hot Salsa are vegan friendly. They both contain tomato puree, chopped tomatoes, onions, peppers, jalapeño peppers, spirit vinegar, salt, modified maize starch, sugar, garlic puree, capsicum extract and coriander, in slightly different proportions.
All these ingredients are vegan friendly, and there is no mention on the Doritos website that either of these is made in a factory that handles milk, so that eradicates the chance of contamination issues.
The same is not true for the other two flavours, however. As might be rather obvious from the names, neither the Nacho Cheese flavour nor the Cool Sour Cream and Chives flavour is vegan. They both contain various products derived from milk, along with dried egg yolk.