Ketchup can be used to describe any number of saucy condiments but we're going to assume you want to know whether or not tomato ketchup is vegan. Call it ketchup, tomato sauce, tomato ketchup or red sauce, we all know what we're talking about.
Ketchup is probably the most popular and widely used condiment in the developed world. Great on chips, burgers, pies and a whole host of savoury foods, it is also added to a wide range of other sauces and dishes too. Its great combination of sweet and sour is a brilliant, albeit sugary, way to pep up almost any meal. But, as ever, the key question for those on a plant-based diet is: is ketchup vegan?
Can Vegans Eat Tomato Ketchup?
Well, whilst we have clarified which sauce we are talking about, it should be noted that there are many different brands and indeed styles of tomato ketchup. The precise recipe and production method for each of these can vary and so we can't give a definitive answer. As with so many of the items we look at in our Is It Vegan? section of the VeganFriendly.org.uk site, there isn't a simple yes or no answer.
However, when it comes to ketchup in the UK, there is one particular sauce that has a dominant place in the market. Heinz tomato ketchup has around 60% market share (estimates range from just over 50% to as high as 80%) and so this seems an excellent place to start.
Heinz Tomato Ketchup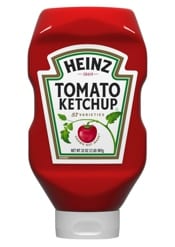 Heinz claim that their ketchup is vegan. The ingredients listed are as follows:
Tomatoes
Spirit vinegar
Sugar
Salt
Spice & herb extracts (contain celery)
Spice
They also state that the sauce contains no artificial preservatives, colours or flavours, no thickeners, no "gluten containing ingredients" and no palm oil. This last point will please many who question whether palm oil is vegan. Heinz also state on their website that Tomato Ketchup is vegan.
If you've read our Is Sugar Vegan? article then you will know that sugar is sometimes processed using a product derived from animals' bones called bone char. Such sugar isn't vegan and ascertaining whether the sugar used in many processed foods is very difficult.
We wrote to Heinz to ascertain whether or not the sugar in their ketchup was indeed vegan friendly and we were pleased to see their response:
We can confirm that the product is suitable for a vegan diet. Our sugar
is not refined using bone char from animal bones.
So, great news for vegans – the traditional Heinz Tomato Ketchup is indeed vegan friendly! Heinz Ketchup is not actually certified as vegan by the Vegan Society but then, as far as we know, none of Heinz's many products are. But if the sugar they are using does not contain bone char as stated in their email to us above, then we feel confident in saying that Heinz Tomato Ketchup is vegan.
Should Vegans be Concerned About Possible Bone Char?
Whilst Heinz Tomato Ketchup is good to go for vegans, we can't say the same for other ketchups on the market that use sugar not labelled as vegan. As we have said many times here at VeganFriendly.org.uk though, when it comes to veganism and the strict application of one's principles, the law of diminishing returns comes into play. By not eating meat you will make a major contribution to avoiding animal suffering and death. By removing eggs, dairy and other mainstream animal products from your diet and lifestyle, you are in effect probably around 98% vegan.
The impact on animals (not to mention the environment) from these actions is massive, and such a lifestyle is relatively easy to maintain. In order to become a 100% level five vegan, much greater effort and determination is needed for minimal reward.
We feel, and this is backed up by bodies such as PETA and the Vegan Society, that worrying about minor concerns such as trying to avoid processed foods that may or may not contain sugar processed with bone char is actually counter-productive.
The time and effort spent moving from being, say, 95% vegan to 96% vegan, would be better spent trying to educate others and encourage them to go vegan, go vegetarian or even to just eat less meat.
Where one individual decides to draw their line when it comes to veganism is down to them. But what we are trying to say is that many people choose not to worry too much about the smaller details when they are already doing so much great work fighting the vegan fight.
What About the Other Sauces in the Heinz Ketchup Range?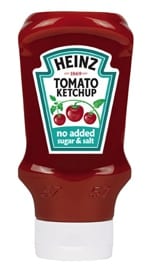 Heinz make a whole host of tomato ketchups, as well as the "normal", classic one. They offer a ketchup with reduced salt and sugar, one with no added sugar and salt, as well as their Heinz Gourmet Ketchup range. This comes in three flavours: Roasted Garlic & Sundried Tomato, Balsamic Vinegar & Sun Ripened Tomato and Aromatic Herbs & Sun Ripened Tomato.
As if that wasn't enough options, ketchup lovers can also opt for Heinz's Tomato Ketchup Sweet Chilli, Tomato Ketchup Jalapeno Chilli, Heinz Tomato Ketchup Fiery Chilli and last but not least, an organic version of the classic sauce.
Once more, none of these are certified or labelled as vegan, yet once again, the Heinz website claims that all of them are and based on their message to us, we can assume that because the sugar they use does not contain bone char, that they would in fact be vegan.
Other Ketchups That Are 100% Vegan
Heinz may be the dominant player in the market but they are far from the only supplier of tomato ketchup. There are some excellent vegan ketchups out there and, what's more, many of them are healthier and often more ethical too.
Most of the mainstream alternatives fall into the same category as Heinz's product. They are vegan aside from concerns over the processing of the sugar. Whilst Heinz have clarified with us that their sugar is fully vegan, this is not the case with other brands. However, where mainstream brands and supermarket own labels offer a sugar-free version, this ketchup can usually be assumed to be vegan friendly.
However, the following are certified by the Vegan Society as being vegan so you can fill your boots as far as these are concerned.
L'incroyable Ketchup
Asda Ketchup
Mr Organic Ketchup
Real Good Ketchup
Biona Ketchup
Homemade Ketchup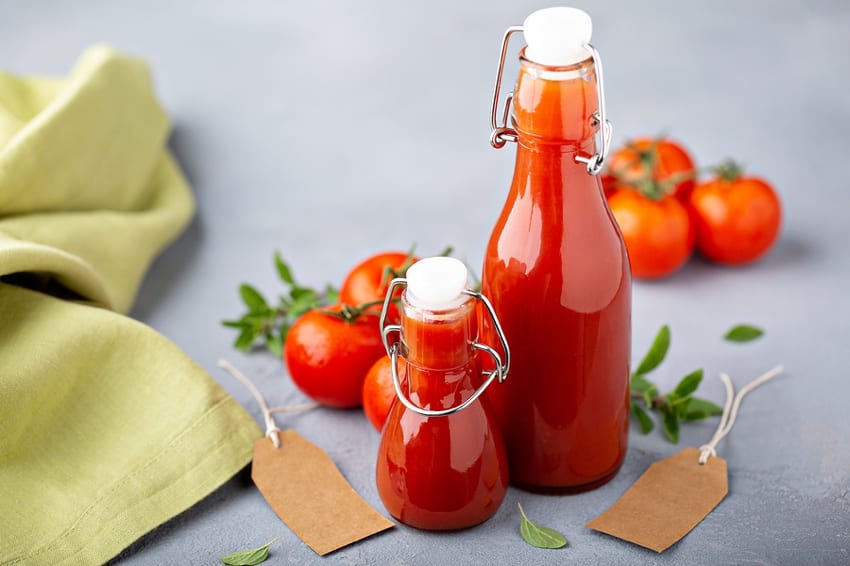 As with many processed foods, one way to make sure your ketchup is vegan is to forget about pre-made, processed products and make your own from scratch. This is often cheaper, almost always healthier and, crucially for vegans, you have 100% control over what goes into it.
Making ketchup is really easy and whilst you are unlikely to end up with a sauce that tastes exactly like Heinz or whatever your normal favourite is, you can at least be sure that it is vegan. The simplest way to make your own ketchup vegan is to use vegan sugar. Many big UK manufacturers have stopped using bone char and so getting hold of vegan-friendly sugar is easy enough.
Alternatively, you can use one of the vegan sugar substitutes we mention in our article about sugar. Maple syrup, agave and other alternatives to sugar (as well as raw, demerara and muscovado sugars which don't use bone char), will add a depth of flavour. This may be positive or negative depending on your taste but at least it will definitely be vegan friendly.