Palm oil is a vegetable oil that is used widely in the food industry, as well as in cosmetics, cleaning products and other household goods.
It is produced from the fruit pulp of three types of palms and, being entirely plant-based, many would automatically assume that palm oil and the products that use it are vegan friendly. Moreover, from a food- and product-labelling point of view, it qualifies as vegan.
The Controversy with Palm Oil
You wouldn't have to be an environmental or animal rights activist to know that there has long been controversy around the production of palm oil. Palm oil production is big, big business, with a Bloomberg article claiming that we each consume almost eight kilograms of palm oil a year and that "there's about a 50% chance" that any item we pick up at random in the supermarket contains it.
Production
Palm oil is largely produced in Malaysia and Indonesia as the conditions there are perfect for the trees to thrive. Land and labour in the region is relatively cheap, whilst bureaucracy and regulation is limited and the vastness of the rainforests makes effective policing of the production methods difficult.
Palm oil is very cheap to produce, it has a vast range of uses, and it boasts high oxidative stability, which makes it useful for frying. In the developed world, it is rarely used directly in cooking but in many areas of the tropics it is the primary cooking oil.
Statista.com shows how palm oil production is continuing to rise and the industry was estimated to be worth $57 bn in 2014. Some forecasts predict it will have almost doubled by the year 2021 and, in a world with a growing population in which cheap counts for a lot, that is easy to believe.
Deforestation & Animal Welfare
If tigers and elephants are the star turns of conservation, then palm oil is certainly the panto villain at the moment. Intensive crop farming seems necessary in the modern world but production on such a mass scale is almost impossible without some negative impact on the environment. Much as palm farms cause deforestation in Southeast Asia, could the same not be said of coffee plantations in Brazil, soya beans in Argentina or maize in both of those countries and elsewhere?
Successful single-issue campaigns, including Greenpeace's Rang-tan video, have brought palm oil to the front of the public's environmental consciousness but the negative impact of many other farming practices and crops have largely been ignored. These may also cause huge harm and distress to animals but simply do not get the same media attention as palm oil.
For a vegan, or indeed any ethically minded person, to demonise palm oil without at least being aware of the impact of other crops would appear rather wrong-headed. All that said, it seems self-evident that the Vegan Society's claim that "the consumption of plant-based crops such as wheat, barley, oil palm and soybeans causes far fewer animals to lose their lives than eating animals" must be true.
Why Some Don't Consider Palm Oil to Be Vegan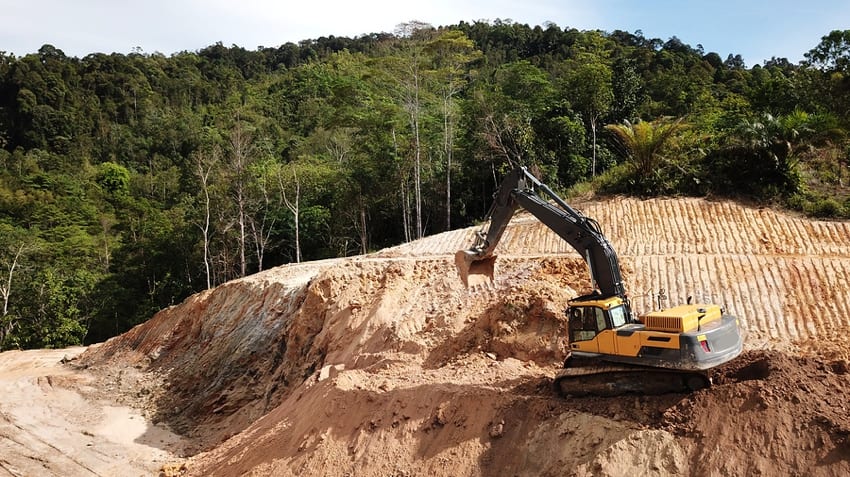 The issues surrounding palm oil are multifaceted and far from simple and indeed show us a great example of the complexities of veganism. On the one hand, palm oil is a vegetable oil and is entirely plant-based and so it would appear to be 100% vegan. However, on the other hand, there can be little doubt that the majority of the world's palm oil is produced in such a way that is deeply damaging to the environment, to biodiversity in general and to various species of animals in particular.
As much as many vegans care about the environment in general and problems, such as climate change, for the sake of this article, we shall set aside such ethical concerns with deforestation and focus solely on the question of whether or not palm oil should be considered vegan – for now at least!
The earliest widely accepted definition of veganism was that it was "a way of living which seeks to exclude, as far as is possible and practicable, all forms of exploitation of, and cruelty to, animals for food, clothing or any other purpose". If we accept that destroying the natural habitat of animals and forcing them into conflict with humans, not to mention pushing certain species towards extinction, is cruel, how can we possibly accept palm oil usage within a vegan lifestyle?
Elephants, orangutans and Sumatran tigers are the glamourous poster stars of the campaign against palm oil, with the latter two critically endangered species according to the International Union for Conservation of Nature. However, a far greater number of smaller animals are also threatened by the deforestation necessitated by the growing of palm oil plantations.
Moreover, the natural world is an inter-related eco-system where little occurs in isolation. As predators and prey are impacted in different ways by the changes to the forests, imbalances occur and these can have unpredictable knock-on effects to all animals within these areas – from the smallest insects up to the most powerful tigers and elephants. It is this risk to biodiversity that may indeed be the most worrying aspect of the deforestation, much as Borneo's orangutans and tigers are certain to attract the most public and media attention.
Indeed, perhaps the key reason that palm oil is such a hot topic is that whilst soy, corn and other mass crops are grown in the American Midwest and other regions of relatively low biodiversity, the vast majority of palm oil is produced in areas of great ecological importance. It can only be produced 10 degrees either side of the equator and over 80% comes from crops farmed in Indonesia and Malaysia.
Whether it is grown in these countries, or other significant producing nations such as Thailand, Colombia or Ecuador, the land used was typically home to diversity-rich tropical rainforest. So, probably more than any other crop, palm impacts biodiversity and causes deforestation, reducing the capacity of the planet's "lungs".
Can You Buy Sustainable Palm Oil?
As with many goods and services where the ethics of production have been questioned, the concept of ethical, or sustainable palm oil has surfaced. As long ago as 2004 – this is not by any means a new issue, despite the huge increase in media attention in recent years – the Roundtable on Sustainable Palm Oil (RSPO) was created. This non-governmental body, with headquarters in Geneva and Kuala Lumpur, was set up to promote the use, production and accreditation of ethical, sustainable palm oil.
However, many non-governmental organisations, charities and environmental activists have been critical of the RSPO. It is argued that the RSPO simply goes nowhere near far enough, with Greenpeace saying their accreditation system isn't powerful enough and is "not strong enough to prevent deforestation," which is rather damning. If deforestation continues, then animals will continue to suffer and be edged ever closer to extinction.
Improving the ways palm oil is farmed has to be a real priority, because the fact of the matter is palm oil is a high-yielding product. By that, we mean that it is actually quite an efficient use of land and resources in many ways and that replacing it could simply lead to the problem moving to another (potentially lower yielding) crop.
The World Wildlife Fund has been supportive of the RSPO but it is clear much work needs to be done. Ultimately growing any crop on such a scale requires large amounts of land, water and resources and so we certainly don't think vegans should automatically boycott all palm oil products.
Palm Oil & Modern Veganism
Earlier in this article, we said we would set aside concerns about the environment and we also quoted the first accepted definition of what veganism was. However, that was somewhat disingenuous because things have moved on in the almost-70 years since then. By the late 1980s, veganism was understood in a more holistic, wider-reaching way. A modern definition includes that veganism "promotes the development and use of animal-free alternatives for the benefit of humans, animals and the environment".
Whilst palm oil production is obviously animal-free, it certainly does not benefit animals or the environment. With modern ideas about what veganism is also including some concept of the environment, palm oil receives another black mark. Deforestation plays a big role in increasing CO2 levels and whilst rising global temperatures have been good for some species – cockroaches are enjoying a golden era! – for many others, from various insects and bats to polar bears and, of course, humans, climate change could well prove catastrophic.
Many argue the issue cannot be ignored and although the palm plantations themselves do remove some carbon from the atmosphere, quite how much is open to debate. Some argue they can be almost efficient as forests but the general consensus is that that isn't the case.
Irrespective of that, the bigger issue may in fact be that the peat soils of the Southeast Asian forests, especially in Indonesia, are remarkable carbon stores. When these peatlands and swamps are drained in order to grow palms the trapped CO2 is released and this has the potential to become a huge contributor to global carbon emissions. Overall, it is clear that palm oil production is hugely damaging to the natural world and this makes it a major issue for vegans.
The Human Factor
As if the waters weren't already muddied enough, the human factor must also be considered when it comes to palm oil's vegan credentials. The industry supports many jobs in relatively poor countries and given palm oil doesn't directly harm, kill or exploit animals this should be part of the overall equation.
In addition, as already mentioned, palm oil is a component in so many products that it is hard to envisage a solution to the palm oil problem that wouldn't have a significant impact humans. Aside from that, any replacement would have an effect on the environment and natural world too.
Palm Oil: Vegan Friendly or Not?
We've swung one way and then the next when it comes to palm oil and, ultimately, it is not something where a clear conclusion can be reached. On the one hand, it qualifies for vegan labelling, is 100% made from plants and doesn't use animals in its production. It is also a huge and thriving industry that is supporting many, many families in the developing world and it may be less damaging in some regards than other similar intensive crops.
On the other hand, it is clear that current production methods are causing huge problems in myriad ways, both micro and macro. Here at VeganFriendly.org.uk we believe very much in information as opposed to conversion. As such, the decision you come to should be based on your own personal opinions and ethical compass when it comes to this incredibly problematical dilemma.
Many argue that boycotting palm oil is not the way forward and that a variety of actions are needed to lead to more sustainable, animal-friendly (and therefore vegan-friendly) production. Campaigning for stronger regulations and accreditation criteria by the RSPO would seem like a sensible move. Equally, trying to avoid non-RSPO palm oil, alongside putting pressure on the big global manufacturers, is likely to lead to business adopting more sustainable practices.
Lack of awareness is always the first problem to tackle in such issues and when it comes to palm oil that hurdle has been passed. Hopefully a solution to this complex problem can soon be reached. Ultimately though, palm oil shouldn't be a major concern for vegans. There are many easier and clearer ways to help animals and to lead a vegan lifestyle and hopefully we can provide all the information and help you need.