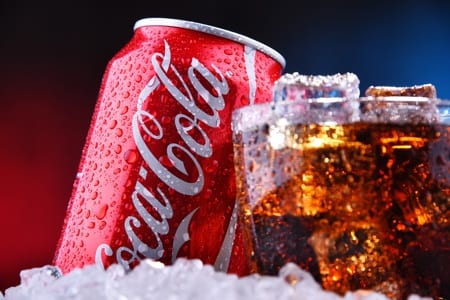 Coca Cola is one of the most famous brands in the world and certainly one of, if not the, most famous soft drinks.
In recent years, it has been increasingly maligned for its high sugar content but leaving aside health issues for now, many people still want to know: is Coca Cola vegan?
Coke Is Vegan
Well, for once, we have a simple, clear and straight answer: yes, Coca Cola is vegan! They consider the issue on the FAQ section of their website, looking more widely at all the many drinks the global behemoth produce.
The FAQ states that "The vast majority of our drinks, including Coca-Cola, are suitable for vegetarians and vegans". We wanted to be absolutely 100% sure they fully understood all the possible issues so we contacted them to ask specifically about the sugar used in their eponymous beverage. Their email response can be seen below, which more or less repeats the information on the frequently asked questions with a little added information regarding the sugar they use.
What Coca Cola Has to Say
In Great Britain, our drinks contain sugar (sucrose) which is composed of glucose and fructose. Sucrose is mainly sourced from sugar cane and sugar beet, and is the same sugar that you would add to tea or coffee for example.

The vast majority of our drinks, including Coca-Cola, are suitable for vegetarians and vegans as they do not contain any animal derivatives.

The following drinks are not free from animal derivatives and are therefore unsuitable for vegetarians and vegans.

Lilt
Lilt Zero
Schweppes Orange Squash
Honest (Lemon and Honey)
GLACEAU vitaminwater Zero Sunshine and Multi V

This is because a few of our drinks do contain small traces of fish gelatine which is used as a stabiliser for the beta-carotene colour. The Lemon and Honey Honest contains honey, which is not vegan.

In addition some variants from the GLACEAU vitaminwater range contain vitamin D and this may be sourced from lanolin in sheep's wool meaning that they also may not be suitable for vegans.
In truth, some of their response isn't wholly convincing. For example, they may not be aware that some sugar isn't vegan. That said, we specifically mentioned the issue of potential bone char contamination and they reiterated what their website claims: "The vast majority of our drinks, including Coca-Cola, are suitable for vegetarians and vegans…".
Given the size of the company and their vast financial resources, we have to assume they would be on top of this issue. As such, we're happy to believe that Coke is vegan, as well as many of the other drinks they produce.
So, Are Diet Coke & Zero Sugar Coke Also Vegan?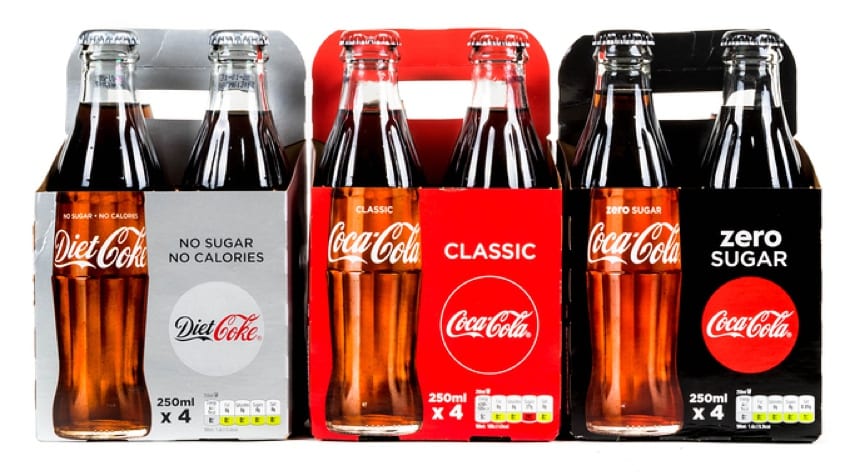 All the beverages Coca Cola make are vegan friendly. That means that Classic, Zero Sugar, Diet Coke and any special edition drinks they produce under the Coca-Cola umbrella are vegan (though obviously future special editions may not be).
What is Coke Made From?
The precise recipe and formulation of Coca-Cola has changed many times over the years. First made in the late 1800s, Coke, Coca-Cola, Coca Cola – whichever you prefer really, though officially it is the hyphenated form – originally contained a variety of stimulants.
Coca leaves, from which cocaine is made, and kola nuts, a West African stimulant, gave the drink its name but these no longer feature. Even so, with a hearty dose of sugar and a significant caffeine hit, Coke still provides something of an energy boost, albeit one that is short lived and comes with various negatives attached.
Ingredients in Coca Cola
Coca-Cola is made centrally as a concentrate and is then distributed to licensed bottlers around the globe. They add water and some form of sweetening agent, with the latter varying by territory. None the less, in the UK, the ingredients in "normal", or Classic coke, are listed as:
Carbonated water – around 90%
Sugar – in the UK sucrose is used, around 35g per 330ml can
Caramel colour – Coca-Cola say they that a "very specific caramel is made especially for Coca-Cola"
Phosphoric acid – acid is added to give tang
Caffeine – added to lend bitterness and to give a boost to drinkers, there is around 32mg in a standard can, around half of that found in a cup of tea
Natural flavours – what these actually are remains top secret but Coke assure us they are vegan friendly
Looking at those ingredients, there is nothing that would cause too much alarm from a vegan perspective. If the sugar used is vegan friendly then the overall drink will be and as Coke confirm both of those things, Coca-Cola-loving vegans can drink away (as long as they don't mind knocking back 117% of their recommended daily "free sugar" in one can!).
Is Pepsi Vegan?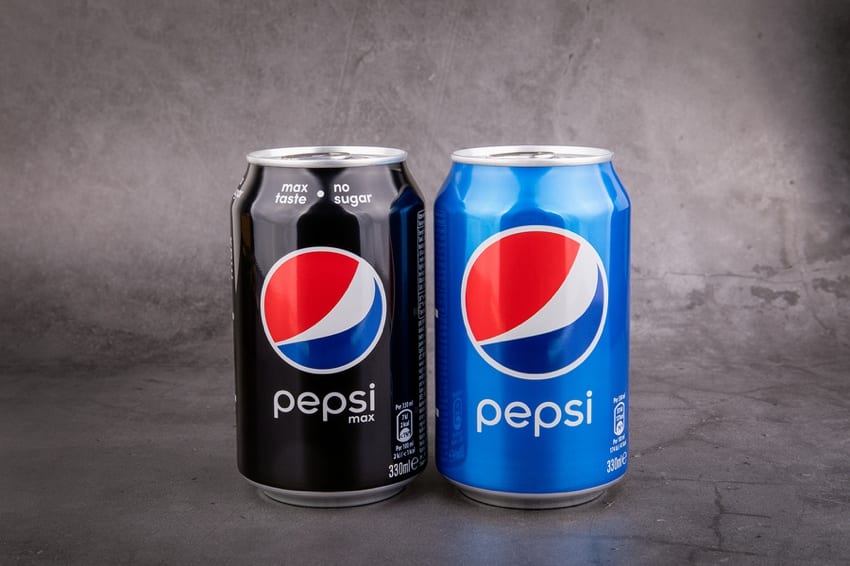 Of course, much as the makers of the fizzy brown drink in the red can would love you to think theirs is the only cola in the world, it isn't. Pepsi is the major rival to Coke, though there are countless cheaper imitations that also have a significant market share when looked at collectively.
In addition, at a time when many people are trying to reduce their sugar intake, more and more cola drinkers are switching to reduced sugar or even zero sugar versions of the drink. So, if you are a cola-loving vegan, what are your options if Coca Cola isn't for you?
Regular Pepsi & Pepsi Max Are Vegan, but Diet Pepsi Is Not
When it comes to Pepsi Cola, the original "full fat" (for clarity, we use this phrase in its colloquial, ironic sense to mean full sugar!) version is vegan friendly. Pepsi Max is also vegan but perhaps slightly strangely, Diet Pepsi isn't.
In 2017, Pepsi stated that "Diet Pepsi is only suitable for vegetarians as it contain traces of ingredients that are not suitable for people following a vegan diet". They didn't confirm what ingredient there were traces of, but sadly for vegan fans of this zero-calorie Pepsi, it isn't wholly plant-based. For our full article on Pepsi and the Pepsicode brand, check out Is Pepsi Vegan?
When it comes to the various supermarket and small-brand colas that are out there, we recommend checking with the manufacturers if they aren't specifically labelled as being vegan. Many will be, especially some of the newer, more upmarket brands and, for example, Fritz Kola state that all of their drinks are vegan.