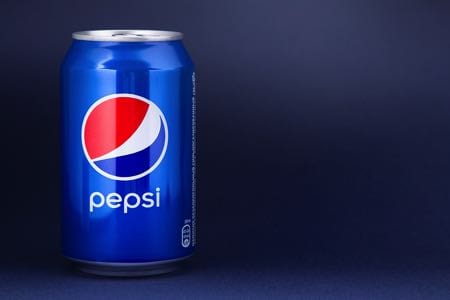 In the world of carbonated soft drinks, the ongoing battle for supremacy between Pepsi and Coca Cola has led to untold millions being spent on advertising, branding and product tie-ins. We are not going to pass judgement on which of the ultra-popular colas is superior though – you can make your own mind up (in fact you almost certainly already have). However, we are going to answer the simple question: is Pepsi vegan?
Simple questions demand simple answers, and though it is not always the case in the Is It Vegan? section of our site, we are able to give a definitive answer here. The standard Pepsi and Pepsi Max drinks are vegan. However, as ever, things are not quite that straightforward because there are some non-vegan Pepsi drinks. As it states in the FAQ section of the Pepsi.co.uk site, "Our products are suitable for vegetarian and vegan diets, apart from Diet Pepsi and Diet Pepsi Caffeine Free which aren't suitable for vegans."
In this feature, we'll delve a little deeper into the difference between the vegan offerings from Pepsi and those that are not suitable for vegans. We'll also look at the main ingredients that go into Pepsi and Pepsi Max (at least the ones they list!), and try to figure out why Diet Pepsi isn't vegan. We'll also mention some of our favourite vegan-friendly colas that are produced by ethically minded companies.
Which Pepsi Drinks Are Vegan? Which Are Not?
There are only a handful of Pepsi drinks available in the UK at the time of writing. There have been a number of variations and special editions released over the years (such as Pepsi Tropical and Pepsi Punch in 1994) but at present there are none available. This might well change so if you are interested in such things, keep an eye on the Pepsi.co.uk website.
| Pepsi Drink/Flavour | Is It Vegan? | Notes |
| --- | --- | --- |
| Pepsi | Yes | The iconic original Pepsi is vegan friendly |
| Pepsi Max | Yes | The main sugar-free Pepsi Max is vegan friendly |
| Diet Pepsi | No | The diet version, unfortunately is not, but no one is exactly sure why (see below) |
| Diet Pepsi Caffeine Free | No | As with Diet Pepsi, it is not apparent exactly what animal-derived ingredient is included in Diet Pepsi Caffeine Free |
| Pepsi Max Cherry/Raspberry/Ginger | Yes | The flavoured Pepsi Max options are also vegan |
| Other variations | Varies | Any special edition or variation on the abovementioned flavours/drinks should be treated with caution and it would be best to check with Pepsi's customer services department to find out whether they are vegan or not |
What Is Pepsi Made From?
As with their rivals Coca Cola, the exact recipe to which Pepsi is made is a closely guarded secret. Also like the other cola, Pepsi's main ingredient is carbonated water, which makes up almost 90% of the drink. Here is the full list of ingredients as listed on the standard Pepsi drink packaging.
Carbonated Water
As mentioned, the lion's share of the drink is made up of water that has been carbonated. Both water and carbon dioxide are vegan, of course.
Sugar
There is some concern about sugar from a vegan perspective, as some sugar is made using bone char (burned animal bones!). But given Pepsi have stated their sugar-containing products are vegan, we are confident bone char was not used in the production of the sugar they use. There are 11g of sugar per 100ml of Pepsi, so a 330ml contains a fairly substantial 36.3g of sugar – around nine teaspoons!
Colour (Caramel E150d)
This common food colouring is used in a wide range of products from balsamic vinegar (usually cheaper versions) to coffee. It is made from carbohydrates – usually sugars – which would most probably come from plant sources, and certainly wouldn't come from animal sources. It is therefore vegan.
Acid (Phosphoric Acid)
Often produced by treating an inorganic calcium or fluoride-based mineral with sulphuric acid. This occurs naturally in rocks and does not come from animals.
Flavourings (Including Caffeine)
This is the part of the recipe that is basically a secret (other than the mention of caffeine). We don't know exactly what flavourings are used, but we do know that they don't come from animals, and though we have to take Pepsi's word for that, it would be rather darn silly of them to lie about it from a business point of view.
Ingredients in Pepsi Max
If the standard Pepsi contains too much sugar for you, fear not, because Pepsi Max is also vegan, and that includes the flavoured options. Here are the ingredients of the standard Pepsi Max.
Carbonated Water – As with most fizzy drinks, carbonated water is the main ingredient and is vegan.
Colour (Caramel E150d) – As detailed above.
Sweeteners (Aspartame, Acesulfame K) – These sugar substitutes are made in the lab and do not contain animal-derived ingredients, components or processes.
Acids (Phosphoric Acid, Citric Acid) – Phosphoric acid as mentioned above. Citric acid is produced from citrus fruits. Both are vegan.
Flavourings (including Caffeine) – As above, there is no way of knowing what flavourings are in the drink, but we trust Pepsi when they say they are vegan friendly.
Preservative (Potassium Sorbate) – This preservative is produced in the lab from various non-animal substances including sorbic acid.
Contains a Source of Phenylalanine – This is an essential amino acid that occurs naturally in various foods but in this case it arises when the sweetener aspartame is metabolised in the body, so this has not come from an animal source.
While the health conscious might hear some alarm bells about the chemicals included in Pepsi Max, vegans can at least rest assured that no animal-derived ingredients are included.
Why Isn't Diet Pepsi Vegan?
In short, we don't know why Diet Pepsi (or Diet Pepsi Caffeine Free) isn't vegan. We have asked Pepsi directly to clarify the reasons, i.e. to explain exactly what animal-derived ingredient is included that renders the products non-vegan. But, at the time of writing, we are yet to receive a satisfactory response.
In 2017, the Metro also asked Pepsi to clarify what the non-vegan ingredients were. In response, Pepsi told them that,
Diet Pepsi is only suitable for vegetarians as it contains traces of ingredients that are not suitable for people following a vegan diet.
"Commercially Sensitive" Reasons
They didn't want to reveal the exact ingredients for "commercially sensitive" reasons, which could either mean they don't want people to copy their recipe, or they think if people knew what the actual ingredients were it might put people off the products. Without knowing what the ingredients are, it's impossible to say which of those might be true. Indeed, they might both be true!
What Britvic Had to Say
We contacted Britvic, who produce and distribute Pepsi drinks in the UK, to see if they could shed any light on the matter. They replied saying,
At Britvic, we produce, bottle and distribute the Pepsi range to the UK and Ireland markets on behalf of PepsiCo. Whilst the ingredients are fully listed, PepsiCo have not informed us as to why Diet Pepsi is not suitable for vegans but what we can do is to recommend Pepsi Max which is suitable.
Ingredients in Diet Pepsi
Here are the ingredients of Diet Pepsi:
Carbonated Water – No surprises to see carbonated water listed.
Colour (Caramel E150d) – As detailed above.
Acids (Phosphoric Acid, Citric Acid) – As detailed above.
Sweeteners (Aspartame, Acesulfame K) – As detailed above.
Flavourings (including Caffeine) – As detailed above.
Acidity Regulator (Sodium Citrate) – Any one of the sodium salts of citric acid, this is in the only ingredient that differs from Pepsi Max… could this be the reason Diet Pepsi is non-vegan? See below…
Preservative (Potassium Sorbate) – As detailed above.
Contains a Source of Phenylalanine – Once again, as above.
Sodium citrate (also known as E331) could be any one of (or a combination of) E331 (i) Monosodium citrate, E331 (ii) Disodium citrate and/or E331 (iii) Trisodium citrate. Based on our investigations, there is no apparent reason why this would be made from animal sources with the majority of commercial additives coming from the fermentation of molasses using a fungus. Molasses are a by-product of sugar refinement, so perhaps it is possible that the molasses in question come from a refinement process that uses bone char, and hence would render this ingredient non-vegan.
Alternatively, it might just be that one of the undisclosed flavourings in Diet Pepsi is different to those included in Pepsi or Pepsi Max and has in fact come from animals. We'll update this article if we are furnished with accurate information from Pepsi, but in the meantime, we will have to be satisfied with the fact that Diet Pepsi is off the menu for vegans.
Other Vegan Cola Options
There are lots of vegan-friendly colas out there that have not been made by one of the big two (Coca Cola or Pepsi, lest you were in any doubt!). Many of the supermarket own-brand options are fine for vegans (such as Tesco Classic Cola and Tesco Diet Cola). There are also a good number of smaller cola and soft drinks producers, many of which have positive ethical stances, or which specialise in vegan products.
Karma Drinks
One example is Karma Drinks who produce the very palatable, vegan-friendly Karma Cola, which is packed full of natural ingredients and has the added benefit that part of the proceeds of each bottle sold goes back to the cola nut growers in Sierra Leone.
Their Karma Cola Foundation has helped to provide scholarships for children in the country to go to school and funded various other project too. It can be bought from TheVeganKind Supermarket, Waitrose or Holland and Barrett.
Whole Earth & Gusto Organic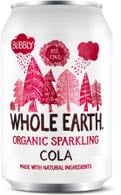 Other very tasty vegan-friendly and ethically minded cola options include Whole Earth Organic Sparkling Cola, and Gusto Organic Real Cola, both of which are available in Holland and Barrett and more specialist retailers.
Note that in the UK, Pepsi drinks products are made, distributed and marketed by Britvic plc, makers of Robinsons fruit drinks, J2O and other popular drinks.
Pepsi's Rival, Coca Cola, Is Mostly Vegan
Pepsi's big rival, Coca Cola, offers mostly vegan friendly options. Although we should point out that some of the other drinks they make (for example, Lilt, Lilt Zero and Schweppes Orange Squash) are not vegan. For more details, take a look at our Is Coca Cola Vegan? article.
What Other Brands Do Pepsico Own? Are They Vegan?
Pepsico, the parent company of Pepsi, came about in 1965 when the Pepsi-Cola Company merged with crisp maker Frito-Lay. The giant food and drinks business have since added plenty of other brands that have led to a mouth-watering revenue of $67.16 billion in 2019. Here are a selection of Pepsico's other brands that are very popular in the United Kingdom and around the globe.
Drinks Brands Owned By Pepsico
| Brand | Is It Vegan? | Notes |
| --- | --- | --- |
| Tropicana | Varies | Most Tropicana fruit juices are vegan friendly, with occasional exceptions – check labels to be on the safe side. |
| Gatorade | Varies | The main Gatorade drinks are vegan friendly, but various spin-off products (such as protein drinks) can contain milk proteins. Again, check the labels to be sure. |
| 7up | Varies | While the standard 7up is vegan, there are reports that 7up Free is not (as mentioned in the Metro article we referenced above). |
| Lipton Ice Tea | Yes | All the main Lipton Ice Tea flavours are vegan friendly, though check the label or check with the makers for any special edition flavours that might materialise. |
Food Brands Owned By Pepsico
| Brand | Is It Vegan? | Notes |
| --- | --- | --- |
| Walker Crisps | Varies | Some flavours of Walkers are vegan friendly (including some that you might not expect to be, such as Prawn Cocktail), though some are not. Check out our Vegan Crisps feature for the full lowdown. |
| Doritos | Varies | As with standard Walkers crisps, some Doritos flavours are fine for vegans, however, some are not. We have a dedicated Are Doritos Vegan? article that explains which flavours vegans should avoid (such as Flame Grilled Steak, which surprisingly contains no steak but does contain milk-based ingredients). |
| Quaker | Yes | Unless you add dairy milk to your Quaker Oats, they are vegan friendly, as we mention in our article on Breakfast Cereals. There are some non-standard Quaker products that are not vegan, however, so check the label if in doubt. |
Most Pepsi Drinks Are Vegan
The good news for vegan cola fans is that you have a choice between Coca Cola and Pepsi as both are vegan… at least most of the Pepsi options are. With Diet Pepsi and Diet Pepsi Caffeine Free not being vegan, Pepsi fans who happen to be vegan have a slightly reduced choice. But you could either opt for Diet Coke or, even better, go for one of the ethical brands we mentioned above.