Gone are the days when the best a vegan could hope for at a British festival was a sorry looking salad or a greasy portion of chips. Vegan food has now hit the mainstream and most festivals and events will feature at least some tasty vegan dishes, ranging from seitan kebabs to Indian street food snacks with a whole range of creative cruelty-free dishes in between.
Across the UK you will also now find specialist vegan food festivals and lifestyle events, which would have been unthinkable even as little as five years ago. These are a great opportunity to get hold of the latest information on everything vegan friendly, try some great vegan food and drink, as well as meeting up with like-minded people.
Calendar of Vegan Festivals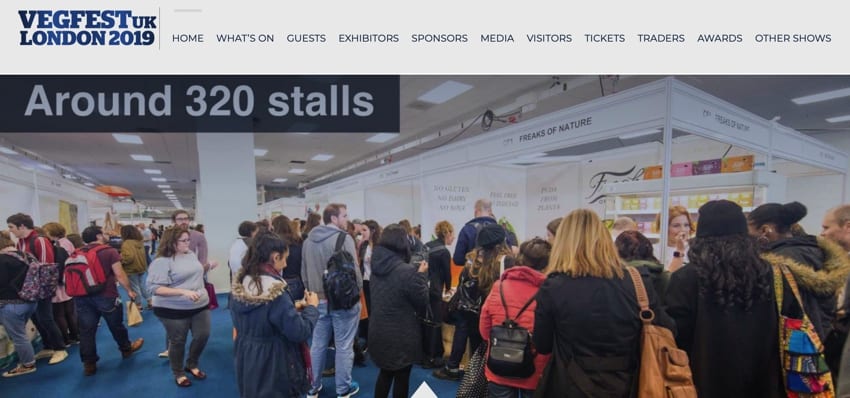 The list below contains the latest information on the UK's growing vegan festival and events scene. Attending one of these events is a great way of supporting the vegan cause by listening to prominent vegan speakers, making new friends, finding out about vegan-friendly companies in the local area and, of course, sampling some of the finest vegan food out there!
As great as it would be to attend every vegan festival in the UK, sadly, that hasn't been possible for us (yet!), so this is a list of suggestions rather than recommendations based on the information available at the time of writing – new festivals are being announced all the time. We will be updating this list throughout the year.
As with any event, it is always advisable to check the latest information before setting off to ensure there hasn't been any changes – social media usually has the most up-to-date details. We all know that the great British weather can play havoc with even the best laid plans so it pays to check before starting your journey.
August
Coventry Viva! Vegan Festival – Held in Coventry Cathedral and features 80+ stalls plus music and inspirational speakers
Dorset Vegan Festival – Hosted by Vegan Events UK and held in Poole, Dorset
September
Bristol Yoga & Vegan Festival – Don't forget to bring your yoga mat!
Reading Vegan Festival – Vegan food, cosmetics, clothing gifts and more
October
Coventry Vegan Festival – Usually held in the same place and at the same time as the Vegan Tattoo Festival
London Vegan Festival – One of the capital's many vegan events this one features over 60 stalls, world food caterers, demos, workshops and talks
November
Manchester Vegan Winterfest – Over 80 stalls and activities throughout the day for both adults and children
Bath Vegan Festival – 70 stalls held in Bath Pavillion
December
Portsmouth Vegan Winter Festival – Held at the Portsmouth Guildhall, 80+ stalls
NevfestNorth East Vegan Festival – one of the largest vegan events in the region
Bristol Viva! Vegan Festival – A great place to stock up on vegan Christmas presents!
January
Stroud Vegan Fair – Held biannually and celebrates the best vegan products and brands from the Gloucestershire area
Oxford Vegan Market – Held in Oxford Town Hall in January and on other selected dates throughout the year
February
Oxford Yoga and Vegan Festival – Tasty vegan food and another event where you need to remember to bring your yoga mat
Cardiff Viva! Vegan Festival – Over 90 stalls with a free kids area
March
Vegfest Brighton – Celebrated its 10th anniversary in 2019
Just V Show – Held annually in London this show covers every aspect of the vegan lifestyle
Birmingham Vegan Festival – Popular event held at Edgbaston Cricket Ground
April
Northern Vegan Festival – Held in Manchester with over 130 stalls
May
Great Yorkshire Vegan Festival – One of the largest vegan festivals in the north, usually held in Leeds
June
Brighton Vegan Summer Festival – Brighton's biggest outdoor vegan festival
July
Bath Vegan Festival – Sister event of the November Festival, held in the same location Bath Pavillion