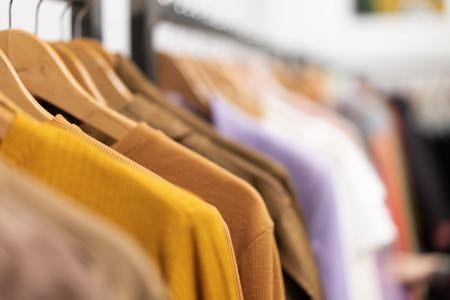 Clothing is made from a wide variety of materials and it is sometimes difficult to ascertain whether they are vegan friendly or not. Some are obviously not, such as fur or leather, while others are very clearly fine for vegans to wear, such as hemp. Essentially, materials used for clothing are either natural (such as those made from plants, animals or even fungi) or synthetic (produced through some chemical process that usually requires hydrocarbon inputs that have been produced by the petrochemical industry).
Whilst this is of no real concern if you are only a dietary vegan interested in the health benefits of a plant-based diet, many like to avoid all animal products as far as possible. In this article, we'll give you a quick snapshot of the main materials used to make clothing. Note that this is not an exhaustive list as there are always new materials being developed, either in the lab or by recycling waste products. Also, check out our article on vegan fashion and clothing to find out some of the best vegan fashion retailers and brands.
Which Clothing Materials Are Vegan?
Here we run through all the main materials used to make clothing (in alphabetical order). We will state whether we consider each material to be vegan or not vegan, or whether it varies (depending on various factors, e.g. if it can be made from animal or non-animal sources).
Material
Is It Vegan?
Notes
Acetate
Yes
Made from cellulose that usually comes from plants but can come from algae or bacteria.
Acrylic
Yes
A synthetic material made by processing the hydrocarbon propylene. There are some environmental concerns but it is not technically made from animals (although crude oil could be argued to contain some prehistoric animals, though vegans generally disregard this).
Alpaca
No
Wool from alpacas (llama-like animals from South America) that exploits and possibly harms animals.
Angora
No
Wool made from Angora rabbits; exploitative and potential harmful to the rabbits.
Bamboo
Yes
Bamboo is a plant.
Bast fibre
Yes
Made from the phloem or "inner bark" of plants. Bast fibre is a catch-all term that covers fibres obtained from a range of plants, including flax, hemp, ramie, nettles and more.
Cashmere
No
A type of wool from the cashmere (Kashmir) goat; exploits and possibly harms animals.
Cotton
Yes
It comes from plants. See our Is Cotton Vegan? article for more information.
Cupro
Yes
A highly processed material that could begin with plant-based fabrics, such as cotton, that are recycled into cupro (or cupra). Some people are concerned about the various potentially toxic chemicals that are used in the processing stages and the possible waste implications.
Demin
Yes
Made from cotton (which comes from plants). Watch out for leather labels, which would render the product non-vegan.
Down (feathers)
No
Used as fillings in coats and other clothing, down is often plucked from live birds, or taken from slaughtered ones.
Elastane, Spandex or Lycra
Yes
A synthetic material that was invented by a DuPont scientist in the 1950s, this is used in various clothing, particularly sports and comfort clothing, due to its excellent elasticity.
Faux (or fake) fur
Varies
Generally vegan as it is usually made from acrylic or other synthetic fibre, though it is sometimes made from wool from alpaca or other animals, in which case it would not be vegan friendly (see wool below). There are also those who oppose fake wool on ethical grounds.
Flannel
Varies
Originally made from wool (which isn't vegan), it can be made from wool, cotton or synthetic fibres, the latter two of which are indeed vegan. Check the label or with the manufacturer.
Flax (linen)
Yes
Flax fibres comes from the bast of the flax (or linseed) plant and can be refined to make linen.
Fungi/bacteria
Yes
Various materials have been developed from fungi or fungus-like bacteria that can be used to make clothing, including Mylo. As neither fungi nor bacteria are animals, these materials are fine for vegans (assuming they are not tested on animals).
Fur
No
"Real" fur is simply the hide of furry animals and is about as un-vegan as a clothing material can get.
Hemp
Yes
Made from the plant of a variety of cannabis plants (just like CBD oil), hemp fibres are robust and environmentally sounds given that hemp is one of the fastest growing industrial crops there is.
Jute
Yes
Jute fibre is made from flowering plants that belong to the genus Corchorus. It is environmentally friendly though the material is used more often for things like sacks than for articles of clothing.
Leather
No
It is made from animal skins. See our Vegan Leather article for more information and vegan alternatives.
Lyocell
Yes
A version of rayon (see below) that uses processed cellulose that usually comes from plants.
Modal
Yes
Semi-synthetic fibre made from cellulose often from beech or other trees. A type of rayon (see below).
Mohair
No
Wool from the coats of Angora goats. As with other wool, potentially harmful and definitely exploitative.
Natural fibres
Varies
This rather vague term could cover materials made from plants (which would be vegan) or animals (which wouldn't). It might not be obvious in some cases whether the natural fibre in question has originated in animals.

For example, chitin is usually made from animals (the shells of crustaceans) but it can be made from fungi. It is best to check with the manufacturer if the term "natural fibres" is used, or just avoid.

Nettle
Yes
Made from nettle plants. Environmentally friendly, though not common as a clothing material at present.
Nylon
Yes
The term nylon covers a range of synthetic fibres that are thermoplastic polymers which have ultimately been produced from hydrocarbons and other chemicals. First developed in the 1930s, it has had a wide range of uses, including various types of clothing.
Plant leather
Yes
Vegan leather alternatives have been developed from all kinds of plants, with pineapple leather and even cactus leather starting to gain some popularity.
Polyester fabric
Yes
A group of polymers with various uses and properties, when used as a fabric it is often polyethylene terephthalate (PET) that is being referred to. Though are some concerns about the chemical processes used and the potential emissions, there is no reason this and other synthetic materials should not be deemed vegan.
Polypropylene (PP) fabric
Yes
Very similar to the above, chemically produced and hence vegan.
Polyurethane (PU)
Yes
As above
PVC-Polyvinyl chloride
Yes
As above
Ramie
Yes
Ramie fibres are produced from the ramie plant, which is in the same family as nettles (though it doesn't sting).
Rayon/Viscose
Yes
A regenerated fibre made from cellulose with various other inputs. The cellulose used usually comes from plants, though it could also come from algae (which would also be classified as vegan).
Recycled or Recovered Materials
Varies
Materials that have been recycled or upcycled from other materials (or products) could be classified as vegan. But if the original material is non-vegan, many would argue that the material from which it has been produced is also non-vegan (though the jury is out on that).
Silk
No
Its production causes the death of silk worms. See our Is Silk Vegan? article for more information and vegan alternatives.
Spandex
Yes
See elastane above.
Suede
No
It is made from animal skins. See our Is Suede Vegan? article for more information and alternatives.
Vicuña
No
Similar to alpaca and taken from a similar llama-like animal from South America.
Vinylon/Vinalon
Yes
An ingenious material that uses anthracite (a type of compressed coal) and limestone that has proved particularly popular in North Korea!
Wool
No
It harms and exploits sheep (or other animals). See our Is Wool Vegan? article for more information.
Are Vegan Clothes Environmentally Friendly?
Once vegans have eliminated all clothing that is made from materials that exploit, harm or kill animals, the story is not completely over. For many, and particularly those who were drawn towards veganism for environmental reasons, the environmental footprint of their clothing can have an impact on their purchasing decisions.
Factors to Consider
There are lots of factors to take into account when attempting to assess the environmental impact of clothing, and the materials from which it has been made. Here are some of the factors to consider:
1. Water Usage
How much water does it take to produce a certain quantity of the material, what irrigation methods are used and perhaps most importantly of all, is the water used efficiently or wastefully.
2. Habitat Destruction
Are animal habitats being destroyed or damaged to grow crops to produce some materials?
3. Energy Use/Greenhouse Gas Emissions
Both in the production processes and in the transportation of the materials and finished clothing items. For instance, is a raw material transported half way across the world to be processed only for the finished goods to be flown/shipped half way back around the world?
4. Waste Implications
This can relate to the amount of waste produced during processing or production, but also whether the materials themselves would naturally decompose or be able to be recycled once they are no longer being used.
5. Chemicals/Pollution
Whether pesticides and chemical fertilisers are required to grow crops to produce certain materials, or other chemicals (with potential waste implications) are used in the production of the materials or clothing products.
Cotton is the Worst Offender
Many of these factors are considered in the 2017 Pulse of The Fashion Industry Report. It suggests that of the vegan-friendly materials used for clothing, cotton is the worst due to the ecosystem depletion it can cause, the amount of water it can take to cultivate the cotton plants and to process the cotton and end products, and the implications for global warming based on the emissions of greenhouse gasses during processing and production.
Natural Vegan Materials Come Out on Top
At the other end of the scale, polypropylene fibre comes out as the least environmentally damaging, though this is more likely to be found in carpets than much clothing. Of the more natural vegan-friendly materials, the bast fibres (flax, hemp and other plant fibres) come out the best.
If you require more information about the environmental impact of a particular material or item of clothing, please contact the manufacturer directly, the best of whom will be happy to share such info with you.
Vegan Clothing Conclusions
As we have seen, there are loads of vegan-friendly clothing materials, but there are plenty that vegans should avoid. Obviously, there are plenty of non-vegan materials that are relatively straightforward, for instance leather, fur and any type of wool.
Equally, there are the obviously vegan-friendly clothing materials such as jute, hemp, flax and cotton. But the waters are muddied somewhat when it comes to some of the synthetic materials as there are concerns about their inability to decompose and often the amount and type of chemicals used in their production. Add to that the possible environmental concerns of some plant-based materials (chiefly cotton) and vegan shoppers could feel under pressure when it comes to their clothing options.
Of course, one way to minimise your environmental footprint while still sticking to vegan principles would be to shop for (vegan-friendly) clothes in charity shops/second hand auction sites. Alternatively, you could purchase clothes made from some of the more sustainable materials, such as hemp or bamboo.