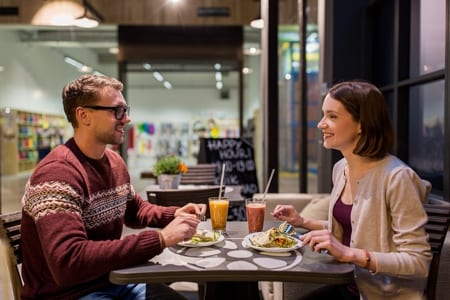 There are loads of vegan dating websites and apps and if you are looking for vegan laughs, walks in the country and maybe just a little bit more, they can be a quick and easy way to find people who share your ethical beliefs and lifestyle.
Of course, not all vegans will want to date/sleep with/marry another vegan. In some regards, it may be better to spend time with people who don't share exactly the same beliefs. Being challenged is a great way to grow emotionally and psychologically. Moreover, you might save more animals if you date a non-vegan and convert them!
However, in truth, having a relationship with someone on the basis of trying to change them is not a good foundation for lasting happiness. Lots of studies suggest that being with a partner who shares your core beliefs means you are more likely to enjoy a long-term relationship. Whether or not your veganism is a core belief may well depend on how passionately you feel about the subject.
If you only follow a plant-based diet, largely for health reasons, dating a fellow vegan or not is probably not a total deal-breaker. On the other hand, if you are more of a level five vegan, fully committed to the ethical arguments for veganism and someone who eschews all animal products and derivatives, clearly veganism is smack bang at the centre of your core values.
Ultimately though, whether you are looking to find love with a vegan because you just can't be bothered to cook two different meals each night, or because the thought of kissing lips which have come into recent contact with animal flesh makes you feel sick, here is a selection of the best vegan dating sites and apps.
Vegan Dating Apps
There are now almost countless variations of Tinder to cater to just about every niche demographic and outré sexual proclivity and here are some of the best aimed at vegans (and often vegetarians too).
Grazer
Grazer bills itself as the "herbivorous dating app" and claims that it is "Connecting local vegetarians and vegans". It is a simple interface, as you would expect, and works along the same lines as Tinder and all the rest.
The biggest issue right now is the relatively small number of people on there, meaning that it might be tricky to find a match and actually get a date. Grazer claim that their "aim is to connect and unite a new generation of like-minded vegetarians and vegans", but they aren't currently achieving that goal because they just don't have the numbers.
They are currently exploring crowd funding options to increase their profile and attract more users but, ultimately, they may struggle, especially when it comes to those looking for 100% committed vegans (as opposed to vegetarians and dietary vegans). As we discuss in our feature on how many vegans there are in the UK, whilst the number of vegans in the country is growing, as a percentage of the entire population numbers remains relatively small.
Much depends on what "level" of vegan one is talking about but we think a figure around the 500,000-600,000 mark is reasonable if we are talking about people who try to avoid all animal products. Given the population of the UK is now around 68,000,000, that means that less than 1% are vegan. Of that 1%, how many are using vegan-only dating apps?
Maybe we're stereotyping but it is certainly possible that your average vegan is less likely that the average member of the populace to use a dating app for a range of reasons. If vegans are more likely to seek love elsewhere, and they are a small group to start with, looking within that minority only for vegans looking for other vegans is naturally going to leave a small pool of potential dates.
All that said, Grazer isn't a total waste of time by any stretch. It is certainly possible to find a date and meet some decent people, especially if you live in a large city. Reports seem to suggest the people on there are all genuine (as far as people can realistically tell) and looking for a relationship, rather than a hook-up. Moreover, when you do find a match it seems progressing from there to a date is easy, with the obvious choice of a vegan meal out a simple next step. Grazer is definitely one to watch.
Veggly
Veggly is another option and uses the classic double-like functionality. However, reviews, reports and testing from our single friends suggests this is definitely not as good as Grazer. Whilst all vegan dating sites must grapple with the numbers issue, it seems the Veggly app itself just isn't up to scratch.
As with many, though not all, such apps, this uses a mix of free and paid services but there are far too many technical glitches and annoying little bugs. Naturally, this makes it harder for Veggly to retain users which further exacerbates the problem of having enough people on there to try to form matches with. Probably best avoided until they redesign it to iron out the glitches.
Other Apps
There have been various other apps that we have seen, used and been told about but several have come and then, almost as quickly, gone. This is probably a reflection of the relatively limited number of people who want a vegan-specific app and the high competition that already exists.
As well as from apps we've mentioned, that competition also comes from more traditional dating sites and apps, such as, of course, Tinder, Bumble, Happn, Match.com and many, many more. All of these can be used with varying degrees of success and ease by vegans looking for other vegans.
Some apps offer such extra search and filter facilities as a premium service, whilst with others it could potentially be quite a laborious case of trial and error and hoping to stumble across vegans whilst almost endlessly swiping left.
Increasingly, mainstream apps that use the swipe functionality are struck by the same issue. Whilst their addictiveness initially helped them become hugely successful, it has also skewed how they have been used. Many now take to such apps almost as a game, with the ego boost and instant gratification of approval and the titillation of looking at others' profiles replacing a genuine desire to meet a potential partner.
Vegan Dating Sites
There are potentially even more dating sites for vegans to choose from than there are apps but, of course, the same problems can also be issues. Whilst you are less likely to get caught in a frenzied wormhole of a swipeathon, finding a vegan who ticks your green boxes is likely to be tricky due to numbers.
The bigger, non-vegan-specific sites, such as the behemoth that is Match, may actually offer more vegan and vegetarian users than some of the smaller niche sites. Green Singles is a bit of a middle ground and could be a good pick, especially if you aren't necessarily looking for anything local.
Green Singles launched in the very early days of the Internet, way back in 1996, although it existed offline for over a decade before that. They offer a decent free membership but a paid service that offers a lot more. They aren't 100% vegan, or even vegetarian, although most users are, with those that aren't tending to be liberal, progressive and socially and environmentally aware.
They claim to be "the best online dating site to meet animal rights activists, environmental activists and those who prioritize healing our precious Mother Earth". Whilst this can't be verified, they do have lots of members and have been round long enough to suggest they know what they are doing.
They have lots of success stories, including a number of marriages but the biggest issue that you may face with Green Singles is the global nature of the site. If you're looking for a vegan to go to your neighbourhood plant-based restaurant with you might struggle. You might not, if you get lucky, of course. But if you're open to a long distance relationship and/or meeting like-minded new people from around the world, Green Singles is definitely worth checking out.
Most websites, including the big guns such as eharmony and EliteSingles, also have the ability to specify vegan-only matches and in some ways the slightly more old-fashioned dating site may be better suited to matching vegans with one another. The longer profiles and more bespoke services work better where a person's values, beliefs and lifestyle are the deal-breaker, not their dress size, abs, or other physical attributes.
Vegan Dating: Conclusion
Dating isn't easy and when you're single the whole world seems to be happily coupled up whilst you're stuck with a string of unsuitable dates or, arguably better, no potential suitors at all. Trying to find love is hard and arguably harder than it ever has been when your options stretch around the globe and can be discovered with a couple of swipes or clicks.
In the "olden days", whenever that was, you would simply have married the only other vegan in the village and been glad with your lot! If you are someone who takes their vegan beliefs very seriously and simply could not possibly date a "sloppy" vegan, or a vegetarian, let alone a meat-eater, then clearly the number of people who will fit your criteria is massively reduced.
If that is how you are, then we would suggest the way to go would be to use one of the major dating websites and make your position as clear as possible in your profile. Alternatively, for all those who would simply prefer a vegan partner, as opposed to it being a deal-breaker, we would suggest the best policy might simply be to keep an open mind.
Either way, the good news is that more and more people in the UK are becoming vegan. Who knows, after the latest round of vegan toe-dipping in January, that person in your life who was just perfect other than their burger habit might even become your ideal vegan love match. Good luck!