In recent years there has been an explosion in the number of vegan documentaries, as there has been with just about everything else related to veganism. For clarity, when we say vegan documentaries, we mean documentaries and other films about veganism, as opposed to ones made in a vegan way. In fact, most films, movies and traditionally shot footage is technically non-vegan because the film itself uses gelatine.
We're getting off topic here before we have even started. But for the record, the newer Star Wars movies were shot entirely digitally, thus removing this issue. As such vegan Star Wars fans, the Force is with you. This is a technique we expect to see being more and more widely employed, though for now it is worth being aware that your trip to the cinema might not be as vegan as you think, even if you do pick vegan-friendly popcorn.
The Best Vegan Documentaries
Right, back to the real subject: non-fiction films about veganism. There are loads and loads of great docs out there so whether you are looking to lure a friend or relative into the green fold, want to expand your knowledge of veganism or just enjoy watching films about the subject, here are some crackers. Note that whilst all of these are incredible documentaries, some make for difficult viewing and are not all suitable for children.
Cowspiracy: The Sustainability Secret
Cowspiracy was released in 2014 and was initially a crowdfunded project made for very little cash (relative to the vast majority of films). In 2015, an updated version of the documentary was co-produced by Leonardo Di Caprio for Netflix and this is the version you are probably more likely to see now.
Some critics initially panned it, with one saying that it was "a pile of self-indulgent, vegan propaganda". We reckon that pretty much means it hit the nail on the head! Almost 20,000 reviews on IMDb give it an excellent overall score of 8.3 and it is certainly one of the best vegan docs around to our mind.
It looks out how animal farming impacts the environment in a range of ways but is funny and engaging despite the seriousness of the subject matter. Whilst it may be a little simplistic at times and some of its "facts" have been questioned in some quarters, it still remains a thought-provoking and educational film that looks to provide solutions as well as detailing the problems.
Earthlings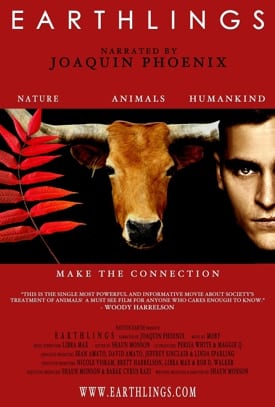 Earthlings is another documentary that features Hollywood heavyweights with Joaquin Phoenix narrating this sometimes hard-to-watch feature. This is a wide-ranging vegan documentary that looks at the many ways in which humans enslave, exploit and harm animals to maximise profit.
Released in 2005, the movie employs hidden cameras to show the reality of pet shops, puppy farms, animal testing and how animals are used in entertainment, as well as looking at the more typical areas of food and clothing.
Scoring a very impressive 8.7 on IMDb, Earthlings is rightly lauded, even if it you won't exactly be left feeling joyous after watching it. The film opens with Phoenix stating, "Since we all inhabit the earth, we are all considered earthlings. There is no sexism, racism, or speciesism in the term 'earthling'. It encompasses each and every one of us: warm- or cold-blooded, mammal, vertebrate or invertebrate, bird, reptile, amphibian, fish and human alike."
The film then goes on to show how humans have abused their power and links our treatment of animals with racism and sexism. It is truly a powerful documentary and well worth watching. It is worth getting your non-vegan friends to watch too!
Dominion
Dominion is another film to feature Joaquin Phoenix, who co-narrates this with Rooney Mara and Sia (among others) and is a really hard-hitting, upsetting documentary. There are many scenes of terrible cruelty, with one review stating that "the only respite, once the film is underway, is the momentary pause offered by the black screen segment breaks. They're the film's only gasps of oxygen in the otherwise suffocating horror of animal abuse."
Clearly, this isn't a film for everyone but those who can bear to watch it will learn just how bad the treatment of animals is within modern farming. Dominion uses some heart-wrenching footage from drones and hidden cameras to question how humans have taken over and dominated the animal kingdom.
Farming for food is the primary focus but Dominion also looks at research and animal testing, the exploitation of animals for entertainment, clothing and more. Released in 2018, this is one of the most up to date and comprehensive films about the mistreatment of animals and it is hard to argue with the points made.
What The Health
From the same team that made Cowspiracy, this 2017 doc brings a wealth of evidence to show that a vegan diet may be the healthiest option around. It looks at the damaging health impacts of the meat and dairy industries and is great for those interested in the health reasons for going vegan.
Critics argue that whilst purporting to be scientific it actually misrepresents a lot of information and overstates the pros of a vegan diet and the cons of one that includes meat. This may well be a fair argument but much of what it says is true and it certainly raises many interesting points about how the giant food producers influence government recommendations on health.
Live And Let Live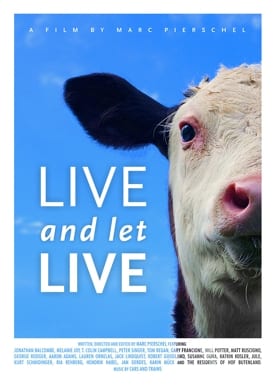 Moving away from the trickier science-based approach, this German-made, English language film looks at six different vegans and the reasons they have adopted a vegan diet and/or lifestyle. Using this human angle, it also explores the bigger issues such as health, ethics and the environment but does so in a personal way, without making any bold claims about The Truth.
Released in 2013, it is a fascinating and at times touching film that shows how varied vegans can be. The butcher turned vegan chef is a particularly interesting story and shows there is hope for even your meatiest of meat-loving friends!
Vegan: Everyday Stories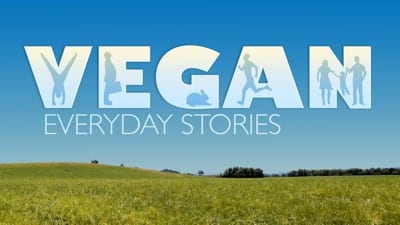 This 2016 film takes a similar approach to Live And Let Live, looking at four very different people who share veganism. The four individuals really are very different and, equally, in many ways they are far removed from the stereotype of a vegan we look at in our vegan myths article.
A cattle rancher's wife and an ultra-marathon runner are two of the quartet but the most inspiring story sees a young girl persuade her entire family to go vegan. The film is a not for profit endeavour and can be watched totally free on a range of platforms. Check out the trailer below!
73 Cows
If you don't have much time and want a quick hit of vegan inspiration then check out this 2018 short. In just 15 minutes, you'll be left feeling better about the world. The BAFTA-winning documentary was made for a pittance and tells the story of a beef farmer whose guilt persuaded him and his wife to switch from cows to vegan organic farming.
The inspiring and uplifting film is 15 minutes of brilliance and has won multiple awards. Check it now and if there is a change you want to make in your life, this doc might just push you to make it.
The Last Pig
The Last Pig is a similar documentary in many regards but is longer, at just under an hour, and, unsurprisingly, looks at the story of a pig farmer, rather than a cow farmer. Released in 2019, this US doc has also won a number of awards and is well worth a watch for any would-be vegans finding it hard to say goodbye to bacon.
You can read all about the film and see how to watch it at The Last Pig website. The site is a great companion to the film and also has some interesting pig facts that might make giving up on a sausage sandwich that bit easier.
Blackfish
Blackfish isn't a vegan film as such, whatever exactly is meant by that term, but it is a brilliantly made piece of work that has had a huge impact on the world. Blackfish looks at the terrible plight of Seaworld's animals, in particular their killer whales, or orcas, the blackfish of the title.
Released in 2013, the film has been critically acclaimed and has proved incredibly popular with audiences. It was nominated for a BAFTA and premiered at the 2013 Sundance Film Festival. It is gripping, moving and brilliantly made and whilst Seaworld have, predictably, claimed it doesn't paint a true picture of their practices, the film has had a much broader impact.
Seaworld's visitor numbers have dropped, bands have dropped out of concerts hosted by the group and, ultimately, Seaworld has made a number of pledges in the wake of the powerful documentary. Seaworld promised to end killer whale shows, cease their breeding programme and is looking to entirely phase out orca performances.
Forks Over Knives
Forks Over Knives, written and directed by Lee Fulkerson, was released in 2011 and was one of the earliest films to advocate a plant-based diet. It isn't strictly a vegan film but given that it seeks to show how largely avoiding animal-based protein and products (as well as processed foods which is in many ways more the documentary's focus) can lead to a much healthier life, it is very much worthy of a mention.
The film is based on an earlier book, The China Study, published in 2005. That book was about a 20-year observational study, the China–Cornell–Oxford Project, that was carried out in China in the 1980s. Fulkerson seeks to show in the film how avoiding processed foods, oils and animal products can go a long way to helping people avoid chronic health problems. It's a little dry at times but it is a fascinating watch for those interested in nutrition and health.
Maximum Tolerated Dose
This 2012 documentary about animal testing is another incredibly difficult one to watch. Most definitely not for a Sunday evening!
There are lots of first-hand accounts of animal testing projects and procedures and interesting stories as scientists involved eventually became too troubled by their conscious to continue.