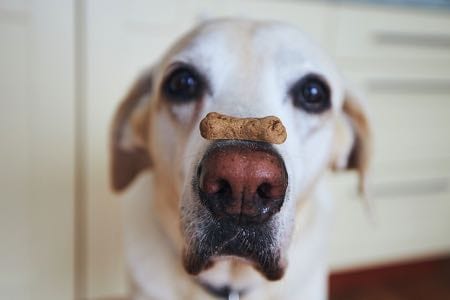 The 2020 pandemic led to many people acquiring pets for the first time as people spent much more time at home which caused a feeling of isolation for many people. Even before the global health crisis, though, dogs were extremely popular as pets (or companion animals). And, there is a massive industry that taps into this to provide enriching snacks and treats for canine companions. But what if you are a vegan and you want to feed your companion dog plant-based food and treats? And, does "owning" a dog sit well with vegan ideals in the first place?
We cover the practicalities of feeding companion animals (or pets if you prefer) a plant-based diet in our Vegan Pet Food article. And, we look at the ethics of whether vegans should keep animals at all in our Do Vegans Keep Pets? article.
Here, though, we will leave most of those arguments to one side and focus simply on vegan dogs treats. We'll look at what options there are for plant-based dog treats in the UK and what benefits or drawbacks they may have for your companion dog and your wallet. We'll first take a look at what dog treats actually are, then we'll run through some of the top vegan-friendly dog treat options. We'll also run through some of the things that can stop dog treats from being vegan (hint: if it looks like an animal bone… chances are it probably isn't vegan).
What Are Dog Treats?
Dog treats can broadly be defined as anything edible given to dogs aside from their standard dog food or their main meals. Even though some dog treats could be defined as "chews" we are not including non-edible chews (such as those made of plastic or rubber) as they would fit better in the "dog toys" category.
Dog treats can be used during training to reinforce certain positive behaviours. They are also often given to promote good dental health or to supplement the main diet in some way. Or they can just be given to dogs as snacks or just as treats for the hell of it if you think your pooch deserves it for whatever reason. Here are the main categories of dog treats:
Biscuits
One of the most common dog treats, these come in many different shapes and sizes and contain a massive range of ingredients. Often they will include cereals of some sort, along with some oils to bind them and additional flavourings, often from some animal source.
Edible Chews/Animal Parts
As the name suggests, these are often parts of animals and thus are usually not vegan. Having said that, as we discuss in our article on deer antlers for dogs, in some circumstances, an antler found in the wild after it has been naturally shed could be deemed a vegan-friendly treat for your dog.
Dental Care Treats
These come in various shapes and sizes and tend to encourage dogs to chew in a way that cleans their teeth and promote healthy gums. These tend to be shaped or textured in a way that gets between the dog's teeth – a bit like dental floss for canines!
Soft Treats
As the name suggests, these are not as chewy or abrasive as some of the other options and again come in various shapes, sizes and flavours.
Puppy Treats
Treats that are designed specifically for puppies tend to be higher in vitamins and easier to chew than some of those aimed at adult dogs.
Rawhide Treats
Rawhide is basically animal skin (and could be from any part of the animal). Sometimes it is not exactly clear from which animal the hide came, though often this will be stated on the packaging. Either way, this is certainly not vegan friendly.
Though some might suggest this is simply a byproduct that would otherwise be thrown away, as we discuss in our Vegan Leather article, there are many instances of animals being killed primarily for their skins.
Meat/Fish Treats
Clearly, anything made from meat or fish will not be vegan. These tend to be 100% chunks/strips/twists of dried meat or fish. Sometimes they are not dried, for instance, with a tub of sprats.
While the above covers the main categories of dog treats, there is plenty of overlap between the categories (for instance, dental treats that are also chews and/or rawhide).
Top 5 Vegan Dog Treats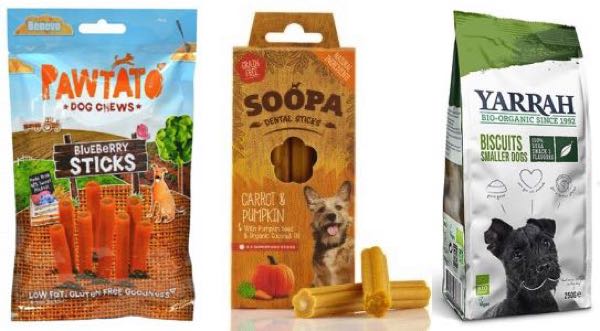 There is a growing number of vegan-friendly dog treats available in the United Kingdom as producers look to tap into the vegan market. Here are some of the best we've found.
Product Name
Notes
Available From…
Pawtato Dog Chews
Pawtato Dog Chews are organically grown, ethical and vegan dog treats that come a variety of styles and flavours. Using natural flavours and colours and based around sweet potatoes, they offer excellent nutritional benefits for your pup.

Flavours include Blueberry Sticks, Mint & Parsely Tubes, and Spinach & Kale Sticks. They even offer some vegan "Ocean Treats" based on spirulina.

TheVeganKind Supermarket, selected pet stores
Soopa Healthy Bites and Dental Sticks
These vegan healthy bites and dental sticks come in a range of tasty-sounding flavours (for humans, let alone dogs!). Banana & Peanut Butter, Coconut & Chia Seed, and Cranberry & Sweet Potato are some of the tempting options. Most of them are highly nutritious in terms of their vitamin and mineral content.
TheVeganKind Supermarket, most big pet stores
Yarrah Organic Biscuits For Smaller Dogs
Made from wheat, corn, spinach powder, brewer's yeast and dried seaweed, among other things, these dog biscuits are highly nutritious and their size make them ideal for smaller canines.
TheVeganKind Supermarket
Vegan Poochy Treats
Manchester-based Vegan Poochy Treats make various dog treats, such as the very cute heart-shaped pumpkin biscuits, apple and oat biscuits and banana bites. All are vegan and they aim to produce nutritious and tasty treats that provide essential proteins and vitamins for your dog.
The Vegan Poochy Treats website
V-Dog Jumbo Veggie Chew
This Peppermint & Parsley chew from vegan dog food pioneers V-Dog is great value and could keep your pooch chewing for a fair while.
TheVeganKind Supermarket, selected pet stores
What Stops Dog Treats Being Vegan?
When it comes to dog treats, there are numerous ingredients that could render them non-vegan. One of the most obvious ways for a treat to be non-vegan is if it used to attached to another animal, such as its skin or one of its bones. Other parts of animals that are commonly used in pet food and some treats include pig's trotters, chicken feet, liver and udders. (It's possibly a good thing most dogs can't read!)
As we mentioned above, there is a case for naturally shed deer antlers to be classified as vegan. But there are various downsides to this as it could promote a market for them that encourages people to slaughter deer to acquire and sell their antlers.
Just like with food for humans, there are numerous animal-derived ingredients that appear in dog treats. Most of these will be easily identifiable, such as beef, chicken, turkey, any type of fish (often salmon), milk, or eggs, among other things. Sometimes you might have to look a little closer at the ingredients than you might with human food, though, as some animals ingredients that are usually written in bold on your food (because of allergies) probably won't be on animal food.
Given that there are different labelling rules governing pet food (including treats), it might not always be apparently exactly what animal products are contained within a given product. But if products contain any ingredients of animal origin (including milk, eggs and "material of marine origin") the makers must register with the Animal and Plant Health Agency (APHA) which might encourage some smaller producers to simply opt for plant-based options instead.
Why Could Vegan Dogs Treats Be Better Than Animal-Based Treats?
Assessing the benefits of vegan dog treats is very similar to assessing the benefits of a vegan diet for humans. Essentially, there are three main benefits: health, environment and ethical. Unless you have a particularly learned dog in your midst, it is likely he or she won't be too concerned with the ethics of veganism or probably even the environment. But they will be bothered about their health and all the vegan treats we mention above contain ingredients that contain various vitamins and minerals that could benefit your dog's health.
From the environmental perspective, producing food (for humans or other animals) from plants rather than animals is far more sustainable. The carbon footprint of animal-based pet food has been shown to have a significant impact on the environment. Ethically speaking, the more vegan dog treats are bought instead of animal-based ones, the fewer animals have to suffer and die to supply the dog treat market. Of course, the thing dogs will be concerned with most of all will be whether the vegan treats are tasty and satisfying… and the best way to test that is to buy some and let your companion dog be the judge!
How Many Pet Dogs Are There in the UK?
According to the 10th Edition of the PAW Animal Wellbeing Report, based on data collated in February 2020 by the veterinary charity PDSA, there were 10.1 million dogs owned in the UK. This has increased from 9.9 million in 2019 and 8.9 million in 2018. The report states that a whopping 26% of UK adults own a dog. This means a lot of dog food and dog treats will be needed.
Vegan Dog Treats Conclusion: Nutritious & Tasty
As we have seen, there are many reasons dog treats could be deemed non-vegan. Either they are simply made out of animal parts (such as bones or rawhide) or they include any number of animal-derived ingredients. Thankfully, for those seeking vegan treats for their dogs, there are already a fair number of good value, nutritious and tasty options available.
As the number of vegans continues to grow, those who have companion dogs will no doubt increasingly begin to seek out vegan treats and pet food. That will lead to more vegan-friendly products materialising for dogs in the coming years and given they are often highly nutritious, this is sure to lead to plenty of happy and healthy dogs.