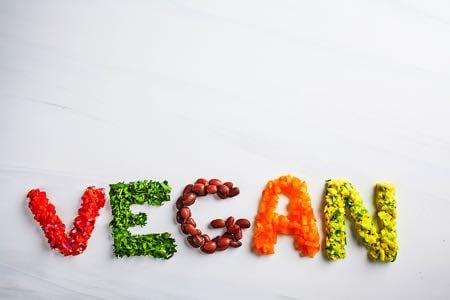 Many people are curious about what it means to be vegan. On a very basic level, many may be unsure about the difference between vegans and vegetarians. People may also wonder whether there is a set list of rules that vegans must adhere to or whether there is room for manoeuvre. In this article, we will explain all you need to know about what vegans eat, what is included in (and excluded from) a vegan diet, and the things most vegans consider important aside from just following a plant-based diet.
There is little doubt that veganism has become increasingly popular in recent years and the number of vegans in the United Kingdom is estimated to be anything up to around 3.5 million according to some surveys at the time of writing. There has been a boom in vegan-friendly foods and other products, and there are many vegan celebrities who sing the praises of a plant-based diet. But, let's cut to the chase: what is a vegan?
Quick Jump: What Is a Vegan? | What Food Do Vegans Eat? | What Non-Food Products Do Vegans Avoid? | What Non-Food Items Do Vegans Use? | How Strict Are Vegans?
What Is a Vegan?
To kick things off, let's explain what a vegan is. The term vegan is open to a degree of interpretation and can be broken down into various types of vegan. In basic terms, a vegan is someone who follows veganism, which (depending who you ask) could mean they simply follow a plant-based diet or that they embrace a much wider-reaching philosophy of vegan ideals.
One thing that all (or almost all) vegans have in common, though, is that they do not eat or drink products they know to have come from animals. This includes things like meat, fish, milk and other dairy products and various other animal products that find their way into a wide range of foods.
We go into more detail about this in the next section, but if someone excludes all animal products from their diet, they are seen by many to be a "vegan", though some people might refer to this type of vegan as a "dietary vegan", unless they apply vegan principles to other aspects of their lives.
Veganism: More Than Just a Diet
For many people, veganism means a lot more than simply excluding meat and other animal products from their diet. Many vegans think that to be a real vegan, it is also important to avoid animal products in general, rather than focussing solely on what they eat and drink.
Often termed ethical vegans, this form of veganism is more widely accepted and fits in with the definition of veganism that is usually used, put forward by the Vegan Society, which states that veganism is:
A philosophy and way of living which seeks to exclude—as far as is possible and practicable—all forms of exploitation of, and cruelty to, animals for food, clothing or any other purpose; and by extension, promotes the development and use of animal-free alternatives for the benefit of animals, humans and the environment. In dietary terms it denotes the practice of dispensing with all products derived wholly or partly from animals. (Source: The Vegan Society)
Based on this definition – which is seen as a guiding statement rather than a gospel doctrine by many vegans – to be a vegan is more than simply making a dietary choice. It is a philosophy and a way of life, and some people would even go so far as to ask the question, is veganism a religion?
In fact, in early 2020, ethical veganism was ruled to be a "philosophical belief" in the United Kingdom, giving it the same protections from a discrimination perspective as religion (among other things).
Avoiding Certain Products or Boycotting Companies
For vegans who take things beyond simply avoiding eating meat, fish, dairy and other animal products, the notion of veganism covers all parts of their lives. This could be in relation to products they choose to buy (avoiding any that include animal products, have been tested on animals or that cause environmental damage that could be to the detriment of animals, such as avoiding palm oil).
It could also be more subtle, such as only supporting companies who are ethical in nature (from an environmental and wildlife-related perspective) or boycotting companies and organisations that support animal cruelty, testing or exploitation; or it could be more overt, such as joining vegan advocacy and campaign groups.
Varying Degrees of Veganism
In summary, vegans are people who don't eat any products made from animals. While some vegans leave it at that to a large degree, for others the dietary aspect can be the foundation of a belief system that encompasses many aspects of life that aims to minimise harm to and exploitation of animals.
At its strictest, that means avoiding all animal products in clothes, cosmetics and so on, not keeping pets, being opposed to zoos and animal-based sports, and a whole lot more. People will draw their own lines in the sand though and there is no strict, all-encompassing, legal description of what a vegan is. The exact definition of veganism, therefore, will differ from person to person.
What Do Vegans Eat?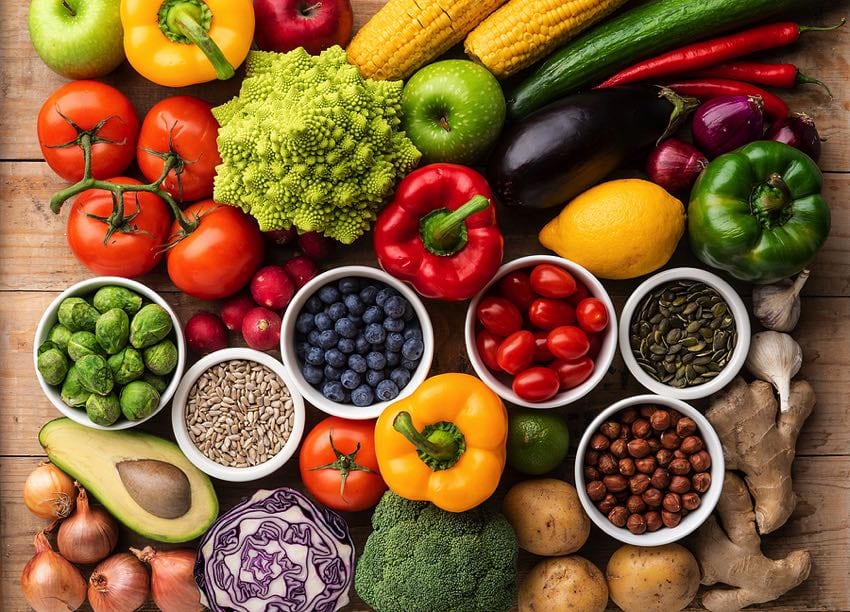 Now we are (hopefully) clear on what a vegan is, let's take a closer look at what vegans eat.
No Animal Products
To keep things simple, vegans can eat anything that has not come from animals. Clearly anything that is obviously derived from animals is off the menu for vegans.
So, that would include anything from animals that are traditionally farmed in the UK, such as cows, pigs and sheep, but also any dairy products, all fish and seafood and anything made from animals' body parts or animal secretions (so honey, for example is also not suitable for vegans).
Vegans, Vegetarians, Pescatarians
The main differences between vegans and vegetarians are that vegans classify all animal-derived products as unsuitable to consume, where vegetarians are only concerned with actual animal meat or flesh, and also that vegetarianism is only concerned with what we eat, not what we wear or use in other ways.
Among other things, that means that vegetarians eat eggs, honey and dairy products (despite the harm to animals caused by the dairy industry that has been documented on numerous occasions, for example).
In addition, while pescatarians think it's okay to eat fish (presumably because they don't have any feelings, to paraphrase Nirvana!), strict vegetarians and certainly vegans do not. For vegans, all creatures great and small – from insects to whales – are off the menu as long as they are part of the animal kingdom.
It is worth noting that while there are many foods that contain ingredients that are obviously derived from animals (such as a cheese and ham pizza, for instance), there are lots of food products that contain less obvious animal-derived ingredients. These could be relatively well-known ingredients, such as honey or gelatine (which is made from the collagen from animals), or more obscure additions, such as shellac (which is made from insects' secretions and is used as a glaze for some sweets).
Which Foods Can Vegans Eat? What Should They Avoid?
Let's take a look at some of the most common food staples vegans can and cannot eat. For more details and extensive explanations about why some products are vegan, not vegan or sometimes vegan, see the Is It Vegan? section of our site.
Food
Can Vegans Eat It?
Notes
Fruit
Yes
Fruit comes from plants, and hence they are vegan (though there are some concerns about the exploitation of bees with some fruits, e.g. avocados).
Vegetables
Yes
As with fruits.
Bread & Related Products
Varies
Most bread is made from vegan-friendly ingredients, though there are some non-vegan ingredients to watch out for on occasion (including honey, buttermilk and cheese).

Note that yeast is vegan despite not being from a plant (it is from the fungus kingdom rather than the animal kingdom).

Breakfast Cereals
Varies
There are many vegan-friendly breakfast cereals available, but it always pays to read the list of ingredients to be sure.

Some popular cereals that are vegan included: Nestle Shreddies, Weetabix, Kellogg's All Bran, and Quaker Oats.

Nuts & Seeds
Yes
Nuts and seeds comes from plants and are vegan (though, as with avocados, there are some concerns about the farming/pollination methods used for almonds among others).
Rice, Lentils, Pulses & Legumes
Yes
All foods that come directly from plants are vegan… unless they have a direct impact on animal welfare through habitat destruction or similar (as with palm oil) but even then, the matter is open to debate.
Dairy Products
No
Milk, cheese, yoghurt, cream and butter are all off the menu for vegans, but there are plenty of vegan-friendly alternatives for each of these things, from oat, almond or soya milk, to soy yoghurt, plant-based margarine or coconut cream.
Fish & Seafood
No
Fish and seafood (including oysters and mussels and clams) are animals and hence should not be consumed by vegans.
Pizzas
No
Traditional pizzas containing dairy cheese are not vegan, but there are a growing number of good quality and very tasty vegan pizzas available in supermarkets.
Meat
No
Clearly meat isn't vegan as it is "made" from the flesh of animals. The good news is that there are loads of fantastic vegan-friendly meat alternatives, so there's no reason why you can't enjoy a hearty vegan barbecue!

Meat substitutes can come in many forms and include products made from tofu, seitan, tempeh, Quorn or various plant-based proteins.

Chocolate
Varies
A lot of dark chocolate is naturally vegan, though of course milk chocolate is not.
Ice Cream
Varies
Traditionally, dairy ice cream is not vegan, but there are loads of fantastic vegan ice cream options that are just as nice as the "real" stuff.
Snacks
Varies
There are loads of vegan crisps, vegan biscuits and vegan sweets available to buy in every supermarket, many of which would not be obviously vegan on first glance (such as Walkers Prawn Cocktail crisps, for instance!).

It is necessary to check the labels to be on the safe side with most snack foods, however, unless explicitly marked as vegan.

Pasta & Noodles
Varies
Pasta or noodles made with wheat would be perfectly vegan, but egg pasta and egg noodles are not (as eggs are not vegan).
Beer
Varies
As strange as it possibly sounds, some beer makers use the swim bladders of fish (called isinglass) during the fining (filtering) process, thus rendering it non-vegan.

Thankfully, many brewers (including the makers of Guinness) use alternative methods these days.

Wine
Varies
As with beer, wine is increasingly likely to be vegan these days, and increasingly likely to be labelled as such.
Champagne
Varies
As with beer and wine, some Champagne, Prosecco & Cava has used isinglass, but there are loads of brands that are perfectly vegan friendly, including Krug, Dom Perignon, Moet & Chandon and Pol Roger.
The above is just a snapshot of the types of foods vegans can and cannot eat, but there is a massive range of available options, either foods that are naturally vegan or those which have been developed as a vegan alternative to foods that are not usually vegan.
In short, there is no reason those wanting to follow a balanced, plant-based diet would face too much disruption when going for their weekly shop. While there might be a period of adjustment to start with, as you discover which specific food products are vegan and which would need to be avoided, once you get the gist, it will become second nature, with just the occasional need to double check food labels to be on the safe side.
It is also worth reading up on the various vitamins and minerals that you need in your diet. With a bit of planning, you can get all the nutrients you need from a plant-based diet and there are certainly lots and lots great sources of vegan protein and iron. That said, we would recommend that you consult your doctor or medical professional if you have any specific dietary requirements.
What Non-Food Products Do Vegans Avoid?
Aside from food, there are many things that vegans (or a large proportion of vegans) will at least try to avoid. This covers most aspects of a person's life from clothing made from leather, wool or silk, to cosmetics or other products that have been tested on animals. Note that just because a product is classified as vegan friendly, it doesn't necessarily mean that it is also cruelty free.
Whilst something may not contain any animal-derived ingredients and therefore be technically vegan, it might still have been tested on animals or contain products or procedures that have been tested on animals. For more information about this, see our article that examines the difference between vegan and cruelty free products.
For those who view veganism as a philosophy, there are many things to consider, especially when making choices about purchases or pastimes. Here are some of the more common quandaries faced by ethical vegans.
Clothing
Clothing made from animal products – such as wool, cashmere, silk or leather – is avoided by many vegans. Often if someone becomes a vegan they will not just throw out their leather boots and belts or woollen jumpers as this is not great for the environment (which has a knock-on negative effect on animals).
Some vegans simply keep wearing/using such products until they wear out, while others will gift them to charity shops or friends.
Cosmetics & Toiletries
Many cosmetics and toiletries have been (and still are) tested on animals, though with a growing awareness there are many companies who make a point of not testing on animals and making sure customers known about it through their labelling, so it is not usually too difficult to find vegan makeup and cosmetics.
Sports & Entertainment Involving Animals
Though this is not the case with all vegans, some more ethically minded vegans will not watch or go to events involving animals for sport or entertainment purposes. Bull-fighting is an obvious no-no but many vegans will also be against activities, such as horse racing, greyhound racing, circuses that include animals or even zoos and safari parks.
Observing animals in their natural environments (for instance, going on an actual safari in the wild) is usually considered to be okay with vegans, especially if it is done sustainably, ethically and helps fund conservation projects or similar.
Furniture
Leather furniture, rugs made from wool or animal skins and ornaments made from animals (e.g. animal-horn drinking vessels) are avoided by many vegans.
Household Products
Products from glue to cleaning products, to furniture polish and paints might have ingredients derived from animals or might have been tested on animals.
Often it is not obvious from the labelling (unless it specifically states the product is vegan and cruelty free) so often the only way to check is to contact the manufacturer… though choosing an obviously ethical option is usually easier.
What Non-Food Products Can Vegans Use?
Thankfully, these days for almost every non-vegan product that uses animal products, there are vegan-friendly alternatives available. For instance:
Jumpers made from cotton or synthetic fibres can be purchase instead of wool
Cotton-rich rugs instead of wool or animal skin
Velvet made from cotton or linen instead of from mohair or wool
Vegan and cruelty free cosmetics and household products (which are becoming increasingly common in both major supermarkets and more specialist retailers, such as TheVeganKind Supermarket)
Of course, it all comes down to choices, and if you only feel comfortable aiming to follow a vegan diet or even going vegan for just a few days a week, that is still going to have a positive impact on animals and the environment.
It can be quite overwhelming when you decide you want to try veganism but you are faced with lists of things you have to avoid if you want to join the "vegan club". But in reality, there is no such thing as the perfect vegan (not even Lisa Simpson aspired to be a Level 5 vegan), and there is even some wiggle room built into the main definition of veganism.
Veganism: As Far as Is Possible & Practicable
In the definition of veganism we mention above and which is widely accepted by most people in the vegan world, there is a very important term, namely: "as far as is possible and practicable".
This is important as it effectively gives vegans the permission to exercise their own judgement when it comes to certain situations and not to feel like they are blindly following a doctrine that is set in stone and has no room for interpretation.
Vaccinations & Medicines
The "as far as is possible and practicable" clause in the definition could come into play in many scenarios, but most pertinently is perhaps when it comes to medicines and vaccines.
In the United Kingdom, all medicines and vaccines that are given to humans will have had to have been tested on animals of some sort at some time. This could prove to be troubling to some vegans because their very way of life is geared towards excluding all forms of exploitation of and cruelty to animals.
Clearly testing vaccines on animals, for instance, would involve at least exploitation and possibly cruelty, but if there is no viable alternative we – and most vegans – would accept that this fits into the "as far as is possible and practicable" part of the definition. In short, if you never take any medicines, medical treatments or vaccines that have been tested on animals, you are going to be in serious trouble if you get ill or if you want to avoid getting infected with a nasty disease.
Pest Control
Other scenarios in which this clause could come into play is if, for instance, your life or health is being damaged or threatened by animals of some sort. This might be if your home becomes infested by rats (though there are some vegan pest control options that are sometimes available) of if you happen to get accosted by a bear whilst strolling in a National Park while on holiday in Canada (it would probably be unwise to refrain from using bear spray in such a scenario…).
In summary, there are some circumstances in which even the strictest vegans would be well-advised to call on the possible and practicable clause of the definition.
Conclusion: There Is No One Size That Fits All
Of course, there are many people who identify as vegan who simply stick to not eating animal products, and refraining from buying the more obvious animal products (such as leather and wool) and products that they know to have been tested on animals (such as most cigarettes).
Varying Levels of Veganism
Ultimately, each person's level of veganism is up to them, just as people follow religions to different levels of strictness and orthodoxy, it's all down to personal choice. Though there are some vegans who suggest so-called "dietary vegans" are not "real" vegans, that is an opinion that is not really very helpful for those trying to promote veganism as it is likely to alienate new vegans if they are told they are not doing it "properly".
Moreover, whilst we believe veganism is bigger than just diet, the vast majority of animal suffering and death is caused by the food industry. Cutting out meat, fish, dairy and eggs from one's diet would go a huge way to creating a more vegan world. Beyond that, there is certainly a degree of diminishing returns and looking at one's diet first is certainly a brilliant place to start.
So, if you are a new vegan, or you want to simply increase the amount of vegan food you eat for environmental or health reasons, it is perfectly fine to take things one step at a time (indeed, we have a Go Vegan in Five Steps article that might help you move towards veganism without feeling any pressure).
Do Whatever Feels Right to You!
The bottom line is that moving towards veganism can be a positive step for your health, the environment and, of course, animals; but that it is all about doing what fits in with your values and at a pace with which you are comfortable.
There is plenty of information about veganism in general and the various vegan-friendly food and other products that are available on our site. So, do some research, assess the potential benefits to your life (and the lives of others) and – if it looks like it might work for you – take the first steps of your vegan journey.