Whilst some vegans simply follow a plant-based diet, for many, veganism is something that permeates all areas of their lives and shapes many of the decisions they make. Using vegan milk in your flat white or for the base into which you mix your vegan protein powder is one thing, but what about the clothes you wear, the cosmetics you use and even the household goods?
There are indeed vegan alternatives for just about all of those, including some great vegan fashion brands and you can even opt for vegan electricity too! But what about vegan investments and pensions? Whilst the money we spend is one of the biggest ways we can hope to influence the world, the money we invest can also have a huge effect.
As Greta Thunberg attests, no one is too small to make a difference and for many people, their pension will be the most expensive thing they "buy" aside from their home. As such, how vegans' money is invested, be that through a pension or a savings device, is perhaps one of the biggest ways they can influence the world for the better.
Of course, eschewing meat and other animal products will have a huge impact too and is the most direct course of action a vegan can and should take. But if they indirectly help finance huge meat companies, such as Tyson Foods (annual sales $33bn), are they undoing that good work? What's more, how much better would the world be if their investments were not in actively anti-vegan funds and businesses but green, ethical ones instead? That is exactly the issue we intend to look at here, so, lengthy intro now over, what are the options for vegan pensions and investments?
Note that we are not financial professionals and the information contained should not be taken as investment advice. It is always a good idea to seek advice from an independent financial adviser (IFA) or other financial professional if you are planning to make significant investments.
What Is Ethical Investing?
Anyone vaguely familiar with investing, whether through a stocks and shares ISA, Self-Invested Personal Pension (SIPP) or any other means, will be well aware of the existence of ethical funds. Such funds are far from new, in fact, it is claimed that the notion of ethical investing dates back to 1750!
Of course, things have changed a lot since the 18th century and whilst most ethical investing initially had its origins in religion, nowadays, many people demand such principles simply out of a desire to do good – or at the least not do bad. Modern-day moral money dilemmas have focussed on trying to force or encourage businesses to lead change and there is now a huge range of so-called ethical funds and investment options.
Quite how ethical these products are is a matter for debate and what constitutes "ethical" is also far from clear cut. Some try to avoid investing in companies that produce arms, others believe that gambling is bad and avoid bookmakers and casinos, whilst others are more concerned about the environment and seek to make sure their money does not fund fossil fuels, fracking or other generally polluting industries. Tobacco is another area many seek to avoid, with The Times' Ian Cowie, for example, having stated that he is unwilling to invest in a company that knowingly kills its customers.
Investopedia describe ethical investing as avoiding "sin stocks, which are companies that are involved or primarily deal with traditionally unethical or immoral activities, such as gambling, alcohol, or firearms". As we have said, exactly what falls under the "sin stock" umbrella will vary from person to person.
Given that fact, it is perhaps best to think of the concept in terms of another definition put forward by Investopedia which states that it is the "practice of using one's ethical principles as the primary filter for the selection of securities investing". Clearly, for many vegans, one of the core ethical principles is that animals should not be harmed, killed, exploited or endangered. Whilst many ethical options have a green slant, be it in terms of climate change and ecological issues, or more animal-centred concerns, such as welfare and habitat destruction, are there any truly vegan funds or pensions?
What Vegan Pensions & Investment Funds Exist?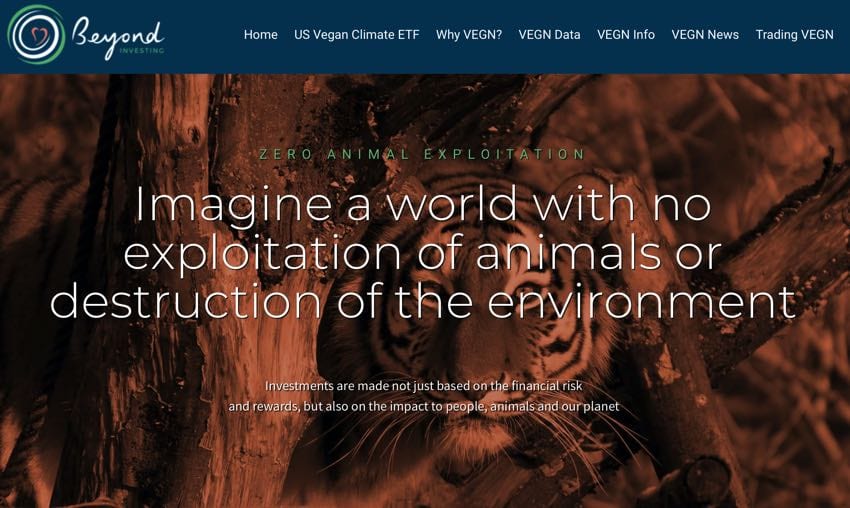 Veganism is not new, far from it, but until very recently, there were no expressly vegan options for anyone wanting to invest, either in a pension or fund. That changed in 2019 when the US Vegan Climate ETF (Exchange Traded Fund) was launched, purportedly becoming the world's first fully vegan fund. Without getting too technical, in fact that ETF aims to track the performance of a vegan index, the US Vegan Climate Index.
As the name suggests, this is a US collection of stocks, though of course open to UK investors too. The index itself has outperformed the S&P500 (a market index that covers around 500 of the largest US companies including giants such as Apple, Microsoft and Amazon) in recent times. From its inception up to the end of 2020, the fund had delivered an average annualised return of an impressive 29%, compared to 21.60% for the S&P500.
According to the index's creators, "The US Vegan Climate Index® (VEGAN), developed by Beyond Investing is a passive, rules-based index of U.S. mainly large-cap stocks, screened according to vegan and climate-conscious principles". It avoids any stocks that are "engaged in animal exploitation, defense, human rights abuses, fossil fuels extraction and energy production, and other environmentally damaging activities (and) demonstrates that it is possible to obtain broad-based market exposure, whilst adhering to animal and environmentally-friendly principles".
Just How Vegan Is This Fund?
Returning to the US Vegan Climate ETF, their prospectus explains how Beyond Investing's index is formulated, saying that "companies are excluded from the Index if they derive more than a de minimis proportion of their total revenue (generally less than 2%) from products and services directly related" to areas of concern. Full details of this are included in the prospectus linked to above and are spread over three areas, animals, the planet and people. In summary, this means the following activities rule a company as out of bounds:
Animal testing, farming, exploitation and animal-based products
Sports, entertainment and leisure that uses animals
Fossil fuels and related activities
"Other activities having a significant negative environmental impact"
Tobacco products
Arms
Products specifically designed for military use
Contributes to human rights abuse, or child or forced labour, or lacks robust policies surrounding these
Compared to many non-vegan "ethical" funds, these are hugely impressive principles but in truth a large part of the investment will still be in mainstream stocks, not that this is a bad thing. At the time of writing, Tesla was the fund's largest holding, with Apple, Microsoft and Google's parent, Alphabet, also in the top 10. The key with an investment like this is not so much what businesses are in, but which are out.
You can be sure, for example, that large meat companies will not be benefitting from your cash. Nor will household goods manufacturers that undertake animal testing, or businesses that contribute to deforestation and habitat destruction that indirectly does so much harm to animals and biodiversity.
De Minimis
Of course, your money is not going into purely vegan businesses. To play up to a vegan myth and stereotype, this fund is not buying up lentil farms or tofu plants and nor will the businesses be fully staffed by vegans. Some of them might even use leather chairs and have staff members who love burgers or spare ribs. On a more serious note, some vegan investors may be concerned about the issue of the aforementioned de minimis.
This does allow companies to generate a small amount of their income via otherwise prohibited areas but this is simply so that broadly ethical firms are not excluded unnecessarily. For example, if Apple sells a relatively small number of leather iPad cases, this is not ideal from a vegan's perspective but of their $250bn+ plus turnover it remains a tiny proportion.
Given the paucity of alternative vegan investment options, we would certainly suggest this still allows the fund to be viewed as ethical. As with many things in the world of veganism, one must draw their own line of course but we would suggest that letting the perfect be the enemy of the good would be counterproductive in this instance.
Aside from this vegan fund, the best option for any budding vegan investors would be to check out the best of the more general ethical options. There are plenty to choose from and if you investigate their holdings and what these companies do, you may be able to find one that broadly aligns with your plant-based principles, even if it is not explicitly vegan.
What About Investing in Individual Vegan Companies?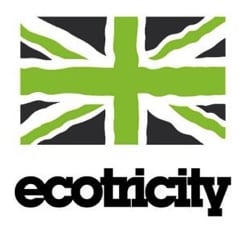 The way to build the most vegan investment portfolio possible would be to buy individual shares. We will start with a disclaimer now and say that this is certainly not an approach for everyone. Investing in single companies is an extremely high-risk approach that is not all that different from outright gambling. That danger can be offset somewhat by investing in several companies to diversify your portfolio but again, this is not an approach for most investors.
To reduce the risk to a level at which most would deem acceptable you would probably need to invest in at least 20 or 30 shares. That would entail a lot of time, effort and research, not to mention fees for trades. What's more, as you would be focussed on businesses that meet with strict vegan credentials, the diversification element would be inherently reduced.
Ecotricity & Beyond Meat
Nonetheless, for those who understand what they are getting into this is certainly an approach worth thinking about. Ecotricity is the world's only fully certified vegan electricity company and they have offered bonds in the past. The biggest splash in the world of vegan investing came in 2019 when Beyond Meat listed on the US NASDAQ.
Beyond Meat, makers of some of the best vegan burgers around, have rewarded those who invested handsomely. The stock launched at around $66 in May, surging to almost $235 in July. They dropped below the initial public offering price at the start of the pandemic but have since rebounded in fine style. In October 2020, they hit almost $195 and whilst they have dropped since then, at the time of writing, anyone who had invested in these juicy burgers and other vegan meat products would have still doubled their money. Very tasty!
Other Companies
Whilst many people would have heard of Beyond Meat and, if you are interested in investing, may recall the IPO, there are several other listed companies worth thinking about. The OTC-listed Maple Leaf Foods, Else Nutrition and The Very Good Food Company are worth considering, as are Laird Superfood and Tattooed Chef (both on the NASDAQ).
There are lots of less obvious businesses you might want to consider too. Companies or funds that are crucial in the vegan supply chain, such as soy and other grains, could be worth thinking about. The issue with this approach is that many companies that may seem vegan are often owned by multinational behemoths who certainly do not meet with vegan ideals.
However, you do not need to stick to food businesses, with green energy set to become one of the biggest areas of investing in the years ahead. These may be less overtly vegan but many have robust ecological policies and broadly ethical stances. What's more, by definition, any business that helps combat climate change is sure to help animals.
What About Vegan Pensions?
So far we have mentioned the concept of vegan pensions only in passing but let us now consider this more closely. The debate about this issue was heightened by the ruling that gave ethical veganism the same protections as religion. Perhaps not so much by the ruling itself, which came into effect on the 3rd January, 2020, but by the incident that led to it.
Jordi Casamitjana was an employee of the charity, League Against Cruel Sports. This organisation fought for animal welfare but Casamitjana was dismayed to discover that his defined contribution (DC) pension scheme (through his employer) was invested in businesses that engaged in animal testing.
We won't go into too much detail about the legal case and its ramifications, which we cover elsewhere on the site. You can also check out how the story was reported in the media. The significance of this with regards to vegan pensions is clear though. Whilst Casamitjana was upset about the hypocrisy of an animal welfare charity investing in businesses that harmed animals, the case has brought to the attention of many vegans the issue of how their pension funds are invested.
Moreover, now that veganism is a protected belief under the Equality Act 2010, there is a suggestion that pension providers may have to do more to cater for those who follow a plant-based lifestyle on ethical grounds. One leading pensions and investment company said that lots of workplace and DC schemes "offer a selection of funds for members to express their religious or other beliefs. Could it soon be the case that the vegans within our DC schemes demand the same options?".
At the moment, chances are that most vegans with some form of workplace pension have virtually no choice when it comes to how their cash is invested. Hopefully, that will change but in the meantime, what are the options for vegans who do not want their retirement to be funded, in part, thanks to the suffering, exploitation and death of animals?
Vegan-Friendly SIPPs
At present, the best option, in terms of adhering to vegan principles, for anyone who has doubts about their company's pension, is to open a SIPP. This can be done either instead of a workplace scheme or alongside one but it is not something that should be done without fully understanding the implications.
Many workplace pensions include generous contributions from the employer and these will be lost if you go it alone. What's more, you will need to make your own decisions about how your pension funds are invested. As we have seen, the options for vegan investors are relatively limited at present, so finding a home for your cash that meets your retirement goals and also allows you to keep your conscience intact will not be easy. None the less, for absolute control and the "most vegan" pension possible, this is the best, and possibly only, approach.
Does It Matter How Your Pension Is Invested?
For all but the most financially savvy, prudent, forward-planning people under the age of about 60, pensions are deeply unsexy. They are simply not on many peoples' radar, other than as an inconvenient deduction on their monthly payslip. As such, most vegans have probably never thought about the issue of how their money is invested, or perhaps even really seen it as their money. If we have spoiled that blissful ignorance, then apologies.
But now the genie is out of the bottle, just how concerned should vegans be about their pensions? Well, as with so many parts of being a vegan, it is a personal call. That said, as we have said many times, veganism is a lifestyle that produces diminishing returns.
In terms of the direct impact you can have as an individual, the biggest thing you can do is to stop eating animals. That alone, one might argue, makes you around 80% vegan, whilst then removing dairy, eggs and other animal products from your diet, as well as non-vegan materials from your wardrobe, takes you to, say 95%.
Not that being vegan is a competition to see who is the "most" vegan – there are no level five vegans – but after that point, removing all trace of non-veganism from your life becomes increasingly hard for less and less benefit to animals and the world. That is not to say that anyone who only eats meat occasionally should pat themselves on the back and think "job done" but more that stressing over the finer points may be counterproductive and that your time could be better spent.
For most people who lack the time, money, inclination and knowledge to opt solely for a fully vegan SIPP, we would recommend not fretting about your normal pension. The chances are that only a relatively small portion of your cash is invested in companies that would strongly and directly contravene your ethics. The generally accepted definition of veganism talks about doing what is practical and possible and given the necessity of saving for retirement and the lack of basic choice, we would certainly say belonging to a standard, non-ethically-screened workplace pension falls well within that.
What Can Vegans Do?
Whilst saying that you should not be overly worried about your pension's vegan credentials, that is not to say you should necessarily do nothing. The superb book, "Doing Good Better" by William MacAskill talks about how we help effect real change on a global scale in the most effective way possible.
Sometimes, what seems right, or helpful, and looks beneficial, is far less effective than an action that lacks glamour or headline-grabbing potential. As an example, whilst a charity that donates books to Africa, or perhaps helps build a school, may have a negligible impact on educational outcomes in the absence of more well-trained teachers, one that supports deworming can have a huge one by improving attendance at existing schools.
What, you may be thinking, does this have to do with vegan pensions? Well, we have stated that removing meat from one's diet is the most effective way to directly and individually improve the lives of animals. However, might it be that a more effective way of being vegan is to make vegan investments and save into a vegan pension?
The Way You Spend Your Money Matters
There is no easily available research into this but how we spend our money is one of the biggest ways we can effect change in a capitalist society. Savings and pensions may not be what one thinks of in terms of spending money but, in essence, the theory is the same. By supporting companies that are involved in the meat industry or contribute to deforestation or employ animal testing or are highly polluting, you are indirectly helping those things to happen.
The average UK pension pot is worth around £60,000 and so that is a lot of "spending" power. By some estimates, there are almost four million vegans in the UK. Whilst fact-checking site Full Fact dispute that, even if we assume a figure of one million, that is still potentially £60bn of vegan pension investments.
Money talks and £60bn of investment could theoretically make a big difference if it was put into businesses with purely vegan ideals and ethical funds that emphasise the planet, its animals and people at least as much as they do profit. So, what can a vegan do if the option of self-investment is off the table?
If you are so inclined, checking what, if any, more ethical options there are for your existing pension would be the simplest place to start. Asking about ethical and particularly vegan options can only help, especially if one million, or possibly even four million, vegans all do it. Writing to pension providers and asking them directly could also lead to more vegan options being made available in the future. You could even write to your MP, suggesting that given ethical veganism is a protected belief it is unfair that such people are compelled to invest in patently non-vegan companies.
The last thing to do is to revisit this post and indeed the conversation. Vegan savings and pension options may currently be rather limited but that is sure to change as the number of vegans grow and they start making their feelings about the issue clear. Also, as ever more businesses realise that profit and green ideals are not just compatible, but that the latter may even boost the former, we should see more and more vegan-leaning companies thrive and become viable investment opportunities.
Veganuary Founder Launches Veg Capital
Talking of new vegan businesses, if you are actively seeking investment for a new venture, as opposed to somewhere to put your own cash, then Veg Capital may be of interest. In mid-2020 Matthew Glover, one of the founders of Veganuary, established this private venture fund to offer "early-stage capital to companies striving to replace the use of animals in the food system". Their focus is "companies developing meat, dairy, eggs and seafood replacements with plant-based, recombinant and cultivated ingredients," although they also work with "technology platforms, innovations and distribution channels which help to build a scalable, affordable and tasty plant-based food system". Sounds good to us!
They have a growing number of investments, with their portfolio including some of our favourite vegan brands and shops. Mighty Pea, a superb alternative to dairy milk was helped along by these guys, as was our favourite vegan supermarket, TheVeganKind.
One of the truly great things about these guys, who are in grave danger of giving venture capitalists a good name, is that they are not really capitalists at all. All profits derived from their investments are channelled right back into pro-animal causes, going to charities in the UK and Europe that help the vegan cause in a range of ways. So, if you are looking for some extra funds for your vegan start-up, or know someone that is, be sure to check them out!