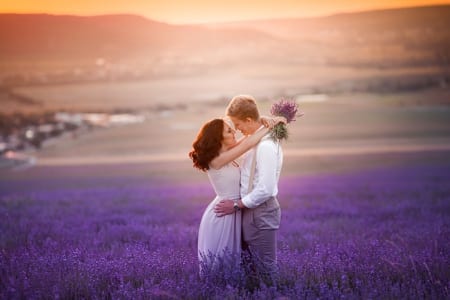 Planning a wedding can be a stressful business at the best of times but what if you want to make your big day vegan friendly? Is it possible to do so without ramping up your stress level to 11 and falling out with your in-laws before the ink on your wedding certificate is dry?
Fortunately, the answer to this question is a resounding yes. Organising a vegan-friendly wedding does not need to be any more difficult than planning any other type of wedding. There are a handful of additional details to consider but nothing that should cause you sleepless nights, or at least any more than planning a conventional wedding would. It is even possible to organise a vegan wedding without your guests being any the wiser, if that's the way you decide to do it. This article will go through your vegan wedding essentials and offers tips and advice to ensure your wedding is a day to remember for all the right reasons.
Vegan Wedding Venues
Choosing your wedding venue is one of the first decisions you should make (after choosing your future life partner, of course!). One fantastic, vegan-friendly option would be to get married at your local animal sanctuary so that the costs of your wedding help to fund the valuable work done by a local good cause. There are a range of sanctuaries across the UK who provide bespoke wedding packages and they should be able to recommend vegan caterers they have used before too. Another bonus is that they are often in picturesque locations so your wedding photos will look great.
Another option to consider would be to throw your own vegan-friendly festival-themed wedding complete with a range of vegan street food stalls (whilst praying that the unpredictable British weather is kind to you). Alternatively, if you have your heart set on a less weather dependant, more traditional wedding day, you will need to find a venue that is comfortable hosting a vegan event. It doesn't necessarily need to be a fully vegan place, although if you can find one of those you both fall in love with that would make life easier. Fortunately, finding somewhere vegan friendly is much easier than it used to be and good chefs now recognise the value of using seasonal produce and creating inventive plant based meals.
If you have always dreamed of an English country house wedding, you may need to compromise on wool rugs and silk soft furnishings, et cetera, as historically these materials were always used. A tour of the venue will give you a good idea about whether the place is full of stuffed animals or features taxidermied hunting trophies on walls, which may be a step too far for most vegans.
Good wedding venues employ dedicated wedding planners whose job it is to ensure that you are happy with every aspect of your wedding day. The feeling you get after an initial tour and meeting should tell you how vegan friendly they really are and how seriously they will take your ethical beliefs. Some traditional venues will expect you to use their own in-house caterers, so ask to meet the chef too in order to gauge how likely it is that he will try and convince you that he needs to add cream and chicken stock to all of his dishes for flavour. If that happens, our advice would be to ask if you can bring in your own vegan chef or simply run for the hills.
Vegan Wedding Catering
This brings us nicely to the food which plays a key part in most wedding days. Whether you opt for a traditional sit down wedding breakfast or a less formal buffet, catering for a vegan wedding should be as straightforward as catering for any other event. The key here is to do your research in order to find someone who shares your vision for your big day.
Most of your close friends and family will already be aware of your veganism and thoroughly enjoy the tasty vegan feast you put in front of them on your wedding day. Although you really shouldn't have to, to avoid anything potentially spoiling your day, we are of the opinion that it is a good idea to let more distant relatives know in advance that it will be a vegan event. That way if they kick up a fuss, it is better this is done in advance and, if they do not care enough about you to abstain from meat for one meal, they are quite possibly not the sort of people you want to be sharing your day with anyway. As guest numbers are often a challenge at weddings, this is a good way of weeding out the people you are inviting through obligation rather than choice… just don't tell your in-laws we said that.
Your wedding day is a great opportunity to show people how tasty vegan food can be so don't settle for second best. If the first chef you approach is unable to inspire you or provide the sort of food you are looking for then keep looking. There are lots of excellent vegan chefs out there and creative non-vegan chefs who would relish the opportunity to make vegetables the star of the show on the day. Most wedding cake bakers will have no problem producing a vegan wedding cake and there are lots of top quality vegan wines and beers out there to compliment any meal.
If you do decide to go with the option of an outside, less formal event, sustainability is also another consideration. Would you be happy using the plastic glasses and straws supplied by many street food and drink vendors? Would you feel happier if everything was reusable or recyclable? Again, the key is to start planning early and to do your research. In our experience, you can't beat a good Excel spreadsheet when it comes to organising any event.
Vegan Wedding Attire
If you have a healthy budget and decide to go down the route of getting your bridal and bridesmaid dresses custom made, this will make avoiding silk and other non-vegan fabrics much simpler. Material such as chiffon, lace, cotton, satin and organza are all vegan friendly and look great, so it is easy to ensure that you will look and feel amazing on your big day. As usual, make sure you check the labels carefully as some of these may contain traces of silk. For those on a more modest budget, most bridal boutiques will have dresses available in a range of fabrics so call around your local shops to check what they have in stock before making a special journey.
As wedding dresses are usually only worn once, picking up a second hand gown is another great option for an ethical wedding day. These are usually available at a fraction of the cost of getting something individually made so you could then donate what you would have spent on a custom made gown to your favourite animal charity.
Hair & Makeup
If you are getting your hair and make-up done professionally, check in advance whether they are able to use cruelty free, ethical products. There are a growing number of vegan friendly make-up brands so this should be simple enough for any professional make-up artist to do.
Shoes
Non-leather shoes for both men and women goes without saying and is very easy to achieve at an affordable cost. For the groom and groomsmen, many suits and ties on the market are cruelty-free yet still look extremely dapper. Avoiding wool and silk suits shouldn't be too much of a challenge.
Materials to look out for include polyester, viscose rayon, linen and cotton. Often ties and handkerchiefs are made of silk but cotton, polyester and linen versions are now all available on the high street.
Vegan Wedding Stationery
Your invitations are the opening act of your big day. Although many people spend hours considering every detail of their invitations, most of them will unfortunately end up in landfill so surely there must be a better way of doing this? If you do decide to go down the traditional paper route, most paper is vegan friendly but, as usual, make sure you check as animal products do sometimes turn up in the strangest of places. Vegan-friendly soy-based inks are also widely available so you could make your own invitations using recycled paper or card.
A great option would be to send invitations on plantable seed paper so that your guests can plant them rather than just thrown them away. Going digital for your wedding invitations is another option to consider. This may make traditionalists faint in horror but we live in an electronic world and e-invitations will seriously reduce your footprint. Consider non-paper products, such as twigs or stones for your place cards and favour tags as these can be returned to nature afterwards.
Vegan Wedding Gifts & Favours
Donations to charity are a great idea for both wedding gifts and favours. Many charities will have cards available that you can give to guests to show that a donation has been made on their behalf. If you would like something more traditional as gifts for your guests, vegan chocolates are one option or Etsy have a fantastic range of vegan wedding favours, including vegan-friendly candles and soaps.
Although this is something not everyone is comfortable with, asking for money rather than gifts is a good way of ensuring that your wedding gifts will be vegan friendly. However, you can guarantee that if an elderly relative has their heart set on buying you a wedding gift, there is very little you can do about it other than hope it is vegan friendly.
Vegan Wedding Flowers
Flowers are another area where careful consideration needs to be made. Fake flowers are unfortunately often made of silk, which could rule out that option. However, if your venue is already filled with fake bouquets and you are unsure what they are made of, one argument could be that reusing something which already exists is better than buying something new but that's your call. Some polyester artificial flowers are dipped in gelatine to stiffen the petals, so it is always important to check the label, but unfortunately, not all fake blooms will have one.
If you are concerned about the environmental impact of cut flowers, opting for fair trade blooms could be one way of alleviating this as could focusing on locally sourced, in-season plants or even foraging your own. Using living plants as decoration for your venue is a great way of minimising your environmental impact and they also make great gifts to friends and family to remind them of your big day.
Vegan Wedding Rings
Most traditional jewellers will use leather in their workshops, usually to cover and protect their work benches and also to protect their hands from heat. Beeswax is also often used to lubricate tools so it is well worth seeking out a specialist vegan jeweller to produce your wedding rings, as they will ensure that every part of the production process is cruelty free.
Although not strictly a tenet of everyone's veganism, sustainability is a key consideration for many vegans, so only using fair trade gemstones and ethically sourced metals will ensure that your jewellery has no negative impact on the people who made it or the environment in which it was produced. Another consideration is your ring boxes, as many are lined with silk, but there are plenty of animal-friendly alternatives available so make sure you discuss this with your jeweller in advance.
Vegan Wedding Photography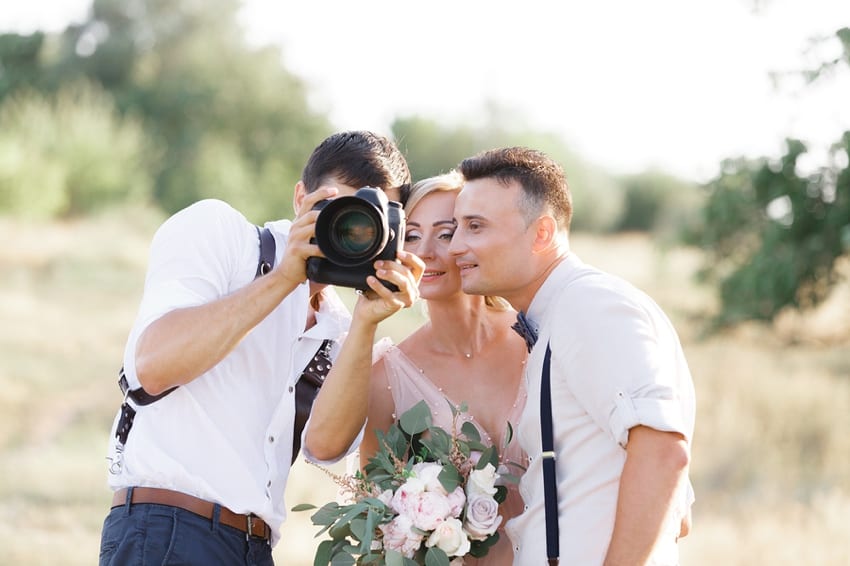 You may be surprised to hear that not all photography is vegan (and we aren't just referring to your photographer's leather kit bag here either). Traditional camera film is coated in gelatine to help extend its longevity, so ensure that you use digital photography on your wedding day. Fortunately, that's generally the norm now anyway but it's always better to check as some traditional photographers do still prefer to shoot with film.
Vegan photographers can be found online who have considered all aspects of the photography process from the chemicals used in printing to sourcing ethical products for their albums and presentation boxes so check to see whether they operate in your local area.
Vegan Hen & Stag Party Ideas
A meal at a vegan restaurant is an obvious choice followed by an evening of dancing and consuming vegan friendly drinks (in moderation, of course!). A vegan cookery school is a great daytime activity as is a trip to a vegan-friendly brewery or vineyard to see how the products are made, with plenty of samples along the way too.
Of course many of the old hen and stag party favourites can be made vegan friendly, from cocktail making classes to afternoon tea. Hopefully this should be one of the easiest elements of your wedding to organise, just make sure the best man or chief bridesmaid is aware of and respects your wishes. If they don't, finding someone for the role who does could be a good idea.
Vegan Honeymoons
You've hosted the perfect vegan wedding and now is time for a well-earned break with your new husband or wife. There are more and more luxury vegan hotels and resorts opening across the globe that would make ideal destinations for your honeymoon – an Internet search will bring up those available in your chosen location. Again, although not fully vegan, many hotels are vegan friendly so it is worth doing your research in the same way you did when planning your wedding day.
There are also vegan tours and tour operators online if you fancy doing something more adventurous. Most good guide books will list vegan-friendly restaurants and applying search filters on Trip Advisor will help you suss out your eating options. Consider destinations where a large percentage of the population live on plant based diets for religious reasons, for example, India, where finding vegan food will be more straightforward.
Make sure you look up the key phrases in the local language before you go so that not only can you confidently tell the waiting staff know that you are vegan, but also ask whether dishes contain animal products, as veganism may not be understood everywhere you go.
Vegan Wedding Checklist
Here is a round-up of all the important things to consider when planning a vegan wedding!
| Element | Can It Be Vegan Friendly? |
| --- | --- |
| Wedding Venue | Yes, it can be. This is the first thing you should think about; make sure you visit a number of venues to ensure they meet your requirements. Check the soft furnishings if you are keen to avoid those made of silk or other animal products. |
| Wedding Catering | Yes, there are loads of great vegan caterers available. If your venue insists that you use their in-house catering team, ensure that you speak to them early in the planning process and that they understand vegan food consists of more than just a jacket potato for your main course. |
| Wedding Clothing | Yes, if you avoid silk and wool and go for materials, such as chiffon, lace, cotton, satin and organza. |
| Wedding Stationery | Yes, usually – although consider plantable seed paper or e-invitations to reduce your environmental impact even further. |
| Wedding Gifts & Favours | Yes, this is a great area where you can really get creative and impress your guests. Check out Etsy or consider donating to your favourite animal charity on behalf of your guests. |
| Wedding Flowers | A tricky area, as not all fake flowers are vegan friendly and you may not agree with the ethics of cut flowers. Consider fair trade blooms and living plants to lessen the impact. |
| Wedding Rings | Not always. Opt for a vegan-friendly jeweller to ensure that every step of the manufacturing process is vegan. |
| Wedding Photography | Yes, if you avoid traditional film and opt for digital photography. If you are concerned about all aspects of the printing process, opt for a specialist vegan photographer. |
| Hen & Stag Parties | Yes, if you ensure that your Best Man and Maid of Honour respect your vegan beliefs. There are lots of great options out there, from vegan cookery classes to vegan cocktail making. |
| Honeymoon | Yes, contact a vegan-friendly travel agency and recognise that the Internet is your friend. Be sure to learn the key vegan phrases in the local language before you go. |