Soya lecithin is an ingredient that is found in a huge number of processed foods. It may be listed in the ingredients as lecithin from soya, soy lecithin or lecithin (from soya), or indeed any range of other related ways, including its E number, E322 (more on the confusion this can cause later). But, what is it, is soy lecithin vegan and what should those on a plant-based diet be aware of?
We'll cut straight to the chase because if we're talking specifically about soya lecithin we can give a very simple answer: yes, it is vegan friendly. Whether you refer to it as soy or soya lecithin, the clue is in the name: it is derived from soy.
We have an extended article on soy that goes into plenty of detail but, in short, the main thing to note is that soy a plant, with the scientific name Glycine max. There are many items we look at in the Is It Vegan? area of our site that are derived from plants but which are not necessarily vegan. It might be the way they are processed, tested or manufactured that is problematic. But, thankfully, when it comes to soya lecithin we can safely confirm it is definitely vegan.
What Is Soya Lecithin?
Well, if the clue is in the name in terms of the soy, the other part of the name is rather misleading, at least for those who know a bit of Greek! Lecithin gets its name from the ancient Greek word for egg yolk, lekythos; but thankfully for vegans, soya lecithin is not a strange combination of soy and eggs.
In truth, really, before we consider what soya lecithin is, it would be more helpful to look at what lecithin itself is. The addition of soy to labelling is essentially just to indicate how the lecithin has been produced but really the actual ingredient is the lecithin.
Lecithin
We could go into all sorts of scientific detail and bore you to death but there isn't much need for that. Essentially lecithin is the general name given to a group of fatty substances that can be derived from either plants or animals and have the relatively unusual property of attracting both water and fats.
Theodore Nicolas Gobley
For a brief foray into science, that is to say they are amphiphilic: both hydrophilic and lipophilic. They are a combination of various glycerophospholipids and, swiftly moving from science to history, they were first "discovered" (or to be more accurate, isolated) in 1845 by the French chemist, Theodore Nicolas Gobley.
He used egg yolk as his starting point, hence the name, but as said, lecithin can be extracted, either mechanically or chemically, from either plant or animal sources. Eggs, milk, sunflower oil and, of course, soy, are some of the most commonly used base materials from which lecithin is extracted these days.
Lecithin Uses
History and science aside, in practical terms, lecithin is widely used in food, for both humans and animals, as well as in pharmaceutical products and other items such as paint, lubricants and in the rubber, plastic and textile industries.
It is non-toxic to humans and in food it is chiefly used as an emulsifier, a stabiliser, a spreading agent and as a lubricant. It is found in a huge range of foods including sweets, chocolates, margarines and similar spreads, and in a range of breads and other baked goods.
From a vegan perspective, these are very much the key areas and the items that a vegan is most likely to come into contact with. As we have said, soy lecithin is vegan, so what is the confusion? Well, the biggest issue comes, as is often the case, from poor labelling.
Is Lecithin Vegan?
As said, lecithin is found in a huge number of processed food products. This lecithin may come from soya beans, sunflower seeds or from a range of other base ingredients. Some of those are animal in origin and so are clearly not suitable for anyone following a plant-based diet.
How Can We Know Whether Lecithin Is Soy or Not?
Now, if the food in question is clearly marked as suitable for vegans, it is more than safe to assume that the lecithin has been derived from plants. If it is labelled as being vegetarian then you can also deduce that the lecithin hasn't been made from animals directly but it could have been made from egg or dairy, whilst other ingredients may also be non-vegan.
Increasingly food manufacturers are being more specific with their labelling when it comes to lecithin and this helps too. Many products no longer simply have "lecithin" listed as an ingredient but mention the product that has been used to make it. We mentioned such labelling at the start of this piece so you may see some of the following, for example:
Examples of How Manufacturers Might Label Soy Lecithin
Soy lecithin
Lecithin (from soy)
Soya lecithin
Lecithin (derived from soya)
There are many slight variations on this but whatever they are, it is apparent that the lecithin used in this instance comes from soy, rather than from eggs or anything else. Similar labelling applies for sunflower-derived lecithin which is equally vegan friendly, though much less commonly used.
The problem comes, of course, when the ingredients list does not state how the lecithin was isolated. In this scenario, unless the product itself is specifically labelled as being vegan friendly it is probably safe to assume that the lecithin is not suitable for vegans. Once again we go to the standard protocol of checking with the producer.
Is E322 Vegan?
In Europe E322 is the designated E number for lecithins (plural, because this covers all types of lecithin). So, in effect, when you see E322 listed as an ingredient, you are in the same position as if it simply said "Lecithin". You may occasionally see a modifier that states the lecithin is derived from soy (or something else) but typically you will see the E number alone. E322 covers both lecithin from soya but also lecithin from egg, dairy or anything else.
As such, this is rather confusing and, once again, unless the product itself is clearly marked as being suitable for vegans, we would advise assuming that it isn't. The E number system has been around a long time and making a major change to it would be very complex but it has to be said that it doesn't really assist consumers a great deal.
These days, people are more aware than ever about what they eat. They may be vegan, vegetarian, have specific dietary requirements or intolerances, have religion-based concerns or simply want to avoid certain items. An arcane and vague reference system is of little real use but we won't be holding our breath for any significant changes to it in the near future.
Is Lecithin Safe?
We mentioned earlier that lecithin is non-toxic and this is one of its big advantages. It is an approved food additive all over the world, sits on the US Food & Drug Administration's (FDA) "generally recognized as safe" list and has been very extensively tested, as well as widely consumed over an extended period.
In actual fact, lecithin may well go beyond being safe and is taken by some as a food supplement. It is high in choline, a nutrient that was at the centre of an overhyped vegan health scare when it was reported to be a nutrient vegans were lacking. It has also been linked with various other health benefits, including improved liver health, reducing cholesterol and treating acne.
There have been some minor concerns regarding allergies, with soy and egg among items that the UK's Food Standards Agency lists as a key allergen. There are 14 of these that must now be declared by UK food businesses. However, when it comes to lecithin derived from eggs or soybeans there has been found to be virtually no issues with allergies.
This is partly due to the very small quantities involved and also due to the purity and processing steps. In conclusion, therefore, for the overwhelming majority of people there are no health issues with consuming lecithin.
There is one small point worth noting, however, for those considering taking lecithin supplements, be that for their choline content or anything else. As we discuss when we look at vegan supplements & vitamins, some tablets may be encased in capsules that contain gelatine. So, whilst the lecithin within may be soya-derived and totally vegan friendly, the product itself is not. Note that there are vegan-friendly lecithin supplements available though.
What About the Rainforests?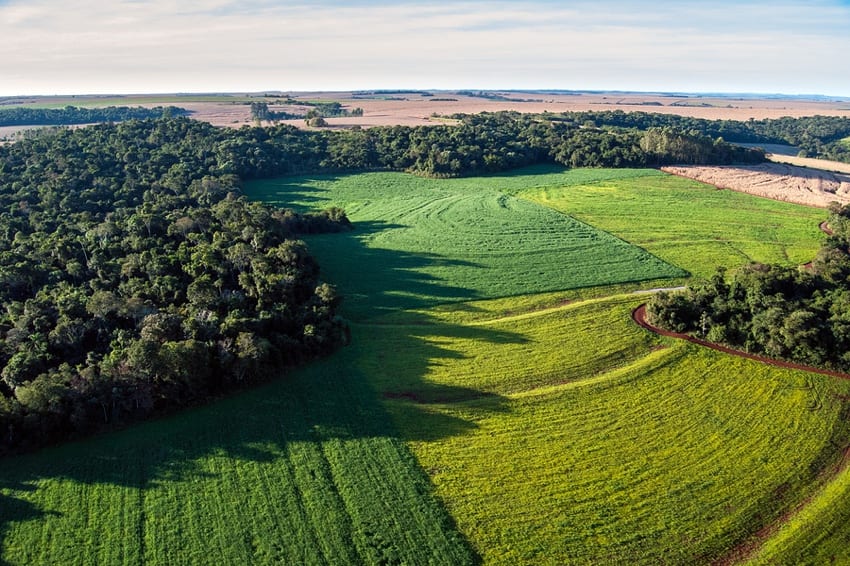 So, we have established that lecithin is safe and that if you are consuming soya lecithin it is also vegan. But does the production of soya lecithin sit well with the overall ethos and ethics of veganism?
When it comes to a plant-based product being demonised for the negative environmental impact its cultivation has, palm oil is out on its own as the clear leader. Check out our Is Palm Oil Vegan? feature for more info on that, but it worth noting that soy is not without its critics in this regard.
Less Than 5% of Soy is Certified as Sustainable
It is estimated that over the past 20 years, 300m hectares of tropical rainforest have been lost in order to farm soya beans. A hectare is the equivalent of around one and a half football pitches, so that's clearly a huge degree of deforestation. As well as being a major concern from a climate change point of view, this also has huge implications for animals in terms of habitat loss and also in terms of their possible injury or death during the process of tree felling.
Very little global soy is certified as sustainable (less than five percent), and as with palm oil, there are those who question just how credible such certification really is. According to the World Wildlife Fund soy is the "second largest agricultural driver of deforestation worldwide"; but it is interesting that the chief cause of deforestation is the beef industry.
Cows Are the Biggest Consumer of Soy
This is interesting because whilst some meat-eaters like to criticise vegans and vegetarians about their soy consumption, the reality is that the majority of soy is grown to be used as animal feed. Mainly for cows! Depending on who you believe, between 67% and 90% of global soybean production is fed to livestock.
Only around five percent is consumed directly by humans and in terms of efficiency it makes far more sense to eat soy directly, rather than have a cow convert it into body mass that is served as beef. For every one pound of beef, a cow will have to eat around 12 pounds of soy. We're getting a little off topic there, but the point is that even vegans who consume a lot of soy, be that via tofu or anything else, are only contributing to deforestation in a very small way when compared to those who eat meat.
As such, given the relatively tiny quantities of soya lecithin one would be consuming, the issue is not one that vegans need worry too much about. Soy may be unsustainable in general, but soy lecithin is not.
What About GM?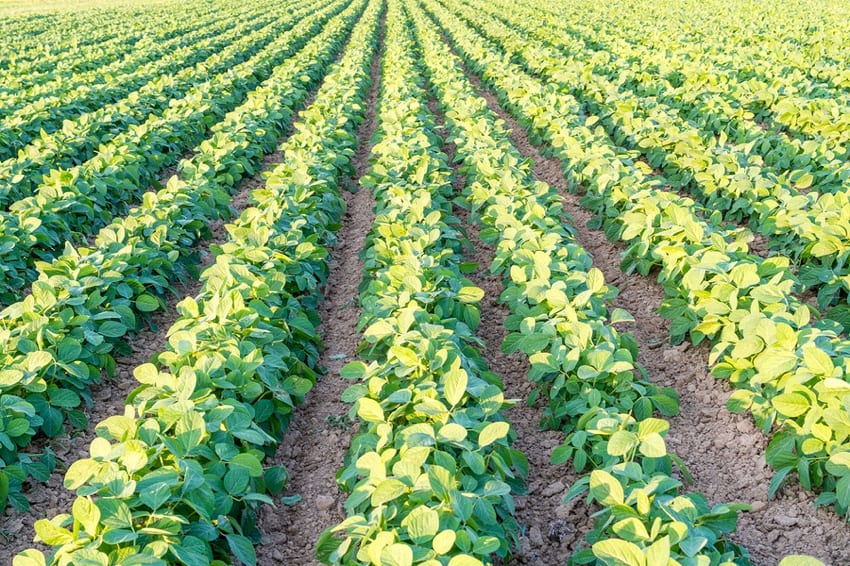 There is another issue with soya lecithin that some have expressed concern with and that is the fact that it may be produced from Genetically Modified (GM) soy. US giant Monsanto somewhat controversially introduced genetically modified soy into the US in 1996. Soy is now the most widespread GM crop in the world, with around 80% of total production thought to be of this genetically tweaked type.
Lecithin is a highly processed end product and whilst it is derived from soy, it undergoes so many steps to get there that it is impossible to detect any GM DNA in soy lecithin that has used modified soy as its base. This concerned those who wanted to avoid GM products but, in 2000, the EU legislation was passed to help.
Following the introduction of regulation 50/2000, manufacturers were required to label any additives derived from GM crops. However, in truth, the picture around this seems very unclear. EU and UK legislation states that products including GM ingredients must be labelled accordingly. We know that the vast majority of soy is GM. And yet very little labelling seems to state that the soy is genetically modified, whilst ingredients lists do not tend to list their soy lecithin as being GM.
If you are keen to avoid GM crops and foods then the best course of action is to eat organic, or better still veganic. Organic products cannot include GMOs and this is the safest way to ensure you are not consuming GM soy lecithin or anything else, while veganics involves growing food without the use of animal-derived fertilisers or pesticides.