Mince pies are an essential part of Christmas for many people in the UK and further afield. These sweet pastry treats can differ in flavour and style, but almost all of them go well with a nice mug of mulled wine. When you're planning your vegan Christmas, mince pies might not be at the top of your list. But they will certainly be on your list somewhere, perhaps between a good vegan alternative to Baileys and ensuring you have a fine stock of vegan crisps.
The problem with mince pies, from a vegan perspective, is that not all of them are suitable for those following a plant-based diet. It is slightly surprising how many children made it to adulthood thinking that they contained mincemeat (or was that just us?!) and whilst you don't need to worry about that, there are several reasons why these festive treats might not be vegan.
That said, thankfully, there are lots of 100% vegan mince pies to choose from. In this article, we'll first explain what might stop mince pies being vegan before giving details of the main vegan-friendly options available to buy this Christmas. We'll also explain how to make your own vegan mince pies, in case the fancy takes you.
What Stops Mince Pies Being Vegan?
Despite the name, mince pies don't actually contain minced meat, as in animal flesh (though they did originally back in the Middle Ages, so perhaps we don't need to feel so silly about only discovering this when we were 22!). The mincemeat contained within mince pies these days is a blend of fruits and spices, often with a bit of brandy or some other alcoholic beverage drizzled in to give it all a bit of a kick.
The mincemeat itself it encased within pastry (usually shortcrust, though puff pastry can be used). And it is often the pastry that causes the problems from a vegan perspective. You may have seen "all butter mince pies" in supermarkets, and it should come as no surprise that these will contain butter, which is invariably made from dairy milk (unless vegan butter has been used of course). Other milk-derived products – including milk or powdered milk itself – find their way into various off-the-shelf mince pies. In addition, eggs are sometimes used as a glaze for the pies.
The good thing about the inclusion of eggs, milk or milk-derived ingredients is that they have to be listed in bold type in ingredients on packages in the UK (for allergy reasons) so they are easy to spot. But to save you trawling through the ingredients of every packet of mince pies in every supermarket around, we've done the hard work for you.
It is possible that other things could be added to mince pies, such as non-vegan E numbers, including preservatives, emulsifiers, colourings or flavourings. But these often become a moot point given that such mince pies often contain milk-based ingredients anyway and those that are marked as vegan will only contain vegan-friendly ingredients. Suet – a type of animal fat – was once a common ingredient in mince pies, but this is increasingly rare these days. If suet is amongst the list of ingredients, though, the pies will not be suitable for vegans.
Where to Buy Vegan Mince Pies
The good news for vegans is that almost all supermarkets now offer at least some vegan mince pies. And there are plenty of more specialist and independent food shops and companies who make and/or sell vegan-friendly options. It is also quite easy to make you own vegan mince pies (more of which later).
Here we'll run through the various vegan-friendly mince pie options available in the UK. Note that some – indeed almost all – mince pies that are marked or sold as vegan contain that ever-contentious ingredient of palm oil. It is technically vegan (as it comes from a plant) but some vegans choose to avoid it for environmental reasons. The choice is yours on that front, but we'll note if palm oil is present in any of the mince pies we list, and whether that palm oil is listed as coming from a sustainable source.
First, we'll outline the various vegan mince pie options that are available at the main supermarkets and some other food retailers. Then we'll go into a bit more detail about each of the options.
| Supermarket/Shop | Vegan Mince Pie Options |
| --- | --- |
| Tesco | Tesco Plant Chef Mince Pies*, Tesco Lattice Top Puff Pastry Mince Pies* (from bakery), Tesco Puff Pastry Mince Pies* (from bakery) |
| Sainsbury's | Sainsbury's Free From Taste The Difference Mini Mince Pies*, Oggs Luxury Handmade Mince Pies**, Sainsbury's Free From Mince Pies* |
| Waitrose | Waitrose Christmas Mince Pies*, Waitrose Essential Shortcrust Mince Pies*, Waitrose Christmas Gluten Free Mince Pies* |
| TheVeganKind Supermarket | Lottie Shaw's – Seriously Good Mince Pies*, Lottie Shaw's – Gin Iced Mince Pies*, Lottie Shaw's – Rum Iced Mince Pies*, The Foods of Athenry Very Merry Christmas Starry Mince Pies**, Oggs Luxury Handmade Mince Pies**, Authentic Bread Company – Luxury Organic Mince Pies with Cognac, Authentic Bread Company – Luxury Gluten Free Mince Pies |
| Greenbay | Authentic Bread Company – Luxury Organic Mince Pies with Cognac, Authentic Bread Company – Luxury Gluten Free Mince Pies |
| Asda | ASDA Mince Pies* |
| Morrisons | Morrisons Free From Mince Pies* |
| Greggs | Sweet Mince Pies** |
*denotes palm oil is contained in these mince pies; **denotes palm oil marked as "sustainable" or similar is contained within
Best Vegan Mince Pies – Christmas 2020
As you can see above, there are loads of vegan mince pies to choose from. Let's run through them in a little more detail to help you pick which you will be purchasing to accompany your mulled wine this Christmas. When it comes to mince pies, one person's delight is another's detritus, so we won't attempt to sway you one way or the other in terms of which of these is "the best" – a very subjective notion. Just see which you fancy and maybe try two or three options to pick out your perfect pie.
Note that there is a stated risk of cross-contamination with milk, egg and other possible allergens with most of these mince pies. Please check with individual retailers or manufacturers for further information, especially if you have a severe allergic reaction to certain food types. We have not included the ingredients as food manufacturers may change them without much (or any) notice. As such please check on the individual packaging or the mince pie producer's website for more information.
Tesco Plant Chef Mince Pies – £1.25 for six (20.8p/pie)
Brought out for Christmas 2020, Tesco's own-brand Plant Chef Mince pies are almost 50% mincemeat which is encased in traditional shortcrust pastry. At just over 20p per pie, they offer good value, certainly compared to some of the more premium options. They may lack the wow factor in some people's eyes, but those looking for a reasonably tasty, run of the mill mince pie at a fair price could do worse than opting for these.
Tesco Lattice Top Puff Pastry Mince Pies – £1.00 for four (25p/pie)
Available from the bakery (but perhaps not in all Tesco stores), this latticed puff pastry mince pie will appeal to people who are not enamoured by shortcrust pastry. With a good helping of apple, sultanas and currants, the citrus peel and spices combine to offer a deeper flavour than the Plant Chef pies mentioned above.
Tesco Puff Pastry Mince Pies – £1.00 for four (25p/pie)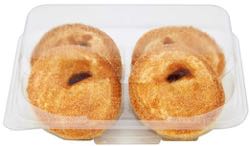 Essentially the same as the lattice pies mentioned above, but without the lattice. For people who just can't stand a bit of fine lattice work!
Sainsbury's Free From Taste The Difference Mini Mince Pies – £2.50 for nine (27.8p/pie)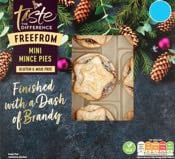 These mini mince pies are perfect for people who don't want to indulge quite as much on the sweet stuff (maybe to save space for their vegan turkey alternative!). They look pretty good too with ornate stars giving that extra feel of Christmas. Although most people won't be hanging around admiring them for too long, especially those with a penchant for brandy (which like most spirits is typically vegan by the way).
Oggs Luxury Handmade Mince Pies – £2.50 for four (62.5p/pie)
With one of the highest proportions of mincemeat and also one of the few mince pies to use 100% sustainable and RSPO certified palm oil (though some other mince pies contain no palm oil), these Oggs Mince Pies are proving popular with many vegans. They may not be the cheapest option, but they are a good middle ground choice between the budget pies and the most premium products.
Sainsbury's Free From Mince Pies – £1.50 for four (37.5p/pie)
Rather simple in appearance and, dare we say, a little lacking in flavour, these Free From Mince Pies from Sainsbury's are nonetheless a decent enough semi-budget option. They are a little higher in sugar than some of the others here though and you can taste it too.
Waitrose Christmas Mince Pies – £2.50 for four (62.5p/pie)
Soft and melt-in-the-mouth pastry, a good amount of mincemeat filling and a price that isn't too extortionate (even by Waitrose standards!). All in all these pies are pretty good, if perhaps likely to be a little on the sweet side for some people who prefer a better balance of flavours.
Waitrose Essential Shortcrust Mince Pies – £1.00 for six (16.7p/pie)
These budget mince pies have a decent enough filling but in all honesty the pastry leaves a little to be desired. The pies themselves do not look particularly appealing compared to many we feature here, but perhaps that's a ploy to upsell customers to the higher priced options Waitrose sell.
Waitrose Christmas Gluten Free Mince Pies – £2.50 for two (£1.25/pie)
Despite being overpriced in our view (with the usual "gluten free premium" that often appears on products, sadly), these mince pies present well and taste even better and are a good option for gluten-free vegans. The inclusion of cranberries gives even more of a Christmas flavour than usual. These are perhaps a little high on the sugar front though with 38.1g of sugar per 100g.
Lottie Shaw's – Seriously Good Mince Pies – £3.65 for four (91.3p/pie)
These mince pies from Yorkshire baker, Lottie Shaw's are not cheap, but they pack a flavour punch that is hard to top. The texture of the pastry is as good as any we've tried and the overall combination is one that is more than satisfactory.
Lottie Shaw's – Gin/Rum Iced Mince Pies – £5.65 for four (£1.41/pie)
Available in Gin Iced or Rum Iced versions, these mince pies are certainly at the premium end of the market in terms of cost, but many would argue they are worth every penny. Mince pie purists might baulk at the fact these pies are covered in bright white icing. But once they bite into them, we predict they'll forgive the rather untraditional appearance, the extra sweetness offset by the booze.
The Foods of Athenry Very Merry Christmas Starry Mince Pies – £4.79 for four (£1.20/pie)
Another mince pie for those vegans (or others) who want to push the boat out on the budget front (and it is Christmas after all!). With a slightly nuttier mincemeat filling than many and a good overall balance of flavours, they are good, but whether they are good enough for the price tag will be a matter of personal opinion.
Authentic Bread Company – Luxury Organic Mince Pies with Cognac – £4.49 for four (£1.12/pie)
One of the few companies to make their mince pies without adding any palm oil (sustainable or otherwise), these are sure to appeal to those for whom palm oil products are deemed off the menu. Aside from that, they are also likely to appeal to those who like to taste a bit of booze in their mince pies as there's a generous dose of cognac poured into these.
Authentic Bread Company – Luxury Gluten Free Mince Pies – £5.99 for four (£1.50/pie)
It seems a pity that the gluten-free version of Authentic Bread's mince pies should cost £1.50 a pie, but such is life. Clearly if gluten is not an issue for you, opting for the cheaper version is the way forward as there are no benefits taste-wise in choosing the GF pies.
ASDA Mince Pies – £0.87 for six (14.5p/pie)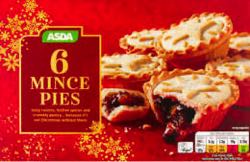 At less than 15p a pie, Asda have produced a decent choice for those on a tight budget or who want to cater for large parties, work dos or other big functions without breaking the bank. They lack some of the depth of flavour of many of the other mince pies, and the pastry is a little too "Mr Kipling" for our liking, but when you're paying less than a quid for six, you can't be too fussy.
Morrisons Free From Mince Pies – £2.00 for four (50p/pie)
A little bland and lacking in the spicy oomph that is present with some of the more premium options especially, the Morrisons Free From Mince Pies nevertheless have a good texture to the filling and the pastry, and are also reasonably priced.
Greggs – Sweet Mince Pie – £1.75 for six (29.2p/pie – or 50p each if bought individually)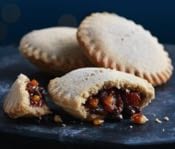 Good old Greggs have done it again and brought a smile to vegans across the country. Their Sweet Mince Pies do contain palm oil but they told us they "only ever use 100% sustainable Palm Oil ingredients in our food and drinks and we're proud members of the Roundtable on Sustainable Palm Oil (RSPO)". In terms of value, these are hard to beat, and though they might not quite live up to the flavour of some of the more premium options, for a sweet on-the-go Christmas treat, they fit the bill nicely.
Vegan Mince Pies – Nutritional Values
Mince pies are never going to be healthiest food going. But hey, it is Christmas! Or October if you start buying them when they first hit the shelves. Here are a couple of examples – one budget, one premium – to give you an idea of the nutritional values of vegan mince pies compared to a non-vegan option (Tesco Finest Mince Pies).
| Typical Values per 100g | Tesco Finest Mince Pies | Tesco Plant Chef Mince Pies | Lottie Shaw's – Seriously Good Mince Pies |
| --- | --- | --- | --- |
| Energy | 1698kJ / 404kcal | 1690kJ / 403kcal | 1678kJ / 401Kcal |
| Fat | 15.5g | 15.5g | 19.8g |
| Saturates | 10.6g | 5.0g | 7.6g |
| Carbohydrate | 61.9g | 60.6g | 51.6g |
| Sugars | 38.3g | 27.1g | 27.4g |
| Fibre | 1.2g | 2.3g | – |
| Protein | 3.6g | 4.0g | 4.1g |
| Salt | 0.3g | 0.2g | 0.5g |
In this rather crude comparison, you can see there is not a whole lot of difference between the vegan and non-vegan mince pies in terms of the nutritional values. If we included a much larger sample size for each we could draw more concrete conclusions, but this is beyond the scope of this article.
Generally it is safe to say that non-vegan mince pies tend to have a bit more in the way of saturated fat compared to vegan mince pies. The vegan ones also tend to be a little lower in sugar, though there are exceptions.
Mince pies are never going to be a primary source of vegan protein, but the quantities tend to be roughly comparable between vegan and non-vegan options. They are also fairly similar in terms of the number of calories they contain… but let's not worry about that until January!
How To Make Vegan Mince Pies
There are so many good-quality, tasty vegan mince pies out there, and so many other things to do at Christmas, that you would be forgiven if you just bought some. But if you really feel the urge to make your own, who are we to dissuade you?
Making your own will be a chore to many but for others it will be a joy and bring immense satisfaction. It also gives you absolute control over the vegan credentials of the end product, as well as the flavour and nutrition. If you do decide to make your own vegan mince pies, there are basically two options when it comes to doing so:
The easy way really is very easy and anyone with even the most basic culinary skills can accomplish decent results. If you want to make your own mince pies but don't want to spend ages doing it, the easiest option if simply to buy some pre-rolled vegan-friendly pastry, a jar of vegan-friendly mincemeat (see options below), and off you go.
Super Easy Vegan Mince Pie Recipe
You can make vegan mince pies with as few as two ingredients: pastry and mincemeat. Clearly, this is not one for baking purists and we do not believe it is likely to get you a "Hollywood handshake" but it is a simple way to introduce children or beginners to making mince pies. Our preferred option for pastry is the Chilled Shortcrust Pastry Sheets from Jus-Rol, which are easy to work with and, of course vegan friendly, though puff pastry also works well. Using two sheets of pastry means you can easily cut out the bases and tops of the pies to make 12 or 15 pies (depending on the size you want and the muffin/cupcake tray you're using). Here's how to do it:
Using a pastry cutter, cut out circular bases to correspond to the size and number, shape and diameter of cups in your chosen muffin or cupcake tray. They often come with 12 cups for which circular bases with diameters of around three inches should suffice.
Using a slightly smaller cutter or shaped cutter (for example stars or Christmas trees) cut out lids for the pies and set them aside. Some prefer the reduced pastry and lighter end product of a shape as it doesn't cover the entire top of the pie.
Put the bases in the cups in the tray.
Spoon a dollop of mincemeat – around two heaped teaspoons – into each base.
Lightly brush the pastry lids (both sides) with a little oat milk and place over the mincemeat.
If you have opted for lids that completely cover the mincemeat (as opposed to a star or something) make a small hole in the lid using a knife.
Bake in the oven for around 15-18 minutes at 180 degrees Celsius.
Once cooled a little, dust with a little icing sugar and serve with a mug of mulled wine or a cheeky glass of sherry (vegan sherry, of course!).
Vegan Friendly Mincemeat
There are numerous options for vegan-friendly mincemeat (mince pie filling) options, most of which come in jars of around 410g:
Waitrose Christmas Mincemeat* 410g – £1.40
No1 Brandy Mincemeat with Courvoisier VS 410g* – £4.00 (Waitrose)
Waitrose Duchy Apple & Walnut Mincemeat 410g – £4.00
Meridian Organic Mince Pie Filling 310g – £4.29 (Greenbay)
Tesco Mincemeat 411g* – £1.20
Tesco Finest Mincemeat 411g* – £1.80
Robertson's Traditional Mincemeat 411g* – £1.80
Mrs Darlington's – Mincemeat with Brandy 410g* – £2.95 (TheVeganKind Supermarket)
* contains palm oil
Make Your Own Mince Pies from Scratch
The other way… well, that requires a little more planning, time and effort, but the end results can be worth it. This would involve making your mince pies from scratch; that means making the pastry and making your own mincemeat. The upside of this, particularly with the mincemeat, is that you can tweak the flavours to your liking and add as much or as little booze as you fancy.
The middle ground would be a combination of the two: use ready-made vegan pastry, but either make your own mincemeat, or use any of those above as a base to which you can add extra ingredients. These extra ingredients could be things like dried cranberries or extra spices or perhaps a bit of booze, with port or sherry often adding a nice festive richness to the pies.
Ingredients
To make vegan-friendly mincemeat it is basically a matter of selecting your favourite dried fruits, adding some fresh fruits, some chopped nuts, the zest and juice of some citrus fruits, sugar and spices, mixing it up and roasting it in the oven for around 40 minutes. Then you simply allow it to cool and add it to you pastry as described above. The exact combination of fruits, nuts and spices is up to you, but it could be something along these lines:
250g mixed dried fruits – currants, sultanas, raisins, dried apricots, dried cranberries
200g finely chopped/grated apple
100g finely chopped glacé or fresh cherries
100g brown sugar
50g grated carrots
1 tsp cinnamon
3 tsp mixed spice
½ tsp ground nutmeg
zest and juice of one orange
zest and juice of one lemon
1 tbsp maple syrup
25-50ml dark rum/brandy (adjust to your taste)
It's all about experimentation and developing a mincemeat that matches your favourite flavours. But the important thing is to get the consistency of the mincemeat just right – it needs to have reduced so there it doesn't contain too much liquid but without being allowed to dry out.
Conclusions: Vegan Mince Pies
Christmas doesn't have to be all about roast turkey and pigs in blankets. There are numerous alternatives for almost all Christmas foods for vegans. And, that is certainly true when it comes to mince pies, some of which are accidentally vegan, others of which are designed specifically to be vegan-friendly. Almost every supermarket has at least one option for vegan-friendly mince pies, and there are plenty of more specialist food outlets – such as TheVeganKind Supermarket – that have lots. Fill your boots!