When hot cross buns start popping up in supermarkets you know Easter is on the way (although they often appear as early as January these days!). They are traditionally consumed around Good Friday to mark the end of Lent. For what is effectively a glorified bread bun, hot cross buns contain a lot of history and religious traditions, with the cross on the bun representing the crucifixion of Jesus Christ. But are hot cross buns okay for vegans to consume? Well, that depends.
As we discuss in our article examining the question Is Bread Vegan?, there are various ingredients added to bread and bread-like products that could render them non-vegan. In this article, we'll take a look at where you can buy vegan-friendly hot cross buns in the UK. First, though, let's take a look at the ingredients that are often found in shop-bought hot cross buns that would make them unsuitable for those following a plant-based diet.
What Stops Hot Cross Buns Being Vegan?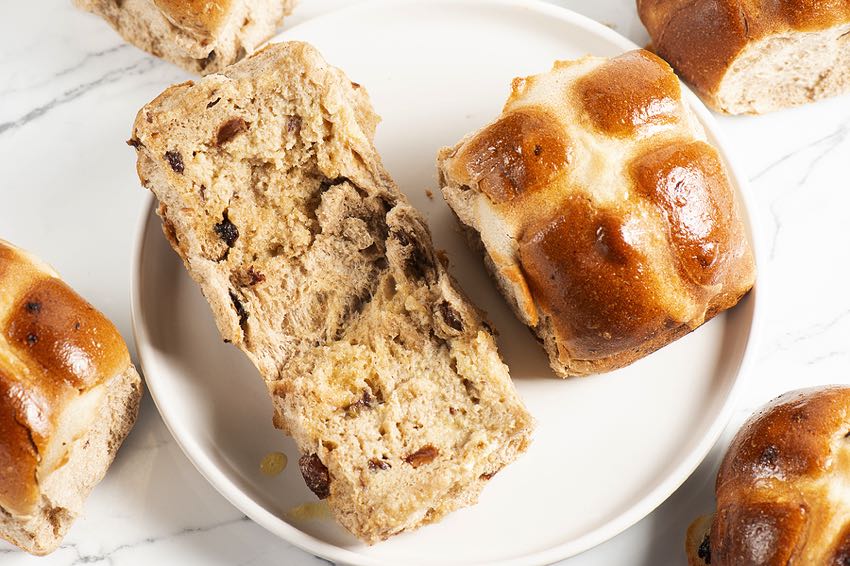 According to some reports, hot cross buns were originally made without any dairy products as these were banned during Lent. Alas, there are plenty of dairy products that pop up among the ingredients of modern-day hot cross buns.
Here are some of the most common non-vegan ingredients to watch out for. Note that many of these will be in bold on ingredient lists, as they are classified as allergens.
Milk
Milk and it's various derivatives (such as whey powder, buttermilk, milk powder and others) is a common ingredient in hot cross buns and will be written in bold.
Butter
Made from milk, butter is also commonly added to these seasonal favourites.
Eggs
Even when free range, organic and from the happiest hens around, eggs are not vegan, so hot cross buns containing them will be off the Easter menu for those following a plant-based diet.
Honey
Sometimes added to the glaze, sometimes to the dough to add flavour, honey is not vegan so should be avoided by those who class themselves as vegans.
Palm Oil
As we discuss in our Is Palm Oil Vegan? article, some vegans avoid it on environmental grounds, and though it is technically vegan, you have to make your own judgement on whether or not you want to consume it.
Various Random Animal-Derived Ingredients
There is the possibility that if you don't recognise an ingredient listed on a product, it might be vegan. This could be something like E numbers or chemical-sounding substances.
Generally speaking, if a product is marked vegetarian it won't contain anything like gelatine or things that are made directly from animals, and things like milk and eggs (that are fine for vegetarians) will be marked in bold due to them being possible allergens.
Where to Buy Vegan Hot Cross Buns
Unlike something like vegan mince pies, there is a real lack of hot cross buns that are officially labelled as vegan. One of the reasons for this is that several of those we mention below (that many would view as vegan friendly) are produced in environments that may also handle milk, eggs or other animal products… i.e. industrial bakeries. Many products would be completely fine for vegans to consume but for the small chance of cross-contamination.
Cross Contamination Risks
We get the sense that food producers often do not want to risk labelling a product vegan only for traces of an animal-derived product causing a severe allergic reaction in someone who picked a vegan product to avoid dairy or eggs.
But for vegans who do not have allergies to such things, it seems the risk of a minuscule amount of milk powder floating into your otherwise vegan-friendly hot cross bun dough is probably a risk worth taking. Of course, everyone will make up their own minds on that front.
Free From Options
Interestingly, some of the so-called "free from" options in supermarkets are less vegan than the standard ones, with both the Tesco Free From Hot Cross Buns and the Sainsbury's Free From Chocolate Hot Cross Buns containing egg-derived ingredients, something that isn't present in some of their other hot cross bun products. It is a strange old world!
Most Are 'Accidentally Vegan'
Here we'll list the hot cross buns we found that appear to be vegan, despite not being labelled as such and thus being accidentally vegan. With most of these also having the risk of cross-contamination, if you do have strong allergies, it's best to avoid most of these and make your own.
Vegan-Friendly Hot Cross Bun Options in the UK
Tesco 6 Hot Cross Buns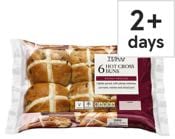 Though labelled as vegetarian rather than vegan, there are no obviously non-vegan ingredients contained within these hot cross buns. If you don't mind the presence of palm oil or the possibility of cross-contamination with milk or egg products (which is a slim possibility based on their disclaimer), these should be fine for vegans.
The only possible thing that might be non-vegan would be the Mono- and Di-Acetyl Tartaric Acid Esters of Mono- and Di-Glycerides of Fatty Acids; it is possible these could be made from animal sources, but this is unlikely in this day and age.
Tesco Hot Cross Buns 4 Pack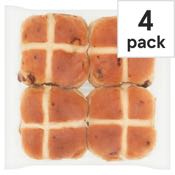 As above, there are no obviously non-vegan ingredients here, just a couple that might be non-vegan (such as glycerine, which can be made from plant or animal sources but is usually made from plants these days and, this is almost certainly the case, given the buns are marked as vegetarian). Again, there is a warning about possible cross-contamination with animal-derived ingredients.
Tesco Finest 4 Apple & Cinnamon Hot Cross Buns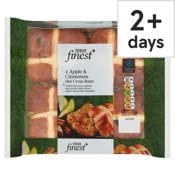 As above really, it's up to you whether something with contamination possibilities and palm oil is permitted within your pant-based diet. If you happily tuck into Oreos or various brands of vegan ice cream, we'd say probably the answer is, "bring it on!"
Sainsbury's Hot Cross Buns x6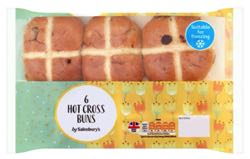 Another option with no milk, eggs or honey but which has a risk of cross-contamination, there is also a very small chance the sugar used might not be vegan.
Sainsbury's Hot Cross Buns, Be Good To Yourself x6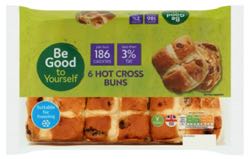 Here we have the same deal as with those mentioned: palm oil is present, there's the chance of cross-contamination, but there are no obvious non-vegan ingredients.
Morrisons 6 Hot Cross Buns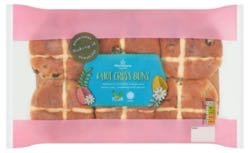 The common "may contain eggs/milk" warning is present here, but no officially non-vegan ingredients, though palm oil is present here too.
Morrisons Free From 4 Fruit Hot Cross Buns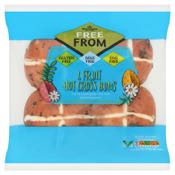 A supermarket that understands what "free from" means, these are labelled as vegan… though, apparently, they are in short supply so grab them if you see any!
Morrisons Free From 4 Chocolate Hot Cross Buns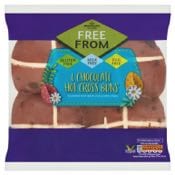 As above, but chocolatey (with vegan chocolate, of course)! Cocoa mass, cocoa butter and sunflower lecithin keep these nicely vegan friendly.
Stephensons 4 Hot Cross Buns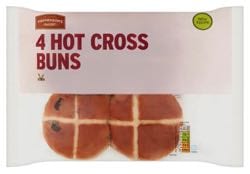 Sold by Morrisons and others, this is another example of accidentally vegan hot cross buns with the risk of cross-contamination.
Asda Free From 4 Hot Cross Buns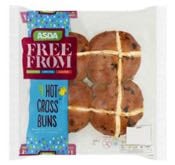 Another product marked as vegan, these hot cross buns from Asda are also one of the few options that contain no palm oil (they use vegan friendly oil rapeseed instead).
Vegan Hot Cross Buns – Nutritional Values

Here are the nutritional values for the three officially vegan hot cross bun products we found.
| | ASDA Free From 4 Hot Cross Buns | Morrisons Free From Fruit Hot Cross Buns | Morrisons Free From 4 Chocolate Hot Cross Buns |
| --- | --- | --- | --- |
| Typical Values | Per 100g/Per Bun | Per 100g/Per Bun | Per 100g/Per Bun |
| Energy kJ | 1213/849 | 1209/847 | 1275/892 |
| Energy kcal | 289/202 | 288/201 | 305/213 |
| Fat | 9.1g/6.4g | 9g/6.3g | 13.5g/9.5g |
| Saturates | 0.8g/0.6g | 0.8g/0.6g | 4.7g/3.3g |
| Carbohydrate | 47g/33g | 47g/32.9g | 39.3g/27.5g |
| Sugars | 18g/12g | 17.9g/12.5g | 7.2g/5.0g |
| Fibre | 5.0g/3.5g | 5.0g/3.5g | 6.6g/4.6g |
| Protein | 2.2g/1.5g | 2.2g/1.5g | 3.2g/2.2g |
| Salt | 0.58g/0.41g | 0.6g | 0.67g/0.47g |
As you can see, hot cross buns are not going to be too appealing for those who are vegan for health reasons, as they are relatively high in calories, fat and sugar. There is a little bit of fibre thrown in there though and even a bit of vegan protein, though not enough to get even remotely excited about (for that, check out the best vegan protein bars or vegan protein powder!).
Conclusions: Vegan Hot Cross Buns
It seems that, unlike many other products out there, there are not loads of vegan options when it comes to hot cross buns… at least not those labelled as being vegan. The two Free From Hot Cross Buns products from Morrison's and the Asda Free From options are marked as vegan and are perfectly fine for a vegan to consume.
There are plenty of other options for apparently vegan-friendly hot cross buns, as mentioned above. These are not labelled as such, however, because of the possibility of cross-contamination with milk or egg products and these mostly contain palm oil too. Ultimately, it is up to you whether you classify these as being plant based, but they'll certainly do the job for many vegans who are after their Easter fix.