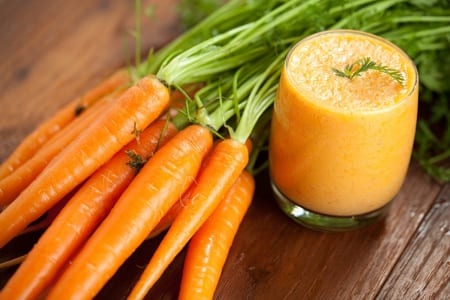 Vitamin A is essential to help humans remain healthy. It helps maintain the body's immune system, enables you to see in low-light conditions, and it helps keep skin and membranous linings in the body in good working order. However, take a look at the best dietary sources of vitamin A – cheese, eggs, milk, oily fish and liver – and it reads like a who's who of vile villains in the eyes of a vegan. The good news for vegans and those following a plant-based diet is that there are plenty of vegan-friendly foods that contain plentiful quantities of beta-carotene, which the body can convert into vitamin A, which is rather handy.
In this article, we will first run through the main vegan-friendly sources of vitamin A (or rather its provitamin beta-carotene). Then we'll explain what vitamin A is, as well touching on the process of how humans convert beta-carotene into vitamin A. We will also issue a word of caution about hypervitaminosis A (the toxic effects of over-dosing on vitamin A) and why it is never a good idea to eat a polar bear's liver (aside from the fact that it belongs to the polar bear). And, just for the hell of it, we'll assess the myth that carrots help you see in the dark!
Vegan Sources of Vitamin A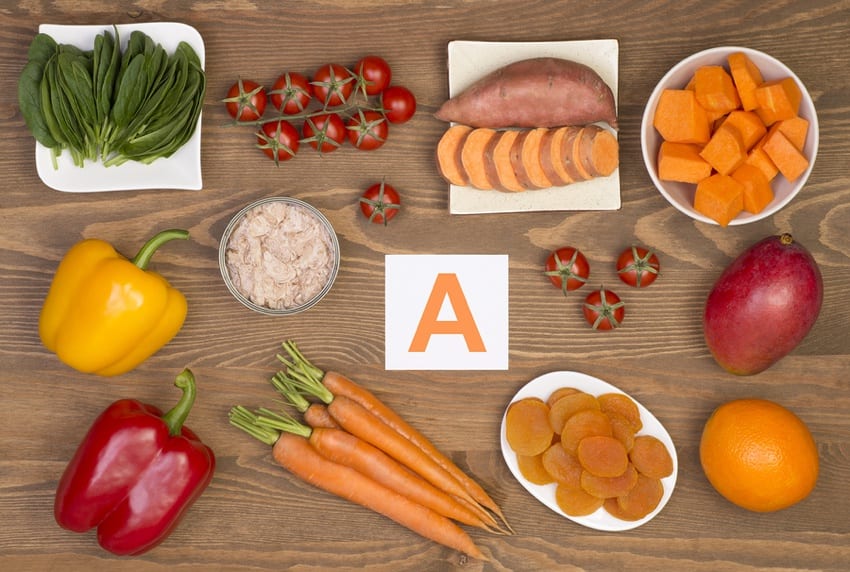 As mentioned, most dietary sources of vitamin A in its active form of retinol are from animal-derived foods. There are many carotenoids (a type of photosynthetic pigment made by many plants and algae) that can be turned into vitamin A by the human body. Beta-carotene is the most abundant and, as the name suggests, it is present in carrots, among many other vegan-friendly foods as detailed below.
Vegan-Friendly Food Sources of Beta-Carotene
| Food | Milligrams of Beta-Carotene per 100g |
| --- | --- |
| Paprika | 26.1 |
| Chilli Powder | 15.0 |
| Sweet Potato (baked in skin) | 11.5 |
| Carrot Juice | 9.3 |
| Carrots (boiled & drained) | 8.3 |
| Spinach (raw) | 5.6 |
| Lettuce (cos, raw) | 5.2 |
| Parsley | 5.1 |
| Seaweed (dry) | 4.9 |
| Cress (raw) | 3.9 |
| Chard (boiled & drained) | 3.7 |
| Pumpkin (raw) | 3.1 |
| Kale (raw) | 2.9 |
| Apricots (dried) | 2.2 |
| Melon (cantaloupe) | 2.0 |
Above information is from USDA Food Composition Databases compiled by the United States Department of Agriculture Agricultural Research Service.
How Much Vitamin A Do We Need?
The NHS guidance on vitamin A suggests that for adults aged 19 to 64:
Men require 0.7mg per day
Women require 0.6mg per day
The US Institute of Medicine, meanwhile, suggests the Adequate Intake for males aged over 19 is 0.9mg per day and 0.7mg per day for females aged over 19 years of age.
How Much Beta-Carotene Produces Enough Vitamin A?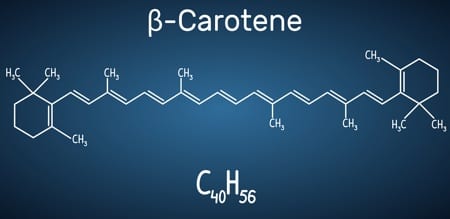 Beta-carotene is a provitamin-A (a substance which can be converted into vitamin A). The absorption of beta-carotene varies from person to person depending on their physiology. However, research endorsed by the US Institute of Medicine suggests that common dietary beta-carotene can be converted to retinol (active vitamin A) at a ratio of 12:1 (hence consuming 12mg of beta-carotene would generally result in the body absorbing 1mg of vitamin A).
As such, for example, a vegan male who is seeking to consume enough beta-carotene to satisfy his daily requirement of vitamin A (based on the NHS guidelines) would need to consume approximately 8.4mg of beta-carotene. Based on the figures mentioned in the table above, this could be obtained from a hearty (100g) serving of boiled carrots, or half that amount with some sweet potatoes and perhaps a bit of lettuce thrown in. Add a sprinkle or two of paprika or chilli powder and a few dried apricots and you're laughing all the way to the beta-carotene bank!
It is also worth noting that humans have the ability to store excess amounts of vitamin A (mainly in the liver). As such, if you happen to have a little more than the recommended amount of vitamin A (through the intake of beta-carotene) on a given day, but less than the suggested amount on other days, the body will be able to release any stored vitamin A as required.
Vitamin A Deficiency
Hypovitaminosis A is the name given to a lack of vitamin A. It is very rarely encountered these days in most developed countries but it is still a problem in many poorer countries. One of the main symptoms of vitamin A deficiency is nyctalopia – or "night-blindness" – which is a condition which inhibits the ability to see in conditions of low light.
A lack of vitamin A in the diet can eventually, in some cases, lead to full blindness, especially in children, and eventually even death. It also leads to the inability to fight infections and increases the risk of contracting respiratory infections as well as slow bone development. Best avoided all in all!
Can Humans Have Too Much Vitamin A?
Students of Greek will not be surprised to read that the name given to the toxic effects of consuming too much vitamin A is Hypervitaminosis A. The effects include bone deficiencies and defects including osteoporosis, greater chance of bone fractures, skeletal pain and bone lesions. Too much vitamin A is also thought to affect the metabolism of other essential vitamins, including vitamin D and vitamin K.
Children are much more likely than adults to succumb to toxic levels of vitamin A. It has been suggested by the American Journal of Clinical Nutrition that the consumption of approximately 0.45mg of vitamin A per kilogramme of body weight would lead to toxicity. For adults, it is thought that chronic toxicity would occur if approximately 7.5mg of vitamin A was consumed daily for six years or longer, or 30mg of vitamin A for six months or longer… but that is a LOT of carrots!
The good news for vegans is that it is almost impossible to overdose on dietary forms of beta-carotene to the point at which toxic levels of vitamin A accumulate in the body. However, overdoing it on the beta-carotene front can result in carotenosis. While this won't have any long-term health effects, in the short term, it will make your skin turn orange! (Does Donald Trump eat a lot of carrots?)
Never Eat Polar Bear Livers!
No vegan would ever want to eat the liver of a polar bear; and no right-minded non-vegan would ever attempt to take a liver away from a polar bear. But if – and this is a big IF – a survival situation arose in which a person found themselves on an expedition to the North Pole without any food and they happened upon the carcass of a polar bear… they would do well NOT to eat its liver.
The reason is that the amount of vitamin A found in your average polar bear's liver is approximately 5.4mg per gram of liver – meaning that in a whole polar bear liver there is the equivalent to about 150 years' worth of the suggested daily intake of vitamin A. Reports from those foolhardy enough to feast on polar bear livers (cited in a 1943 study on the vitamin A content and toxicity of bear and seal liver), mainly from explorers in the 19th and early 20th centuries, talk of symptoms of "drowsiness, sluggishness, irritability or irresistible desire to sleep, and severe headache and vomiting," as well as peeling skin.
Do Carrots Help You See in the Dark?
You might have spotted the etymological connection between retinol, another name for vitamin A, and retina, the light-sensitive tissue of the eye. This is no coincidence. They both come from the Latin word rete which means "net", which probably refers to the net-like mesh of blood vessels at the back of the human eye.
As mentioned above, a deficiency of vitamin A can lead to night-blindness. And, it is this, along with the relatively high levels of beta-carotene in carrots, which led the British Ministry of Information to start a carrot-related propaganda campaign during World War II. They let it be known that their RAF pilots had improved their ability to see in the dark (and hence shoot down German planes) by eating lots of carrots.
In reality, it was the secret development of on-board Airborne Interception Radar that accounted for the RAF's success rate in repelling the Germans… but the British didn't want their attackers to know that! As such, ever since then, the myth that carrots can help people see in the dark has been perpetuated by any parent trying to get their kids to eat something healthy!
Do Vegans Need Vitamin A Supplements?
It is unlikely that vegans who follow a varied diet would require vitamin A supplements. The fact that the body is able to store this fat-soluble vitamin, and that it can convert beta-carotene into vitamin A, means that there are numerous opportunities to acquire enough of it through the foods mentioned above. Vitamin A supplements do have their place in developing countries, but for those in the UK, just a little basic meal planning will ensure you consume enough vitamin A.