Life without modern medicines and treatments would be a perilous one. The slightest injury or illness could potentially result in a life-threatening infection that would essentially be brushed aside by today's antibiotics.
In the UK, the various medicines and treatments available are provided directly by the National Health Service (NHS), through prescription at pharmacies, or indeed in the form of over-the-counter medicines, pills and potions from pharmacies and other retailers like supermarkets.
Disclaimer
Please note that we are not giving any medical advice and we are not qualified to do so. We are providing information about certain medicines and whether or not they could be classified as vegan friendly.
All discussions about any medications you are taking or considering taking should be undertaken between yourself and your chosen medical professionals.
Why Some Medicine Is Not Vegan
That modern healthcare saves and improves the lives of millions of people in the UK (and billions around the world) is not in dispute. The conundrum for vegans, however, is that many medicines cannot be classified as vegan friendly for one of three main reasons.
They contain ingredients derived directly from animals (e.g. gelatine)
Animal products were used in the production of the drug/medicine (e.g. cultures containing cells from the kidneys of monkeys used to grow viruses)
The medicine or treatment has been tested on animals
We'll take a look at each of these in turn in this article, and we'll also outline how vegans can maximise their chances of acquiring vegan-friendly medicines and treatments. It should first be noted, as we stated in our article on vaccines, that being a vegan should not be a choice that becomes detrimental to a person's health.
As such we certainly DO NOT advocate vegans refusing any medication or treatments that have been recommended for them by a medical professional on the basis that they have been tested on animals or even those that contain animal-derived products.
Note also that we don't include vitamin supplements under the umbrella of medicines. We cover them extensively in the vegan vitamins & supplements section of the site.
Veganism & Medicine: When Possible and Practicable
The official definition of veganism states that vegan principles should be followed only "as far as is possible and practicable". When prescribed a course of medication that could save your life, it is clearly not practicable to refuse this treatment on the basis that it had been tested on animals.
Having said that, with a little research, it should be possible to seek out vegan-friendly versions of some common over-the-counter medicines; in reality, that should be written "vegan-friendly" as all medications in the UK have to have been tested on animals before being administered to or sold to humans. As such, no regulated medication sold or administered in the UK can be truly classified as vegan, all we can say is that it contains no animal products.
Over-the-Counter Options
According to the Pharmaceutical Journal, the over-the-counter medicines market was worth £2.62 billion in 2016. This included: £603.5m spent on pain relief (over half of which was on adult oral analgesics); £500.8m on cough, cold and sore throat medication; £450.2m on skin treatments; £368.0m on vitamins, minerals and anti-tiredness medication; £259.6m on gastrointestinal medication; and £132.8m on smoking cessation medication/treatments.
Here are some options for (almost) vegan version of popular over the counter medicines, in the sense they at least contain no animal products:
Vegan Friendly Over-the-Counter Medicines
| Medicine | Manufacturer | Type |
| --- | --- | --- |
| Veganin | Chefaro UK Ltd | Pain relief |
| Panadol Extra | GlaxoSmithKline | Pain relief |
| Panadol Original | GlaxoSmithKline | Pain relief |
| Solpadeine Max Soluble | GlaxoSmithKline | Pain relief |
| Calpol Infant Suspension | McNeil Healthcare | Pain relief |
| Calpol Sugar Free Infant Suspension | McNeil Healthcare | Pain relief |
| Calpol Six Plus Suspension | McNeil Healthcare | Pain relief |
| Buttercup Syrup | Chefaro UK Ltd | Cough, cold and sore throat medication |
| Beechams Flu-Plus Hot Lemon | GlaxoSmithKline | Cough, cold and sore throat medication |
| Beechams Flu Plus Caplets | GlaxoSmithKline | Cough, cold and sore throat medication |
| Day Nurse Liquid | GlaxoSmithKline | Cough, cold and sore throat medication |
| Night Nurse Liquid | GlaxoSmithKline | Cough, cold and sore throat medication |
| Olbas Oil | Olbas | Cough, cold and sore throat medication |
| Alka Seltzer: Original & XS | Bayer Products | Gastrointestinal medication |
| Setlers Antacid | GlaxoSmithKline | Gastrointestinal medication |
| Phillips' Milk of Magnesia | GlaxoSmithKline | Gastrointestinal medication |
| Gaviscon | Reckitt Benckiser | Gastrointestinal medication |
Note that this list is far from exhaustive and that, as mentioned, these medications, and ingredients within them will have almost certainly been tested on animals at some point even though they are not themselves derived from animals. Also note that all manufacturers of pharmaceutical products will have necessarily undertaken experiments on animals over the years in order to bring their products to market.
Some vegans might well think twice about using even these "vegan-friendly" medications; though clearly looking after one's health must be seen as a reasonable consideration so this easily, in our view, falls under the "possible and practicable" section of the definition of veganism.
That said, if you have only a minor cold or a headache caused by too much vegan wine, you might well choose to pass on the medication as far as possible in order to limit your "support" for animal testing.
Which Medicines Are Not Vegan?
After essentially stating that no medicines can be classified as 100% vegan, it is fair to say that there are some medicines that are more vegan than others. For instance, a drug that contains gelatine (derived from the collagen of pigs) as an ingredient is clearly far from vegan. In contrast, a drug containing an ingredient that is not derived from animals but which has been tested on animals in the past, or a seemingly vegan-friendly medication produced by a company that undertake animal experimentation, might be seen by some as slightly further along the vegan-friendly spectrum.
While strict vegans would not accept that medication tested on animals could be seen as vegan, many who follow a vegan lifestyle would take the pragmatic view that their health allows the ethical lines to be blurred somewhat. There are thousands of different ingredients used in the myriad medications and treatments employed by the healthcare sector. In the UK, it is possible to research exactly what goes into medicines by looking at the electronic Medicines Compendium (eMC).
The slight problem is that, apart from the vastness of the dataset, many of the medicines and ingredients are listed under their scientific names. As such, unless you know your ambergris (obtained from sperm whales) from your ascorbic acid (a vitamin obtained from fruit/veg or created synthetically), it can be difficult to ascertain which ingredients are in fact free of animal products or not.
Animal Ingredients in Medicines
Here are some of the most common animal-derived ingredients used in medicines. There is an extensive list of medicines and pharmaceuticals of animal origin produced by the Australian Department of Health, but here we will give a snapshot of the main non-vegan ingredients commonly found in medicines.
Non-Vegan Ingredients in Medicines
| Ingredient | What is it? | Used in… |
| --- | --- | --- |
| Lanolin | A fat obtained from sheep's wool | |
| Gelatine | Derived from the collagen pigs, it is used as a stabiliser for some vaccines | MMR vaccine; children's nasal flu vaccines; shingles vaccine |
| Magnesium Stearate* | Fine white powdery salt that can be obtained from pigs, chickens or cows. | A wide range of tablets, capsules and powders as a filler |
| Lactose | Derived from milk whey, this sugar acts as a stabiliser in some vaccines | Various pills and vaccines |
| Stearic Acid* | Fat from cows, sheep, cats or dogs | Various tablets, capsules or medications as an emulsifier |
| Glycocholic Acid | An acid obtained from the bile of various mammals | Some gastrointestinal treatments |
| Shellac | Secretion of Laccifer lacca insects | Various tablets as a coating |
| Trypsin* | Enzyme obtained from the pancreas of pigs | Treatments for digestive conditions or osteoarthritus |
*These ingredients can be derived from animals or from plants/fungus/synthetically. Their origin would need to be checked with the manufacturer of the drug in questions.
A 2014 article in the British Medical Journal reported that 74 of the 100 most commonly prescribed medicines in the UK in 2013, contained lactose, gelatine or magnesium stearate. Clearly, there is some room for improvement from a vegan point of view.
Medicines Using Animal Products in Production
As discussed, many medicines include ingredients of animal origin. But there are plenty more besides that have been developed using substances or products of animal origin. One of the primary production methods that employs the use of animal products involves growing bacteria, viruses or other pathogens or other microbial organisms in a culture medium that includes cells that have been obtained from animals. This is a common technique in the development of vaccines.
It is very difficult to ascertain whether a given medicine has been produced in a way that has utilised animal products without checking with the manufacturer in question. The fact that animal products would not actually be consumed within the medicine, and that medicines in general would fall under the "possible and practicable" area of the vegan definition means that many vegans do not attempt to avoid such medicines.
Some vegans believe the time spent contacting individual drug manufacturers to enquire about their production methods might be better spent campaigning to reduce the number of medicines that include animal-derived products on a more macro level. Or indeed to campaign to reduce medical testing on animals. Or to encourage more people to adopt a vegan diet or lifestyle.
Medicines & Treatments Tested on Animals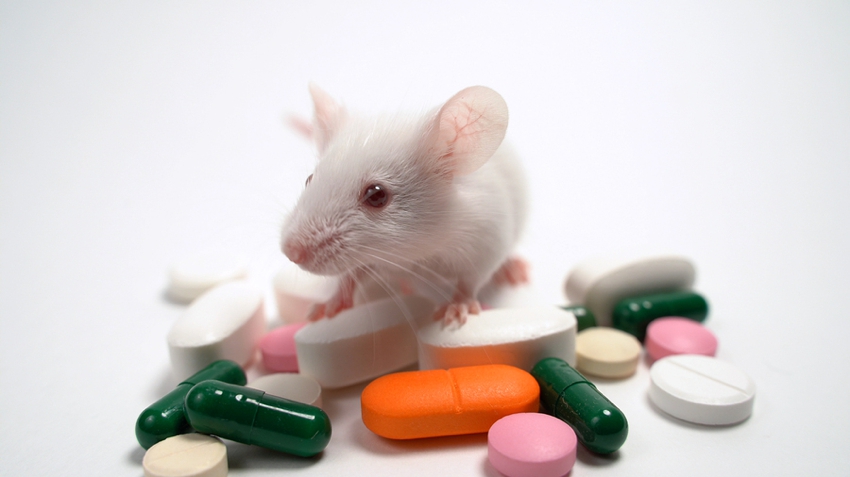 Legislation that regulates the use of animals for experimental or other scientific purposes in the UK is delivered in the form of the Animals (Scientific Procedures) Act 1986. The aim of the Act is to protect the rights of such animals and it defines a "protected animals" as, "any living vertebrate other than man and any living cephalopod".
The Act states that there are certain procedures which are permitted to be applied to an animal if they fall under the definition of being for "a qualifying purpose".
Alternatives to Testing on Animals
There has been growing pressure on the UK government, and indeed governments throughout the world, to legislate to reduce the number of variety of animals used in research, and to promote the alternatives. The aforementioned Animals (Scientific Procedures) Act includes within it the principles of "replacement, reduction and refinement".
These principles should be followed wherever possible to: replace animal testing with other methods or strategies that do not involve animals; minimise the number of animals used in experimentation without compromising the study in question; refine the breeding, accommodation and care of animals to "eliminate or reduce to the minimum any possible pain, suffering, distress or lasting harm to those animals".
For many – vegans and non-vegans – the pace of change is painfully slow, and many campaigners argue that the will is not there in the scientific community or the UK government to improve things dramatically in the near future. As more and more people become aware of animal experimentation and technological advances give scientists viable alternatives to testing on animals, it is likely the number of animal experiments in the UK and globally will decrease in the future.
There were around 4 million scientific procedures using animals in the UK in 2013 (according to Home Office figures). This had fallen to 3.79 million by 2017, which was a 4% decrease on 2016 and the lowest number since 2010. While the decrease is welcome, clearly there is a long way to go. But what are the alternatives to animal testing?
Here are some of the main alternative methods that have been developed as alternatives to the use of animals in scientific experimentation:
| Alternative | Method |
| --- | --- |
| "Organs On Chips" | Microchips have been developed by the Wyss Institute at Harvard that are lined by living human cells that could be used for disease modelling and even the personalisation of medicine. They are designed to mimic the body's response to drugs and could be a viable alternative to testing on animals. |
| Computer Modelling | The power of computers is so vast these days that highly sophisticated models can be developed that can effectively predict how drugs will react in the human body. |
| Human Volunteers | Currently in the UK drugs are not allowed to be tested on humans in clinical trials until they have already cleared the stages of animal testing. But there is growing research suggesting that using "micro doses" of proposed drugs in trials with humans could be used as an alternative to animal testing. |
| Patient Simulators | Increasingly sophisticated life-like human "dummies" have been developed that appear to breathe, talk, convulse and bleed. These can be used instead of animals to teach physiology and surgical procedures. |