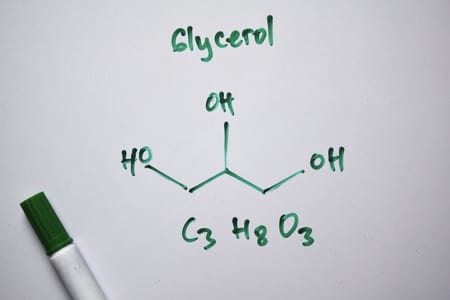 Glycerol, which is also referred to as glycerine or glycerin, is a viscous liquid that is both colourless and odourless. It is sweet-tasting and hence is commonly used in food products as a sweetener (among other uses) and it has the designated E number of E422.
It is also used in various other industries, including the pharmaceutical and cosmetics industries, often as a humectant, as a component in E-cigarette liquids and antifreeze, and even in more niche areas, such as an ingredient of bubble mixture (for blowing bubbles)! But the question we are here to answer is this: is glycerol vegan?
Glycerol Can Be Animal or Plant Based
Frustratingly, for those following a plant-based lifestyle, there is no definitive answer to that question. Glycerol can be produced from animal (often tallow – rendered animal fat) or plant (often soy) sources, and therefore, unless a product is specifically labelled as vegan friendly, the inclusion of glycerol (or glycerine or glycerin) in the list of ingredients of a given product could mean it is not suitable for vegans.
In the absence of a product being marked vegan, you have two options:
Simply buy an alternative product that you are sure is vegan friendly
Contact the manufacturer of the product in question to ascertain whether the glycerol used in that product was created without the use of animal products
Clearly, some manufacturers will be more forthcoming with such information than others, and some might just not have the customer service capacity to answer such questions. Trying to get in touch with the makers of a cheap tube of bubbles you bought from the supermarket or Amazon, for instance, could be nigh on impossible.
Alas, then, it is often a bit of a guessing game when it comes to the vegan credentials (or otherwise) of the glycerol you might encounter in food or other products. But all the same, let us delve into a little more detail about what glycerol is, its main uses and what alternatives could be used that definitely are vegan friendly.
What Is Glycerol?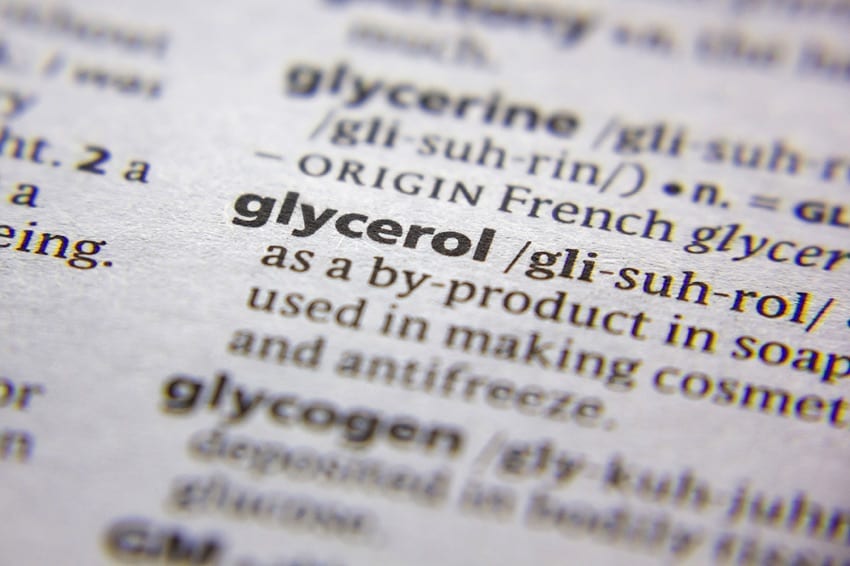 Let's don our lab coats for a moment. Goggles on. Ready? According to PubChem, an open chemistry database that is part of the United States National Institute of Health (NIH), glycerol is "an important component of triglycerides (i. e. fats and oils) and of phospholipids" and it is "a three-carbon substance that forms the backbone of fatty acids in fats". It is an organic compound with the chemical formula C3H8O3.
Glycerol occurs naturally in humans and other animals when fat reserves are accessed as a source of energy. The glycerol is released into the blood and can be converted into glucose by the liver. Glycerol is also present in the fat in various plants and is often obtained (for commercial purposes) from soybeans or palms. Note that even glycerol produced from palms (hence palm oil) could be viewed by some vegans as not suitable for them based on the environmental factors involved.
How is Glycerol Produced?
Glycerol can be produced through various processes using animal or plant fats. including hydrolysis (with the use of water molecules), saponification (as used in the production of soap) or other chemical processes involving acids, bases or catalysts.
Note that glycerol can also be produced synthetically, without the use of plants or animals, through the processing of propylene, but this is prohibitively expensive compared to the plant or animal route so it is rare in relation to most commercial uses of glycerol.
Is Glycerol the Same As Glycerin & Glycerine?
In practice, the terms glycerol, glycerine and glycerin are used interchangeably in many instances. There is a subtle difference, however. Glycerol is the official chemical name of the substance, whereas glycerine (sometimes written with the 'e' on the end) is the trade name for substances that contain 95% or more of glycerol.
So, while glycerol technically refers to a pure form of the compound, glycerine (or glycerin) may refer instead to a substance that has a high proportion of glycerol but is not 100% made up of that compound. In most applications this is not an issue, but some medical applications might require glycerol that is 100% purity.
Main Uses of Glycerol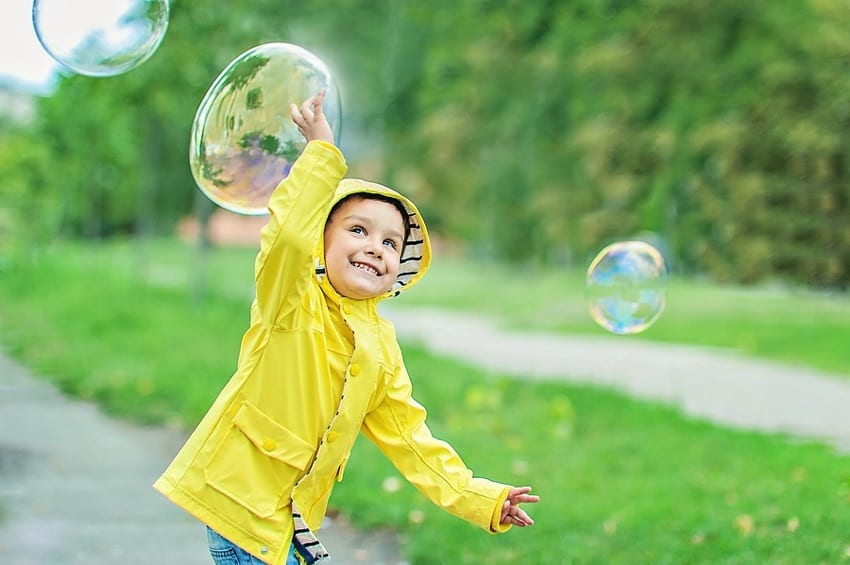 As mentioned above, there are many and varied applications of glycerol in a wide range of industries. Here are some of the main ones we have come across during our research.
Food
As mentioned, glycerol, also known as additive E422, is used as a sweetener in various foods but its ability to absorb and retain water also makes it useful as an ingredient to help a food remain moist. It is also used as a thickening agent, and can be found in a wide range of foods from cookies to marshmallows, cakes and sponges to condensed milk.
Pharmaceuticals
Glycerol is used in a wide range of pharmaceutical and cosmetic products, with its moisturising properties being particularly useful for skin lotions, glycerine-based soaps and various hair care products. It is also often present in toothpaste, mouthwash and cough syrups.
Medical
Glycerol has been found to possess antimicrobial properties and has been approved for use for the treatment of wounds (including burns) by the US Food and Drug Administration (FDA).
It is incorporated into various treatments and applications and can be used to package donor skin that will be used in skin grafts. It has various other medical applications including to decrease excess internal pressure of the eyes, and – when administered as a suppository or enema – it has laxative effects.
E-Cigarettes
Glycerol is commonly used as an ingredient of the e-liquid used by e-cigarettes because it helps to produce an aerosol effect when the liquid containing it is heated using an atomiser.
Explosives
Hopefully no one reading this will ever attempt to use glycerol for these purposes, but it is a key ingredient of many explosives as it is used to make nitroglycerin. Fans of the 1999 David Fincher film, Fight Club, and the Chuck Palahniuk novel of the same name on which the film was based might be familiar with this as antihero Tyler Durden goes into some detail about the process.
Bubbles
Because glycerol can reduce the rate of evaporation of water, it can be added to bubble mixtures as a way to make bubbles last longer.
Antifreeze
Because of the chemical properties of glycerol (namely, that it is a non-ionic kosmotope), it is an effective ingredient of antifreeze as it helps to prevent the formation of ice.
Films
Glycerol can be used in various scenarios within the film industry. For instance, it has been used to produce fake tears on the faces of actors, and to stop areas (for example pavements) drying out too quickly during filming when a scene requires the ground to appear wet.
Vegan Alternatives to Glycerol
Depending on the application for which it is being used, there are often vegan alternatives to glycerol. The most obvious alternative to animal-derived glycerol, that is pertinent to any application, is simply to use plant-derived glycerol.
This is clearly a choice that manufacturers of various products have open to them, and it is very possible that as the vegan movement grows larger and more vocal, many producers will take this option simply to ensure they don't alienate a significant proportion of their customer base.
Food
As we discuss in our Is Honey Vegan? article, there are plenty of vegan-friendly ingredients that can be used to sweeten a food product. Of course, sugar does the job perfectly well and as long as it hasn't been produced using bone char, it is vegan. Other options include agave nectar, maple syrup or even coconut nectar.
Medical
When it comes to essential medical procedures, such as the use of dressings for burns that contain glycerol, we would suggest you simply follow the advice of the medical professionals and never refuse treatment based on whether not the recommended treatment is strictly vegan friendly or not. This fits into the "as far as is possible and practicable" part of the widely accepted definition of veganism proposed by The Vegan Society.
Bubbles
There is no need to include glycerol in your bubble mixture, and though your bubbles might not last quite so long, you can still get a decent mix with just washing up liquid and water.
Glycerol Conclusions: If In Doubt, Avoid
In many scenarios, there is no real way of knowing whether the glycerol (or glycerine) listed in the ingredients of a given product has been made using animal or plant fat. As such, strict vegans should use their judgement and exercise caution. In short, if a product is labelled as vegan friendly and contains glycerol it is safe to assume that it has been produced using plants (though it is still possible that is has been made using palm oil).
In the absence of vegan labelling on a product, if you are not able to get a satisfactory answer from the manufacturer of the product in question, it is safer to assume it is not vegan. In that case, attempting to find an alternative that is definitely vegan friendly has to be the way to go.