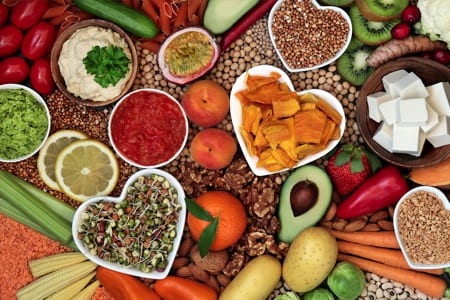 Vegans often face scepticism from friends and family members who arm themselves with all kinds of questions, misconceptions and half truths about a plant-based diet. One of the most common lines of attack (and it often feels like an attack from a vegan perspective) is that vegans cannot get sufficient protein without consuming meat and dairy products.
Obviously, this is nonsense, as we explain in great detail in our Vegan Protein article. There are plenty of high protein foods that are perfectly vegan friendly, as we shall highlight in this article.
Jump To: High Protein Vegan Foods | Combining Plant Proteins | High Protein Vegan Meals | Vegan Protein Powders | Vegan Protein Vs Meat & Dairy
Buy Vegan Protein Online
If you're looking to supplement your protein intake then MyProtein are a great place to start. They have a dedicated Vegan section that covers protein powder and shakes, bars and meal kits. Plus plenty of other vegan friendly health products.
Best High Protein Vegan Foods
Here are some of the best high protein vegan-friendly foods around, along with some of the other nutritional benefits each foodstuff possesses.
Food
Protein* (g per 100g)
Other Nutritional Benefits of Foodstuff
Spirulina
55-70
Packed full of protein, as well as iron and B vitamins, this super food is actually a type of bacteria, and hence neither plant nor animal (but definitely fine for vegans).

As we explain in our Spirulina article, it has plenty of nutritional benefits, but you shouldn't eat too much of it.

Yeast Extract (e.g. Marmite)
40.7
Great source of B vitamins: Thiamin (B1), Riboflavin (B2), Niacin (B3), Folate (B9), B12
Soya Beans (dried, raw)
35.9
High in fibre, complete protein
Yeast (dried)
35.6
Offers a complete protein; fortified versions often good sources of iron and B vitamins
Seaweed (nori, dried)
30.7
Good source of vitamin A, vitamin C and iodine, and contains moderate levels of iron and zinc
Whole Earth Smooth Peanut Butter
26.3
Good source of fibre, convenient and tasty!
Peanuts (dry roasted)
25.7
Good source of vitamin E, B vitamins, magnesium, manganese, phosphorous and zinc, also contains moderately high levels of fibre
Pumpkin Seeds
24.4
Excellent source of magnesium, manganese and phosphorous, good source of iron and zinc
Mung Beans (dried, raw)
23.9
Good source of B vitamins, iron, magnesium, manganese, phosphorous, potassium and zinc, and high in fibre
Tofu
23.5
High quality protein, often classed as complete protein (depending on processes used to make it)
Almonds (toasted)
21.2
Excellent source of vitamin E, high in fibre, source of various minerals including manganese and copper
Tempeh
20.7
Can offer complete protein, good source of manganese and other minerals
Chia Seeds
20.3
Excellent source of fibre and Omega-3 and Omega-6 fatty acids, good source of vitamins B1 and B3, as well as magnesium, manganese and phosphorous
Quorn Vegan Pieces
15.3
Low in fat compared to the meat it attempts to replace, and with a decent fibre content, this is a healthy protein source for vegans
Tesco Meat Free Mince
15.1
With a fraction of the fat content of even lean steak mincemeat, this vegan-friendly alternative is another convenient vegan protein source
Walnuts
14.7
Good source of fibre and various minerals, including manganese and phosphorous
Hazelnuts
14.1
Excellent source of vitamin E and manganese; also high in fibre
Buckwheat
13.2
An excellent low-fat energy source, as well as offering good levels of B vitamins, magnesium, manganese, phosphorous and zinc
Edamame Beans
12.1
Good source of fibre, vitamin K, Omega-3 and Omega-6 fatty acids
Greggs Vegan Sausage Roll
12.0
Okay, not the healthiest option on the list, but tasty and convenient
Bread (wholemeal)
11.2
Good source of fibre (plus vitamins and minerals if fortified)
Bread (wheatgerm)
11.1
Good source of fibre
Oats (unfortified)
10.9
Good source of fibre, B vitamins, manganese, zinc and phosphorous
Bread (white)
9.7
Good energy source (plus vitamins and minerals if fortified)
Pita Bread (white)
9.1
Good energy source (plus vitamins and minerals if fortified)
Pinto Beans
8.9
Good source of folate (vitamin B9) and fibre
Blackeye Beans
8.8
As above
Lentils (green and brown)
8.8
As above
Chickpeas
7.7
As above
Lentils (red)
7.6
As above
Rice
7.1
Good energy source, contains some minerals including potassium and phosphorous
Pasta (fresh)
6.6
Good energy source
Hummus
6.1
Complete protein with a decent amount of fibre and vitamin B6 and manganese, among other nutrients
Green Peas (frozen)
5.5
Good source of B vitamins (B1, B5 and B9), great source of fibre
Baked Beans (in tomato sauce)
5
Complete protein when eaten with toast – great quick, cheap and tasty lunch
Quinoa
4.9
Good source of fibre, B vitamins and various minerals including manganese, phosphorous and magnesium
Sweet Corn
3.6
Contains moderate levels of B vitamins and fibre
Spinach (baby)
3.2
Excellent source of vitamin K, good source of vitamin A, beta-carotene, vitamin C and carious minerals
Spinach (frozen)
3.1
As above
As you can see, most of the high protein vegan foods in our table are either ready to eat (such as nuts, seeds, bread, and so on) or very easy to prepare or add to recipes. The fact that hardly any of these food has undergone much (if anything) in the way of processing means that in most cases it is very unlikely that any colours, flavourings or preservatives have been added (though supermarket-bought bread could be the exception to this, so choose wisely).
Combining Plant Proteins: High Protein Vegan Combos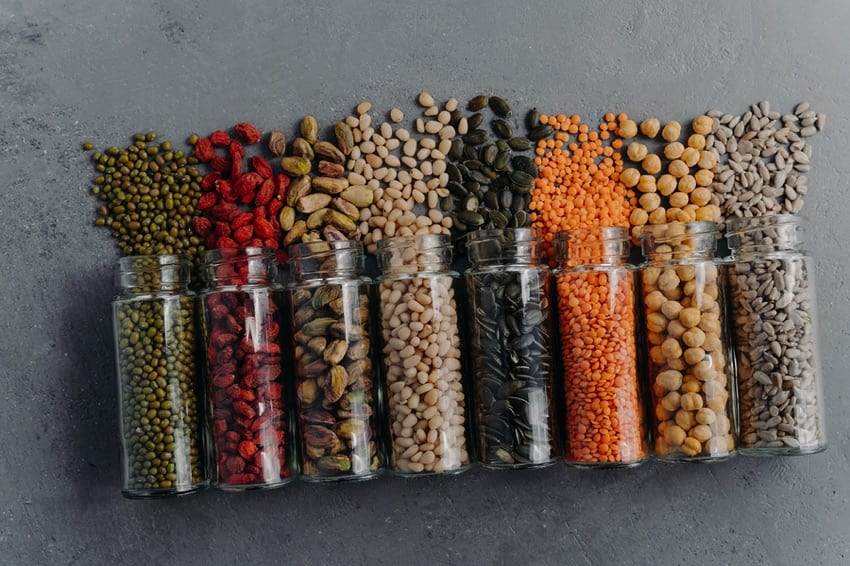 In an article written by a Nutrition Specialist for the Oklahoma branch of the Cooperative Extensive Service (which is the "largest, most successful informal education organization in the world"), it explains that combining foods from two or more of the following plant groups can improve the overall protein quality:
Legumes – soya bean, peas, baked beans, lentils and so on
Grains – rice, wheat, oats, corn, and any products made from them (for example, bread)
Seeds & Nuts – pumpkin seeds, chia seed, almonds, hazelnuts, walnuts … the list is lengthy – hopefully you know what nuts and seeds are!
If you throw in the many of the healthier processed high-protein vegan options (basically anything that has been altered from its natural state or had other ingredients added, such as peanut butter, Marmite, breakfast cereal and so on) there are loads of opportunities to boost your protein intake. The likes of nutritional yeast (fungus) and spirulina (bacteria) add some great non-plant protein sources too.
There are essentially limitless combinations of vegan foods that can offer complete or near-complete proteins and simply by mixing things up a little, those following a plant-based diet can ensure they obtain all the essential amino acids while also ensuring they are eating food that is often high in fibre, full of vitamins and minerals, and which are low in saturated fat.
Until fairly recently, it was thought that plant proteins must be combined in the same meal for the body to be able to obtain all the essential amino acids, but various sources including the American Dietetic Association suggest that this is not the case; in fact, it appears to be fine to combine proteins from various plant-based foods throughout any given day as the liver is able to store some amino acids and use them to combine with others later on. But if you do want to power up with meals that are likely to include all the essential amino acids, here is just a small selection of the best high protein vegan meals.
Top High Protein Vegan Meals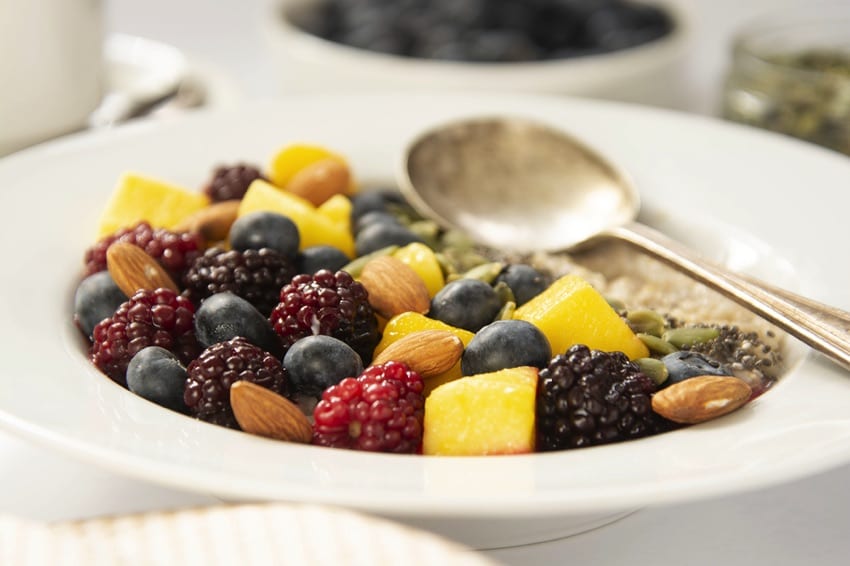 | High Protein Meal | Vegan Food Groups | Notes |
| --- | --- | --- |
| Baked beans on wholemeal, seedy toast | Legumes, grains, seeds | Humble as it seems, beans on toast can be a highly nutritious meal if you pick healthy, seed-rich wholemeal bread. As well as being likely to provide all the essential amino acids, it's also high in fibre, provides plenty of energy and there is scope to embellish it in whatever was you like, for example sprinkle on a bit of nutritional yeast or add Marmite to the toast for an added boast of B vitamins and protein. |
| Peanut butter sandwiches | Nuts, grains | Simple, energy rich, and packed with protein; again there's scope to jazz it up as you see fit, and be sure to choose the healthiest fibre-rich bread you can find. |
| Porridge with nuts, berries and seeds | Grains, nuts and seeds, fruit and veg | Porridge is a fantastic meal in itself, but add a generous handful of chopped nuts (almonds, walnuts, hazelnuts, or whatever you fancy) and seeds (chia seeds, pumpkin seeds, again the choice is yours) and you've got a complete protein. If you want to sweeten it, why not add a drizzle of pure maple syrup? Throw in a handful of your favourite berries for added vitamins and flavour too. |
| Bean, spinach and quinoa salad | Legumes, grains, seeds, fruit and veg | Combining cooked quinoa with blackeye beans, spinach and the dressing of your choice, along with chopped peppers and tomatoes and topped with seeds of your choice offers a fantastically nutritious and protein-rich lunch. |
| Hummus, pitta bread, mixed seeds and nuts | Nuts and seeds, legumes, grains | Another light lunch/snack/side dish option that is tasty, versatile and packed with protein and other nutrients. |
| Chilli sin Carne with wild rice | Legumes, cereals, fruit and veg | Using your favourite vegan-friendly mince alternative and/or lentils, along with kidney beans, will give you a great amount of protein. If you throw in some nutritional yeast too and use wild or brown rice and you've got a protein-rich feast that is tasty and filling. |
| Dhal, plus chickpea and spinach curry, and whole wheat chapatti | Legumes, veg, grains | Using lentils instead of rice makes this curry combo pack a major protein punch, with chickpeas, spinach and chapatis boosting it further. |
Note that is it nigh on impossible to ascertain the precise protein content (or amino acid make-up) of any given foodstuff as these values can alter depending on how it was grown, how it was processed (if applicable) and how it is ultimately prepared and/or cooked.
As such, whilst it is very likely the above combinations will provide all the essential amino acids, this is not something that we can absolutely guarantee, so please bear that in mind. Later in the article, we explain a little more about the concept of combining plant-based proteins.
What Is Protein & What Is It Good For?
Protein is essential to humans (and other animals) for growth and for the repair and maintenance of cells in the body through various metabolic processes. According to the British Nutrition Foundation, protein is the "second most abundant compound in the body, following water", and it makes up approximately 43% of muscles, 15% of skin and 16% of blood.
If you are seeking more detail about what protein is, the different types that exist and information about protein consumption, check out our aforementioned Vegan Protein article that covers all that. In that article, we delve into the various types of proteins that are available from the food we eat, and how following a plant-based diet can easily provide the required amount of protein.
How Much Protein Do We Need?
The British Nutrition Foundation recommends we eat 0.75g of protein per day for every kilogram of bodyweight we possess. So, someone weighing in at 75kg (or 11 stone 11 pounds) should aim to eat approximately 56g of protein each day.
To dispel once again the notion that a vegan diet might be lacking in protein, let us consider one of the high protein meals we mentioned above. Everyone has their own way of making chilli but to look at a fairly generic recipe, a single serving could deliver the following:
| Ingredient | Amount | Protein |
| --- | --- | --- |
| Vegan mince | 100g | 15.1g |
| Kidney beans (tinned) | 65g | 5g |
| Black beans (tinned) | 65g | 4.9g |
| Brown rice (raw) | 90g | 7.2g |
One standard serving of such a chilli would provide more than 32g of vegan protein. Based on the 75kg person mentioned above that is in excess of 57% of the recommended protein intake.
Moreover, other ingredients and accompaniments, such as vegan yoghurt or sour cream, vegetables and spices (you don't use a lot but for reference cumin, coriander, paprika, pepper and chilli powder all contain more than 10g of protein per 100g) would boost the protein of the meal further, so actually a figure over 60% would probably be more accurate.
Vegan Protein Powders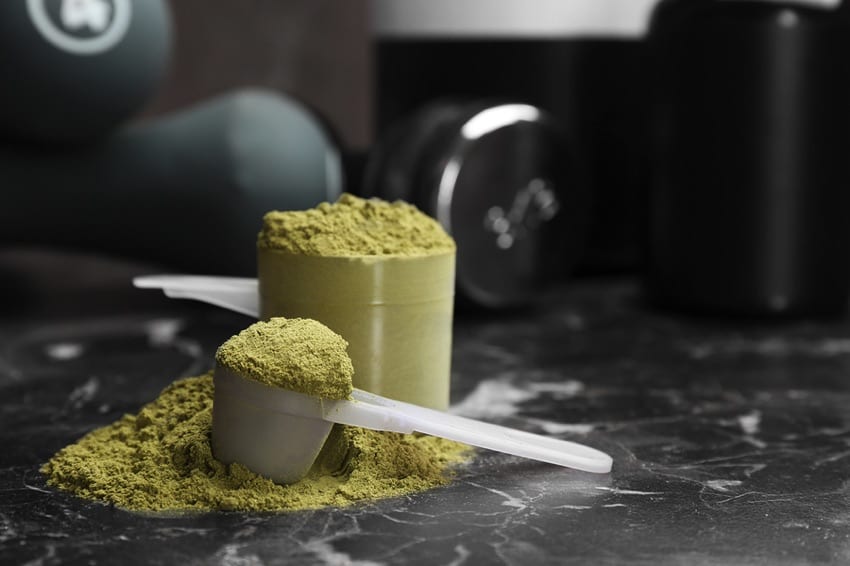 All that said, there are some instances when a person might not be able to easily obtain the required quantities of protein through their vegan diet. For instance, if someone just happens to be massive, like 18 stone, and training for some sporting event or other (we're thinking rugby players, boxers, wrestlers and the like), they might be seeking to consume something approaching 100g of protein each day or possibly even more.
Anecdotally, many athletes of this nature do claim they need such high protein intake, although in truth, the science to support such a high level is limited. Nonetheless, many people who want to add muscle do consume much more protein than the average person and the recommended amount for health. While this is perfectly doable on a vegan diet, it would mean chomping down the equivalent of about a kilogram of bread, several servings of our high protein vegan chilli, or perhaps 500g of chia seeds. Obviously, mixing things up a bit would be preferable!
In reality, of course, people who have higher protein requirements – either because they have more body mass or they are undertaking intensive physical training – are likely to have a much bigger appetite and so would be able to consume enough protein through a well-planned, mixed vegan diet.
But for those looking to ensure they get the protein boost they require, there are plenty of vegan-friendly protein powders out there. We will go into more detail about these elsewhere on the site, but these can be efficient ways to ensure your protein intake, and they are often created using natural plant sources (such as brown rice, flaxseed and pea protein) and are also high in fibre.
One Final Tip for Even More Protein
One great way to increase your overall protein intake, especially if you are looking to lower your carbs, is to only eat complex carbs that are high in protein. Whilst rice, for example, does contain a reasonable amount of protein, lentils contain more than three times as much. Quinoa also contains a lot more, whilst if you must go for rice, brown contains more than white and wild is best of all.
So, for example, an easy way to get more protein is to switch to wild rice. Whilst that's often expensive, lentils are cheap and if you halve your serving of rice and switch to half lentils, these protein powerhouses will give you a wider range of nutrients and a lot more protein. Eating a half rice, half quinoa mix is also a great option.
High Protein Vegan Foods Versus High Protein Meat and Dairy
Proteins are made up of various building blocks called amino acids – of which there around 20 different kinds. Just over half of these can be produced by the body, but eight (or nine, depending which source you read) amino acids need to be obtained through the diet. These are known as essential amino acids.
All the essential amino acids are present in various single foods that are not compatible with a vegan diet, such as eggs and meat, and this is not regularly the case with vegan-friendly protein sources. However, combining various vegan foods that are high in various amino acids can enable vegans to attain all the necessary amino acids with the added benefit of these foods not being high in saturated fat, which is often the case with meat and dairy products.
There are various commentators, "journalists" and people who just seem to want to have a dig at vegans whenever they can who suggest that it is not possible to get all the essential amino acids from vegan food sources. We will defer to the aforementioned British Nutrition Foundation on this point, who state the following:
In most diets, different proteins tend to complement each other in their amino acid pattern, so when two foods providing vegetable protein are eaten at a meal, such as a cereal (e.g. bread) and pulses (e.g. baked beans), the amino acids of one protein may compensate for the limitations of the other, resulting in a combination of higher biological value.

This is known as the complementary action of proteins. Thus if vegetarians and vegans eat a variety of vegetable proteins in combination, there is no reason why the quality of protein cannot be as good as in a diet comprising meat, milk, fish, eggs or other foods that contain animal protein.

It is true that omnivores might find it rather reassuring that when they scoff down a rasher or two of bacon or a cow-based burger they can do so in full confidence that they will have obtained complete proteins in the process. But they will also be consuming a good deal of saturated fat too. There is no doubt that vegans can obtain all the protein they need though, you only have to look to the many vegan sports stars to be convinced of that!
High Protein Vegan Foods: Conclusions
Some non-vegans seem to relish any opportunity they can grasp to point out possible deficiencies in a plant-based diet. And one of their main routes of attack is to suggest that vegans can't get enough protein or that they certainly can't get enough of the right kinds of protein. As we have seen, though, this is patently untrue.
As you will see from most of the examples given in our table, most high protein vegan foods fit into one of the following four categories: legumes, cereals, seeds and nuts and processed foods (often based on one of the three aforementioned categories of food). With a bit of fungus and bacteria thrown in for good measure – healthier and tastier than it sounds!
Not only can vegans gain enough protein and indeed obtain all the essential amino acids, the high-protein plant-based foods vegans consume tend to be a good deal healthier than the primary protein sources favoured by meat-eaters. This is because things like seeds, nuts, legumes, grain and vegetables contain very little in the way of saturated fat when compared to meat and dairy products and also tend to contain more micronutrients such as vitamins. So, it's a win-win for vegans: plenty of protein and a healthy diet too!