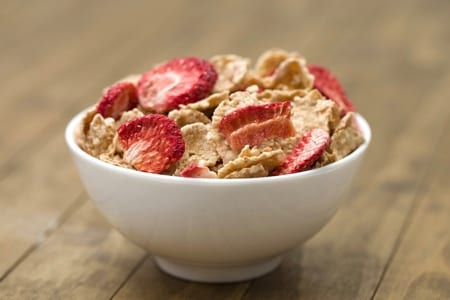 Breakfast cereal has had bad press in recent years and, until recently, much of that focused on the high sugar content of many of the mainstream products. However, in 2018, various media outlets reported that a number of popular cereals contained wool, or at least grease from wool, which actually sounds even stranger and even less palatable.
There are loads of unusual animal-based products used where you might least expect them, but with cereal being such an everyday item, this story caused quite a stir. Not least because many non-vegans would probably be unaware and unimpressed by consuming sheep's wool grease!
This story really made a lot of people ask whether or not breakfast cereals are vegan and luckily, we have got the full lowdown. We'll start by looking at our woolly, greasy friends, but we will also consider other key reasons why your seemingly innocent cereal might not be the vegan breakfast you thought it was.
We provide a handy list of popular breakfast cereals by brand, noting whether or not they're vegan and give you some recommendations for the best vegan-friendly milk to enjoy alongside your breakfast.
What Makes Breakfast Cereal Non-Vegan?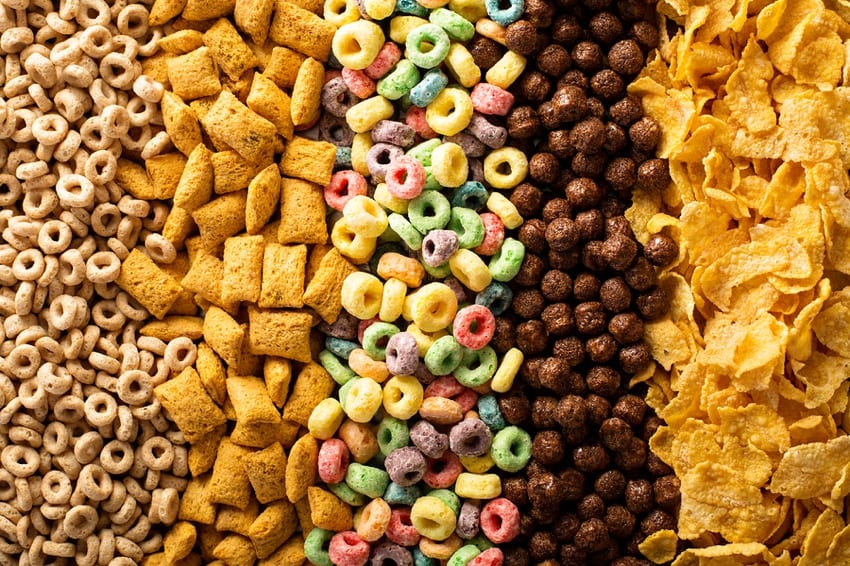 The addition of vitamin D to many cereals can be problematic when it comes to vegan-friendly cereals, as the method of fortifying cereals with said vitamins involves lanolin, which is essentially a wax secreted from wool-bearing animals.
Vitamin D
Let us begin at the beginning. Not so long ago the NHS suggested everyone should consider vitamin D supplements. Vegan or not, it is hard for many people in the not-very-sunny UK to get enough vitamin D, especially during the long winter months. The human body can make this vitamin, vital for bone health and other bodily functions, from natural sunlight and this is the most efficient way for people to meet the required intake. Unless one eats a lot of fatty fish, beef liver or eggs, there is a strong chance they won't get optimum levels of vitamin D without exposure to sun.
Given the UK's relatively cold climate and lack of sun, the increasingly indoor lifestyle of many people and advice regarding protection against skin cancer, lots of people aren't getting as much vitamin D as they should.
Consequently, many food manufacturers have chosen to fortify their products with vitamin D, essentially adding synthetic nutrients to items, which wouldn't usually contain this and other vitamins and minerals.
Lanolin
The problem with fortifying products with vitamin D is that is usually uses vitamin D made from lanolin. Lanolin takes its name from the Latin words for wool (lana) and oil (oleum), so any Latin scholars would instantly be suspicious. However, many of us didn't know what this wax actually was until recently, let alone that it was used to produce vitamin D and most certainly not that it was added to cereals that were marketed as vegetarian and appeared to be vegan to most people.
Whilst it undergoes various processes to get from sheep to bowl, ultimately, the manufacture of lanolin starts with the fleece of an animal. From the wool, around 15% by weight of lanolin is produced and then irradiation and other methods are used to convert this into vitamin D3. There is some debate over whether wool is vegan or not but most vegans accept it as non-vegan and, moreover, most people, irrespective of their stance on plant-based diets, probably don't like the idea of sheep's wool grease in their breakfast cereal!
Vitamin D2 & Vitamin D3
Two is company and three is a crowd, so goes the old saying, whilst you won't need a maths degree to know that 1 is the difference between 2 and 3. When it comes to vitamin D though, things are more complicated and the difference between 2 and 3 can be the difference between a happy vegan and one who is not quite so chipper.
Vitamin D3 is usually made from, ultimately, sheep; vitamin D2, meanwhile, is made without any animal products and is, thus, vegan friendly. However, most cereals and other fortified products do not specify which they have used. Whilst Kellogg's and other producers are working within current laws, these laws clearly do not go far enough if it is almost impossible for someone to know what they are eating without directly contacting the manufacturer.
Honey
Aside from considering vitamin D and sheep's wool grease, there are some far more obvious ways in which your breakfast cereal might not be vegan. Honey is another thing to look out for though. As we discuss most people accept that honey isn't vegan and so, obviously, any cereals that contain it are out if you are adhering to or catering for a vegan diet.
Luckily, unlike with sheep's wool grease, cereal manufacturers tend to be very open and clear about when they are using honey, as they often use it as a selling point. Almost all breakfast cereals that include it tend to have "honey" in their name and even any that might not can be easily identified by a quick check of the ingredients.
Note that "honeyed" or "with honey" variations of cereals listed above as vegan will not be vegan. Aside from products with "honey" in the name, granola and oat-based cereals often contain honey. Lastly, products that are trying to market themselves as more natural and healthy are ones to check as often they will use honey rather than sugar or artificial sweeteners to sweeten the taste. Whether this is any healthier is open to debate but it certainly does the bees no favours.
Quick Reference: Breakfast Cereals by Brand
For now, the only options available to those seeking to avoid sheep's wool grease are to either only eat cereals that are marked as vegan or that carry the Vegan Trademark, or to contact the company that made the product and get them to confirm either way.
Alternatively, you can check our handy table. Please note, as ever, that this was correct at the time of publication and is subject to change.
| Cereal | Brand | Is It Vegan? |
| --- | --- | --- |
| Cornflakes | Kellogg's | No |
| Coco Pops | Kellogg's | No |
| Frosties | Kellogg's | No |
| Rice Krispies | Kellogg's | No |
| Fruit 'n Fibre | Kellogg's | Yes |
| Crunchy Nut | Kellogg's | No |
| All Bran | Kellogg's | Yes |
| Special K | Kellogg's | Yes |
| Shreddies | Nestle | Yes |
| Cheerios | Nestle | No |
| Shredded Wheat | Nestle | Yes |
| Weetabix (Original) | Weetabix | Yes |
| Country Crisp | Jordan's | Yes |
| Quaker Oats (Original) | Quaker Oats Company | Yes |
| Simply Delicious Muesli | Dorset Cereals | Yes |
In addition to the vegan options above, it's well worth noting that many supermarket own brand cereals are also vegan. That even includes versions of non-vegan cereals listed above, such as Cornflakes and Coco Pops. This is simply because the own brands may not be fortified with vitamin D in order to keep production costs down.
Obviously, from a vegan perspective, this is great but you should definitely check out vegan-friendly sources of vitamin D because it's all too easy to fall short of the RDI in the UK, especially in winter.
Best Vegan Friendly Milk for Breakfast Cereal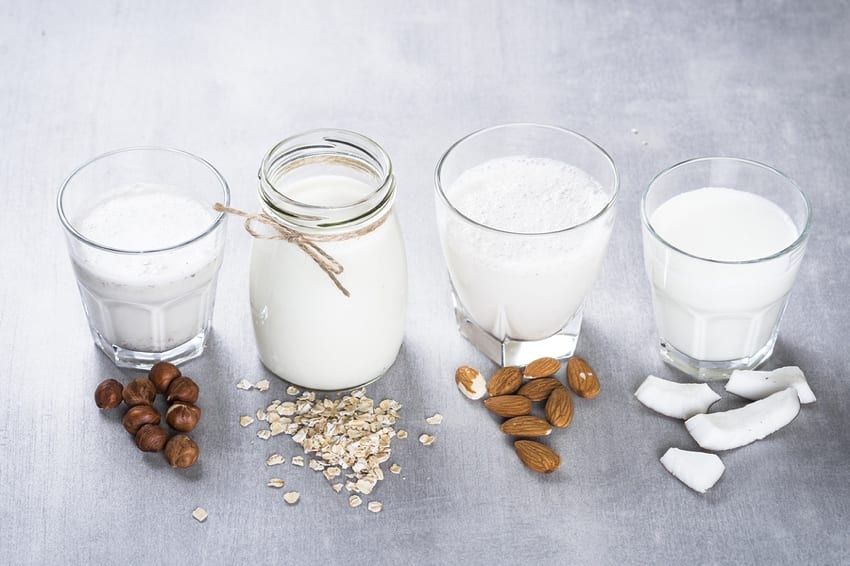 Of course, amidst all this talk of sheep and bees, we mustn't forget the cows! Most people that eat cereal probably put milk on it and for the vast majority of UK consumers that means cow's milk. No matter how careful you've been to avoid the wrong type of vitamin D or some rogue addition of honey, adding milk to your morning fast breaker is going to render it non-vegan.
Thankfully, plant-based milk is one area where vegans have lots of choices and, even better, these animal-free alternatives are readily available in all supermarkets. We have the full lowdown on vegan milk substitutes but below we summarise the major options.
Whilst these may seem a little thin at first for those accustomed to drinking dairy milk, especially if you used to drink full fat milk, you'll soon adapt to them. Many plant-based milk options are also fortified with the vegan-friendly vitamin D2, among other vitamins and minerals.
| Milk | Suitable for Breakfast Cereal? |
| --- | --- |
| Almond | Great option that lends nuttiness and isn't as thin as some options |
| Soy | Widely available, full of protein and works well, though is thinner than some alternatives |
| Oat | Works well with – would you believe it? – oat-based cereal options, and has good texture |
| Cashews | Similar to almond with a slightly different flavour |
| Coconut | Not the healthiest option and may be too sweet for some, whilst coconut flavour can be strong |
Always Check the Ingredients
As any vegan knows, strictly adhering to a plant-based diet is not easy but often manufacturers make things even harder than they should be. Much of the furore regarding breakfast cereals is down to the labelling of the various brands.
Many of the biggest and most popular cereals in the UK have been labelled as suitable for vegetarians for a long time. "Vegetarian" labelling can be very confusing because, especially where the product would usually be assumed not to contain any animal products, the consumer doesn't know if it is vegan friendly or simply vegetarian.
Many manufacturers have simply not kept up with the times. Veganism may have been around for a long time and has certainly been relatively mainstream for a number of years, but lots of companies that make food and household products are yet to appreciate the needs of vegans. Technically, if something is labelled as simply vegetarian, one ought to assume it is not vegan, but there are so many foodstuffs that are labelled this way and are actually vegan, as well.
This indeed has been the issue with a number of breakfast cereals. Kellogg's Cornflakes and Rice Krispies were among the major cereals to hit the news for containing lanolin-derived vitamin D. Both of these were marked as "suitable for vegetarians". With neither expressly stating they were non-vegan, nor having any ingredients that a lay person could reasonably have been expected to realise were animal based, it is unsurprising that many vegans had been eating them.
Moreover, other popular breakfast cereals, such as Nestle's Shredded Wheat, were labelled in an almost identical way. Shredded Wheat is vegan but only carried the vegetarian logo, making it almost impossible for the consumer to know quite where they stand.