Pasta is hugely popular and incredibly versatile. For many in the UK, Europe, the USA and beyond, it is a mainstay of their weekly diets. It is low in fat, high in complex carbohydrates and serves up a reasonable slug of protein and fibre too. What's not to love? Well, for vegans the answer, or rather the question, is obvious: Is Pasta Vegan?
"Is pasta vegan?" is a question that we get asked frequently by friends and relatives and one that Google most certainly gets asked on a regular basis. Some people use the words pasta and noodles interchangeably, but as we have a separate are noodles vegan? article, here we are looking specifically at Italian-style pasta.
For those who want a really quick answer to this question, as opposed to a full analysis of the issue, the answer is that some pasta is vegan and some isn't. As you can see at our main Is it Vegan? hub, we list pasta as "varies" and the reason is that much pasta contains egg. If it does contain eggs, it obviously isn't vegan; whilst on the whole, if it doesn't then it is vegan.
Buy Vegan Pasta Online
TheVeganKind offer a great range of vegan friendly pasta including spaghetti, macaroni, gnocchi and even lasagne sheets. Many gluten free pasta products are available as well (still vegan, of course).
What is Pasta?
We admit this might seem a rather simplistic starting point. However, by fully understanding what we mean by the term "pasta" we are better able to explain whether or not it's vegan. The origins of pasta are much disputed, with many claiming it is actually Chinese. That's another (or should we say a-noodle) debate, but John Dickie, in his book Delizia! A History of the Italians and their Food, claims that the first reference to pasta was in Sicily in 1154.
In its most basic form pasta is simply an unleavened dough made from water and durum wheat. Durum is a specific type of wheat and takes its name from the Latin word for hard. Durum wheat is a little higher in gluten than standard wheat but is just perfect for making pasta.
Pasta can come in many shapes and sizes, with around 300 different types of this Italian staple available. However, no matter whether you are eating little ears (orecchiette), little worms (vermicelli), or large butterflies (farfallone), in essence, you are eating just the two basic ingredients: water and wheat. So, pasta is definitely vegan, right?
Ingredients in Pasta to Avoid
Unfortunately, life is rarely simple and that is especially the case for those on a vegan diet or cooking for vegans. Whilst the vast majority of dried, packaged pasta is vegan, there is good cause to exercise a little caution when eating or buying pasta. If you are eating in a restaurant, buying fresh pasta or simply buying a brand of pasta you haven't had before, it's well worth checking the packaging or asking the chef.
Lots of other ingredients may be added to the dough mixture to create a different flavour, texture or appearance. Cheese is sometimes added but the potential addition that vegans most need to be aware of is egg. Eggs, either whole or just yolks, are frequently added to fresh pasta and, as such, this makes the dish not vegan.
Different pasta recipes may use a mix of oil and water, they may add salt, spinach or tomatoes may be introduced for their colour and flavour, and there are many other ingredients that are of no concern to vegans. However, as well as eggs, there are some frequent pasta additions that render the finished dough and dish non-vegan.
| Suspect Ingredient | Notes |
| --- | --- |
| Eggs | Usually found in fresh pasta |
| Cheese | Commonly served with pasta, but may also feature in the dough |
| Squid Ink | Squid ink is used to colour dough black |
| Milk | Milk in one form or another may be added to moisten the dough |
| Butter | As with cheese, this is more usually an accompaniment but can sometimes feature in processed pasta doughs |
Does Dried Pasta Contain Eggs?
As a general rule it is, as we have stated above, "usually" only fresh pasta that will utilise eggs. However, those serious about their vegan lifestyle should be aware that some dried pastas are not vegan-friendly.
Clearly the simplest way to ascertain if your favourite brand of dried pasta is vegan is to look for vegan certification on the packet or just check the ingredients. If you see egg, it's a no, but if all that is listed is wheat (and possibly water), you're good to go.
Vegan Pasta Dishes & Sauces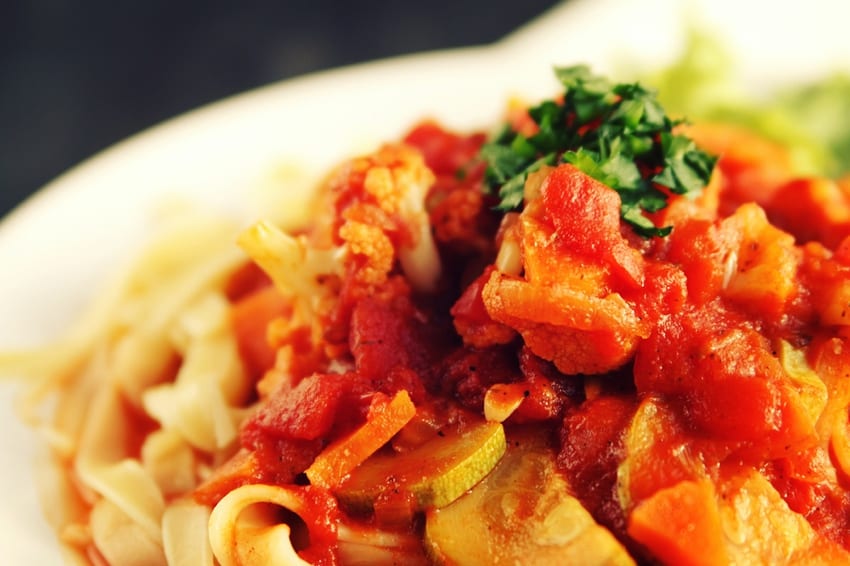 Of course, pasta isn't eaten by itself and checking if the main part of the meal is vegan without making sure the sauce is also plant based would be rather daft. As already alluded to, traditionally, pasta is very often partnered with cheese, butter or cream sauces, meat or seafood.
Non-vegans may delight in wild boar ragù, a crab linguine or other animal-based pasta dishes but, in truth, for many an Italian nonna, it is the pasta itself that is key. Moreover, Italian cuisine prides itself on using fresh, simple products and letting them shine with vegetables often thrust to the fore.
Southern Italian Dishes
Indeed, Italy's famed cucina povera rarely uses meat, or only in small quantities, because poor Italians, often in the south of the country, couldn't afford it. Whilst the wealthier northern Italians would use butter, cream and eggs more freely, in the south, tomatoes and other plants were key. Egg pasta was virtually unheard of in the south and so many southern Italian dishes are naturally great choices for vegans.
Ordering Vegan Pasta in a Restaurant
If you're eating out we would always recommend checking that a dish is vegan. Animal products, be it a nob of butter to finish a sauce, a few anchovies used to season a dish but barely noticeable otherwise, or, of course, eggs in pasta are often "sneaked in" to dishes. Just ask the waiter and if they show any hesitancy, request that they check with the manager or chef.
Popular Pasta Dishes Made Vegan
That said, here are a few of our favourite Italian pasta dishes that should already be vegan or which can be easily modified:
| Pasta Dish | Changes Needed |
| --- | --- |
| Spaghetti alla Puttanesca | This Neapolitan classic with the risqué etymology (prostitute's spaghetti!) sometimes features anchovies but we make ours simply with garlic, tomatoes, olives and capers. |
| Pesto | Our Is Pesto Vegan? article discusses the issues this dish would traditionally have with cheese but there are loads of ways round it and the dish remains packed with flavour. |
| Spaghetti Aglio, Olio e Peperoncino | One of the simplest pasta dishes around and all the better for it, including garlic, oil and chili pepper. No modifications needed here! |
| Ciceri e Tria | This tagliatelle-based dish with chickpeas is a real treat, with fried tagliatelle adding a fantastic crunch. |