In this hectic modern world, sometimes it pays to slow things down. There are loads of fantastic vegan meals that can be rustled up in next to no time (from a veg-packed stir fry to a quick vegan curry to your favourite vegan sandwiches). But if you want to really allow the flavours to come alive in your chosen dish, there are few better cooking methods than in a slow cooker. What's more, whilst this method of preparing food is slow and takes a long time, most of that time involves no effort from the cook. So, you can get back to your hectic modern world after all!
In this article, we'll first explain what a slow cooker is, then we'll give you some principles to follow when using one to cook your food and we'll even throw in a few vegan recipe ideas for when you next fancy getting the slow cooker out from the back of the cupboard.
What Is a Slow Cooker & What Is It Used For?
If you think a slow cooker is a chef who takes too long to prepare their dishes, you are barking up the wrong olive tree. A slow cooker is not connected to the slow food movement either, which is concerned with promoting local food, traditional cooking techniques and the sustainability of food production and consumption and the minimisation of waste.
Rather, a slow cooker – also known as a crock-pot in some circles – is an electrical cooking appliance that looks a bit like a high-tech cauldron (witches in Macbeth would have killed for one of these, back in the day… probably literally). It is essentially a large ovular (or sometimes round) vessel that heats up to temperatures that facilitate cooking at lower temperatures than are generally achieved in most conventional ovens or on the hob.
Slow cookers usually have several temperature settings, with a high of around 95 degrees Celsius, a medium of around 85 degrees and a low of around 70 degrees being fairly typical, though these can vary quite a lot between makes and models.
Low Cooking Temperatures
Given the relatively low cooking temperatures, it stands to reason that it will take more time for food to cook in a slow cooker… hence its name! Cooking times vary between recipes, but often slow cookers are set to cook for four hours or more, sometimes six, eight or even 12.
This can prove quite convenient if, for instance, you want to prepare your dinner while making breakfast and then leave it gently cooking while you go to work or go out for the day (note that leaving your slow cooker on whilst you go out can be a divisive issue. Most feel it is perfectly safe but others disagree). Once you've completed your day's work – or pleasure -, your dinner will be ready for you – you just need to dish it up.
Capacity
Slow cookers vary in size and are categorised according to their capacity. A relatively small slow cooker, often deemed a compact slow cooker, would typically have a capacity of between one and a half litres and three litres; a medium-sized slow cooker would tend to hold something between three and five litres; while a large model would usually hold more than five litres, often up to six and a half litres. They also have removable lids that make it easy to add the ingredients, stir the food or add further ingredients or seasoning while cooking, and to spoon or ladle out the finished dish.
Benefits
One of the benefits of the slow cooker, and for many fans its biggest plus, is that after the initial preparation – for instance cutting the veg – you really don't have to do much until the dish is ready to serve. Note that slow cookers tend to retain more liquid than conventional cooking methods so if you are adapting a recipe that is usually cooked, for example, on the hob, it's a good idea to reduce the amount of liquid it contains.
Drawbacks
One of the possible drawbacks of slow cookers is that the dishes they tend to produce could be viewed as fairly one-dimensional. It is very possible to produce dishes with complex flavour combinations and even textures but, generally, slow cooker dishes will be fairly samey and could be accused of being "stodge".
Of course, there's nothing wrong with that, per se, and this is desirable when it comes to stews, casseroles, soups and curries. There are some more versatile dishes that can be made (at least in part) using a slow cooker. But if you are seeking to produce highly refined, intricate cuisine, the slow cooker is probably not the kitchen tool you are seeking.
Vegan Slow Cooker Recipe Ideas
As with vegan soup recipes which we feature in another article on this site, when it comes to slow cooker recipes that are fine for vegans to consume, the options really are endless. There is a common perception that slow cookers are best utilised when cooking meat joints or meat-based casseroles to make the meat much more tender than when roasted or fried.
But one of the big benefits of cooking dishes over a long period is that the depth of flavour can be so much greater because the various ingredients have much longer to become imbued with the spices and herbs of any given recipe. Also, the natural flavours and sweetness of ingredients are more likely to come to the fore because high temperature-cooking can sometimes diminish these by altering or destroying the very compounds that hold the flavour.
We'll add details of specific vegan slow cooker recipes here in due course, but let's start by giving some general information about the types of dishes you should be able to cook in a slow cooker without too much bother.
What Can You Cook in a Slow Cooker?
Essentially, you can cook more or less any one-pot dishes with casseroles, stews, soups, chilli and curries being the go-to slow cooker options for most people. But, with a little effort and perhaps a bit of experimentation, there are numerous other things you can prepare using a slow cooker. There are loads of pasta dishes, for instance, that work well in a slow cooker. Baked potatoes (or sweet potatoes) can work well, and you can make your own bread in a slow cooker.
Curries
Essentially, you can use a slow cooker to cook any vegan-friendly curry you like. Whether you are choosing to do so for convenience or to help release the flavours of the ingredients, slow cookers really come into their own. Some curries are fairly straightforward when made in a slow cooker in that you can just add the ingredients, turn it on and wait till the appliance alerts you when the allotted time is up.
Others, such as the Easy Vegan Curry recipe we feature on our site, could benefit from some of the ingredients being fried or roasted before being added to the slow cooker. But then if you are doing that, some of the benefits of using a slow cooker in the first place are reduced.
The key to making a tasty vegan curry in a slow cooker is to use as many fresh herbs and spices as possible. For instance, the flavour that exudes from fresh coriander leaves and slices of fresh ginger in a slow cooker is noticeably more aromatic and potent than when using the powered equivalents. Note that herbs especially should only be added at the end of cooking.
Stews, Soups & Casseroles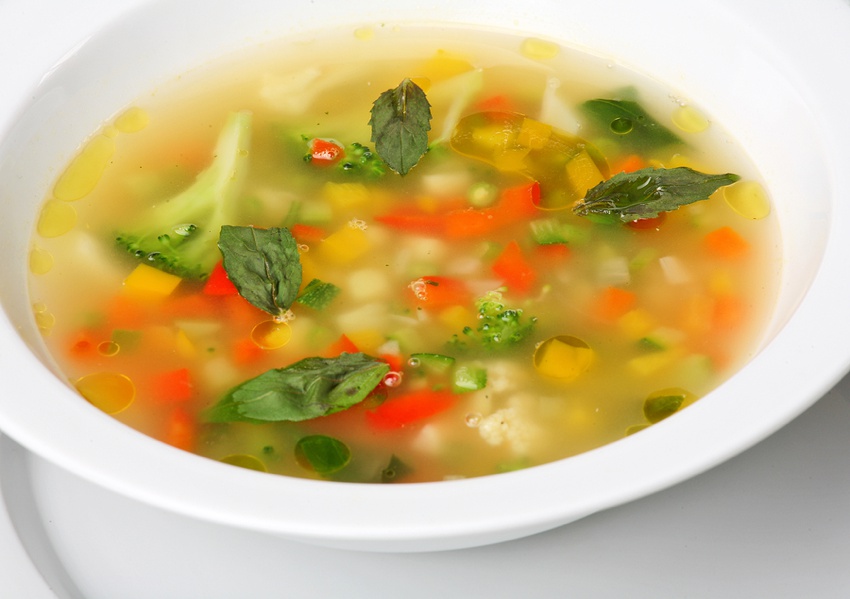 Slow cookers are the perfect one-pot cooking appliance, and stews, soups and casseroles are the perfect one-pot dishes, hence they go together like Starsky and Hutch or Hansel and Gretel or Laurel and Hardy or… anyway, you get the picture. And, when it comes to vegan soups, stews and casseroles, you have an almost infinite plant-based palette from which to paint your perfect dish.
Whether you want something relatively simple like a Mungo Bean Stew or a vitamin-rich Carrot Soup, or you'd prefer to rustle up something a little more elaborate like some kind of tagine, the choices are endless.
Tagine
If you fancy trying your hand at a tagine, the famous North African/Middle Eastern dish that features in the ninth-century literary classic One Thousand and One Nights, it's really very simple. You will just need onions, garlic, ginger and turmeric roots (or ground ginger and turmeric if not), ground cumin, fresh coriander leaves, dried apricots, raisins, dates, a tin of chickpeas, cauliflower, peppers, a cinnamon stick and some (vegan-friendly) vegetable stock.
The exact quantities of the various ingredients will vary based on how many you are cooking for or the size of your slow cooker, and indeed which flavours you prefer. But if making a decent-sized batch, you could aim for a pint/half a litre of stock, two onions, two or three garlic cloves, a handful of apricots and dates, half a handful of raisins, at least a teaspoon of each of the spices and one or two tins of chickpeas. You could always throw in some pre-blended spice combinations such as ras el hanout or harissa paste alongside some of the others to add even more depth to the flavours.
What to Add
Ultimately, when it comes to vegan stews and casseroles, you can very easily make up your own concoctions. Harder vegetables like butternut squash, pumpkin, turnips, sweet potatoes and celeriac are very good for soaking up flavours, with lentils, pulses and seeds adding nutrients, including fibre and protein, and bulk, whilst fresh herbs and spices add in the flavours that bring the dishes together.
Chilli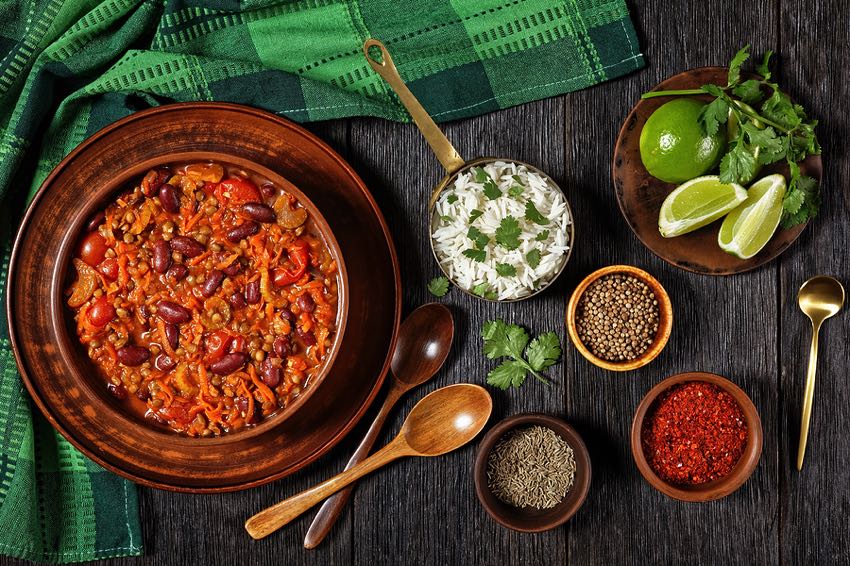 There are so many recipes for vegan chilli dotted around the internet that if you've been plant based for any time at all, you'll probably already have your favourite or have developed your own recipe. Nonetheless, vegan-friendly chilli is a brilliant, nutritious meal that is often lapped up by non-vegans as well.
For us, using at least two types of beans – usually kidney beans and one or both of black beans and adzuki beans – hits the spot, and though you can use your favourite vegan mince, most of which offer good doses of vegan protein, lentils are worth adding (as well or instead) to add further nutritional value and to bulk things out a little more.
As with many other slow cooker dishes, using a variety of spices and in your chilli is likely to bring out some wonderful flavours. Our favoured combination includes a teaspoon or two of the following: dried chillis, smoked paprika, paprika, cumin and harissa paste, or some combination of these.
Slow Cooker Vegetables
Sometimes simplicity is just what's in order and you can use your slow cooker to cook your veg in a way that retains a good chunk of the vitamins and minerals and, crucially, the natural flavours. If you are buying good quality, organic aubergines, for instance, you can make a simple but very tasty slow cooker dish. By combining two halved aubergines with a little oil, some garlic, some sea salt, ground pepper and perhaps some vine-ripened tomatoes, and cooking at a low temperature for around six hours, you have the base of a very tasty light meal to be served with couscous or other grain.
You can easily bake potatoes or sweet potatoes in the slow cooker too. Simple prick the potatoes a few times with a fork, rub with a little olive oil and perhaps sea salt, then either place on a piece of greaseproof paper or wrap in foil and cook at a low temperature for around six hours (depending on the size of the spuds).
You won't be able to use the slow cooker to produce decent roast potatoes (which require a higher cooking temperature) but you could "roast" other vegetables, such as cauliflower or broccoli, or even peppers (for instanc, when making stuffed peppers), in a slow cooker if you add a little oil. If using the slow cooker to cook "naked" vegetables, you could throw in a sprinkle of your favourite spices to enhance the flavour.
Batch Cooking
Because slow cookers tend to have large capacities, often five or six litres or even more, they lend themselves very well to cooking sizeable batches of food and then refrigerating or freezing portions to consume at a later date.
Cooking relatively large batches of a dish can work out well from an economic perspective (both in terms of meal planning and the amount of energy you need to use to cook your meals) and also allows you to chuck in any vegetables that might be nearing the end of their fridge life, so it also cuts down on food wastage too and hence is good for the environment. It also saves you a lot of that most precious of commodities: time.
Vegan Slow Cooker Recipes: Conclusions
Whether you want your curry to soak up the flavours of the spices you've added or you just want to pile everything in a pot and leave it cooking while you enjoy a day in the garden, the slow cooker could provide a very good solution. Although similar results can be obtained by cooking in an oven at low temperatures, the simplicity of a slow cooker appeals to many people, as does the fact there are far less risks involved in terms of leaving it on whilst you are not at home.
And, given the versatility afforded by using a slow cooker, it can become a fine option for a vast range of dishes as mentioned above, and indeed plenty more that you might come across or just invent yourself.