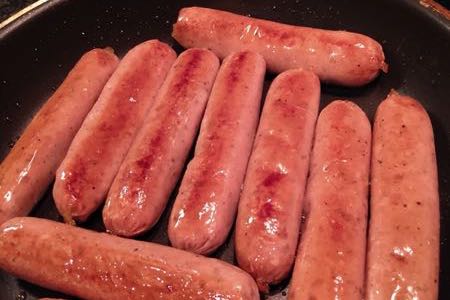 Whether you just want some simple plant-based sausage and mash, are looking for options for a vegan barbecue or you are planning which bangers to use for your "pigs" in blankets for your vegan Christmas dinner, there are numerous options when it comes to vegan sausages. But do any of them taste like traditional, meat sausages… or could some taste even better?
In this article, we'll highlight the most popular and tastiest vegan sausages currently available in the UK. This will include our pick for the Top 10 Vegan Sausages, as well as some of the others that are still worth trying. We'll explain what vegan sausages are (usually) made from and compare them to meat sausages in terms of taste, health/nutrition, including their merit as vegan sources of protein and their environmental impact. We'll also give the latest information about which vegan sausages are stocked at the main UK supermarkets.
We are focussing here on vegan sausages that are – on the whole – designed to look, cook and taste like real meat sausages. As such, we won't include any of the old-style vegetarian "sausages" that were basically mashed up vegetables that had been squashed into sausage shapes… they have long been usurped by a new generation of rather impressive vegan options.
Note: The information regarding ingredients for the vegan sausages featured is correct at the time of writing and may be subject to change. For the latest allergy information, please check the ingredients on the packet of the product in questions or contact the producer directly.
Top 10 Vegan Sausages
1. Linda McCartney's Vegetarian Sausages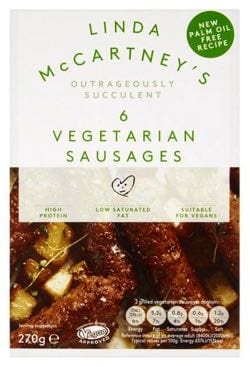 The ever-expanded vegan range from Linda McCartney includes a few different options, but their standard Vegetarian Sausages are top of the tree for us based on their versatility, healthiness and taste.
A great all-rounder with decent flavour and texture, they also work really well on barbecues. They are also very good to use in your favourite sausage casserole recipe in place of meat sausages. There are more authentic vegan sausages on the market, especially some of the more recent additions, but for us, these bangers are hard to beat. In less-than-extensive tests (with a sample size of two!) they are also the best received of all the vegan sausages amongst young children.
Made mainly from soy protein (70%), these sausages no longer contain palm oil after it was decided to replace it with rapeseed oil, which will please many who have environmental concerns. With 18.6g of protein per 100g, they are not far off the protein content of meat sausages, and they also have significantly more fibre (6.6g per 100g) and much less fat (6.2g per 100g). Ladies and gentleman, we have a winner!
2. Beyond Meat Beyond Sausages
Clearly Beyond Meat have put a lot of time, effort and cash into their products, and it shows. When it comes to effectively replicating meat sausages, these are very tough to beat. There are one or two drawbacks that keep them off top spot, however.
Firstly, and very significantly, is the price. At around £5.00 for a pack of two (albeit rather hefty) sausages, they are certainly a premium product. That price works out at a whopping £25.00 per kg, compared to around £8.15 per kg for Linda McCartney sausages, around £7.00 per kg for Heck, Naked Glory and Wicked options and around £6.00 per kg for some of the supermarket own-brand products.
The other issue is the fat content. With 15.8g per 100g of fat (6.6g of which is saturated), these are not too far behind real sausages. The flip side is that they contain a massive 21g of protein per 100g, and at least they pack in a bit of fibre (4g per 100g). If you can get these on offer (or you just fancy splashing out) they are well worth a try, and you can make your own judgement about whether the taste justifies the price tag.
3. Asda Plant Based Meat-Free Caramelised Red Onion Chipolata Sausages
One of the best meat-free chipolata replicas we've tried, and though you can't really taste the caramelised onion, the texture and flavour work well. They cook well, gaining a nice colour and they could work well as the "pig" in your vegan pigs in blankets.
The ingredients include white mushrooms to add some bulk, soya protein, red onions, sunflower oil (rather than palm oil), cinnamon and cloves. They are slightly higher in fat than some options here (13g per 100g), but the 7.2g of fibre per 100g is very welcome.
4. Meatless Farm Co.'s Plant-Based Sausages
Another mightily impressive meat-free sausage comes from the Meatless Farm. This company has only been in existence since 2016 but they have picked up plenty of fans for their plant-based meat alternatives (their vegan mince is well worth checking out too!).
When it comes to their plant-based sausages, you can be assured of a tasty banger that doesn't contain any nasties. They are based around pea protein, are gluten free, use shea oil, rapeseed oil and coconut oil instead of palm oil and have various natural flavourings, herbs and spices.
5. Heck the Beet Goes on Sausages
Of the various vegan sausages on the market from Heck, it is The Beet Goes On sausages that we enjoy the most and not just for the name! Made up of beetroot (47%), carrot (11%), pickled beetroot (6%), red onion, sunflower seeds and horseradish, among the other ingredients, there is plenty of plant-based goodness packed into these bangers.
They don't have as much protein as some others, but with 8.5g of fibre per 100g, and just 0.6g of saturated fat, they are one of the healthiest options around. And, they taste nice too, which is always a bonus! They have an added bite due to the inclusion of pieces of beetroot and they fry up nicely, gaining an authentic sausage-like colour to them.
Though Heck also make meat sausages, they have put a lot of time, thought and effort into creating a good range of vegan-friendly products. We wouldn't be too surprised if they focussed entirely on the plant-based side of their business in the years ahead!
6. Tesco Plant Chef Meat-Free Chipolatas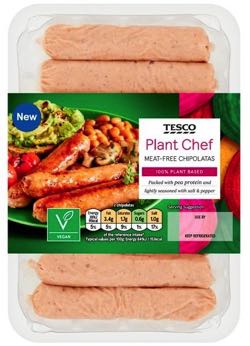 These Plant Chef Chipolatas from Tesco offer a decent, good value option which are less than half the price of some of the more premium vegan sausage options. The appearance and "skin" and the way they sizzle is very convincing for those seeking replicas of real sausages. There is perhaps a little work to do when it comes to the texture as they are little soft when one bits into them.
One slight concern for some might be the number of chemical-sounding ingredients (such as tetrasodium diphosphate). Also, the packaging suggests that for best results you cook them in the oven and then fry them, which could be viewed as a bit of a hassle. Still, they are relatively cheap, contain only around a third of the fat of most meat sausages and they also have decent quantities of protein (9.7g per 100g) and fibre (4.6g per 100g).
7. Wicked Chorizo Style Bangers
For those who want to buy their vegan bangers from a company that only makes plant-based food, Tesco's plant-based innovation Wicked Kitchen are a decent option. They also make all kinds of other vegan food from wraps, sandwiches and salad bowls to vegan alternatives to Pot Noodles, and even a very satisfying sticky toffee pudding!
Made from spiced up pea protein, herbs and a good helping of smoked paprika, these chorizo style bangers cook well under the grill or on the barbecue. While we are yet to find a perfect vegan replica for real chorizo that you might get in a tapas bar in Andalucía, these are not bad at all.
These vegan sausages combines pea protein with mushrooms, red peppers and tapioca starch, among other things, but also include palm oil (though it is RSPO certified). These are very low in fat with just 4g per 100g (1.7g saturates), with 11.5g of protein and 5.8g of fibre per 100g.
8. LikeMeat Smoked Sausages
German plant-based food producer, LikeMeat, have some great vegan-friendly meat alternative products, including the best vegan smoked sausages we've tried to date.
Made from pea protein, pea fibre, potato flakes and other ingredients, these are great imitations of traditional meat smoked sausages and they pack a decent 13g of vegan protein per 100g of sausage as well.
9. Naked Glory Meat Free Vegan Sausages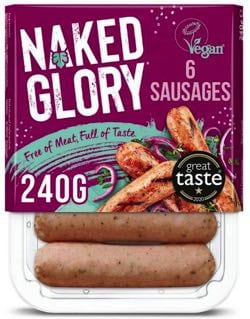 A plant-based offshoot of Irish food giant Kerry Foods, Naked Glory have produced a very good vegan sausage that stands up well to the vegan and non-vegan competition. We prefer the chilled option to the frozen as it seems to maintain a little more in the way of flavour. Due to the rehydrated textured soya they use, these sausages have a decidedly meaty texture to them too.
10. Richmond Meat Free Sausages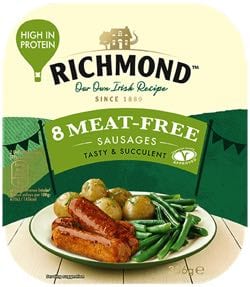 These Richmond Meat Free Sausages are popular with people seeking to replicate the taste/texture of cheap meat sausages and kids who are sometimes put off by the taste or appearance of vegan sausages. They are fairly similar to Richmond's meat sausages in terms of look and texture, and pre-vegan fans of Walls sausages might well appreciate these. They are not overly flavoursome, but if you are seeking a close replica for basic, real sausages, you could do worse than these.
As with Heck and a couple of others, some vegans may not be overly happy about buying vegan sausages from a producer that also makes meat sausages. This is a matter for your judgment, but with plenty of food producers who make only vegan products, many people choose to only give their cash to the more ethical companies out there.
Where to Buy Vegan Sausages
Here we'll give an overview of the main vegan sausage brands that are available at the major UK supermarkets at the time of writing. Note that products will come and go from the shelves of the different shops and that this is particularly the case at Aldi and other discount supermarkets who often have products available for a limited time only.
| Supermarket/Shop | Vegan Sausages/Brands |
| --- | --- |
| Tesco | One of the best ranges of vegan sausages available in the UK including those from Linda McCartney, Beyond Meat Beyond Sausage, Naked Glory, The Meatless Farm Co, Wicked Kitchen, Heck, Richmond, and their own Tesco Plant Chef Brand. |
| Sainsbury's | A similarly wide range of options for vegan sausage lovers, with vegan-friendly bangers from the following brands all present: Richmond, Heck, Naked Glory, Linda McCartney, Fry's, The Meatless Farm Co, Tofurky, Goodlife and the Sainsbury's own Plant Pioneers range. |
| Waitrose | Waitrose Vegan Mushroom & Leek Bangers, Waitrose Vegan Cocktails, and various other offerings from brands such as Linda McCartney, Heck and Naked Sausages Without the Oink. |
| TheVeganKind Supermarket | This excellent vegan retailer has loads of sausage options, some quite obscure or specialist, so check out their vegan sausages page for all the info. There are plenty of brands available including The Meatless Farm Co, VBites (various, including the strangely named Lincolm Mmshire Sausgs [sic]), Tofurky, VDogs, and Wheaty. |
| Greenbay | A good number of options here with The Meatless Farm Co, Wheaty, Meetlyke, Vegusto and other brands represented. |
| Asda | Brands on offer here for vegan sausages include Asda's own Plant Based brand, Linda McCartney, Richmond, Birdseye, Heck, and Gosh! |
| Morrisons | A good range of vegan sausage options including those from brands including Richmond, Naked Glory, Linda McCartney, and their own-brand V Taste. |
| Planet Organic | A good number of plant-based sausage options from brands such as The Meatless Farm Co, Wheaty, Tofurky, and Clearspot. |
| Aldi | Vegan Cocktail Sausages, occasionally others appear on the shelves so check your local branch |
Other Vegan Sausages
In this section, we'll look at some of the best-of-the-rest vegan sausages around at the moment. Note, that at the time of writing, Quorn do not produce any vegan-friendly sausages since they discontinued their Vegan Cumberland Sausages a while ago due to "levels of consumer demand", which is a bit of a disappointment. Their Quorn Best of British Sausages and Quorn Cocktail Sausages contain both egg whites and milk proteins and their standard Quorn Sausages contain egg whites. Come on Quorn, sort it out!
Here are some of the many other vegan sausages available to buy in the UK. Most of these are nice enough and no doubt some people will prefer some of these to ones that are mentioned in our Top 10.
| Vegan Sausage Brands | Flavour Notes |
| --- | --- |
| Linda McCartney Vegetarian Lincolnshire Sausages | A slightly spicier flavour than the Vegetarian Sausages, but basically the same textures and bite. |
| Linda McCartney Vegetarian Chorizo & Red Pepper Sausages | Not really resembling real chorizo, but these bangers are still worth trying for something slightly different from the standard offerings. |
| Linda McCartney Vegetarian Red Onion & Rosemary Sausages | Goes well with veg and gravy for a vegan roast dinner and packs plenty of flavour. |
| Wicked Little Brats | Great name and also great as party food additions, these pea protein-based sausages have hints of maple syrup and mustard. |
| Heck Meat-Free Vegan Sausages | As well as the standard vegan sausages, Heck offers Vegan Italia Sausages, Bollywood Bangers, Vegan Breakfast Sausages and Meat-Free Apple Chipolatas. Some are better than others, but they are worth picking up from your supermarket if you spot them. |
| Waitrose Vegan Mushroom & Leek Bangers | Earthy flavours and nice texture when grilled. |
| Waitrose Vegan Cocktails | A fairly unspectacular plant-based mini sausage that would suffice in place of a meat version at parties. |
| Morrisons V Taste Cumberland Sausages | Only narrowly missed out on the Top 10, these are chunky bangers that almost packed enough flavour to win us over. |
| Morrisons V Taste Chorizo Sausages | Not particularly chorizo-esque in all honesty, but not unpleasant by any means. |
| Sainsbury's Plant Pioneers Chorizo Shroomdogs | It seems that getting a passable chorizo-style vegan sausage is no easy task, but this effort from Sainsbury's spin-off brand Plant Pioneers isn't bad at all. |
| Birds Eye Green Cuisine Vegan Sausages | Not far off Linda McCartney sausages in terms of texture but they taste a little more manufactured to us. Available from most big supermarkets. |
| Asda Plant Based Meat-Free Chorizo Style Sausages | Not as good as the meat-free chipolatas, and not really too close to the flavour of meat chorizo, but some people seem to like them. |
| Asda Plant Based Meat-Free Cocktail Sausages | Not bad but not quite as good as the Tesco option. |
| Tofurky Original Sausage Beer Brats | Tofurky have a number of vegan sausage options that don't look too appetising and also don't really hit the spot (with us) taste-wise either. |
| Vegusto Farmhouse Sausages | A relatively good effort at imitating meat sausages. |
| VBite Lincolm Mmshire Sausgs (Lincolnshire Style Sausages) | Winning the award for the stupidest name in the world of vegan sausages, as a former resident of Lincolnshire, we couldn't bring ourselves to buy them, so let us know if they're any good! |
| Viana Organic Bratwurst Sausages | As plant-based bratwursts go, it could be worse, but lacks any kind of wow factor. |
| Clearspot Organic Smoked Tofu Sausages | If you like tofu, you'll probably like these, though if you are seeking an accurate representation of a meat sausage, this is best avoided. |
| Vdogs Currywurst Hot Dog Sausages | For fans of currywurst sausages, this could be about as close as you get… and you might be slightly disappointed. |
Vegan "Pigs" in Blankets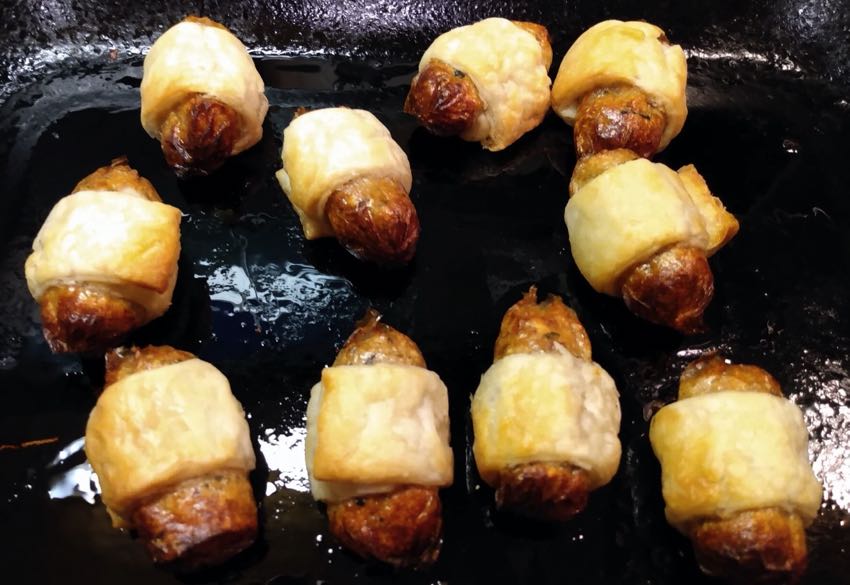 If you are vegan but still want to join in the festive fun at Christmas, perhaps getting hold of some vegan-friendly "pigs" in blankets could be just the thing. Unless you want to make your own completely from scratch, there are two options here:
Buy readymade "no-pigs" in blankets (see options below)
Combine your favourite vegan sausages with your preferred vegan bacon
If going for the first option, here are some of the "pigs" in blankets that are fine for vegans to consume.
Waitrose Vegan No Pigs in Blankets
Made from mushrooms (24%), pea flour, coconut milk, wheat flour and some maple syrup (among other things), we haven't tried these, but they don't look like they replicate meat pigs in blanket with any great accuracy. Could be worth a try if you are just looking for a slightly kooky-looking vegan trimming for your Christmas dinner.
Aldi Vegan Pigs in Blankets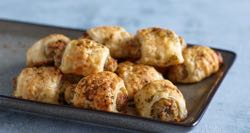 Aldi have been a bit cheeky here (or they don't understand what pigs in blankets are supposed to be) as they've basically called a product that looks suspiciously like vegan sausage rolls "Vegan Pigs in Blankets" ahead of Christmas. Make your own mind up, but for us, we'd rather go for something that at least makes an effort to resemble the real thing.
Tesco Plant Chef Pigless Blankets
Like Aldi, the Tesco version of vegan pigs in blankets is basically a vegan sausage roll. The sausage part cooks really well and had a good texture when bitten, but you might prefer opting for the Plant Chef Cocktail Bangers with your chosen vegan bacon rashers wrapped around instead.
What Are Vegan Sausages Made From?
As with other vegan-friendly meat alternative products such as burgers or bacon, the main bulk of most vegan sausages tends to be made up of one or more of the following:
Soya Protein
One of the main ingredients in many vegan sausages, it packs a decent protein punch and it is easy to flavour.
Wheat Gluten (Seitan)
Sometimes a little tougher and more rubbery than some of the other options, but can add a good texture when used well. Obviously not suitable for those seeking gluten-free options.
Potato Starch
Often used to bulk out vegan sausages without needing to add anything unnatural or too expensive.
Pea Protein
A preferred option of many of the newer vegan sausages, again it is easy to incorporate into recipes without introducing any strong flavours that might need masking.
Nuts/Seeds/Pulses
Occasionally added to vegan sausages to add bulk and/or nutrients and very occasionally the main ingredient of the sausage in question.
Vegetables
Some of the first vegan sausages available were simple squashed up bits of veg that were shaped into sausages and frozen. They often fell apart when cooked, but there are one or two options that work a little better these days (though we might classify them more as vegetable fingers than sausages).
Fungus
We're talking about things like mycoprotein (Quorn) here, and there are likely to be others developed as food producers look for new ways to tap into the vegan economy.
Other Ingredients
There are various other ingredients that pop up in most vegan sausages, including a vegan oil of some description (often palm oil, but sunflower, rapeseed, shea and coconut oil are also common). Then there are various stabilisers, flavourings, herbs and spices. As most plant-based sausages are marked as vegan there is no need to double check any of the ingredients, but if you encounter a sausage about which you are unsure because of something in particular, check the Is It Vegan? section of our site.
Note that there are many vegetarian sausages, such as those from Quorn, as mentioned, Cauldron and other companies that are not vegan. Often such companies do produce some vegan items but also others that are only suitable for vegetarians. Typically, this is because they use egg derivatives to combine and bind the mix, but other non-vegan items may also be listed among the ingredients too.
Do Vegan Sausages Taste Like Real Sausages?
In a word: sometimes. There are very few of the vegan sausages that taste exactly like meat sausages, but then meat sausages vary widely in terms of flavour, appearance, texture and how well they cook.
As mentioned above, some vegan sausages are better replicas than others, particularly when it comes to specific types of sausage. As such, here's our list of top alternatives by sausage type, if you are seeking as close a copy as possible.
| Sausage Type | Recommended Vegan Alternative |
| --- | --- |
| Standard Butcher's Sausages | Beyond Meat Beyond Sausages or Linda McCartney's |
| Chipolatas | Asda Plant Based Meat-Free Caramelised Red Onion Chipolata Sausages |
| Chorizo | Wicked Chorizo Style Bangers |
| Mini/Cocktail Sausage | Tesco Plant Chef Meat Free Cocktail Bangers |
| "Cheap" Sausages | Richmond Meat Free Sausages (here we mean the best replica for sausages that are quite highly processed – e.g. Walls – rather than butcher's style sausages). |
| Hot Dogs/Bratwurst | LikeMeat Smoked Sausages |
Obviously, all this is highly subjective and it is really a matter of trying a few different options and making up your own mind. It might also depend how long ago it was you tasted meat sausages. For long term vegans, the memory of animal flesh might have faded so much that it could be hard to really remember what a sausage "should" taste like. In which case, it's just a matter of which you like.
Vegan Sausages Vs Meat Sausages: Health & Nutrition
For a few years now there has been research evidence that suggests a very clear link between processed meat (including sausages) and cancer (in general and also specific types of cancer). This is a view that is backed up by various organisations, including the World Health Organisation and Cancer Research UK. So, just the very fact that vegan sausages, by definition, contain no processed meat should make them a healthier option than meat sausages.
Add to that the fact that plant-based sausages are almost exclusively lower in fats (including saturates) and higher in dietary fibre and also sometimes contain vegetables, there is little doubt that vegan sausages are the healthier option.
To illustrate this, we'll give you the nutritional details of a couple of popular meat sausages, and then show the info for a couple of our favourite plant-based options. This is meant as just a snapshot rather than a full analysis as the data will differ from product to product.
Example Nutritional Values of Sausages (Meat)
| Typical Values (Per 100g) | Tesco Finest Pork Sausages | Waitrose British Pork & Caramelised Red Onion Sausages |
| --- | --- | --- |
| Energy | 1303kJ / 314kcal | 1388kJ / 335kcal |
| Fat | 26.0g | 26.3g |
| Saturates | 9.6g | 8.9g |
| Carbohydrate | 1.5g | 7.3g |
| Sugars | 0.2g | 4.8g |
| Fibre | 0.2g | 1.1g |
| Protein | 18.5g | 16.6g |
| Salt | 1.1g | 1.1g |
Example Nutritional Values of Vegan Sausages
| Typical Values (Per 100g) | Linda McCartney Vegetarian Sausages | Heck The Beet Goes On Sausages |
| --- | --- | --- |
| Energy | 637kJ / 153kcal | 555kJ / 133kcal |
| Fat | 6.2g | 5.7g |
| Saturates | 0.9g | 0.6g |
| Carbohydrate | 2.3g | 12.0g |
| Sugars | 0.7g | 4.3g |
| Fibre | 6.6g | 8.5g |
| Protein | 18.6g | 4.1g |
| Salt | 1.4g | 1.5g |
Comparing the nutritional data from the sample meat sausages and those of the vegan sausages detailed above, we can broadly conclude the following:
Vegan sausages tend to contain fewer calories
Vegan sausages usually contain significantly more fibre
Meat sausages are generally significantly higher in fats, including saturates
Some vegan sausages contain comparable quantities of protein as meat sausages, though often meat sausages contain a little more than their plant-based rivals
Plant-based sausages tend to contain a little more in the way of carbs (usually sugars), though there are examples of higher carb levels in meat sausages
Vegan sausages may contain slightly more salt
Vegan Sausages Vs Meat Sausages: Environment
On the environmental front, there are strong arguments to suggest that in most cases the plant-based alternative will be far better for the environment than the meat version. This revolves around carbon emissions, water usages, land usage and waste. We go into a far bit of detail in our article on the environmental reasons for veganism, so check that out for more details.
Note that there are some controversies regarding some ingredients in many plant-based sausages (and products in general), notably palm oil. Again, we refer you to our dedicated article on the subject for more details.
Vegan Sausages Are a Healthy & Tasty Alternative
As we have seen there are many vegan sausages on the market and they come in all different colours, flavours and sizes (though all are at least vaguely sausage-shaped of course!). They also vary in terms of their cost. We have listed our favourites, but there are new products popping up all the time so we might well amend our Top 10 in due course.
For the moment though, if you are seeking a healthy and ethical alternative to meat sausages, we hope we have given you the information you need to pick the vegan sausages you fancy trying out. Whether you're planning a barbecue, a sausage casserole or a vegan fry up, there will be a vegan sausage that fits the bill.