For many vegans, especially those who are new to a plant-based lifestyle, there are various non-vegan foods that serve to tempt them back to the Dark Side. Such foods are generally those for which there are no amazing vegan-friendly alternatives.
And, for a good while, halloumi would certainly fit into this category. Thankfully though, there are now a few very good vegan alternatives to dairy halloumi, the details of which are given below.
What Is Halloumi?
Halloumi is a type of cheese that – because of its relatively high melting point – lends itself to being grilled or fried. It is commonly found on barbecues, sometimes as an alternative to meat and is a traditional food in Cyprus. Indeed, the name "halloumi" is a protected trademark in the UK, owned by the catchily titled Foundation for the Protection of the Traditional Cheese of Cyprus Named Halloumi.
Is Halloumi Vegan?
We have covered what halloumi is in more detail and the reasons it isn't vegan in another article entitled Is Halloumi Vegan?. The obvious reason conventional halloumi is not vegan is that it contains milk (usually from goats or sheep, sometimes from cows and often a combination of more than one of those) and milk is not vegan.
Aside from the milk, though, rennet is also used to curdle the milk used to make halloumi. Given that rennet is extracted from the stomachs of calves during the butchering process, the inclusion of rennet renders such cheese non-vegan (and also non-vegetarian).
Vegan-Friendly Halloumi
With some dairy products, there are loads of good vegan-friendly alternative (such as vegan yoghurts or vegan ice cream). But when it comes to halloumi, the options are rather more limited. This might be because the consistency and high melting point and "grillability" of conventional halloumi are hard things to replicate without the fats and proteins found in dairy milk. But that doesn't mean that at least some food companies are not trying their hand. So, if you are looking for some halloumi alternatives to put on your vegan barbecue, check out these options.
The main vegan halloumi substitutes available in the UK at the time of writing are:
We'll go into a little more detail about each of them to help you decide which to sample. Note that nutritional information and ingredient lists are correct at the time of writing and could change from time to time. Always check the label before purchase, especially if you have any allergies.
Violife Mediterranean Style Grill Me Cheese Block
Available from various outlets including TheVeganKind Supermarket, this is a well-liked vegan halloumi alternative. Violife are one of the few creators of vegan cheese who appear to get a generally positive response from those on a plant-based diet. Among their increasingly extensive range of vegan-friendly products, they have vegan cheese blocks, slices and even spread, and the halloumi alternative comes in a rather sturdy block.
With coconut oil, starch and water making up the bulk of the product, the inclusion of sea salt and olive extract shows they are attempting to replicate the saltiness of standard halloumi, which certainly appeals to plenty of their customers. It is also enriched with vitamin B12, which is not always easy for vegans top obtain.
| Typical Values | Per 100g |
| --- | --- |
| Energy kJ | 1088 |
| Energy kcal | 260 |
| Fat g | 15 |
| Saturates g | 14 |
| Carbohydrate g | 30 |
| Sugars g | 0.2 |
| Fibre g | – |
| Protein g | 1.2 |
| Salt g | 3.5 |
Ingredients – Water, coconut oil (15%), starch, modified starch, barley starch (gluten free), sea salt, organic ground sunflower kernel, acidity regulator: gluco delta lactone, natural flavourings, olive extract, colour b-caroten, vitamin B12
Green Vie Vegrill Vegan Halloumi
Rebranded from "Vegaloumi" to its present name of Vegrill, this halloumi alternative from Green Vie is one of the more authentic-looking options available, with a more textured, less uniform appearance than some. Like the Violife product, this is enriched with vitamin B12.
It also has some chicory root extract and spearmint (among other vegan flavours) to enhance the taste. There is also a little fava bean protein thrown in there for good measure. This is also available from TheVeganKind Supermarket.
| Typical Values | Per 100g |
| --- | --- |
| Energy kJ | 1169 |
| Energy kcal | 279 |
| Fat g | 17 |
| Saturates g | 15 |
| Carbohydrate g | 30 |
| Sugars g | 1.1 |
| Fibre g | 1.2 |
| Protein g | 2.9 |
| Salt g | 3 |
Ingredients – Water, Modified Starch (contains maize starch), Coconut Oil (Non-hydrogenated) (17%), Chicory Root Extract, Maltodextrine, Sea Salt, Faba Bean Protein, Sugar, Spearmint, Vegan Flavourings, Acidity Regulator: Glucono-Delta-Lactone, Olive Extract, Vitamin B12.
Tesco Free from Coconut Oil Alternative to Halloumi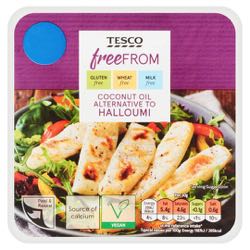 Tesco's own-brand vegan alternative to halloumi, like many vegan cheese products, has something of a Marmite effect: most people appear to either love it or hate it. It is made from a mixture of coconut oil, oat fibre, yeast extract, water and one or two other things. It's not exactly low in fat, but it is still lower than most dairy halloumi options.
| Typical Values | Per 100g |
| --- | --- |
| Energy kJ | 1187 |
| Energy kcal | 285 |
| Fat g | 18.1 |
| Saturates g | 15.2 |
| Carbohydrate g | 27.9 |
| Sugars g | 0.1 |
| Fibre g | 4.5 |
| Protein g | 0.4 |
| Salt g | 2.2 |
Ingredients – Water, Modified Potato Starch, Coconut Oil (17%), Oat Fibre, Salt, Yeast Extract, Tricalcium Citrate, Acidity Regulators (Lactic Acid), Flavourings, Mint, Spirit Vinegar.
Nutcrafter Vhalloumi Levantine Block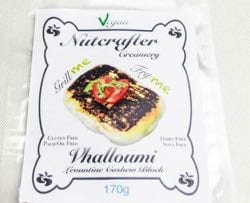 For those seeking a slightly more artisan product, this Vhalloumi Levantine Block from cashew cheesemaker Nutcrafter could fit the bill. Rather than relying on coconut oil, 50% of this "cheese" is made up of "organic raw and activated cashew nuts". It also includes live cultures and some pea protein and uses deionised water rather than standard tap water, which may make some difference to something. Or someone, somewhere! Either way, this is the option for those looking for something a little more gourmet than the other options.
At the time of writing, we do not have the nutritional figures for Vhalloumi, but we have contacted the producer and we'll update the details in due course.
Ingredients – Deionised water, organic raw and activated cashew nuts (50%), organic tapioca flour, organic pea protein, sea salt, vegan live bacteria. Stabilisers: Organic locust bean gum, Xanthan gum.
What Is Vegan Halloumi Made From?
As you can see from the lists of ingredients above, the main ingredients in vegan halloumi tend to be water (or deionised water!), some kind of starch and, in most cases, coconut oil to ensure the product cooks well and has the right fatty richness. The outlier is the Nutcrafter product that relies on the natural fats in cashew nuts to give it the right balance. They all have stabilisers or acidity regulators of some sort too.
Other Foods Vegans Miss
As we have seen, there are now at least a few vegan-friendly alternatives, but what's the picture like with other foods that seem quite hard to replicate without any animal ingredients? Not too long ago it was quite hard to get a decent vegan burger, but nowadays people following a plant-based diet are spoiled for choice on that front. There are an increasing number of excellent vegan alternatives for all kinds of food that former omnivores might miss, including the following:
Conclusions: Vegan Halloumi
Unlike some other products that are usually made from milk, such as ice cream, yoghurt and indeed milk itself, there are not loads of vegan alternatives to halloumi as things stand. The good news, however, is that the products that are available are decent enough. And though a halloumi aficionado is unlikely to be fooled in a blind taste test between dairy halloumi and a vegan alternative, many people who want a slab of grilled cheese will be satisfied with the above-mentioned options.