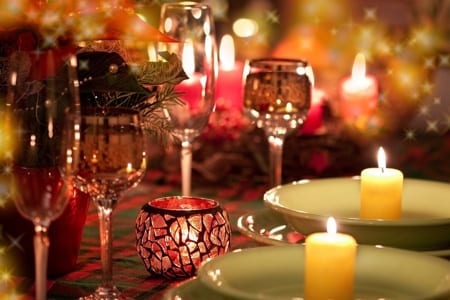 For many in the UK and around the world, Christmas is a time packed with excess: eating, drinking and general celebration make up the essence of the festivities for many people. If you have a vegan or two coming round for Christmas this year, you are following a plant-based diet yourself and hoping to have a 100% vegan Christmas, or simply want some inspiration to make a few changes to your regular Christmas menu, we've got everything you need right here.
As more and more people adopt a plant-based diet, be that for ethical reasons, concern about the environment or the health benefits of a vegan diet, the idea of what makes a good Christmas dinner has begun to change. We've also got a general guide to hosting a vegan Christmas, as well as links to loads of great recipes. So, Merry Christmas – let's celebrate to excess, eat, drink and be merry without the guilt and without any animals suffering!
Jump To: Drinks | Mains | Gravy | Potatoes | Stuffing | Sides | Starters | Desserts | Chocolate
Vegan Christmas Drinks
Drinking (alcohol) is apparently bad for your health, which is annoying because it can also be great fun and, given some of the events in the world, it also sometimes offers a welcome distraction from the many negative news stories we hear about. Anyway, always drink in moderation, blah, blah, blah… oh, come on, it's Christmas!
Spirits, Wine, Beer & Cider
We're starting here with drinks because, thankfully, this is one area where hosting a vegan Christmas should be quite easy. Also, lest this isn't yet clear, we like to raise the odd glass ourselves. If you're wondering why we need such a section at all, and had assumed that all or most drinks were vegan, then you need to read our features that answers the question whether spirits, wine, beer and cider and are vegan-friendly. But to sum it up for you here quickly – some alcoholic drinks are not vegan, for a range of reasons.
Some of those reasons are more obvious than others. Some drinks might clearly include honey, whilst others, for example, a certain festive Irish whiskey-based liqueur, are fairly open about the fact they include cream or other dairy products. Other drinks wear their non-vegan credentials in more opaque ways that usually relate to filtration or what is called fining in the industry. A whole range of animal nasties, from dried fish innards to milk, eggs or even blood are used to fine beers, ciders and wines.
Luckily, there are loads and loads of great vegan wines, beers and other drinks to choose from. Most spirits are vegan and there are even vegan versions of Baileys, including their own product, Baileys Almande, as well as other similar drinks.
There is no hard and fast rule when it comes to which alcoholic drinks are vegan and which are not. However, in general, modern craft beers and ciders tend to be vegan, as often these are unfined. Similarly, wines from newer producers are more likely to be vegan friendly, as are natural wines. With all these products, if they say they are unfiltered and unfined, they are probably vegan, although unless it clearly states as such, it is always best to check with the manufacturer or retailer.
Champagne
Now, when it comes to Christmas, there is one drink that is a must-have on the big day – and, ideally, on all 12 days of Christmas! A celebration calls for Champagne and luckily some of the best around are vegan friendly, including all the ones we list below (and many others):
Vegan Friendly Champagne
| Champagne | Notes |
| --- | --- |
| Krug | If you can afford it, take your pick: the whole range is vegan friendly |
| Dom Perignon | It's alright for some and again, all products are vegan |
| Moet & Chandon | Once again, all vegan |
| Laurent-Perrier | All vegan, including the popular rosé |
| Perrier-Jouët | Vegan apart from the Grand Brut (possibly, as there is some dispute!) |
| Veuve Clicquot | Another mainstream brand that is all vegan |
Indeed, most Champagne is vegan friendly, including those budget bottles produced for major supermarkets. There are exceptions though, with Bollinger and Champagne Billecart-Salmon among the more popular options that are not vegan friendly. Of course, as with all info on the site, this is correct at the time of writing and is subject to change.
Port
Another drink that many like at Christmas is Port, and whether you drink it by itself or with food, it must, of course, be vegan. We love port at Christmas because it pairs really well with spices and orange flavours, both of which are common in festive desserts, including, of course, mince pies and Christmas pudding.
When it comes to Port, the usual rules apply. Some ports are vegan and some are not and you are best checking with the maker. A little confusingly, some of the major brands we are familiar with in the UK, such as Graham's, Warre's and Taylor's, offer some vegan ports and some that are not vegan, so it definitely pays to be cautious.
Soft Drinks
If, like us, you like to start the festivities early on Christmas Day, you'll want some orange juice to go with the Champers to begin the day with an in-bed Buck's Fizz. Having selected your vegan Christmas Champagne, don't let the side down with the OJ.
Beware Store Bought OJ
Freshly squeezed is the way to go if you're really pushing the boat out, but if your butler/partner isn't up to that then make sure you get juice that doesn't contain animal products. You might be wondering if we're mad and that surely squashed oranges have to be vegan friendly. But some orange juice is fortified with vitamin D produced using "sheep grease" and we've even heard of some that have fish oil added!
Avoid Bright Red Drinks
Speaking of strange things, apparently there are some people who might want to drink soft drinks without alcohol! Anyway, whilst many soft drinks are vegan friendly, once again, if you're doing vegan Christmas, you might as well do it properly. Look out for bright red drinks, that may contain cochineal insects, fortified beverages and filtered drinks (such as apple juice) that may have used animal fining agents.
Grab a Vegan Energy Drink
If you're flagging as the evening wears on (though at least you'll have avoided the sleep-inducing tryptophan hit of turkey that will be downing most of the rest of the country), then fear not. You can probably grab a vegan energy drink. If you aren't scared of the massive sugar load, dodgy E numbers and strange additives, at least you can rest easy, assured that the taurine is almost certainly vegan.
Vegan Christmas Mains: Best Turkey Substitutes
You and your guests are now well lubricated on a fine array of vegan beverages but what about Christmas dinner? What is the best vegan turkey substitute to serve as the centre piece for your main meal on Christmas day?
Well, if you are cooking for people who are used to a roast meat of some sort, the truth is that they may feel whatever you pull out of your vegan bag of tricks falls a little way short of the mark. There are some vegan roast substitutes and these don't actually do a bad job for a casual Sunday dinner. Quorn's vegan fillets or seitan can be used to decent effect but they won't pass muster at Christmas in our eyes.
You'll have to simply wow your normally meat-eating guests with the taste, colour and visual appearance of your vegan Christmas show-stopper. It won't be a turkey or ham and it won't be much like a roast dinner but it will be delicious and it will look more spectacular than a carcass.
Nut Roast
There are loads of options to choose from and some variation on a nut roast is probably a good place to start. It might sound like a bit of a vegan or vegetarian cliché but done well it packs in so much flavour and it is relatively easy too. It isn't as visually appealing as some of our other options but is definitely a very doable option for a less confident chef.
Once you get to grips with a basic recipe you can alter it to your own tastes. Using different nuts adds a range of nutrients, whilst using classic Christmas flavours like cranberry, chestnuts, raisins, sage and cinnamon will make the dish feel more festive and familiar.
Pastry Based Pies, Tarts & Wellingtons
Another great option that also has the added benefit of familiarity is a pie. Obviously, you'll need to use a vegan pastry but then, once again, you can be really creative with the fillings. Staples, such as squash, beetroot, celeriac, carrots, chard and lentils make great fillings.
Other pastry-based options include some form of Wellington, a tart or, one of our favourites, a shaped wreath, packed with nuts, veg and tofu. Whatever you chose to serve, presentation is one way you can score easy bonus points and get any sceptics onside from the first glance.
Using large amounts of rosemary, sage or other herbs to garnish your serving platter adds colour and vibrancy. Cranberries are like bright red jewels whilst a few slices of orange, lime and lemon also lift the plate. Check out five of our favourite vegan Christmas dinners below, along with links to the recipes so you make them for yourself and really show your guests just how impressive vegan cooking can be.
Vegan Christmas Side Dishes
Okay, so you've got your guest-pleasing centrepiece but now you need the 23 different types of veg, four potato variants and 17 sauces and sides that make Christmas, Christmas. Or, was it just our family that went way, way overboard with the veggies?
We won't actually go over the top with the vegetable dishes as the vast majority of these are "naturally" vegan. You probably have a range of vegan-friendly favourites, whilst most side dishes and veg in the millions of celebrity cookbooks are also already suitable for those on a plant-based diet.
However, what we will do in more detail is look at some of the most common Christmas accompaniments that might need a slight tweak to be at home on a vegan Christmas table. One huge hunk of dead flesh isn't enough for many a Christmas chef but we have some great vegan alternatives that should keep even the meatiest of eaters more than happy.
Vegan Christmas Gravy
There are many vegan gravies available in supermarkets and specialist vegan and health food shops. At the top end, you can buy freshly made refrigerated products that will pack in bags of flavour. If you want a cheaper alternative, there are a whole assortment of other options, such as granules, and these can be pimped up a bit so your guests will probably be begging for the recipe for your secret homemade vegan gravy (that said, this isn't a competition, so why not just tell people you went for a pre-made option so you could spend more time looking after them?).
Adding a little vegan wine to your gravy granule mix is one option, whilst we would also recommend using some of the water from any veg you choose to steam instead of just tap water. Frying some onions, mushrooms and garlic is a great way to start your mix too. You can then add the granules to this before adding your vegetable water and wine and whatever fresh herbs you like.
If you're happy with a chunky gravy, then serve as is, or, just pass through a sieve to remove the onions and mushrooms (celery, carrots and celeriac are other good options that lend a nice depth of flavour). Depending which main you opt to make for your centrepiece there may also be some juices created from that and these should also be added to the sauce for that final extra kick of deliciousness.
If you do decide you want to make your gravy from scratch, then you can still make things easy for yourself by making this a day or two in advance. It will keep fine in the fridge and can then just be heated up on the day, either in a pan or using a microwave. What's more, a day or so in the fridge actually enhances the flavour as it develops nicely and becomes more intense. If you opt for this route, once again, add any extra bit of flavour created on the day, such as water from steaming or boiling or any juices and unctuous sticky bits.
Best Vegan Gravy Recipe
The recipe below makes around 800ml of delicious vegan gravy. Depending on how much your guests are "gravy people", between 50ml and 125ml per person of gravy should be enough, so this is a good amount for around eight people we would say but you can easily scale the recipe up.
As with most of the recipes we offer, this gravy is an art, not a science, so feel free to make changes here and there to adapt it to your taste and don't worry if you don't have the exact ingredients or quantities.
Ingredients
One red onion & one yellow onion
Three medium carrots
One large stick of celery
125g mushrooms (a mix is great but any will do)
One teaspoon each of fresh thyme, rosemary and sage (or dried to taste)
200ml red wine
50ml port
One litre of vegan stock
One tablespoon of cranberry or blackcurrant jam
One teaspoon of yeast extract
Two teaspoons of tomato puree
Two tablespoons of flour
Salt & pepper
Method
Roughly chop the vegetables and fry over a low to medium heat in a little oil (rapeseed or olive are great).
Cook slowly (patience is a virtue and will lead to the richest flavour!) until starting to turn golden, stirring frequently.
Add the herbs, a good twist of salt and pepper, the jam and port and cook for around five minutes.
Add the flour and stir to make sure there are no lumps, then add the yeast extract and tomato puree, stirring as you do.
Slowly add the wine and continue to stir.
Increase the heat slightly and cook for five minutes.
Add the stock and increase the heat to bring to a boil.
Simmer over a lower heat to reduce and thicken for around 10 minutes.
Sieve the gravy into another pan pushing through the juices (and flavour) with a large spoon.
Taste and add more salt or pepper if needed.
Vegan Roast Potatoes
So, we have booze, we have our showstopper and we have the gravy. Now we need some spuds! It is slightly strange that most omnivores manage 364 days of the year without turkey and without goose fat. But come the 25th December, the supermarkets have dedicated sections of aisles for goose fat. The thing is, whether you are vegan or non-vegan, goose fat potatoes are quite frankly overrated.
We've tried various different fats over the years, including non-vegan options in the past, and we don't think it makes a huge difference which one you pick. There are slight variations in flavour and crunch but the type of potato you use and the technique are what make all the difference to us. That means that making vegan roast potatoes is really simple – just use a vegan cooking oil.
Differently people like different roast potatoes and there are already a million and one, possibly a million and two, recipes out there. We won't make that 1,000,003 but here are our general tips that you can work into your favourite roast potato recipe.
Top Tips for Making the Perfect Vegan Roast Potatoes
Use Maris Piper or King Edward potatoes
Use groundnut oil, or a mix of rapeseed oil and olive oil
Make sure the potatoes are dry, cold and fluffed up before roasting
Get the oil hot first
Season before, during and after cooking
Do not crowd the roasting dish
Turn after two thirds of total cooking time
Vegan Christmas Stuffing
Depending which amazing Christmas main you opt for, stuffing might not really be necessary or appropriate. None the less, some guests – or chefs – might want to have stuffing to keep their vegan Christmas dinner as traditional as possible.
Many stuffing recipes do not include meat or animal products, despite not being expressly vegan, so again, this isn't a particularly tricky area for a Christmas host. Whilst lots of traditional Christmas stuffing recipes might include sausage meat, bacon, butter, eggs or other non-vegan items, it is really easy to find a super-tasty vegan stuffing that will have a similar texture and consistency, plus lots and lots of flavour, without any of the animal products. Here are three of our favourites:
Herby wild rice & pine nut stuffing with cranberries
Mushroom & hazelnut stuffing
Lentil & pistachio balls
No Pigs Died in Blankets
One of the traditional turkey accompaniments that lends flavour and moisture to the standard main event is pigs in blankets. Obviously, vegans think pigs should be in sun-dappled forests foraging for acorns, or at the very least in fields, not wrapped in blankets made of their brothers and sisters (in case you don't know, pigs in blankets are small sausages wrapped in bacon).
However, if you are a former non-vegan, or you are catering to either omnivores or other recent converts, a vegan take on this festive dish might go down very well and once again make non-vegans feel a little more at home gastronomically.
Vegan Sausages
There are loads of great vegan sausages available, including smaller cocktail style options, as well as ways of making your own versions from scratch. Vegan bacon, however, is not quite as widely available, nor is it likely to hit the spot for too many lovers of the meaty version. You can also make vegan bacon yourself but when it comes to vegan pigs in blankets (we don't really like that name/description but "no pigs died in blankets" is a bit wordy) it might be better to go for something that isn't trying to be a direct replica.
Over the past few years lots of the major UK supermarkets have brought out vegan versions of this dish. If you want to keep things nice and easy, simply buying one of these will, once again, save you time to focus either on your lavish main or on your guests.
Alternative Ideas
Alternatively, using vegan pastry, sundried tomatoes, or thin slices of veg, such as aubergine or courgette, to wrap your vegan sausages might be the best bet. Make sure your "blanket" is really well seasoned with salt as it is this saltiness that is part of the appeal of the traditional version of this Christmas classic.
Sprouts & Seeds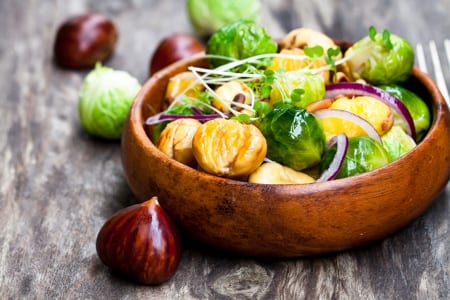 We think there are far tastier things to do with the underrated and unloved Brussel sprout but for many people the classic combination on Christmas Day is a bit of bacon or pancetta. Well, luckily we've got a great variation on this that we think is far tastier. More importantly, we know it is infinitely more vegan friendly and it's also healthier too, skipping the processed meat.
As with pigs in blankets, it is the saltiness of the bacon that helps make this dish, whilst those that like crispy bacon will also be looking for some crunch. Well, forget the bacon and just prepare your sprouts as you would normally. We roast them actually, but you can steam them (reserve that water for your gravy!) or you can boil them if you prefer.
Whilst the sprouts are cooking, dry roast some sunflower and pumpkin seeds in a frying pan until they are just starting to turn golden. Remove from the heat and add a dash of soy sauce or tamari. It will sizzle and evaporate quickly but not before imbuing the seeds with a delicious salty, umami flavour. As they cool, they will crisp up and once they are nice and crunchy just top your sprouts and away you go. Trust us, these are delicious!
Veg to Thrill
We won't go into too much detail with regards to more typical vegetable Christmas accompaniments as most of these are already vegan anyway. But it's worth pointing out that if you want to opt for simple, steamed veg, this is another way you can make things easier for yourself. Your guests are going to be so wowed by your vegan showpiece, the rich gravy and the crunchy spuds (and your vegan wines!) that they won't be too upset if you don't bring them carrots from Heston Blumenthal's school of cooking that have been through 12 stages of cooking of four weeks apiece.
But, if you do want to push the boat out then check out our favourite vegan Christmas veg dishes below:
Maple-glazed carrots
Roast parsnips with "parmesan"
As you can see from the dishes above, when it comes to luxurious vegetable dishes, sometimes a vegan substitute is needed. Many dishes use honey as a glaze but this really isn't a problem as maple syrup and agave are excellent stand-ins, albeit with different flavours.
Cheese is another item that people often use to pimp up veg. The vegan nutritionist in us doesn't normally approve of this unhealthy hijacking of what should be a hugely healthy food but at Christmas it is not just allowed, it is positively encouraged. Cheese isn't, of course, but that's where our great vegan parmesan comes in whilst other vegan cheese substitutes work well in other dishes.
Vegan Christmas Starters
To be perfectly honest, we don't usually serve starters at Christmas. Do your guests really need more food when a whole afternoon of vegan gastronomic goodies awaits? Everyone is going to be so full anyway that starters can often detract from the main event. That said, if you have promised friends and relatives a three (or more!) course vegan Christmas banquet, you won't be short of options when it comes to vegan first courses.
We would suggest the starter should be light, fresh and unfussy. You'll be wowing the crowd later with the main so keep things simple for yourself early on and you'll have more time and energy when it's most needed. In many ways, what you serve for your first course can be something you might have yourself for lunch or a light evening meal. A little extra effort with the presentation could turn one of your personal go-to dishes into a perfect starter. However, if you want a little veg-inspiration, how about the following?
Roast pepper bruschetta
Roast tomato soup
Vegan Christmas Puddings, Mince Pies & Desserts
When it comes to some sweet treats, we again come back to two recurring themes. You might not need quite so much in the way of desserts as you think because most people are going to be stuffed from the opulent and delicious vegan feast that has come before. That said, after a few hours have passed and perhaps a following a little lie down, most guests usually find a little more space and fancy something sweet later in the day.
So, assuming you are going to have at least a few pudding options, that brings us to our second point (again, made previously): desserts, mince pies and Christmas puddings are areas where you can definitely keep things simple.
We don't want to put people off making everything themselves. For those with the time, skill and inclination this is the best way to ensure everything is 100% vegan. It also allows you full control over the quality of the ingredients, allows you to ensure no strange additives are used and often produces the best results.
Vegan Mince Pies
However, with so much to do at Christmas, making things simple for yourself in certain areas is not cheating, it's just common sense. For further information, check out our in depth article on Vegan Mince Pies.
Ready Made Vegan Versions
Mary Berry and Nigella Lawson might make mince pies but the vast majority of the nation buy theirs. There are loads of great readymade vegan mince pies available nowadays, with all the major UK supermarkets producing them, as well as some smaller bakers too.
Is "Mince Meat" Vegan?
If you do decide to make your own it's actually pretty simple though because it is just the pastry that you need to alter. Mincemeat confuses many children (or was that just us?) but, of course, the main ingredient in a Christmas mince pie is a mixture of fruits and spices. The mincemeat did, in fact, used to be animal meat, often mutton, back in the 1600s, and even earlier, with such recipes thought to date back to the 13th century.
Vegan Pastry is Key
It always contained fruit and spices and over time the savoury pie turned sweet and lost the meat. So, if you opt to make your own vegan mince pies, you can essentially use any recipe you like but just substitute the pastry for a suitable vegan pastry.
Mince pies generally use a butter-based shortcrust pastry so you will want to use a vegan shortcrust recipe. Many use coconut oil to replace the butter, with some sugar and perhaps a little non-dairy milk. Others use vegetable suet, which in most recipes is a good like-for-like vegan substitute for beef suet. Often a traditional, non-vegan mince pie also has an egg glaze but you can either skip this entirely or otherwise create a glaze using a little non-dairy milk and a vegan honey substitute, such as maple syrup or agave.
Vegan Christmas Pudding
In our experience, Christmas pudding isn't a big crowd pleaser anyway, so frankly we'd skip it and serve something more exciting. However, if annoying Uncle George is insisting he'll come to your wacky vegan Christmas but only if you have his favourite Christmas pudding on the menu, making a vegan one isn't actually too tricky. The easier option is to tell annoying Uncle Geroge to go elsewhere, of course, but he's not too bad really once you get past the outré jokes and obsession with 1980s nostalgia.
Ready Made Christmas Puddings
The other easy option is to buy a readymade Christmas pudding and, yet again, there are plenty of vegan Christmas puddings available from the main supermarkets that will do the job nicely enough.
However, if you do want to make your own, here's our favourite recipe. This will make a smallish pudding suitable for six (or four hungry uncles):
Vegan Christmas Pudding Recipe
Ingredients
Again, this recipe is quite flexible, so feel free to alter the fruits, spices and alcohol, both in terms of the quantities and what flavours you use. If you want to make this without alcohol, just use water or vegan-friendly milk instead.
80g plain flour
75g light muscovado sugar
45g breadcrumbs
100g vegan suet
400g mixed dried fruit (a combination of raisins, currants, sultanas, cherries, cranberries and mixed peel)
100g Bramley apple
50g dates
Zest & juice of one medium orange
Zest & juice of half a lemon & half a lime
85ml brandy
One heaped tablespoon of orange marmalade
Half a teaspoon of baking powder
Half a teaspoon of salt
One teaspoon of mixed spice & one of cinnamon
Method
This is a really simple recipe so is a good one to get kids involved with. Also, whilst we aren't averse to buying a Christmas pudding (because we aren't big fans), if Christmas pudding is one of your favourites, this is so easy that it probably makes sense to make it yourself so you can get the flavours exactly how you like them. You can make it in advance as it will keep for well over a week.
Add the brandy (or other liquid) and citrus juice to the dried fruit and allow to stand for an hour.
Beat together the suet and sugar.
Sieve the flour, salt, baking powder and spices into the mixture and fold into the suet mix.
Add the fruit (and liquid), marmalade, grated apple, zest and breadcrumbs and gently mix together.
Pour the mixture into a well-greased two-pint pudding basin – there should be about two to three centimetres of space for the pudding to rise into.
Cover with baking parchment and silver foil and then tie this securely in place with some string.
Place in a large pan with boiling water about halfway up the pudding.
Simmer gently for six hours, topping up the water as and when needed.
If you do decide to make this in advance, which is highly recommended so you have more time on the big day, just gently steam it to warm it up. Alternatively, you can microwave it and either way it is great with vegan ice cream, some vegan whipped cream or our delicious vegan brandy butter.
Vegan Brandy Butter
This is great with mince pies too and really easy to make, as well as being another part of Christmas that will keep traditionalists more than happy. This is best made a couple of days in advance and will keep fine for a week or more in the fridge.
Of course, you can make your own vegan butter if you want but with the punchy flavour of the brandy and the sugar, we find that any good quality shop-bought vegan spread works well.
Vegan Brandy Butter Recipe
Just beat together 100g of your chose vegan-friendly butter alternative with 50g of icing sugar and 35g of light muscovado sugar. Once the mixture is fluffy, combine as much or as little brandy as you like. Three tablespoons works for us but taste as you go until it's just right.
Alternative Vegan Christmas Dessert Ideas
Now we've got the traditional staples out of the way, how about some alternative options for those who aren't keen on dried fruit? Obviously, there are hundreds of amazing desserts to choose from for the average Christmas host. But many of those will contain butter, eggs, cream or other non-vegan items. There are some desserts that are naturally vegan though, whilst lots and lots of other popular crowd pleasers can be made in vegan ways.
Sorbet
One option that falls into the first category is sorbet. Of course, sorbet isn't going to have the grandkids jumping for joy and people probably aren't going to drunkenly regale their friends with tales of your historic lemon sorbet. But sorbet is the perfect Christmas dessert in three other ways. Firstly, of course, it can be made in advance and thus is really convenient. Secondly, and relatedly, it is very easy to make. Last of all, it is perfect for when you're full and just want something light, refreshing and sweet.
Vegan Chocolate Cake
A second more obvious choice is a vegan chocolate cake. No matter how full people are, the words "chocolate" and "cake" usually result in some variation of "oh, I might be able to force a little bit down".
We've got a few more great options below, with a mix of naturally vegan desserts and ones that are adapted, as well as a mix of simple recipes and more complex ones. There is something for everyone, with fruity, light desserts, rich and indulgent ones and even something in the middle.
Other Dessert Recipes
Lemon sorbet
Vegan chocolate cake
Vegan chocolate mousse
Poached plums
Vegan apple pie
Vegan Christmas Chocolates
One option you can serve at the end of the meal or even a little later with tea and coffee is, of course, chocolate. Either as petit fours or even a small dessert in themselves, chocolate is the perfect fit with Christmas and there are so many amazing vegan chocolates available (or you could make your own).
Luxury brands, such as Hotel Chocolat, have dedicated vegan lines that are delicious, whilst their dark chocolate batons are naturally vegan and have an incredibly deep and complex flavour, as well as an incredible mouthfeel.
There are loads of amazing vegan chocolates around, even some white and "milk" ones for those that prefer their cocoa hit a little sweeter and/or creamier.
Strawberry & Raspberry Chocolate Mess
One brilliant way to serve some good quality vegan dark chocolate is our strawberry and raspberry chocolate mess. This is our own creation and is a cracking vegan dessert that is simple to make, tastes amazing and looks awful! It isn't a form of Eton mess, we've decided to call it a mess because, frankly, it doesn't look the prettiest. You can give it a little dusting of icing to improve things, or try and quenelle the mixture into regular shapes but we prefer to embrace the asymmetrical, irregular chocolatey goo instead!
Ingredients
You can use any berries you want really but for us strawberries and raspberries work best. You can either mix them together or use them separately to create two different flavours but we actually prefer to do a little of all three: strawberry, raspberry and mixed. You can use fresh or frozen berries for this one, just make sure as much juice as possible is drained off if you opt for frozen.
When it comes to the chocolate, much depends on your personal taste. The sweetness of the berries means you might want to go a little darker than normal but for us, around 60% cocoa solids is spot on. In terms of quality, you don't need the best dark chocolate money can buy but equally it's not worth skimping given the chocolate is the bulk of the finished product.
Method
There isn't really much to say, nor much of a recipe and once again, things are flexible. Simply melt the chocolate in a heatproof bowl sitting over a pan of just-below-simmering water, and while the chocolate turns into delicious goo, get chopping the berries. You can halve them, quarter them, or virtually mince them, depending on how gooey you want the end product. At the chunkier end of the spectrum, you will end up with something akin to a chocolate-coated berry; at the finer end, more like a ganache.
Just pour the berries into the chocolate and then mix until coated. Before the mix cools use teaspoons to shape into rough balls, quenelles or cubes and allow to set on a sheet of baking parchment.
These are great by themselves or you can use to decorate any other chocolate or fruit dessert, such as our vegan chocolate cake or mousse above. You can make then up to four days in advance and just store in an airtight container in the fridge.