Whether you are a fan of whipped cream squirted onto hot chocolate or a drizzle of single cream over a slice of apple pie, dairy cream is off the menu for vegans. Given that conventional cream is made from milk (usually from cows) it should come as no surprise that it is not vegan. But all is not lost for those following a plant-based diet. As we shall show in this article, there are loads of great vegan-friendly alternatives to dairy cream.
More good news is that, just as with the best vegan ice cream, vegan cream tastes just as nice as dairy cream… and it tends to be a fair bit healthier too!
Jump To: Double Cream | Single Cream | Whipping Cream | Whipped Cream | Buttercream | Crème Fraîche | Clotted Cream | Homemade
Types of Cream
Before we list our favourite vegan cream options, let's briefly run through the main types of cream and what they tend to be used for.
Double Cream – Double cream is what many people visualise when they think of cream that is poured over fruit or desserts. It can also be used in cooking (both sweet and savoury dishes) and is the cream with the highest fat content.
Single Cream – Single cream is similar to double cream but thinner and with a lower fat content. It cannot be whipped and does not boil well.
Whipping Cream – Whipping cream is – as the name suggest – cream that lends itself to being whipped into a light and fluffy dollop that can be placed atop a dessert or on a cup of coffee or hot chocolate. Double cream can also be whipped but is fattier than whipping cream and easier to over-whip.
Whipped Cream – Whipped cream could simply be whipping cream that has already been whipped. Alternatively, and more commonly, it is the instant whipped cream that comes in a pressurised can. Also known as spray cream or "squirty cream", the gas is released through the cream as it is released from the nozzle, thus creating the light and fluffy consistency.
Buttercream – Buttercream is not really cream in the conventional sense and is more a type of icing. Made by combining butter or margarine with icing sugar, it's easy to make your own vegan version, as we'll detail later.
Crème Fraîche – This is a specific type of dairy cream that has been soured with the aid of a bacterial culture. It is less sweet than the creams mentioned above and its slight sourness lends itself particularly well to certain savoury dishes.
Clotted Cream – Traditionally served with scones and a cuppa for "cream tea" and particularly popular – at least with tourists – in the counties of Cornwall and Devon, clotted cream is very thick and very high in fat.
What Is Vegan Cream Made From?
Vegan cream has various ingredients that differ between the types of cream and brands. Here are some of the most common ingredients that appear in vegan-friendly cream products.
Vegetable Oil – To replace the fat found in dairy cream, various vegetable oils are used in plant-based alternatives. These include rapeseed oil, palm oil (see below), sunflower oil and others.
Soy – Many vegan cream products, such as Alpro and one or two others, use soy as the base
Oats – Used as a base in some vegan cream products, such as those from Oatly, oats are a nutritious and environmentally friendly inclusion (as they don't require much water in comparison to some other crops). They also help add a creaminess (which is always handy with cream!) and a bit of an earthy flavour.
Coconut – Coconut milk, coconut cream and coconut oil can be used to make your own vegan-friendly creams and you might well find one or more of them listed amongst the ingredients of plant-based creams of various types.
Emulsifiers – To avoid the oil separating from the rest of the cream, emulsifiers are usually added. Sunflower lecithin is a common choice, and ethers of fatty acids (derived from plants) will also crop up.
Sugar – As we discuss in our Is Sugar Vegan? article, most sugar is these days, but that used in a product that is clearly marked as vegan certainly will be. Simply used in vegan cream to add a bit of sweetness, as is the case in some dairy cream products too.
Stabilisers – Used to help thicken and/or stabilise the vegan cream, these are generally options, such as guar gum, xanthan gum or carrageenan, which come from plants and/or bacteria or algae; that is none of them come from animal sources.
A Note About Palm Oil
When browsing the aisles for vegan-friendly cream – and indeed many other plant-based products – you will no doubt encounter palm oil (or palm fat or similar) amongst the ingredients. As we discuss in detail in our palm oil article, there are some real environmental issues around the consumption of palm oil, particularly around habitat destruction. Many vegans therefore simply avoid all products that contain palm oil; others will only choose products that include "responsibly sourced" (or similar) palm oil; others still will simply decide that because palm oil comes a plant, it is fair game for vegans.
Where you sit along this spectrum of views on palm oil is obviously your call. Note that there are plenty of other seemingly vegan products that have similar (or other) environmental concerns too. This could be in relation to the exploitation of bees to pollinate crops of almonds or avocados or the fact that much of the soy consumed worldwide is grown on land that used to be rainforests. In short, it pays to read up on these and other issues so you can make an informed judgement.
Top Vegan Cream Options in the UK
Here we'll run through some of the best vegan-friendly cream options that are available in the UK at the time of writing. We'll split these into cream type (based on the types listed above) to make things nice and easy.
To give you an idea of how the plant-based creams compare to the dairy options in terms of nutrition, we've given an example at the end of each section. Check out the individual product website/supermarket website for full nutritional details of any creams we have not featured.
Vegan Double Cream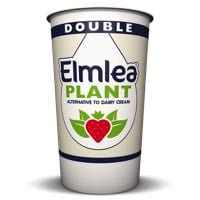 Here are some of the best double cream options available for vegans in the UK. There are not many, alas, when compared to the array of vegan single cream options. But we are hopeful more will appear in the not too distant future. There are no really good vegan alternatives to "extra thick double cream" and for such purposes it might be better to use one of the whipping cream options detailed later in the article.
| Vegan Cream | Notes |
| --- | --- |
| Elmlea Plant Double Cream | Elmlea's not-so-secret ingredient in their plant-based creams is faba beans, aka fava beans… the preferred legume of Hannibal Lecter in The Silence of the Lambs. With some palm oil, rapeseed oil and various emulsifiers, stabilisers and flavours, this is a decent replica of dairy double cream. |
| Flora Professional Plant Vegan Double Cream | At the time of writing, this offshoot of the Flora brand is only available to purchase from food industry wholesalers. But for those who happen to run a food business, this is a very good plant-based double cream option that is made using fava beans and vegetable oils, amongst other things. Word is Flora will be releasing a consumer version in due course. |
Dairy Vs Plant-Based – Nutritional Values
| Typical Values (per 100ml) | Tesco Fresh Double Cream | Elmlea Plant Double Cream |
| --- | --- | --- |
| Energy | 1921kJ / 467kcal | 1211kJ / 289kcal |
| Fat | 50.5g | 31g |
| Saturates | 31.4g | 18g |
| Carbohydrate | 1.6g | 2.0g |
| Sugars | 1.6g | 1.3g |
| Fibre | 0g | 0g |
| Protein | 1.5g | 0.6g |
| Salt | 0.1g | 0.11g |
When compared to the Tesco own-brand double cream, Elmlea's option is significantly lower in calories and fat (and saturated fat). It contains similar amounts of sugar and a little less protein than the dairy version, though cream is not a brilliant source of protein in general and there are many better vegan sources of protein out there if you are looking to increase your intake of this macronutrient.
Although the extra fat of the real thing does lend "normal" double cream a creaminess that is hard to match, as said there are lot more calories contained within the dairy version – about 60% more.
Vegan Single Cream
People seeking vegan-friendly single cream have a far greater choice available to them. It's worth trying two or three to find out which floats your boat in terms of the flavour and consistency. For us, Oatly's offering is tough to beat, though Sojade's product is also very good.
Vegan Cream
Notes
Oatly – Creamy Oat – Vegan Single Cream
A refreshingly short list of ingredients here: oat base (oats and water), rapeseed oil, emulsifier, xanthan gum and a bit of salt. It works well as an ingredient in savoury dishes or on desserts.

It is also lower in fat – and significantly lower in saturated fat – than dairy single cream. An organic option is also available. Either or both should be present at your nearest large supermarket.

Ecomil – Cashew Cuisine Cooking Cream
Designed specifically as a cooking cream (as it doesn't curdle when heated, unlike dairy single cream), it uses water and organic cashew nuts as the base. With a couple of plant-based stabilisers (gum Arabic and xanthan gum), some sunflower and a bit of sea salt, there is a refreshing lack of E numbers present.

It's certainly a decent option when you need cream for a recipe (especially savoury dishes). It's also lower in fat than the Oatly option at just 8.3g of fat per 100g. It's available from TheVeganKind Supermarket and others.

Sojade Organic Soya Single Cream
French organic food producer Sojade have brought us a soy-based single cream that is free of palm oil (it uses soy oil) and lacks lots of E numbers (it includes stabilisers xanthan gum and guar gum but no preservatives, sweeteners or emulsifiers). It is not as sweet as some (as there is no added sugar), but its flavour and mouthfeel both tick the right boxes for us.
Provamel Soya Alternative to Single Cream
Another soy-based single cream option from organic and plant-based food maker Provamel (who've been going since 1983!). This is also a very good replacement for standard dairy single cream, though contains a little more fat (albeit unsaturated) than some of those mentioned above.
Food Heaven – Cooking Cream – Sweetened/Unsweetened
Billed as cooking cream but it can also be poured on desserts or even whipped up. This versatile vegan cream contains palm oil, but it is responsibly sourced. It is perhaps not as flavoursome as the Oatly option, but it's not bad.
Dairy Vs Plant-Based – Nutritional Values
| Typical Values (per 100ml) | Tesco Fresh Single Cream | Oatly Creamy Oat |
| --- | --- | --- |
| Energy | 800kJ / 194kcal | 600 kJ / 150 kcal |
| Fat | 19.1g | 13 g |
| Saturates | 12.2g | 1.5 g |
| Carbohydrate | 2.2g | 6 g |
| Sugars | 2.2g | 3.5 g |
| Fibre | 0g | 0.7 g |
| Protein | 3.3g | 1.0 g |
| Salt | 0.1g | 0.1 g |
As with double cream, there is a marked difference in the fat content between the dairy cream and the plant-based alternative. In this case Oatly's Creamy Oat single cream offering contains just 1.5g of saturated fat per 100ml compared to 12.2g of saturated fat in 100ml of the Tesco own-brand single cream product.
There is a slightly higher sugar content in the vegan option, while again the protein contained in the dairy version is higher. The dairy version is once again significantly more calorific.
Vegan Whipping Cream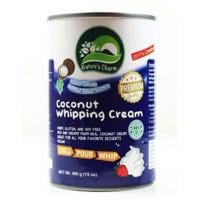 Not to be confused with whipped cream (which is coming up in the next section), whipping cream is the pre-whipped version that requires you (or some kind of kitchen contraption) to apply a bit of effort to whip it into shape. It's almost a health food if you whip vigorously enough (maybe whilst also doing squats)!
| Vegan Cream | Notes |
| --- | --- |
| Nature's Charm Coconut Whipping Cream | Essentially coconut milk (90%) with a bit of coconut oil, sugar, guar gum and vanilla flavour thrown in, this works well as a whipping cream, but, at almost £4 a can, it's not cheap. If you fancy trying it, you can buy it from TheVeganKind Supermarket and one or two other places. |
| Schlagfix Vegan Sweetened/Unsweetened Whipping Cream | Much cheaper than the Nature's Charm option, this whipping cream includes palm oil and a total of nine stabilisers and emulsifiers. Does the job but not the tastiest vegan cream out there as it tastes a little synthetic. |
| Soyatoo Soy Whip Soya Topping Cream | Made predominantly from soy beans and water (74%), it has some palm butter (aka palm oil), coconut oil, natural vanilla extract and one or two other bits and pieces. It's got as nice a flavour as any here, though it could be a little thicker perhaps. |
| Make your own | See the How to Make Vegan Cream section below. |
Dairy Vs Plant-Based – Nutritional Values
| Typical Values (per 100ml) | Tesco Fresh Whipping Cream | Schlagcreme Sweetened Whipping Cream |
| --- | --- | --- |
| Energy | 1508kJ / 366kcal | 955kJ / 228Kcal |
| Fat | 38.7g | 17g |
| Saturates | 24.2g | 17g |
| Carbohydrate | 2.6g | 19g |
| Sugars | 2.6g | 17g |
| Fibre | 0g | 0g |
| Protein | 1.9g | 0.28g |
| Salt | 0.1g | 0g |
There is less than half the amount of fat contained in our example plant-based whipping cream compared to our chosen dairy version. There is a significantly larger quantity of sugar in the vegan option, however, sugar often being added to recreate the mouthfeel that is lost from the lower fat levels.
This can be reduced by opting for unsweetened versions. Irrespective of the sugar content of the plant-based option, the dairy cream still contains a good deal more calories.
Vegan Whipped Cream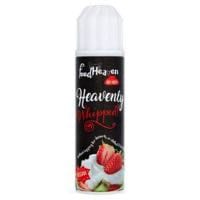 Pretty similar to whipping cream above, but this comes in a can and gets whipped into its fluffy gloriousness as it is ejected from said can and gets blasted with nitrous oxide (this gas being used as it was intended in this instance!). A great way to add a little laughter and happiness to your dessert or hot chocolate.
| Vegan Cream | Notes |
| --- | --- |
| Food Heaven Heavenly Whipped Spray Cream | Made using responsibly sourced palm oil, with various emulsifiers and thickeners, and a dose of nitrous oxide for good measure, this can of whipped cream is basically indistinguishable from the dairy alternative in terms of taste and texture. Available from most big supermarkets. |
| Schlagfix – Schlagcreme Vegan Spray Cream | This spray cream from Schlagfix is decent enough but falls a little short of the Food Heaven option in terms of flavour. It's also a little higher in sugar. |
| Soyatoo Soy Whip Soya Spray Cream | This soy-based spray cream does the job very nicely in terms of flavour and fluffiness of the whipped cream it produces. Like the whipping cream option from the same brand mentioned above, this also contains palm oil. |
| Soyatoo Rice Whip Spray Cream | Soyatoo's Rice Whip Spray Cream is a palm oil-free option that might appeal to some of the more environmentally concerned vegans out there. It has a slightly strange flavour to our taste, but it's probably something you could get used to. |
Dairy Vs Plant-Based – Nutritional Values
| Typical Values (per 100ml) | Anchor Original Real Cream | Heavenly Whipped Spray Cream |
| --- | --- | --- |
| Energy | 1385kJ / 336kcal | 849kJ/203kcal |
| Fat | 33g | 16g |
| of which saturates | 23g | 16g |
| Carbohydrate | 6.8g | 15g |
| of which sugars | 6.8g | 10g |
| Protein | 2.1g | 0g |
| Salt | 0.07g | 0.25g |
Once again, the calorie content of the dairy version far outstrips that of the vegan alternative. The dairy version also has double the about of fat. The vegan cream contains more sugar again here and the protein prize is scooped by the dairy product.
Vegan Buttercream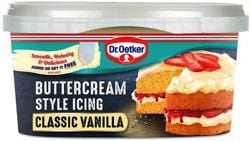 We were in two minds as to whether to include buttercream as it's really just butter and sugar combined rather than conventional cream. We figured some people might well be seeking information about it though, so in the name of public service we found a place for it in the article. Aren't we good?!
| Vegan Cream | Notes |
| --- | --- |
| Dr Oetker Buttercream Vanilla/Chocolate | German food producer Dr Oetker has made some convenient and reasonably tasty vegan-friendly buttercream options. Available in either vanilla or chocolate flavour, they include sugar, palm oil, sugar syrup, (plant) glycerol and various emulsifiers, preservatives and antioxidants. For a quick option to ice your vegan cake, this certainly fits the bill. |
| Make Your Own | See the How to Make Vegan Cream section below. |
Dairy Vs Plant-Based – Nutritional Values
Given that buttercream is essentially just butter/margarine/oil and sugar, the nutritional values of the end product will be dependent on the oil/fat used. There are usually lower rates of saturated fats in plant-based butter/margarine or oils than there are in those derived from animals, but buttercream – being a combination of fat and sugar – is never going to be particularly healthy.
Vegan Crème Fraîche
Oatly have clearly spotted a gap in the market here as there are no other really good options for vegan crème fraîche available at the time of writing.
| Vegan Cream | Notes |
| --- | --- |
| Oatly Oat Fraiche | Unsurprisingly given the name and brand, this vegan-friendly alternative to crème fraiche contains plenty of oats. In order to recreate the sourness of crème fraiche, it uses a fermented oat base, and chucks in some (plant-derived) lactic acid and malic acid to add a little tartness. It's not a perfect replica to the dairy version, but it's not far off and it's certainly not at all unpleasant. |
Dairy Vs Plant-Based – Nutritional Values
| Typical Values (per 100 ml) | Sainsbury's British Crème Fraîche | Oatly Creamy Oat Fraîche |
| --- | --- | --- |
| Energy | 1219kJ / 296Kcal | 735kJ / 177Kcal |
| Fat | 31.1g | 15g |
| of which Saturates | 21.6g | 6.4g |
| Carbohydrate | 2.0g | 9.1g |
| of which Sugars | 2.0g | 4.1g |
| Fibre | 0g | 1g |
| Protein | 2.1g | 1g |
| Salt | 0.05g | 0.01g |
Another cream, another vegan alternative that is significantly lower in fat and calories. Again the sugar content on the plant-based version is a little higher. But chances are you'll be plonking this on a dessert of some kind so perhaps that isn't a massive concern.
Vegan Clotted Cream
Unlike some other types of cream, at the time of writing, there are no vegan options when it comes to readymade clotted cream available to buy in supermarkets. As such, if you want your own vegan version of cream tea and scones, you are probably going to have to make your own "clotted cream". This is not as tricky as it sounds and it fairly similar to vegan buttercream. Check out the details below.
How to Make Vegan Cream
If you fancy trying to make your own vegan cream, there are a couple of options which are really very easy.
How to Make Vegan Buttercream
Firstly, choose your favourite vegan butter or margarine, such as Flora Plant Butter. Whatever amount of butter/margarine you use, you'll need twice that weight of icing sugar. Beat the butter and half the icing sugar together in a bowl, then gradually add the rest of the icing sugar until it's all combined into a smooth paste. You might like to add a splash of oat milk, and perhaps some vanilla essence or other flavouring as you see fit. And there you have it: simple vegan-friendly buttercream ready to use as icing for you vegan cake.
How to Make Vegan Whipping Cream
If you want a very simple way of creating your own vegan-friendly whipping cream, here it is. Simply chill a can of good quality, full-fat coconut milk or coconut cream in the fridge overnight, then open it and scoop out the white solids, leaving any clear liquid behind (to use for something else, perhaps in a smoothie). Then whip up the coconut cream and you should see peaks beginning to form after a few minutes.
How to Make Vegan Clotted Cream
Based on a recipe from the National Trust, you can make vegan clotted cream with the same ingredient as you might use to make buttercream, i.e. vegan butter/margarine, icing sugar, vanilla essence and oat milk. The key difference is that you use a lot less icing sugar for "clotted cream".
Based on the recipe mentioned above, you use 175g of vegan margarine, ½ a teaspoon of vanilla essence and just 60g of icing sugar and a tablespoon of oat milk. You just beat the marge with the vanilla essence in a bowl until fluffy, then gradually add the icing sugar and a splash of oat milk (if required). And there you have your vegan clotted cream. It might not taste exactly like the real thing, but it at least looks the part!
Does Vegan Cream Taste Like Dairy Cream?
When it comes to some vegan alternatives, it is hard to get a really accurate replica of the original in terms of the taste. One example of this would be vegan bacon, which is notoriously tricky to replicate (though there are some very good vegan-friendly bacons out there that do certainly make a decent effort!). However, we are happy to report that when it comes to vegan cream, our non-vegan guinea pigs have informed us that there really is very little difference in taste and texture compared to the dairy options… at least with most cream types.
This is certainly the case with single and double cream and whipped (spray) cream. Though it is a little less so with the likes of vegan crème fraîche or indeed whipping cream made from coconut milk/cream (as it will obviously retain the flavour of coconut, but this might well appeal for certain desserts).
Conclusions: Vegan Cream Is Healthier & Tastes Good Too
There is little doubt that vegan creams are generally significantly lower in fat (including saturated fat) and calories than their dairy counterparts. They are sometimes a little higher in sugar and usually dairy creams contain a bit more protein. On balance though, we're happy to say that vegan creams are far healthier than dairy creams as the difference is saturated fat levels is considerable.
The other big plus is that most vegan creams we have encountered taste a lot like dairy cream and on the whole fulfil the same culinary functions. In a blind taste test, someone accustomed to eating dairy cream would usually be able to tell the difference. However, for long-time vegans there are many excellent products out there that deliver the goods, and others that with a little getting used to will certainly please even non-vegans.
All in all, vegan cream is a great option for vegans, but also for non-vegans who are concerned about the health or environmental consequences of consuming dairy products. After all, dairy is scary (Disclaimer… not for the faint of heart!).