Vegans do not consume any products made from milk that comes from animals (because, as you no doubt already know, milk is not vegan). And that means many other products such as cheese, ice cream and yoghurt are also off the menu for those on a plant-based diet… or are they?
Well, yes and no. Those products are not vegan if they have been made from dairy milk (that is, milk that has come from animals… well, non-human animals as it could be argued that human breastmilk is vegan!). But, thankfully, there are now lots of vegan-friendly alternatives to almost all dairy products. And that includes the many varieties of vegan yoghurt, which is the main focus of this article.
While there are lots of options when it comes to vegan milk alternatives, there are also loads of vegan options for other dairy products that are usually vegan, including:
You can find details of the other alternatives elsewhere on the site, but in this article, we'll focus on plant-based yoghurts. We'll go through the best vegan yoghurts by brand, many of which will be familiar to those who've sampled plant-based milk including the likes of Alpro and Oatly. We'll also take a brief look at vegan-friendly yoghurt drinks before summarising the health, environmental and ethical reasons for people to choose vegan yoghurt instead of dairy yoghurt.
Let's start, though, with our pick of the best vegan-friendly yoghurts available in the UK at the moment.
Note that the yoghurts featured in this article are all vegan friendly at the time of writing. Please check the ingredients of individual products for any allergens (as some might be at risk of cross-contamination even if labelled as vegan). Also, note that some brands use the yoghurt spelling while other use "yogurt". Some brands seem to use both at different points on their packaging and/or websites.
Top Vegan Yoghurts
1. Oatly Oatgurt Blueberry
Those familiar with the Swedish Oatly brand will not be surprised to hear that oats are the key ingredient here, along with blueberry juice and blueberry puree. The end result is a smooth, fruity yoghurt that looks and tastes lovely. It has been fortified with some nutrients that vegans can struggle with, such as vitamins D and B12 as well as calcium and iodine but – unlike some others – no live cultures are used.
2. Alpro Plain No Sugars
One of the healthier options around, this soy-based yoghurt has zero sugar content and only 0.4g of saturated fat per 100g. It's also fortified with vitamin D, vitamin B12 and calcium and uses live cultures.
3. The Collective Plant Yoghurt Raspberry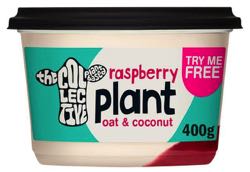 This thick and creamy plant-based yoghurt is made from a mixture of oats, rice and coconut cream and has a good helping of raspberries too to give a great tangy contrast.
4. Koko Greek Style Yoghurt Alternative
Those seeking a vegan-friendly Greek yoghurt alternative should look no further than this option from Koko. Unlike some vegan yoghurts, it uses live cultures (which research suggests could help improve some aspects of health), and it is fortified with vitamin D, vitamin B12 and calcium. It tastes good too!
5. The Coconut Collaborative Vanilla Coconut Yog
Another made with live cultures, the main ingredient of this tasty yoghurt is coconut milk which gives a nice taste that blends well with the natural vanilla flavouring. The one downside is that is it higher in saturated fats than products made from soy or oats.
Vegan-Friendly Yoghurts by Brand
Here's where we go through the main brands that produce vegan-friendly yoghurts. They tend to fall into one of three categories when it comes to their overall credentials:
A completely vegan brand that does not produce any non-vegan products (such as Nush Foods)
A brand that produces both vegan and non-vegan products (such as the Collective)
A brand that appears to be completely plant-based but is then owned by a food (or other) company that produces non-vegan products (such as Alpro, who are owned by food giant Danone)
For many vegans, whether or not the company that makes the plant-based yoghurt they love also makes non-vegan foods is irrelevant. But some vegans would certainly prefer to give their money to companies who only produce plant-based products and whose profits don't then filter through to a business that owns them who produces animal-derived products.
Where you draw that particular line is up to you, but here we'll feature any brands that produce vegan-friendly yoghurts irrespective of whether they also produce non-vegan products or are owned by companies that do so. Here are the brands we'll be covering in this article (click the brand for information about the vegan-friendly yoghurt flavours they currently offer):
Note that most of the above-mentioned are widely available at the main UK supermarkets or vegan specialists such as TheVeganKind Supermarket (other than the supermarket own-brand options of course, which are available exclusively at their own stores). There are various other smaller brands that are available in various health food shops but we've focussed on the most popular brands at the time of writing.
Alpro Vegan Yoghurts
Alpro is one of the forerunners of plant-based milk, at least on a large scale, and they've been running since 1980. They've changed hands a couple of time but are now owned by French food giant Danone (who own all kinds of brands including Evian, Activia, Actimel, Dannon and Volvic). The Alpro brand was most well-known for its soy, almond and other plant-based milks, but they've ventured into other areas including potted desserts, ice cream and, of course, yoghurts.
Here are the main Alpro vegan yoghurts available in many supermarkets.
| Yoghurt Name/Flavour | Notes |
| --- | --- |
| Alpro Plain Yoghurts | These alternatives to plain yoghurts come in the following varieties: Simply Plain, Plain with Almond, Plain No Sugars, Plain with Coconut, Plain with Oats. |
| Alpro Flavoured Yoghurts | The large 500g pots come in Blueberry, Vanilla, Strawberry, and Cheery flavours, whilst the smaller 125g pots (usually sold in packs of four) include the following: Pineapple & Passion Fruit, Peach, Raspberry & Cranberry, Blackberry, Strawberry & Banana, Peach & Pear, and others. |
| Alpro More Fruit, No Added Sugar Yoghurts | As above but – you've guessed it – with more fruit and no sugar added! These are available in Cherry or Mango flavours. |
| Alpro Greek Style Yoghurts | Alpro's Greek Style offerings come in the following flavours: Plain, Blueberry, Strawberry & Raspberry, Passion Fruit, Mango. |
The Collective Vegan Yoghurts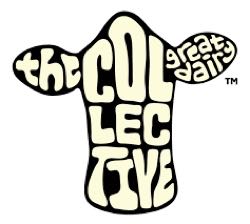 Gourmet dairy yoghurt maker, The Collective, have turned their hand to plant-based yoghurt, and they've done a decent job of it. They haven't got quite so many vegan options as they have dairy, but there is no doubt these are good quality products… if you can forgive the company for making dairy products too, of course!
Made from a mixture of oats, rice and coconut cream, these are smooth and creamy yoghurts with a good deal of flavour provided by the additional ingredients such as Madagascan vanilla extract or fruit. Here are the plant-based yoghurts they offer at the time of writing.
| Yoghurt Name/Flavour | Notes |
| --- | --- |
| Raspberry | The tart-sweetness of the raspberry contrasts nicely with the smoothness of the yoghurt to produce one of our favourite plant-based yoghurts. |
| Passion Fruit | As above, but with passion fruit instead of raspberry. Perhaps a little sweet for some, but certainly many people find this particularly delicious. |
| Fudge | This is certainly the option for those with a sweet tooth. Having said that, it still only contains 4.3g of sugar per 100g so it compares well against many (dairy and non-dairy) yoghurts. |
| Plain | Though there are no additions such as fruit or fudge, this plain yoghurt is creamy and smooth and works well as a topping for fresh fruit, especially with a few nuts or some muesli sprinkled on top. |
The Coconut Collaborative Vegan Yoghurts
The Coconut Collaborative is apparently "on a mission to create plant-based yogs and puds that are so delicious & creamy that you wouldn't believe that they are made from humble plants". And, their growing range of yoghurts that they somewhat strangely call "yogs", is certainly worth checking out, especially if you have a taste for coconut.
Note that coconut milk is higher in saturated fat than the likes of soy milk or oat milk and hence yoghurts made from coconut milk tend to be higher in saturated fat than some of the other options mentioned. But there is an open debate about whether the fats found in coconut milk are healthy or not. There is research suggesting they are certainly healthier than the trans fats found in many biscuits and pastries, and the fat in coconut milk/oil is also thought to nudge up the "good" HDL cholesterol. But, like with most things, moderation is probably the way to go.
It is worth noting that Tthe Coconut Collaborative also support the Pur Projet a French organisation that helps regenerate ecosystems and support local communities. Which is obviously a good thing. But, back to the yogs and here are the current flavours available.
| Yoghurt Name/Flavour | Notes |
| --- | --- |
| Alphonso Mango & Passion Fruit Coconut Yog | Made from cultured coconut milk and mango and passion fruit compote, this yoghurt can bring to mind images of sipping cocktails in the Caribbean. At 9.1g of saturated fat per 100g, it is higher than many plant-based yoghurts and indeed higher than some dairy yoghurts too. |
| Natural Coconut Yog | This versatile yoghurt is made from coconut milk, coconut water, cornflour, potato starch, fruit pectin and cultures. It can be eaten as it is but we have found it is also one of the best vegan yoghurts to use as a cooking ingredient, for instance in curries, where the coconut flavour often works really well. |
| Natural Oat Yog | Using an oat base, this yoghurt contains only about a third of the saturated fat content of their coconut-based yogs and a fair bit more fibre too. |
| Vanilla Coconut Yog | Using the usual cultured coconut milk as a base, the addition of natural vanilla flavouring and vanilla bean seeds gives this yoghurt a nice flavour. Obviously, the coconut comes through, but it combines well with the vanilla and the overall taste is very pleasant. |
| Blueberry Coconut Yog | Fans of blueberries will be partial to this flavour which has a nice tang to it. |
| Kids Pouches | These kids pouches – which can work well in packed lunches – are available in Strawberry & Banana, or Mango & Passionfruit flavours. At around 5g of sugar per 100g, they compare well on the sugar content front to other kid-focused yoghurts like Frubes (11.3g per 100g) or Munch Bunch Squashums (9.5g per 100g). |
Koko Vegan Yoghurts
As the name suggests, this is another company that focuses on coconut-based products. As well as their plant-based yoghurts they also produce a very tasty coconut alternative to dairy milk and they claim to be the first company to bring such a thing to market in the UK in 2010. They've since also added Koko Dairy Free Spread and even a coconut-based vegan cheese.
Looking at their yoghurt products, which are made with live cultures are fortified with calcium and vitamins D2 and B12, they have created several smooth and tasty options. And they have even managed to keep the saturated fat content down. Here are their options at the time of writing.
| Yoghurt Name/Flavour | Notes |
| --- | --- |
| Plain Yoghurt Alternative | A very passable plain yoghurt and with 4.2g of saturated fat and 4.3g of sugars per 100g, it's not bad on the health front either. |
| Plain Unsweetened Yoghurt Alternative | For those who want to turn up the health dial, this unsweetened option contains less than 0.5g of sugar per 100g and, to us, retains a favourable flavour. |
| Greek Style Yoghurt Alternative | As mentioned above, this is the best Greek style vegan yoghurt we've found. It's a little higher in saturated fat than the Plain options, but it's still worth opting for when you're seeking a Greek style option. |
| Vanilla Yoghurt Alternative | This is a reasonable attempt at vanilla yoghurt, but it doesn't have quite the flavour of the one from The Coconut Collaborative (though it is a little lower in saturated fat). |
| Small Pots | For those seeking small pot yoghurt options, Koko produces four rather tasty flavours: Coconut & Lemon, Peach & Passionfruit, Raspberry, and Strawberry. |
Oatly Vegan Yoghurts
Oatly have made quite a splash in recent years with their oat milk and other oat-based products. The company is based in Sweden but they have expanded into more than 20 countries around the world and look intent on being a real leader in plant-based products. With investment from Jay-Z, Oprah Winfrey and Natalie Portman (among others) they floated on the US stock exchange in 2021 and their share price surged 30% within the first few months.
Aside from their main oat milk drinks, they also produce some very nice vegan ice cream, various oat-based cream products for cooking and, the reason we mention them here, some great oat-based yoghurts, which they call "Oatgurt". Another slightly strange choice of name but another excellent product.
At the time of writing, there are just four Oatgurt products available, but we suspect that might increase at some point. Note that they are fortified with vitamin D, vitamin B12, calcium and iodine, they are low in saturated fat (see below for figures for each product) and, crucially they are smooth in consistency and taste really nice.
| Yoghurt Name/Flavour | Notes |
| --- | --- |
| Oatgurt Plain | Smooth and creamy with as pleasant a mouthfeel as yoghurt (dairy or non-dairy) can give, the Plain option is very low in fat (just 0.3g of saturated fat per 100g) and relatively low in sugar (4.4g per 100g). |
| Oatgurt Greek Style | A pretty decent Greek yoghurt option that is a little higher in saturated fat (0.8g per 100g, so still very low) and sugar (10g per 100g) but which makes up for it in taste. |
| Oatgurt Strawberry | With just 0.3g of saturated fat per 100g (though 9.3g of sugar), this vegan yoghurt includes strawberry puree but also has lemon juice, apple juice and cherry juice among its ingredients, which gives it a more nuanced flavour than some… and it's a flavour we very much like! |
| Oatgurt Blueberry | One of our favourite plant-based yoghurts, this blueberry option from Oatly ticks all the boxes when it comes to both flavour and mouthfeel. The inclusion of hibiscus juice, lemon juice and carrot juice adds a complexity to the flavour that is not found in many yoghurts. And, again, it contains just 0.3g of saturated fat per 100g (but 9.0g of sugar). |
Beleaf Vegan Yoghurts
Beleaf are a plant-based food company that takes ecology and sustainability seriously. They use almonds as the main ingredient in their vegan yoghurts, which they grow and process in Spain (which are more environmentally friendly option than the Californian variety as they require far less water). The packaging for their yoghurts is also 80% paper and the plastic lid and foil are recyclable.
They do not have an extensive product range of yoghurts as things stand but those they do have are low in fat and fairly low in sugar and contain very few ingredients. And yes, they taste nice – the hint of almond adding a nice nuttiness to the flavour that works well in all three of their current yoghurts. Note that at present they are not fortified with calcium or vitamins so you may want to check out some vegan supplements if this is a concern.
| Yoghurt Name/Flavour | Notes |
| --- | --- |
| Plain | With 0.7g of saturated fat and 5.2g of sugar per 100g, this almond-based yoghurt ticks the health boxes. It includes a fermented almond product, almond paste, water, sugar, starch, thickener and cultures and it has a smooth consistency that compares well to most plant-based yoghurts. |
| Mango Passion Fruit | With mango, mango puree and passion fruit juice, this yoghurt has a tropical taste that will appeal to those looking for something more than just plain yoghurt. It is actually lower in saturated fat than the Plain option (at 0.6g per 100g) but is a bit higher in sugar (8.4g per 100g). |
| Berries Almond Yoghurt | The lowest of the lot when it comes to saturated fat content (0.3g per 100g), and a reasonable level of sugar (7.g per 100g), the inclusion of blackberries, blueberries, raspberries, strawberries and even elderberries give this cultured almond yoghurt a boost on the vitamin and flavour fronts. |
Nush Vegan Yoghurts
Launched in 2016 by two ex-police officers, Nush is a plant-based food company that produces almond and cashew-based yoghurts, among other things. They use European almonds (as opposed to those grown in California which apparently require far more water) and organic Vietnamese cashews. Both options are creamy and smooth and their flavours are well-balanced.
| Yoghurt Name/Flavour | Notes |
| --- | --- |
| Almond Yogs | Available in Natural, Peach Melba, or Strawberry flavours, these all have 0.7g or less of saturated fat per 100g, these three tasty options are well work trying. For the health-conscious, the Natural option contains just 0.8g of sugar per 100g and retains a fresh, very mild nutty flavour. |
| Cashew Yogs | Similarly low in saturated fat (1g or less per 100g), the Vanilla, Natural or Strawberry flavours of the cashew-based yoghurts from Nush are equally smooth and tasty. We slightly prefer the flavour of these over the almond yogs, but you can make your own mind up. |
| Nush Tubes | Available in either Blueberry or Strawberry flavour, these almond yoghurt tubes are great for kids' packed lunches, not least because they contain very little saturated fat (both 0.2g per 40g serving) or sugar (Blueberry contains 2.0g per 40g serving and Strawberry contains just 0.9g per 40g serving). |
Supermarket Own-Brand Vegan Yoghurts
As with lots of other products such as crisps or ice cream, supermarkets are always ready to step in with their own-brand version of successful products. And this is starting to happen with plant-based yoghurt. Though there aren't too many out there at present, we predict this will change in the coming months and years. Here are the main supermarket own-brand plant-based yoghurts available at the time of writing.
Yoghurt Name/Flavour
Notes
Tesco Free From
The Tesco Free From range is not really renowned for excellence in terms of taste. But even so, they have a few vegan-friendly yoghurts that are nice enough and that are certainly cheaper than some of the more premium products mentioned above.

Options include: Free From Natural Yogurt Alternative, Free From Greek Style Yogurt, and then small pots of soya yoghurt that come in the following flavours: Apricot & Banana, Raspberry, Strawberry, Raspberry & Passion Fruit, Mango.

Sainsbury's Soya Yoghurt
Sainsbury's offer a fairly bland but relatively cheap soya yoghurt that comes in the following flavours Sweetened Plain, Sweetened Strawberry, or Sweetened Vanilla. They would not be top of the list of most yoghurt lovers, but they are nice enough.
At the time of writing, Asda, Morrisons, Co-op and Waitrose are yet to release own-brand vegan-friendly yoghurts, while Aldi and Lidl tend to bring in other brands that change regularly.
Vegan Yoghurt Drinks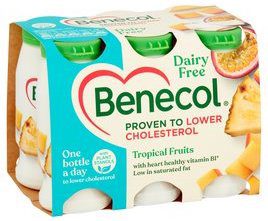 As well as what could be described as quite standard yoghurts – i.e. those that come in pots and are more food than drink – there are a growing number of vegan-friendly yoghurt drinks that are either fermented or probiotic and that some people think can bestow various benefits to gut health. We won't delve into that potentially messy cavern at this stage, but here are the main vegan options for those seeking yoghurt drinks.
Benecol Dairy Free Tropical Drink – Benecol claim their products can reduce cholesterol and in the case of their Tropical Drink they state "having just one bottle a day also lowers your cholesterol by 7-10% in just 2 to 3 weeks thanks to our unique plant stanols". It is also low in saturated fat (0.3g per 100g) and sugar (2.6g per 100g) and contains vitamin B6 and vitamin B1, along with 3.0g per 100g of the aforementioned plant stanols.
Actimel Dairy Free Almond, Mango & Passion Fruit – This almond- and oat-based yoghurt drink from Actimel claims to "support the normal function of the immune system" which is a little vague. But the inclusion of vitamins B and D could well do some good.
Alpro Fermented Oat Drink – With oat, coconut, strawberries and fruit juice, along with various cultures and vitamins B12 and D, this concoction is said to contribute to the normal function of digestive enzymes. Which sounds dandy.
Beleaf Cultured Shots – These vegan-friendly blends of four strains of active cultures come in Plain or Strawberry flavours and are available from Asda and some other places.
What Is Vegan Yoghurt Made From?
As we've seen while describing the main players in the plant-based yoghurt market place, they tend to be made from one (or a combination) of the following main ingredients, usually from the "milk" produced from the starting ingredient:
Soya
Oats
Almonds
Coconuts
Cashews
There are various other ingredients that go into most vegan yoghurts that include things like fruit, fruit juice, vanilla, thickeners, sugar, water, vitamins, calcium, cultures and other flavourings. These are added to bring flavour, colour, texture or extra nutrition to the main body of the finished yoghurt.
Vegan Yoghurts Vs Dairy Yoghurts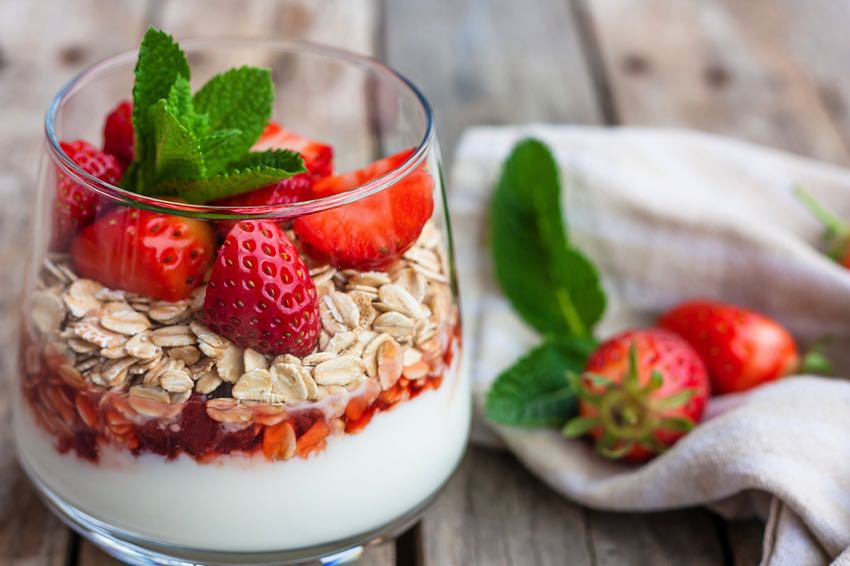 Here we'll run through a few reasons why we think choosing plant-based yoghurts over dairy yoghurts is a good idea, irrespective of whether you are a vegan or not. Obviously if you are vegan the fact that cows or other animals have not been made to suffer is probably the overriding concern but it may not be the only one.
Nutritional Reasons
One of the main differences between vegan yoghurt and dairy yoghurt is that products made from animal milk tend to be higher in saturated fat and also contain zero (or close to zero) dietary fibre. Note that yoghurt made from coconut milk (as mentioned above) tends to have higher levels of saturated fat than yoghurts made from other plant sources, but there is an argument that suggests that fat from coconuts has some health benefits.
Let's take a look at some examples of nutritional information from some well-known vegan and non-vegan yoghurts. We'll give the details of two vegan and two non-vegan options covering three categories of yoghurt: plain (or "natural"), flavoured, and Greek style. We'll add an "*" to the non-vegan yoghurts to distinguish them, and where no value has been listed on the product for a particular nutrient (usually fibre) we'll add a "-".
Plain Yoghurt Nutritional Information
| Typical Values (Per 100g) | Alpro Plain Yogurt | Oatly Plain Oatgurt | Yeo Valley Natural Yogurt* | Onken Natural Set Yoghurt* |
| --- | --- | --- | --- | --- |
| Energy kJ | 212 | 350 | 298 | 287 |
| Energy kcal | 50 | 84 | 72 | 69 |
| Fat g | 2.3 | 3.5 | 3.8 | 3.5 |
| Saturates g | 0.4 | 0.3 | 2.5 | 2.3 |
| Carbohydrate g | 2.1 | 11 | 4.9 | 4.6 |
| Sugars g | 2.1 | 4.4 | 4.9 | 4.6 |
| Fibre g | 1.0 | 1.0 | – | – |
| Protein g | 4.0 | 1.5 | 4.2 | 3.8 |
| Salt g | 0.25 | 0.10 | 0.12 | 0.17 |
Flavoured Yoghurt Nutritional Information
| Typical Values (Per 100g) | Beleaf Almond Yoghurt Mango & Passion Fruit | Oatly Oatgurt Blueberry | Onken Mango, Papaya & Passion Fruit Yogurt* | Yeo Valley Strawberry Yogurt* |
| --- | --- | --- | --- | --- |
| Energy kJ | 420 | 423 | 404 | 410 |
| Energy kcal | 100 | 101 | 96 | 98 |
| Fat g | 5.0 | 3.3 | 2.7 | 4.0 |
| Saturates g | 0.6 | 0.3 | 1.7 | 2.8 |
| Carbohydrate g | 11 | 16 | 13 | 10.9 |
| Sugars g | 8.4 | 9.0 | 13 | 10.7 |
| Fibre g | – | 0.9 | 0.2 | – |
| Protein g | 1.9 | 1.3 | 3.8 | 4.5 |
| Salt g | 0.02 | 0.06 | 0.19 | 0.16 |
Greek Style Yoghurt Nutritional Information
| Typical Values (Per 100g) | Alpro Greek Style Plain Yogurt | Oatly Oatgurt Greek Style | Yeo Valley Greek Style Natural Yogurt* | Rachel's Organic Greek Style Natural Yogurt* |
| --- | --- | --- | --- | --- |
| Energy kJ | 283 | 603 | 511 | 480 |
| Energy kcal | 68 | 145 | 123 | 116 |
| Fat g | 3.3 | 10 | 9.4 | 9.0 |
| Saturates g | 0.6 | 0.8 | 6.1 | 5.6 |
| Carbohydrate g | 2.6 | 10 | 4.7 | 5.0 |
| Sugars g | 2.5 | 4.1 | 4.7 | 5.0 |
| Fibre g | 1.5 | 0.9 | – | – |
| Protein g | 5.8 | 3.3 | 4.3 | 3.6 |
| Salt g | 0.36 | 0.11 | 0.11 | 0.1 |
As we can see, many of the values are fairly similar between the vegan and non-vegan options. The dairy products featured often have slightly higher quantities of protein, but there are so many great vegan sources of protein out there that this is not a major issue. More significant is the notably lower levels of saturated fat in most non-vegan yoghurts compared to their dairy counterparts.
As stated on the NHS website about fat in general, "Most people in the UK eat too much saturated fats." As such, choosing vegan yoghurts can often be an easy way to reduce your intake of saturated fats. They are often (but not universally) lower in sugar too. If you are interested in such matters we have an article about whether a vegan diet can reverse heart disease.
Environmental Reasons
Moving on from nutrition and one of the big reasons many people are turning to a plant-based diet is that it is far less destructive in environmental terms. Dairy farming undoubtedly makes a significant negative contribution to global heating.
Methane Produced from Cows
According to the Livestock's Long Shadow report from the Food and Agricultural Organization of the United Nations, "animal agriculture is responsible for 18 per cent of greenhouse gas emissions, more than the combined exhaust from all transportation." The problem is that cows produce methane… a lot of methane. And methane has a global warming effect that is significantly greater than carbon dioxide according to various reports and research.
Production of Plants More Sustainable
There are, of course, some environmental issues with the production of some of the plants used to make vegan yoghurt, notably almonds (in relation to water usage) and soy (in relation to deforestation). But given that UK consumers are evermore clued up about such issues, producers of vegan-friendly yoghurts often only opt for the most sustainable options. This is shown by the likes of Beleaf using European-grown almonds (that require far less water than those grown in California) and the Coconut Collaborative supporting ecosystem regeneration through the Pur Projet.
Also, most of the soy produced is used to produce animal feed for those animals to either produce milk or meat for humans, which is shockingly inefficient as a means of providing energy to humans. Ultimately, whilst plants also have an environmental impact, it is almost always far less per calorie of food than the animal equivalent.
Looking at the bigger picture, the dairy industry doesn't really have a leg to stand on from an environmental perspective when compared to plant-based yoghurt production. You can find out more about these matters by watching the compelling documentary, Cowspiracy.
Ethical Reasons
Finally, one of the most important reasons to choose plant-based yoghurts over those that come from animals is because of the harm inflicted on cows by the dairy industry. Not only are the calves of dairy cows removed from their mothers soon after birth, but the cows are subjected to forced impregnation whilst being held fast in what some refer to as a "rape rack".
Cows are then essentially milked dry and then sent to slaughter after a life of labour. There are numerous other reasons people should think twice about dairy milk and products like yoghurt that has been made from it, and indeed ethical reasons to go vegan in general. It's all about doing a little research and making an informed decision based on your own moral compass.
Conclusions: Vegan Yoghurts Are Better for You, the Environment & the Cows
In conclusion, because vegan yoghurts tend to be lower in saturated fat than dairy yoghurt (and often higher in fibre and lower in sugar too), it is fair to suggest they are the healthier option. They are also, of course, perfect for anyone who is lactose or dairy intolerant.
Throw in the rather conclusive environmental and certainly conclusive ethical arguments and – given that they taste pretty similar if not nicer than dairy yoghurts – it seems rather strange that anyone would choose dairy yoghurts over plant-based yoghurts. Of course, each person must make their own decisions on such things, but for us, plant-based yoghurts are certainly the way to go and there is no shortage of choice either.