For people with severe nut allergies, seeing the phrase "May Contain Nuts" on a food label is like a flashing red light. Even those people with relatively mild (but still rather irritating) nut allergies will certainly be inclined to avoid nuts and any foods or drinks that contain them.
The problem is, nuts are one of the key vegan staples for many people following a plant-based diet. They are packed full of nutrients that can be difficult to obtain when eschewing all animals products, and they are a great source of vegan protein. Not only that, many of the vegan alternatives to dairy milk are produced using nuts.
With all this in mind, you could be wondering what vegans with nut allergies should eat and drink. If you are in this position, fear not. In this article, we'll outline some of the best vegan substitutes for people with nut allergies and we'll also shine a light on some of the vegan-friendly products you might not realise contain nuts and that you should definitely avoid. We'll start off with a little information about the scale and nature of nut allergies.
IMPORTANT NOTE: If you think you have a nut allergy (or any allergy for that matter) you should consult your GP and also seek information from specialist organisations such as the Anaphylaxis Campaign, a UK-wide charity supporting people who are at risk of severe allergic reactions who offer evidence-based factsheets, support groups and a helpline. Also note that ingredients and manufacturing processes can change so always check the label of any products you intend to purchase for the most up-to-date information.
What Are Nut Allergies?
Although nut allergies tend to be lumped together, in reality, there are two distinct types: tree nut allergies and peanut allergies. Examples of tree nuts include Brazil nuts (an amazing source of selenium), cashew nuts, chestnuts, hazelnuts, almonds, walnuts, pistachios and many others. Though some people are allergic to both peanuts (which are actually legumes rather than nuts) and tree nuts, others may be allergic to either one but not the other. If people have tree nut allergies they are generally advised to avoid all tree nuts as it is rare they are only allergic to one specific type of these nuts.
Here we answer some common questions about nut allergies, but we reiterate that you should seek medical advice from qualified practitioners if you suspect you or someone you care for has some kind of nut allergy. And, if you suspect someone is having a severe allergic reaction to nuts (or anything else) you should call an ambulance immediately.
How Common Are Nut Allergies?
According to a 2002 research study cited by the aforementioned Anaphylaxis Campaign, one in 70 children were found to have allergies to peanuts and that this had risen from around one in 200 children just a decade before.
Leading allergy charity AllergyUK, meanwhile, suggest that around 2% (1 in 50) children are affected by peanut allergies. The figures regarding the number of people affected by tree nut allergies are less robust but it is thought that around 30-40% of those with peanut allergies will also be allergic to at least one tree nut. Those with peanut allergies tend to have an increased risk of allergies to sesame seeds and lupin (yellow legume seeds).
What Are the Symptoms of Nut Allergies?
The symptoms of nut allergies can vary greatly. Some people might suffer mild reactions, such as itchy skin or a slightly dry throat. Others can have asthma-like symptoms, pronounced skin rashes and, in very severe cases, anaphylaxis can occur, which is a potentially life-threatening allergic reaction that requires immediate emergency medical attention (i.e. if you suspect someone has anaphylaxis you should call 999 immediately). The symptoms of the most severe allergic reactions include difficulties breathing, wheezing, confusion, loss of consciousness and clammy skin.
Why Do Some People Have Allergic Reactions?
Nut allergies happen when someone's immune system has an adverse response to proteins in the nut/peanut. There is a lot of research going on to ascertain the reasons nut allergies affect some people but not others and also why nut (and other food) allergies appear to have been increasing in recent years.
Can Nut Allergies Be Treated?
Given that some allergic reactions to peanuts and tree nuts can be very severe and even life-threatening, many people with such allergies are administered with an adrenaline auto-injector (of which the EpiPen is a common example). If someone is prescribed adrenaline in this way they should carry it with them at all times and if they administer the injection they – or someone with them – should call 999 and seek advice immediately.
If someone with you appears to be having a severe allergic reaction (see symptoms above), you should call 999. Treatments and therapies are being trialled but are typically only available privately.
What Vegan Foods Should Those with Nut Allergies Avoid?
To put it simply, those with nut allergies should not consume nuts or anything made from nuts or even – in severe cases – food that has been prepared in environments in which nuts are present. Even being in the same room where nuts are present may be an issue in the most extreme cases, especially where air is circulating, such as on a plane. For those who do not have experience of nut allergies, this could seem rather an extreme stance but it can literally be a matter of life or death for some people so it pays to be extra vigilant.
Sometimes, though, things are not quite as simple as just avoiding nuts. Technically, for instance, a peanut is not a nut, it is a legume. But it is still something to which many with "nut" allergies are allergic. On the other hand, coconuts are also not technically nuts but are instead "fibrous, one-seeded drupes", and people with nut allergies are very rarely allergic to coconuts. As such, it is very unlikely that something containing coconut oil (such as vegan cheese) would cause any problems for someone with nut allergies. But it is important to seek medical advice about exactly which foods you should avoid.
Here are some of the most common vegan foods that those with nut allergies (either peanut allergies or tree nut allergies) should avoid or about which they should be extra vigilant:
Nuts
Apologies for stating the obvious here, but clearly bags of nuts or bar snacks (including vegan protein bars) that have nuts mixed with other snack items are the worst possible thing for those with nut allergies to consume.
Breakfast Cereals & Cereal Bars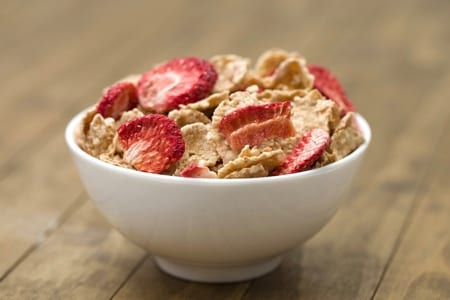 Some vegan breakfast cereals make it abundantly clear that their product contains nuts (we're thinking Dorset Cereals' Gloriously Nutty Museli here!). Others, though, require a little more delving and we would always recommend checking the labels for nuts amongst the ingredients and also a warning that they may contain nuts (as lots of cereals are made in factories that handle nuts even if they don't contain them directly).
For example, Jordans Country Crisp Strawberry contains no nuts in the ingredients but it says it may also contain nuts on the label, so this would be one to avoid for those with severe allergic reactions. On the other hand, Weetabix does not carry such a warning so one would assume the producers are happy their products are not exposed to nuts during production.
Biscuits, Cakes & Baked Goods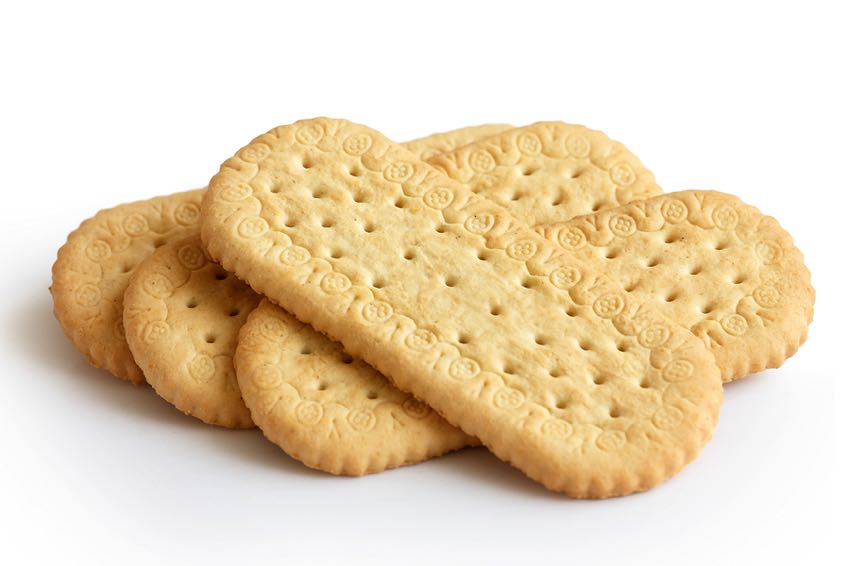 There are lots of vegan biscuits out there these days, but these are often made in places where nuts are also present. Biscuit makers Nairn's make a point of stating their factory is nut free. But then they state that "we cannot guarantee that our ingredients are nut free". They also mention their products are manufactured using equipment that handles milk, but that's another issue!
Sauces, Condiments & Dressings
Many sauces contain nuts or traces of nuts, with satay sauce and pesto being two common examples. Salad dressings often contain oil made from nuts that may or may not be refined.
Curries, Stir Frys & Similar Dishes
Not only can nuts sometimes be added to curries or other dishes, but peanut shoots are also sometimes added to stir frys.
Cosmetics & Toiletries
Some cosmetics or toiletries contain nut oils and though it is hard to ascertain the levels of risk of such products causing an allergic reaction (according to Anaphylaxis Campaign), those with severe allergies might well choose to avoid them.
Where to Buy Nut-Free Vegan Food

Once you have identified products or foods that don't contain nuts, you can buy them from wherever you like. Some retailers make things easier than others, however. For instance, when shopping online at Tesco you can exclude items that contain gluten or eggs (among other things), but not those that contain nuts. The same goes for Sainsbury's, while Waitrose have an "avoiding nuts" option on some products but not others.
For us, the best option when buying vegan food, in general, is TheVeganKind Supermarket, and this is especially the case for those who have nut allergies. This is because they allow you to filter the products using the "Peanut Free" and/or "Tree Nut Free" options. This is particularly useful for those people who are allergic to peanuts but not tree nuts or vice versa (as mentioned above) and shows the retailer has put time and effort into accommodating such customers rather than lumping all nut allergies together.
Best Nut-Free Vegan Alternatives
As we outline in our main Vegan Substitutions article, there are vegan alternatives to just about any food product you can imagine that might traditionally have been made using animal-derived ingredients. Here we'll run through some of the top vegan-friendly products that are also free of nuts*. We'll cover the following categories.
*Information correct at the time of writing, always check labels for the most up-to-date information. Please also note that, as with all products, you should check the label carefully in case the products have been manufactured in an environment that could have been exposed to nuts.
Nut-Free Vegan Meat Substitutes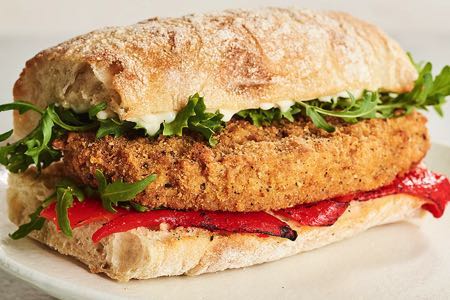 The term "vegan meat alternatives" covers everything from burgers to bacon to sausages to chicken. Some vegan versions of meat products are better than others but, thankfully, for people with peanut or tree nut allergies, most do not contain any nuts.
Here we'll give examples of vegan meat products that do not contain peanuts or tree nuts. Note that this is not an exhaustive list and other products exist that also do not contain nuts, but these are some of our favourites in each case.
| Type of Vegan Meat | Brand/Product |
| --- | --- |
| Vegan Burgers | Beyond Meat Beyond Burgers; Meatless Farm Co Meat Free Burgers; Future Farm Future Burgers; Vivera Plant Quarter Pounder |
| Vegan Sausages | Meatless Farm Co Plant-Based Sausages; Linda McCartney Vegetarian Sausages; Beyond Meat Beyond Sausages |
| Vegan Chicken | Linda McCartney Vegetarian Southern Chicken Burgers; VFC Vegan Fried Chick*n; Squeaky Bean Ready To Eat Chicken Style Pieces |
| Vegan Steaks | Vivera Veggie Steak; Sgaia Original Steaks |
| Vegan Mince | Meatless Farm Co Meat Free Plant Based Mince; Future Farm Future Mince; OmniPork Mince |
| Vegan Bacon | THIS Isn't Bacon Plant-Based Rashers; VBites Cheatin' Meat Maple Flavoured Rashers; Terra Vegane Berlin Bacon |
Nut-Free Vegan Dairy Substitutes
Vegan dairy alternatives covers anything that would traditionally be made from the milk from cows or any other (non-human) animals. There are loads of vegan alternatives to milk, cheese, ice cream and yoghurt. Vegans do not consume milk or any dairy products but thankfully there are loads of dairy-free, vegan-friendly alternatives to just about every dairy product you could think of.
The problem for those with nut allergies, however, is that a fair proportion of these dairy alternatives are made from (or contain) nuts. Here we'll give you a quick snapshot of some of the best vegan-friendly alternatives to the most popular dairy products that do not contain any nuts.
Here we'll list some nut-free options for various dairy alternatives, including the main ingredient(s) if not obvious from the name. Note that some of the products mentioned might have been produced in factories that handle nuts, and in these cases, there will be a warning on the label.
| Type of Vegan Dairy Alternative | Brand/Product/Type |
| --- | --- |
| Vegan Milk | Various brands of each of the following: Soy milk; oat milk; rice milk; pea milk; hemp milk; coconut milk |
| Vegan Cheese | Violife Vegan Cheese (coconut oil); Bute Island Sheese (coconut oil, soy); Applewood Vegan Cheese (coconut oil, potato starch, maize starch); Oatly Creamy Oat Spread (vegetable oils, oats) |
| Vegan Yoghurt | The Coconut Collaborative (coconut milk/water); Oatly Oatgurt (oats); Sojade Soya Yoghurt (soy) |
| Vegan Ice Cream | Oatly Ice Cream (not the Hazelnut Swirl flavour); Swedish Glace Non Dairy Frozen Dessert |
| Vegan Butter/Margarine | Flora Plant Butter; Pure Soya/Olive Spread; Vitalite Dairy Free Spread |
We'll add a few notes below including some products to watch out for in each category that either contain nuts or are made in environments that are exposed to nuts.
Vegan Milk Substitutes
Cashew milk, almond milk and hazelnut milk might be out for those with nut allergies but there are lots more plant-based milk options available that don't contain nuts, as mentioned in the table above.
Vegan Cheese Substitutes
As we outline in our main vegan cheese article, lots of the best vegan cheeses out there are made from cashew nuts and cultures, which is obviously a big issue for anyone allergic to nuts. But a large proportion of more standard vegan cheese is made from coconut oil and a source of starch. Often it is the pricier more gourmet-style vegan cheese that is more likely to be made from nuts, so always check the label, ask the vendor for the allergy information or simply avoid.
Vegan Yoghurt
Note that one of the biggest players in the vegan yoghurt world, Alpro, carries a warning on some of their yoghurt products that says they "may contain traces of nuts (no peanuts)". Also, on packaging for Koko Dairy Free Yogurt it states "produced on a site which handles nuts".
Vegan Ice Cream
Some vegan ice cream flavours make it very obvious that the product contains nuts, such as the Oatly Hazelnut Swirl flavour or Halo Top's Plant Based Peanut Butter Chocolate Ice Cream. Some are less obvious, however, such as Ben & Jerry's Swirled Non Dairy Ice Cream flavour that contains 2% almond paste.
Others that don't have nuts among the ingredients will hold warnings, such as the Roar vegan ice cream flavours, that state they "may contain peanuts and nuts". Annoyingly, for those with tree nut allergies, one of our favourite vegan ice cream brands, Booja Booja, make their products with cashew nuts.
Vegan Butter/Margarine
Note that some of the higher-end vegan butter and margarine alternatives use cashew nuts or almond oil. Also note that most of those that do not contain any nuts will tend to include some palm oil, which is a problem for some vegans for environmental reasons (despite it being made from plants).
Vegan Fish Substitutes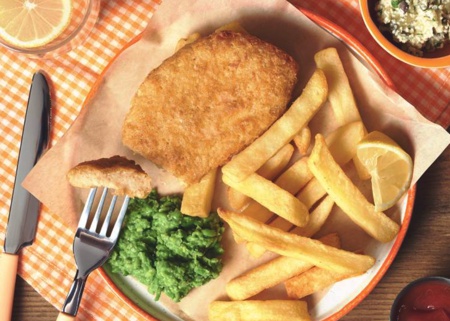 From vegan fish and chips to fish-free sushi, there are plenty of vegan alternatives available. And generally speaking, there is no reason they would contain nuts. As we discuss in our vegan fish & chips article, banana blossom, often with strands of seaweed, is an increasingly common substitute for real fish, and there are no nuts involved.
Note that some vegan fish alternatives – such as the Squeaky Bean Tasty Fishless Fingers – are made in an environment that handles almonds and they advise those with severe tree nut allergies to avoid the product. So, always check labels for any "may contain…" warnings.
Other Vegan Substitutes
Here we'll run through a few other foods that might be concerning for those who have to avoid peanuts or tree nuts or both.
Vegan Protein Sources for People with Nut Allergies
As mentioned above, nuts are generally good and healthy sources of vegan protein, also packed with fibre, plus micronutrients. But if you are unable to consume nuts and you want to ensure you consume enough protein, there are numerous vegan options.
As we discuss in our various features on vegan protein powders and vegan protein bars, many of the specialist vegan protein products are made without any nuts. The main ingredients could be things like pea protein, soy protein, rice protein and hemp protein. There are also lots of plant-based foods that offer good amounts of protein including seeds, soy beans, seaweed and even Marmite.
Vegan Cooking Oil
Although most of the Healthiest Vegan Cooking Oils are not made from nuts, some are, including peanut oil and walnut oil. But would someone with a nut allergy get a similar reaction to oils made from nuts? It would generally depend on the level of refinement that has been done to the oil in question. According to the Anaphylaxis Campaign's factsheet on peanut oil, research has suggested that allergic reactions to refined nut oil are rare and that even unrefined oil tends to lead to mild allergic reactions compared to when nuts themselves were consumed.
Of course, each person is different and those who have particularly strong reactions might be as well to simply opt for a non-nut-based oil. There are plenty of options available, with cold-pressed rapeseed oil, avocado oil and flaxseed oil all being very good options, depending on what you are planning to use the product for.
Eating Out with a Nut Allergy
Food labelling in the UK has improved a great deal in recent years when it comes to identifying ingredients that could cause severe allergic reactions in some people. But the same cannot always be said when it comes to restaurant menus and those in takeaways. For those with potentially severe nut allergies, the rule of thumb is to play things as safe as you possibly can. In general, avoiding street food and food stalls that handle any nuts would be very wise, and some will simply avoid food stalls in general if their allergies are especially severe.
Restaurants and cafes differ in their commitment to allergy information and practices and speaking to staff before you order anything is likely to give you a good idea about whether they are taking things seriously enough. It is almost impossible to guarantee there will be no nut contamination in a kitchen in which nuts are present, even if the dishes you order are free of nuts.
Legal changes in recent years have certainly made things a lot better for customers with allergies. However, whilst restaurants that maintain robust allergy management policies certainly exist, there is no effective data available that tells us the proportion of establishments that are likely to fall into this category nor which they are. As such, it is a matter of playing things by ear, using your judgement and speaking to staff or managers to ascertain whether somewhere is safe for you.
Vegan Nut-Free Substitutes – Conclusions
All in all, living with a severe nut allergy – whether peanuts, tree nuts or both – can make food shopping something of a minefield, whether you are following a plant-based diet or not. As for eating out, it is even worse. The good news is that labelling has got better in the UK so it is usually easy enough to identify the presence of nuts or if a product has been made in a factory that handles nuts, with key allergens always in bold on product labels.
From a vegan perspective, although nuts are quite an intrinsic part of many a vegan's diet, they are far from irreplaceable. Noting the many different types of plant-based milks available these days, for instance, shows that you can do without almond milk or hazelnut milk with relative ease and even most coffee shops will offer a non-nut vegan option. An allergy to tree nuts might mean you miss out on some very good vegan cheese, but at least most of the vegan burgers, sausages and bacon will be fine.
Finally, just to reiterate, the information on this site is a guide only and is not intended to be comprehensive medical advice. Always check the label and/or ask the producer or retailer and if you suspect you or a loved one has a food allergy, get medical advice sooner rather than later. If you have a diagnosis of being allergic to nuts it will mean you may have to be very careful with what you eat, but there are so many brilliant vegan foods out there that you can still have a very varied and tasty diet nonetheless.