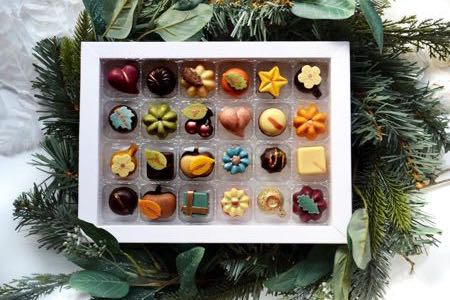 Advent calendars have been used since the 1800s as a way to count down towards Christmas. Over the years they have come in many guises (as we'll see later), but these days many people associate advent calendars with chocolate. If you fall into that category and you follow a plant-based diet (or you just care about the environment or the wellbeing of cows!), you will no doubt be attempting to find the best vegan-friendly advent calendars ahead of the festive season. In which case, we're here to help.
In this article, we'll outline some of the top vegan advent calendar options and we'll also take a look at some vegan-friendly alternatives to chocolate advent calendars (fancy a craft beer a day in the run-up to Christmas, anyone?!). We'll also look at some of the (many) things that could stop an advent calendar from being vegan.
Note that the specific details of products (including ingredients) can change from time to time so always check with the manufacturer or retailer of a given product, especially if you have any severe allergies. Also, note that many advent calendars only go on sale from around October each year and they might change slightly from year to year. As such we might add to or amend this article as Christmas approaches.
Best Chocolate Vegan Advent Calendars
Without further ado, let's run through our top vegan-friendly chocolate advent calendars:
Divine 70% Dark Chocolate Advent Calendar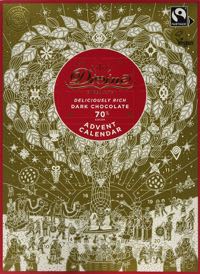 Marked as vegan and Fairtrade, the Deliciously Rich Dark Chocolate Advent Calendar from Divine Chocolate is one of the tastiest and most eco-friendly options around (not least because it is palm oil-free). Not as imaginative as some on the design side of things, but we can't fault them on the ethics or indeed the taste of the chocolate which is smooth and satisfying.
Moo Free Dairy Free Chocolate/White Chocolate Advent Calendar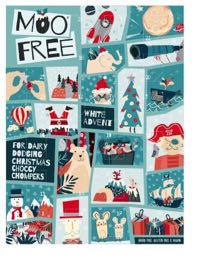 With fun designs that should appeal to kids and chocolate that is tasty enough without being mind-blowingly good, the advent calendars from Moo Free are decent value and fairly widely available.
Cocoa Libre Luxury Advent Calendar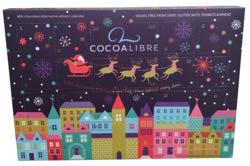 Another option that ticks the taste boxes, Cocoa Libre have produced some excellent chocolate over the years and though they are slightly pricier than some, many vegans will be all too happy to splash out.
Montezuma Advent Calendars
Organic, palm oil free and as smooth and creamy as many milk chocolate products out there, the vegan advent calendars from Chichester-based chocolatier Montezuma are well worth checking out. They have a few of their own stores dotted around London and the South (such as Brighton, Norwich and Oxford) or you can buy from TheVeganKind Supermarket and others.
NOMO Vegan & Free-From Advent Calendar
A fine, good value option for vegan chocolate advent calendars comes from NOMO, with some nice festive scenes to enjoy too.
Mummy Meagz Vegan Advent Calendar
The makers of our favourite vegan alternative to Cadbury Creme Eggs (as featured in our Vegan Easter Eggs article), Mummy Meagz might have a rather bad name, but they do make very good chocolate and their advent calendars should more than satisfy the pickiest of kids. These are available from Holland & Barrett.
Non-Chocolate Vegan Advent Calendars
Though chocolate advent calendars are particularly popular these days, and are seen by many as the traditional option, there are plenty of other types of advent calendars that are fine for vegans. Whether you simply want to avoid the sugar content of chocolate (or you don't want your kids having chocolate every day) or you just fancy something a little different this year, here are some of the best alternatives to chocolate we've found.
Beer
There are various beer advent calendars on the market that can be a great gift for adults in your life who enjoy craft beers. Note that often these will include special edition beers so even if the standard beers offered by a brewery are vegan, there's a chance some of those in an advent calendar crate may not be (as is the case with some of the beers contained within the Brewdog beer advent calendar).
It is not too difficult to construct your own beer advent calendar box, however, into which you can put 24 beers that you know are vegan (check our Is Beer Vegan? article for more info on which beers fit the bill).
Sweets
If you prefer vegan sweets to chocolate, fear not, there are plenty of advent calendars that contain vegan-friendly sweets like this Candy Kittens Advent Calendar that includes a selection of their gourmet vegan sweets.
Snacks
There is no doubt that vegan snacks are big business and they are becoming extremely popular, especially those that pack a good amount of vegan protein. It should come as no great surprise that there are vegan-friendly advent calendars that offer up either a mixture of vegan snacks across the 24 days of advent, or that focus on one vegan snack in particular (such as this Vegan Popcorn Advent Calendar from Joe & Seph's).
Tea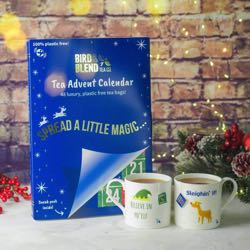 Most teabag and loose tea products are naturally vegan (beware of tea containing honey though), and there are a few advent calendars on the market that include a different teabag or sachet of loose tea for each day of advent. There are options from the likes of Whittards, Teapigs, Pukka Herbs and others, but check the ingredients as they can change the exact teas they use each year.
Coffee
Where tea goes, coffee tends to follow (or vice versa) and it should come as no surprise that there are coffee advent calendars available too. These can come with a range of different sachets of ground coffee or beans (or Nespresso pods or similar if you prefer that way of making coffee). So, if you're seeking to add a little variety to your caffeine kicks this Christmas, a coffee advent calendar could be just the ticket – just be sure to use one of the many great vegan milk alternatives or have it black.
Cardboard
Not all that long ago almost all advent calendars were made of card and your only reward for opening a day was a pretty uninspiring picture of some aspect of the nativity and the knowledge that you were one day closer to Christmas Day.
This might not be quite as exciting for kids who are seeking a sugar rush but some well-designed calendars can give you a nice, life-affirming image and perhaps a positive quote to set you up for the day and to bring you closer to the true sentiments of the festive period (and then you can go and buy your favourite vegan chocolate if you happen to fancy something sweet!).
Candles
A traditional advent candle is one that is marked with numbers corresponding with the days of December and you simply burn a section of the candle each day. This can be quite an exciting and interactive family event each day (emphasis on "quite") and can serve as a time of peace and tranquillity during which everyone contemplates the universe, the true meaning of Christmas and whether there is a good way to block out the kids' moaning about everyone else in their class having chocolate advent calendars.
Toiletries & Cosmetics
There are a lot of advent calendars available that include sachets or tubs of some cosmetic or other. Note, however, that there are various ingredients that could render such products non-vegan. Most vegans would also not go for any products that have been tested on animals (as we discuss on our article that explores the difference between cruelty free and vegan products).
Unless such an advent calendar is specifically designated as vegan and is produced by a reputable company that is against all animal testing, we would probably give these the swerve. A good example of a vegan-friendly advent calendar in this category is the one from Lush that includes bath bombs, shower gels, lip scrubs and, of course, soaps, among other things.
Toys & Games
For those parents who don't like the idea of their kids eating chocolate every day in the run-up to Christmas but they don't mind them having a piece of plastic tat, there are lots of advent calendars that include some kind of toy on each day of advent. Some of these are better (and more sustainable) than others. The likes of Lego and Playmobil have various options, but there are also a range of non-plastic alternatives that could get creative juices flowing like this Plasticine Christmas Advent Calendar from John Lewis (which it states is fine for vegans).
Charity Christmas is all about giving, right? Then what better to choose an advent calendar that gives to some of those in the most need around the world? While some advent calendars simply give a portion of the money you spend on it to charity, others will give you brief information about the charities you've helped behind each door, like those sold by Advent of Change.
Where to Buy Vegan Advent Calendars
Given their increasing awareness of how many people are turning away from animal products and towards veganism, mainstream supermarkets are more likely than ever to stock vegan-friendly chocolate advent calendars (some of which will be accidentally vegan).
To get a much greater range, though, we would generally recommend checking out a vegan-specialist shop, such as TheVeganKind Supermarket or GreenBay Supermarket. There are usually a good few options at Holland & Barrett too, as well as lots of smaller specialist vegan stores. Most of the brands mentioned above will also allow you to purchase directly from their websites.
How to Make Your Own Vegan Advent Calendar
Making your own advent calendar can be a satisfying and potentially cost-efficient way to produce a vegan-friendly and unique countdown to Christmas. It's not dissimilar to making your own vegan hamper in that you need to select the box (or whatever you want to use for the main part of the calendar) and then add the various products.
You can copy the construction of a standard chocolate advent calendar, creating a box with doors, into which you would place each treat or whatever item you choose. Or you could use material pockets pegged to a piece of festive material or a length of string that is suspended along the fireplace.
The options are only limited by your imagination, and you can even purchase make your own advent calendar kits that do some of the hard work for you if you want to save a bit of time. In terms of what you add to each day, it's probably a good idea to keep things on the small side, especially if they are food products (everyone eats too much when Christmas rolls around, after all). But variety is also key to keep up the excitement levels. So, whether you are making the advent calendar for your partner/spouse, kids, or friends, let your festive imagination run riot and see what ideas you come up with.
What Stops Advent Calendars Being Vegan?
When it comes to chocolate advent calendars, the ingredient that is most likely to stop it from being vegan is milk (or products derived from milk). These will always be easy enough to spot among the ingredients (in the UK at least) as they will need to be listed in bold print because they are classed as an allergen.
Aside from that, there are various colourings and flavourings that might be problematic (as we explore in our vegan E-numbers article, while things like honey and beeswax can be found in some products (both food and other things such as candles or cosmetics) that would render them non-vegan. For non-food advent calendars, for example, cosmetics or toiletries, products that have been tested on animals would generally be considered not to be vegan, so always opt for brands that are completely cruelty free if at all possible.
Vegan Advent Calendar Conclusions
As well as planning your perfect vegan Christmas dinner, ensuring your advent calendar (or the one you give to your kids) is free of animal products is not as difficult as it used to be. As well as the growing number of vegan-friendly chocolate advent calendars we have mentioned above, the vast array of alternatives to chocolate calendars gives you scope to be a little more imaginative if you choose to be.
Whether you fancy a tea or coffee advent calendar, or you'd prefer to make your own and add your choice of vegan treats to each day, there is no reason the countdown to Christmas needs to involve anything that has caused death or harm to any animals. So, start your plant-based Christmas as you mean to go on, with a vegan advent calendar.