Soy sauce is a condiment with a liquid consistency and a complex flavour incorporating saltiness, umami, sweetness and bitterness. It has been around in one form or another for over 2,000 years and originated in East Asia. There are a number of (often regional) variations of soy sauce, but the basic recipe has remained largely unchanged over the centuries: fermented soy beans, a grain of some sort (usually wheat), brine and mould cultures or yeasts. But while all that is very interesting, fans of soy sauce who follow a plant-based diet simply want the answer to a very basic question: is soy sauce vegan?
The answer is, yes, most soy sauce that is available to buy in the United Kingdom is vegan friendly, though there are occasionally some non-vegan ingredients that could sneak in to spoil things and often ingredients that are not that easy to spot (unless you know your E Numbers!).
In this article, we'll briefly run through what soy sauce is and how it is made. Then we'll take a look at what ingredients might make soy sauce non-vegan.
What Is Soy Sauce?
Soy sauce is a condiment and can be used as a dip (whether on its own or mixed with something else such as wasabi) and as an ingredient in its own right (i.e. added directly to food to add flavour either during or after cooking). Originally thought to have been developed in China and with origins that go back more 2,000 years or more, many people think that paste-style precursors of soy sauce (known as jiang) were developed first. These used fermented soy beans but the liquid version of soy sauce with which we are familiar today came later. That was probably developed sometime between the years 540 and 960 AD, becoming the dominant form of the food by about 1600.
Though soy sauce began life in China, it became popular in many countries in Asia, and indeed beyond, over the centuries, with variants developing, such as Japanese tamari. It is thought that soy sauce was first brought to Europe from Japan by the Dutch East India Company some time in the 17th century. Initially used as a way to preserve food, these days soy sauce is more of a seasoning condiment and main ingredient in many East Asian dishes. Much of the soy sauce consumed in the UK is, in fact, made in Japan, or at least in the Japanese way.
How Is Soy Sauce Made?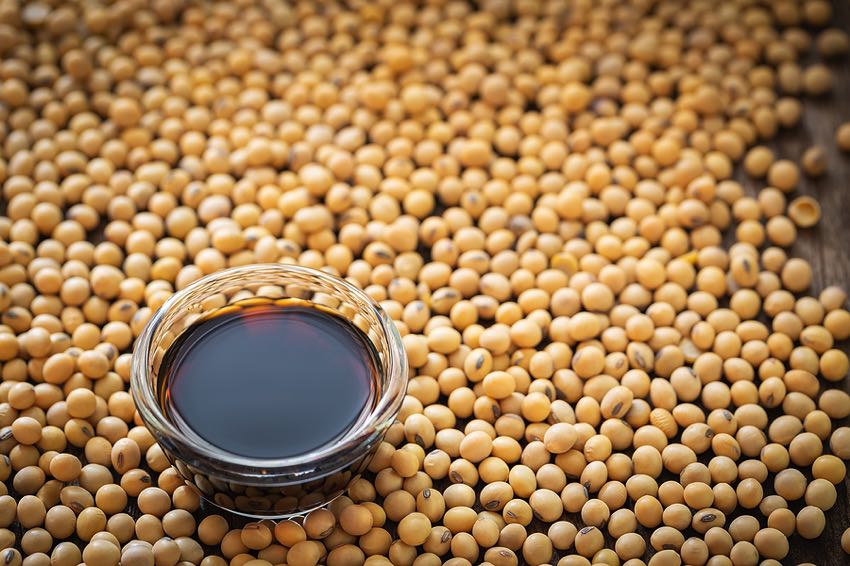 Traditionally soy sauce was made by fermenting a mixture of soy beans, wheat (or other grains) and mould or yeast. These days some soy sauce is still fermented but much uses a process of hydrolysis (which is much quicker and cheaper) to produce a similar effect, though with less depth of flavour. This process was developed in the 1920s in Japan and products made in this way are often blended with a small amount of "real" soy sauce in order to improve the flavour.
Is Soy Sauce Good For You?
There is some concern that the hydrolysis of soy protein can lead to carcinogens forming in the soy sauce, but this was not apparently the case with the fermented varieties. On the flip side, a study by the National University of Singapore suggests that dark soy sauce "has an antioxidant activity 150 times that of vitamins C and E, and ten times that of wine", which could have a positive effect on cardiovascular disease.
There are also thought to be potential anti-allergic properties contained within some soy sauce according to a study published in the Journal of Bioscience and Bioengineering. This is due to the effect of lactic acid bacteria that is present in unpasteurised soy sauce.
Looking at the nutritional values of some of the main soy sauce brands available in UK supermarkets, you will see that the main concern for many will be the high salt content. The figures below show the typical values of 100ml of soy sauce. Clearly a serving will be a lot less than 100ml (anything from 5ml to 20ml depending on what it's being used for) but that can still deliver a hefty dose, given that adults in the UK are advised by the NHS to consume no more than 6g of salt a day. Vegan though it is, soy sauce remains something that should be consumed in moderation.
| Typical Values Per 100ml | Tesco Dark Soy Sauce | Kikkoman Soy Sauce | Amoy Dark Soy Sauce | Lee Kum Kee Premium Dark Soy Sauce |
| --- | --- | --- | --- | --- |
| Energy | 338kJ/80kcal | 325 kJ/77 kcal | 510kJ/120kcal | 631 kJ/148 kcal |
| Fat | 0.5g | 0 g | <0.1g | < 0.5 g |
| Saturates | 0.1g | 0 g | <0.1g | < 0.1 g |
| Carbohydrate | 18.1g | 3.2 g | 28.6g | 31 g |
| Sugars | 13.8g | 0.6 g | 24.8g | 17 g |
| Protein | <0.5g | 10 g | 1.3g | 6.1 g |
| Salt | 9.7g | 16.9 g | 15.8g | 19.3 g |
Are There Any Non-Vegan Ingredients in Soy Sauce?
Whilst the best soy sauce tends to adhere to traditional production methods of fermentation and includes just the basic ingredients of soy beans, salt (or brine), wheat (or other grains) and yeast or mould cultures, some mass-produced soy sauce includes various colours and preservatives that may not be immediately recognisable to most food consumers. But are there any that vegan should be wary of?
Caramel Colour
Typically, for soy sauces that contain additional ingredients, you are likely to see "Colour – Plain Caramel" or similar listed amongst the ingredients. This is another name for the food additive E150 which is used as a colouring in all kinds of foods and drinks from brown bread to beer, rum to vinegar… and soy sauce.
Thankfully, it is made from carbohydrates that come from plants (and often from bi-products of the sugar refinement processes) so in almost all case they will be vegan friendly.
Citric Acid
Citric acid appears in some soy sauce but this comes from citrus fruits and is vegan.
Flavour Enhancers
Some soy sauces – for instance Amoy Light Soy Sauce, Amoy Reduced Salt Soy Sauce and Lee Kum Kee Sweet Soy Sauce – contain so-called "flavour enhancers" E631 and E627. The former is often made from pigs or fish, though it can also be made from tapioca starch. The latter is often made from sardines so unless the sauce is labelled as vegan it is probably worth checking with the retailer or producer.
Lactic Acid
As we explain in our lactic acid article, it can be made, in theory at least, from plant or animal sources, but we believe it is highly unlikely to be non-vegan. If in doubt, contact the manufacturer.
Potassium Sorbate
A potassium salt of sorbic acid, this is produced chemically without the use of animal products and is used as a preservative in some soy sauces.
Soy Sauce Conclusions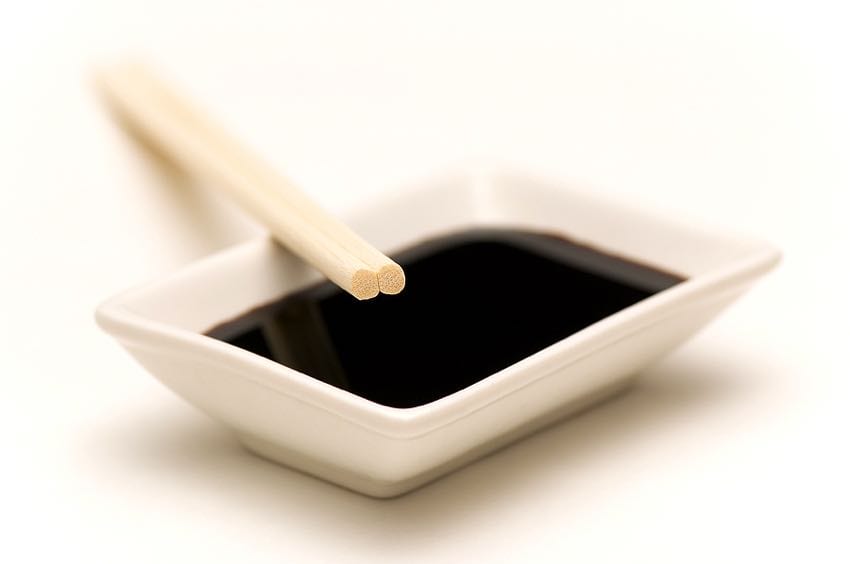 Overall, if you stick to high quality, traditional soy sauce that contains just the basic ingredients and has followed the traditional production methods you will have the best of all worlds: you can be sure it is vegan friendly, it will offer amazing umami, sweet, salty depth of flavour and it is more likely to yield more health benefits than negatives (assuming you keep an eye on your salt intake, that is).
As with many foods, the more ingredients that are included on the label, the more likely it is to contain things that are either not good for you or derived from animals (as in the case of the E number mentioned above).
When it comes to soy sauce, less is more in terms of the ingredients, and opting for fermented rather than hydrolysed varieties will ensure there are unlikely to be carcinogens present. Whether you use your soy sauce as an accompaniment to your stir fry or fried rice dish or as a dip for your vegan-friendly gyoza or edamame beans, it pays to choose your brand wisely.