Sometimes nothing quite hits the spot like some instant noodles. Whether you enjoy the convenience food at home or when out camping or at a festival, instant noodles can be a quick and satisfying energy boost. With Pot Noodles and Super Noodles being two of the leading brands of instant noodles in the UK, we are focusing on them in this article. So, let's get to it and answer the key questions:
The answer in each case is: some flavours are vegan, but most are not. We'll delve into Bachelors Super Noodles later, but first let's tackle Pot Noodles. But if you are vegan and a former Pot Noodle fan, brace yourself… there really isn't a lot of choice for you!
Are Pot Noodles Vegan?
At the time of writing (November 2020), there is only one flavour of Pot Noodle that is definitely vegan friendly: the Japanese Miso Noodle Soup Pot Noodle from their Asian Street Style range. Unilever directly confirmed this when we contacted them (of which more shortly).
This will come as a major disappointment to many vegans who used to be quite partial to a Sweet and Sour or Beef and Tomato Pot Noodle. Note that all standard Pot Noodle flavours are vegetarian (though some of their Pot Pasta, Pot Rice and Asian Street Style flavours are not). But, what is it that renders them non-vegan? Let's find out!
What Stops Pot Noodles Being Vegan?
Let's take a look at the ingredients of one of the standard Pot Noodle flavours and see what might pose a problem for vegans. We'll go for the Chicken and Mushroom flavour as an example (which doesn't contain any chicken, as it happens):
Ingredients in Pot Noodles: Chicken & Mushroom
Noodle mix (96%): Dried noodles (69%) [WHEAT flour, palm oil, salt, firming agents (potassium carbonate, sodium carbonates)], maltodextrin, WHEAT flour, sweetcorn, potassium chloride, flavour enhancers (monosodium glutamate, disodium inosinate, disodium guanylate), flavourings (contain MILK), sugar, skimmed MILK powder, palm fat, salt, onion powder†, yeast powder (contain WHEAT, BARLEY), mushrooms (0.4%), herbs (chives†, sage), potato starch, mushroom juice concentrate†, acid (citric acid). Sauce sachet (4%): Soy sauce [water, soy sauce (SOYBEANS, WHEAT), salt, molasses, sugar, acid (acetic acid)]. †From sustainable agriculture May contain egg, celery and mustard.
Non Vegan Ingredients
Here are the ingredients that either are definitely non-vegan or which might be non-vegan:
Palm Oil / Palm Fat
When it comes to palm oil (which includes palm fat and other variations), the vegan jury is out as to whether it should be consumed by vegans. Technically, it is vegan as it comes from plants, but there are various environmental issues that mean some vegans choose to avoid palm oil.
Maltodextrin
As we explain in our article on maltodextrin, most maltodextrin you encounter will be vegan friendly, but without checking with the manufacturer (or picking foods specifically labelled as vegan) you can't be 100% certain.
Flavourings (Contain Milk)
Obviously milk is not vegan as it comes from cows, so anything that contains dairy milk or ingredients derived from it cannot be vegan.
Skimmed Milk Powder
As above, this contains milk, which is dairy and thus not vegan.
Cross-Contamination
When it comes to cross-contamination, there is a chance the product might have come into contact with small quantities of non-vegan products (in this case egg). Most vegans are not overly concerned by this risk and it is more pertinent to those with strong allergic reactions to certain ingredients.
Pot Noodles: Non-Vegan Ingredients Or Cross-Contamination?
Clearly, the big issue with this Pot Noodle flavour from a vegan perspective is the inclusion of milk-derived ingredients. But not all the Pot Noodle flavours that the makers Unilever suggest are non-vegan actually contain milk-based ingredients.
For instance, the Beef and Tomato (which does not contain beef), Sweet and Sour, and Chinese Chow Mein flavours do not list milk or milk-derived items specifically amongst their ingredients. As such, there are two possible reasons why the makers of Pot Noodle do not claim most flavours to be vegan:
Some of the other ingredients are not vegan friendly
The ingredients are all vegan but the risk of cross-contamination with non-vegan ingredients is too great to classify most Pot Noodles as vegan
On the first point, there are various ingredients listed in most Pot Noodle flavours that could be derived from animals or which have used animals products during their manufacture.
Asian Street Style Japanese Miso Noodle Soup Flavour
Things like soy sauce, for instance, in theory could be non-vegan. The same with maltodextrin and sugar. But the one Pot Noodle flavour that is definitely vegan friendly – the Asian Street Style Japanese Miso Noodle Soup flavour – contains all those, so they can't be the culprits.
One thing the Miso Noodle flavour does not contain, though, is palm oil. Could this be the ingredient that Unilever think is stopping most Pot Noodles being vegan? We doubt it, as palm oil is actually classed as vegan by PETA.
The second option, that the risk of cross-contamination with non-vegan ingredients is too high, is feasible. After all, that is what has stopped the makers of Oreos stating their cookies are vegan friendly (though that hasn't stopped many a vegan biscuit fiend tucking into them on the basis that they don't actually contain any non-vegan ingredients!).
"May contain egg and milk"
The thing is, the aforementioned Miso Soup flavour Pot Noodle also carries a warning that it "may contain egg and milk", so it is unlikely to be the cross-contamination risk that is stopping the other flavours being presented as vegan. In truth, this is all very confusing and seemingly contradictory, because the Miso Soup product is certified as vegan and proudly sold as such. We suspect this may well be a similar scenario as M&S's (in)famous vegan range which was controversially labelled with the same allergy warning in 2019.
For some vegans, if there are no obviously non-vegan ingredients contained in a product, they're happy enough to tuck in. Others, however, are far more strict. Where you draw the line is of course up to you. If you are more towards the strict end of the spectrum, the only 100% vegan Pot Noodle is the Asian Street Style Japanese Miso Noodle Soup flavour – although even that carries a warning about egg and milk!
Pot Noodle's Response
If you are happy to consume other flavours that don't contain obviously non-vegan ingredients (such as milk-derived products), then there are plenty of flavours you might consider. We contacted the makers of Pot Noodle to seek clarification on the matter and they responded by saying:
The products which are not marked as vegan are being produced in an environment where eggs and milk products are used. Therefore, it may contain traces of animal-based products.

So, there we have it. The non-vegan flavours that do not obviously contain non-vegan ingredients might be okay for vegans after all… as long as you don't mind the possible risk of cross-contamination (which presumably is not that high, though we can't say for certain).
Quite how the risk of cross-contamination varies between the certified-vegan Miso option and the other flavours is unclear, so we think this is a product where you will have to make your own mind up really!
Which Pot Noodle Flavours Are Vegan?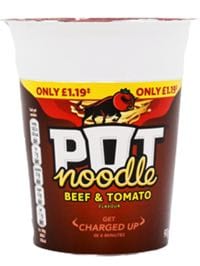 As mentioned, only the Asian Street Style Japanese Miso Noodle Soup flavour is definitely vegan. But here are the other flavours that contain no obviously non-vegan ingredients, assuming you are fine consuming palm oil/fat. Also note that some of the ingredients may have come into contact with non-vegan ingredients during the manufacturing process.
Pot Noodle Jerk Chicken
Pot Noodle Bombay Bad Boy
Pot Noodle Beef & Tomato
Pot Noodle Sticky Rib
Pot Noodle Chinese Chow Mein
Pot Noodle Sweet & Sour
Pot Noodle Flavours That Are Not Vegan
Conversely, if you would rather see the Pot Noodles that are definitely not vegan, here you go:
Pot Noodle Original Curry – Contains cheese powder
Pot Noodle Chicken & Mushroom – Contains various milk-derived ingredients
Pot Noodle BBQ Pulled Pork Flavour – Contains milk
Pot Noodle Thai Green Curry – Contains milk proteins
Pot Noodle Chicken Korma – Contains various milk-derived ingredients
Pot Noodle Asian Street Style Malaysian Laksa – Contains milk proteins
Pot Noodle Asian Street Style Vietnamese Beef Pho – Contains beef powder, milk
Pot Noodle Asian Street Style Thai Red Curry – Contains milk proteins
Note that we haven't focussed on the Pot Pasta, Pot Rice or other products here, but none are currently officially classified as vegan friendly. Also note that ingredients and product names can change from time to time so always check the label to be on the safe side.
Are Super Noodles Vegan?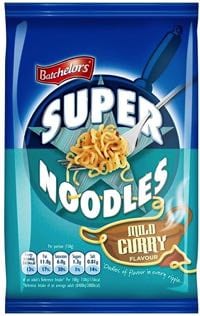 We've tackled the most popular pot-based noodles; now let's turn our attention to the rather more naked noodles: Super Noodles. Having said that, you can now buy Super Noodles that do come in pots too. Indeed you can buy Pot Noodles without pots too! The world clearly has gone nuts. But at least we know nuts are vegan … or are they?!
Anyway, potted or not, are Super Noodles vegan? Well, alas, no Super Noodles are officially classified as vegan by their makers Batchelors (owned by Premier Foods). Let's delve into the ingredients and attempt to ascertain why that might be.
What Stops Super Noodles Being Vegan?
As with Pot Noodles, some Super Noodles flavours are easy to spot as non-vegan because they contain milk or derivatives of milk. An example of this is the Southern Fried Chicken flavour, which contains lactose from milk, milk-derived flavouring and, well, milk. That milky triple whammy ensures this flavour is out of bounds for vegans (though note there are no ingredients that actually come from chickens!).
Ingredients in Super Noodles Chow Mein
But if we take a look at a different flavour, in this case Chow Mein, things are not quite so obvious:
Noodles (Water, Wheat Flour (with Added Calcium, Iron, Niacin, Thiamin), Palm Oil, Antioxidants (Butylated Hydroxyanisole, Citric Acid, Propyl Gallate)), Sugar, Onion, Salt, Yeast Extract, Ground Ginger, Flavour Enhancers (Monosodium Glutamate, Disodium 5′-Ribonucleotides), Colour (Plain Caramel), Garlic, Ground Fennel Seeds, Ground Black Pepper, Ground Cinnamon, Ground Clove, Spice Extracts

Question Mark Ingredients
As with Pot Noodles, there are a few ingredients that could be considered non-vegan, such as palm oil or even the flour or sugar included (which might have used animal products during the manufacturing processes). There are also some ingredients that – vegan or not – you might not be too impressed by. Butylated Hydroxyanisole, has been assessed for health risks and it was concluded that it can be reasonably anticipated to be a human carcinogen, which is not ideal, especially if you are motivated by the health reasons for going vegan.
Cross-Contamination
But there is nothing present there that is definitely not vegan. The other possibility, as with Pot Noodles, is the possibility of cross-contamination during the manufacturing process. Many of them carry warnings such as "May also contain Crustaceans, Fish, Milk, Molluscs", any of which would make them non-vegan. But many vegans disregard such warnings (though if you have allergic reactions to any of these things, it is better to avoid the products in question).
We contacted Batchelors to seek clarification on which ingredients could render their products non-vegan and they responded:
As a responsible manufacturer, we are committed to providing accurate information on the labelling of our products.
"It is our policy that a product labelled as 'vegan' means that the product is not made from or contains ingredients derived from animals, has not been contaminated with non-vegan foods and that we can demonstrate this via scientific testing.
Products meeting this policy will carry a "vegan" flash on the pack.
This is not the case at this moment in time for Batchelors Products due to our current manufacturing processes and operations where we manufacture products that do contain ingredients of animal origin and products that do not."
So, as suspected, it is more a case of possible contamination than the fact that any of the ingredients are derived from animals. As such, for those willing to risk cross-contamination, we can say that some Super Noodles flavours are essentially fine for vegans.
Which Super Noodle Flavours Are Vegan?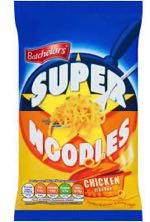 In the meantime, here are the Super Noodles flavours that do not contain any obviously non-vegan ingredients (unless you consider palm oil to be non-vegan):
Super Noodles Mild Curry
Super Noodles Chow Mein
Super Noodles Chicken
Super Noodle Flavours That Are Not Vegan
Here are some flavours that vegans should certainly avoid:
Super Noodles Bacon – Contains milk
Super Noodles Bbq Beef – Contains milk mineral concentrate
Super Noodles Southern Fried Chicken – Contains milk and lactose from milk
Super Noodles Chicken & Mushroom – Contains milk proteins and whey from milk
Other Vegan Instant Noodles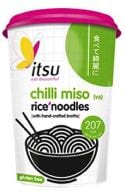 If you want to be 100% sure your instant noodles are vegan friendly, or you don't fancy the Japanese Miso Noodle Soup Pot Noodle for whatever reason (and the fact they are labelled with a warning about eggs and milk is one decent reason!), here are some vegan-friendly instant noodle options for you. Note that some of these options contain palm oil. Please check the label to confirm ingredients.
| Instant Noodle | Notes |
| --- | --- |
| Tesco Instant Noodles | Similar to Super Noodles, Tesco's own-brand instant noodles offer vegan-friendly options in two flavours: Chicken and Chow Mein. |
| Naked Noodles | Similar to the Pot Noodle Asian Street Style flavours, the vegan-friendly Naked Noodles are available in a number of flavours, including Korean Style BBQ Ramen Vegetable Pot, which is rather tasty. |
| Itsu Noodle Cup | Another rival to Pot Noodles, and one that does better on the flavour front, Itsu's Noodle Cups come in Chilli Miso and Satay flavours. |
| Koka Instant Noodles | Available in both Super Noodle-like packets and Pot Noodle-like pots, there are a number of Koka noodles that are fine for vegans, including their Curry Flavour. |
| Wicked Kitchen | Their Spicy Coconut and Rice Noodles are worth sampling as a decent alternative to Pot Noodles. |
| Morrisons Beef & Tomato Noodle Pot | An almost direct copy of the Beef and Tomato Pot Noodle, this own-brand option from Morrisons is equally devoid of taste and is seemingly vegan friendly. |
| Kingsoba Classic Miso Ramen Cup | For those seeking a slightly more premium product, the Kingsoba Classic Miso Ramen Cup is worth checking out. Bursting with a warming umami miso flavour, it's a bit on the pricey side (more than £2.00 per pot from GreenBay Supermarket), but it is one of the best Pot Noodle alternatives there is. |
How to Make Your Own Vegan Pot Noodle
Many vegan cook books include variations of pot noodles, and they are usually far tastier than the originals truth be told! This is because you can add various fresh ingredients instead of having to rely on dehydrated ones. You can also tailor your pot noodle to your taste in terms of the spices you add.
Here's an example of the type of thing you might like to try, but clearly you can experiment as you see fit and see what exciting flavour combinations you can come up with.
Ingredients
Just grab a pack of your favourite vegan noodles and add them to a pan of boiling water along with the following:
Half a vegan stock cube
Lemon zest
Dash of soy sauce
1 spring onion, finely chopped
50-100g tofu, cut into small cubes
1 fresh chilli, finely sliced
A chunk of fresh ginger, finely diced
Shredded/finely sliced veg of choice (e.g. cabbage, lettuce, carrots, courgettes)
Method
Then simply bring to the boil and simmer for a few minutes, pour into your "pot" (or bowl or mug) of choice, and voilà: you have your own vegan pot noodle, with no dirty chemicals or monosodium glutamate in sight (assuming the stock cube doesn't contain such things, though you can easily make your own vegan stock if you prefer).
If all that seems a little too much like hard work, you can of course simply buy any of the vegan-friendly options above.
Pot Noodle & Super Noodles Conclusions
When it comes to Pot Noodles and Super Noodles, the manufacturers appear reluctant to stick their necks out and claim their products to be vegan friendly. In fact, of all the noodle flavours each produces, only one – the Japanese Miso Noodle Soup Pot Noodle – is confirmed as definitely vegan. And, as said, even that contains an allergy warning with regards egg and milk, which is rather confusing!
There are plenty of flavours, as detailed above, that at least appear to contain no animal-derived ingredients. But most include palm oil, which some vegans choose to avoid. To be on the safe side, vegans should opt for the one Pot Noodle that is definitely vegan, opt for one of the vegan-friendly instant noodles we mention above, or simply make their own vegan version of a pot noodle. That last option is likely to produce a meal that is healthier, more nutritious and more flavoursome.