Love it or hate it, there is no doubt that Marmite has punched well above its weight in the world of food. Considering it is a rather unappetising colour and consistency, and that it is created from what is essentially a waste product of the brewing industry, its popularity is somewhat surprising. But for fans of the sticky spread, the fact that others don't like it is quite unfathomable. So, let's swiftly address the question on the lips of all those Marmite-loving vegans out there: is Marmite vegan?
Thankfully, the answer is a resounding yes, Marmite is indeed vegan. And, not only that, it also acts as one of the best vegan-friendly sources of vitamin B12, with a whopping 24µg of vitamin B12 per 100g of Marmite. Though we are not suggesting you guzzle down 100g of the stuff. That would also mean you'd be consuming 10.8g of salt, which is almost double the recommended daily amount for an adult!
What Is Marmite Made From?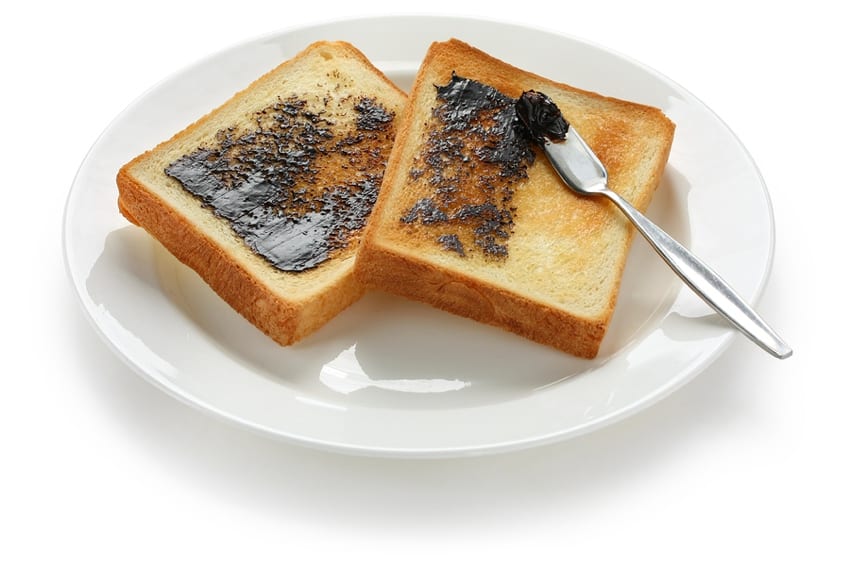 It's fine for us to simply blurt out the fact that Marmite is vegan friendly, something which is stated explicitly on the Marmite website incidentally. But we shall now prove it by explaining what Marmite is made from and thus showing that there are no ingredients that go against the ethos of even the most strident vegan.
Yeast Extract
Marmite's main ingredient is yeast extract that is manufactured using a process that is technically secret. In general terms, yeast extract is created by adding salt to a suspension of yeast (i.e. yeast in water), which causes the yeast cells to essentially self-destruct: its enzymes act on its own cells, effectively digesting itself. The yeast cells are then heated, sieved (to remove husks) and combined with other ingredients added to enhance the flavour or add nutritional value.
As we discuss in our Is Yeast Vegan? article, whilst yeast is alive, it is neither animal nor plant: it belongs to the Fungi kingdom, and hence yeast is fine for vegans to consume. The yeast used in the production of Marmite is obtained from the brewing industry in the UK, and given that this by-product would otherwise be thrown away, the fact that Marmite exists at all is a big plus from an environmental perspective as it make (very good) use of what would have been a waste product.
Ingredients of Marmite
Here we look in just a little more detail at the individual ingredients of Marmite (the standard version). Note that the exact quantities and specific flavourings added are not in the public domain as these are closely guarded trade secrets, but here are the main constituents of the gorgeous goo.
| Ingredient | Notes |
| --- | --- |
| Yeast Extract (contains barley, wheat, oats, rye) | While yeast itself is not a plant, because the yeast extract used for Marmite comes from the brewing industry, there will be small amounts of one or more of the grains used in brewing, which should be noted for anyone who might have allergies to them. These are clearly vegan friendly. |
| Salt | While salt is not top of the list of nutrients people are advised to consume, a small amount is essential for our health. Consuming too much salt can be detrimental, but it was would be hard to consume enough Marmite to cause any issues, despite the relatively high salt content. Salt, being a combination of sodium and chlorine, is vegan friendly. |
| Vegetable Juice Concentrate | This is where things begin to get a little vague, but given that Unilever has assured us of the vegan status of their product, we can safely assume the vegetable juices used in the Marmite recipe do not contain any non-vegan additions. |
| Vitamins (Thiamin, Riboflavin, Niacin, Vitamin B12 and Folic Acid) | As with the fruit juice, given the vegan credentials of the product we must assume that all the vitamins added to Marmite are derived from plants or synthesised in the lab and not derived from any animal products. |
| Natural Flavouring (contains celery) | Again, just a little vague here, but the Marmite makers aren't going to tell us exactlywhat they're adding to create the unique flavour we all (well, half of us) love. We know it contains celery, which is obviously vegan, and we are confident any of the other natural flavourings they use are also plant-based. |
Are All Varieties of Marmite Vegan?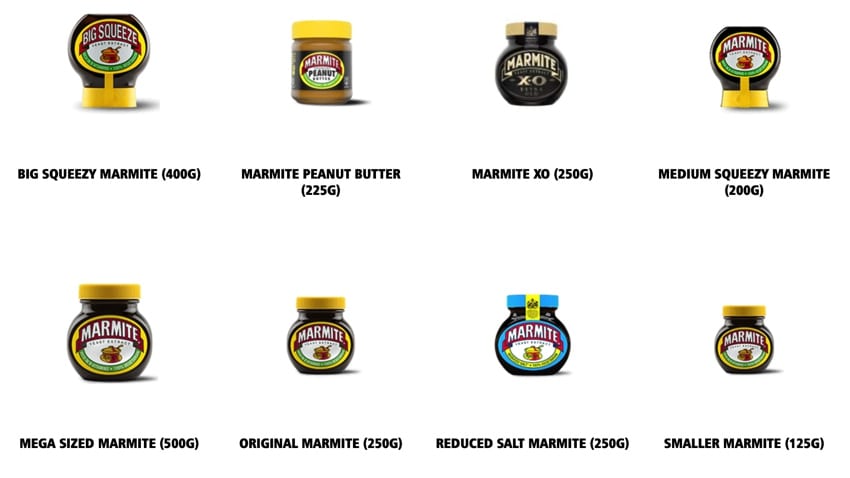 At the time of writing, there are officially nine Marmite products in the UK, but six of these are simply the original Marmite in different sized jars/bottles. Only two of their products are problematic from a vegan perspective.
Original Marmite
This comes in glass jars containing 70g, 125g, 250g or 500g of the sticky stuff, or squeezy bottles containing 200g or 400g. All these have the distinctive Marmite label with yellow, red, green and white, and the picture of the 'marmite' – a traditional crocket casserole dish.
Note that even though the 70g jar contains the same Marmite as the others, at the time of writing Unilever, the makers of Marmite, are awaiting official vegan approval for the 70g products from the European Vegetarian Union (EVU). All the other sizes have been approved by the EVU as vegan according to the Marmite Ambassador who responded to our query.
Reduced Salt Marmite
In response to criticism of Marmite's high salt content, a reduced-salt version was brought out which contains just over 6g of salt per 100g of Marmite. The label is similar to that on the original Marmite jars, but is blue where the original is yellow, and yellow where it is green. This version is also fine for vegans.
Marmite XO
For real Marmite aficionados, the XO (standing for Extra Old) version of Marmite has been matured four times longer than the standard variety, giving it an even stronger (some might say pungent!) flavour. This bad boy is not for the faint of heart, but perfectly fine for vegans.
Marmite Peanut Butter
Marmite have created a peanut butter that they say is fine for vegetarians but not for vegans. It is not immediately clearly why this is the case looking at the ingredients. Nevertheless, unless they confirm it is vegan friendly, we must presume it isn't.
What About Other Marmite Products?
As well as the standard Marmite products, and their peanut butter, mentioned above, there have been various special edition Marmite spreads, joint ventures and other product spin-offs over the years. While some have graced our shelves only fleetingly, others can still be found, such as Walkers Marmite flavoured crisps, Marmite Mini Cheddar Bites, Marmite Flatbreads and even Marmite-flavoured popcorn and chocolate!
While the Marmite itself in these offshoot products is vegan, some, like Mini Cheddar Bites or Marmite chocolate, are clearly not going to be as they will contain milk and/or other animal products. As such, always check the labels of any Marmite-related products you encounter, and if you really can't resist the idea of Marmite-flavoured chocolate, you could always slather the sticky stuff on your favourite bar of vegan-friendly chocolate and give it a try. Note… it's a very acquired taste!
A Brief History of Marmite
Marmite has more in common with penicillin than you might imagine: both are substances that have greatly benefitted humanity, but both were effectively developed by scientists who made accidental discoveries. While Alexander Fleming's discovery of the penicillin group of antibiotics has long been celebrated, it's about time the German scientist behind Marmite, Justus Freiherr von Liebig, is held in a little greater esteem, in our view.
Accidental Discovery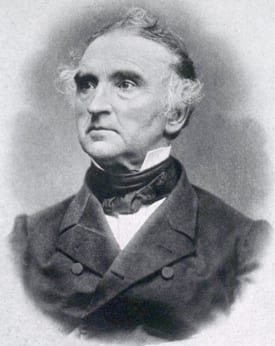 His discovery that yeast could be concentrated led directly to invention of Marmite, but he did a whole lot more besides in a varied career of scientific discovery that centred around plant nutrition, agriculture and organic chemistry (something he is credited with being the founder of). He even invented the OXO cube! Though that might not be quite so exciting for vegans given that it is a meat extract.
Alas, Herr Liebig did not live to see the birth of Marmite as the German died in 1873, aged 69. It was not until 1902 that the Marmite Food Extract Company was founded in Burton upon Trent, a centre for British brewing. The Bass Brewery which was founded in 1777 and was based in Burton provided the yeast by-product for Marmite's production. Once Marmite was unleased on the Great British public, it soon grew in popularity, and by 1907 the company built a second factory, this time in London, to keep up with demand.
Vitamin Rich
Once vitamins were discovered in 1912, Marmite never looked back: it was discovered to be a great source of B vitamins and as such was included in the World War I rations of British troops to prevent vitamin B deficiency.
Marmite was also used to great effect in the 1930s to treat anaemic patients in India by Lucy Willis, an English scientist who worked out that Marmite contained folic acid. Malnutrition caused by a malaria outbreak in Sir Lanka in the same decade was also eased with the help of Marmite.
Marmite, which became a subsidiary of Bovril, was bought out by CPC International Inc, the producers of Hellmann's mayonnaise, in 1990. The company later became Best Foods Inc and was then acquired by consumer goods behemoth Unilever in 2000. Thankfully, Unilever have had the good sense not to mess with Marmite's iconic flavour or branding. Long may that last.
Vegemite Is Also Vegan
Interestingly, the Marmite with which we are familiar is not the only one: there is a product of the same name that has been produced in New Zealand since 1919, but this is only sold in Australasia and some parts of the Pacific, with the UK's own Marmite taking the rest of the world. As such the UK version of Marmite – the original version, the authentic version – cannot be sold in New Zealand.
Australia too has their own Marmite copy… er, we mean alternative: Vegemite. This was developed in 1922 by Australian food technologist, Cyril Percy Callister, who was given the task of developing a Marmite-like product after post-WWI imports of the original spread to Australia became disrupted.
Vegemite went to market in 1923 and after disappointing sales when competition from Marmite increased, the producers took the rather extreme step of changing the name to 'Parwill'; this was purely so they could use the advertising slogan, 'Marmite but Parwill'! It didn't work, so they changed the name back to Vegemite. Vegans heading Down Under take note: Vegemite is also fine for vegans to consume (though it's not quite as tasty as our own Marmite!).