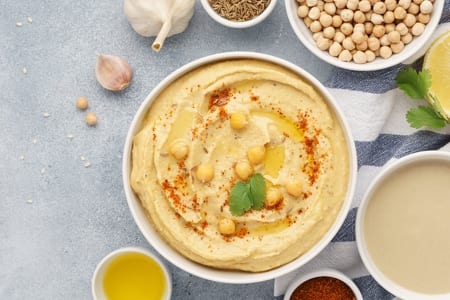 Not all that long ago hummus was an exotic food that most people in Britain might not have heard of, let alone eaten. It is now undeniably mainstream and something that many decent home cooks could make without needing a recipe. For those wanting convenience, it is available to buy readymade in pretty much any supermarket you might walk into. Most of those shops will not merely sell hummus but will more than likely offer a whole range of different varieties of this hugely popular dip.
However, you are presumably here because you want to know if hummus is vegan or not and the short answer is that it almost always is. We say "almost always" because we can't possibly guarantee that every hummus made by every chef, restaurant, supermarket, takeaway and sandwich shop is vegan, but by and large, there is no real reason why hummus wouldn't be suitable for those following a plant-based diet.
What Is Hummus?
Most people will have at least some idea of what hummus is but for those that don't, or those who want a little more info, we have the lowdown on this delicious and highly nutritious food.
Hummus is a Middle Eastern dish that is hugely popular all over the Levant. The precise definition of "the Levant" is more or less as disputed as the origins of hummus but broadly speaking it is an area that covers the north eastern tip of Africa, Greece, Turkey, Cyprus and the traditional Middle Eastern countries of Israel, Palestine, Syria, Lebanon, Iran, Iraq and Jordan.
As with many great foods there is no fixed recipe with lots of regional variations, as well as differences within regions. Everyone has their own idea of what the perfect hummus is and should be and possibly the only constants are chickpeas and tahini. Tahini is essentially sesame seed "butter", akin to pure almond or peanut butter but made from toasted sesame seeds.
The name hummus comes from the Arabic for chickpeas and, in actual fact, the full name for this spread or dip is hummus bi tahini, simply meaning chickpeas with tahini. Whilst those two eponymous ingredients are really essential for something to truly be hummus, in recent years hummus has often been used to describe a whole range of dips, for example "butter bean hummus", where butter beans replace the chickpeas.
Common Ingredients in Hummus
In this article, however, we are considering hummus in the more traditional sense. That is not to say, however, that we feel hummus should only have those two ingredients. There are a wide range of other additions that are very common and these include:
Lemon juice
Oil (usually olive oil, which is predominant in the Levant)
Garlic
Salt
Cumin
Parsley, paprika or sumac (often to garnish)
Almost all hummus recipes that you encounter will probably include one or more of those ingredients in addition to the crucial chickpeas and tahini. However, in the same way that there are many pizza combinations that would never grace the tables of Naples or Roma, so too are there non-traditional hummus additions.
Additional Ingredients
Don't be surprised to see the following as options in the supermarket, with the ingredients listed usually added to a base hummus of a more traditional nature.
Coriander
Roasted peppers
Chilli
Lemon – this is essentially "normal" hummus but with a very strong lemon flavour
Moroccan – usually standard hummus with lots of North African spices
So, Hummus Is Vegan?
You could be forgiven for wondering why anyone would doubt the vegan credentials of hummus. All of the ingredients we have listed, even some of the more outré ones, are quite obviously plant based. If you make your own hummus – and we have a cracking and very easy recipe below – then you can be sure that it will indeed be vegan.
However, when it comes to ones bought readymade, there may be certain things to look out for. Hummus is one of those foods that people sometimes mockingly associate with vegetarianism and veganism but that stereotype is often helpful. That's because often hummus you buy from a shop will be clearly labelled as being vegan. If this is the case, then fill your boots and get stuck in! If not though, what might find its way into hummus that could be non-vegan?
Potential Ingredients in Hummus That May Not Be Vegan
Well, leaving aside any strange meat additions that may exist but will be clearly labelled if so, there are some less obvious ingredients that could turn your favourite chickpea dip into a no-go area.
Palm Oil
Palm oil is one such ingredient and whilst palm oil is technically vegan, some vegans would dispute that, whilst others would still want to avoid it for ethical and environmental reasons. As said, hummus should really be made with olive oil but for reasons of price some mass-produced versions use palm oil.
Sugar
Sugar is another ingredient that really has no place in hummus but may well be added. If it is included, this raises issues of bone char, which is sometimes used to filter and whiten refined sugars.
Additives
Other possible areas for concern are additives, such as stabilisers and emulsifiers that may be included to help make the hummus smoother or have a longer shelf life. Some of these are non-vegan and whilst lecithin will often be clearly marked as being from a plant source (such as soy), this isn't always the case, whilst other possible additives may not be vegan friendly.
Cross Contamination
Last of all is the possibility that some factory-made hummus products may suffer from cross-contamination or cross contact. Although they may not contain non-vegan ingredients per se, if they are produced in a building where other foodstuffs are made there is a risk they could contain traces of dairy or other animal-derived items.
Our Quick & Easy Vegan Hummus Recipe
Given such concerns, many vegans opt to make their own hummus and that's certainly the way we roll. Making hummus is quick and easy and is cheaper than buying it readymade. In addition, you have total control over the flavour and nutrition, as well as the texture and consistency. Check out all of our vegan recipes or, if it is specifically hummus that you are after, here it is:
Vegan Hummus Recipe
Ingredients
1 can of chickpeas
3 tablespoons of light tahini
3 medium cloves of garlic
Juice of one small lemon (around 30ml)
Half a teaspoon of cumin powder
Half a teaspoon of salt
Paprika, extra virgin olive oil and a handful of cooked chickpeas to garnish
Method
Put the chickpeas and around half of the "juice" from the can in a food processor, reserving the remaining liquid
Peel and crush the garlic and add to the chickpeas
Add the tahini, salt, lemon juice and cumin and blitz until smooth
If the hummus is too thick, add more of the reserved liquid and blend again
Drizzle over a little extra virgin olive oil
Garnish with a dusting of paprika, a few whole chickpeas and some flat leaf parsley
This takes less than 10 minutes to make and requires virtually no skill. You can adjust all of the flavours to suit your personal taste so if you want more lemon, go for it. More garlic, add as much as you want! If you like your hummus nuttier and creamier then just add more tahini, whilst you can make it a little thinner with water and/or olive oil.
Is Hummus Good for Vegans to Eat?
Well, it's vegan, so that's definitely a good start. But more than simply ticking the most important box, hummus is incredibly nutritious. As we note in our discussion of vegan protein, hummus is a complete protein. That's because chickpeas are legumes and the tahini offers up seeds and these foods almost always create a complete protein combination delivering all of the essential amino acids. Throw in some wholemeal pita bread too and you are also combining grains, offering another good mix of proteins.
All of the ingredients have good nutritional density, meaning that there are few wasted calories and lots of good macro- and micro-nutrients. Some shop-bought hummus can be very high in fat but by making it yourself you can control this. If you want a lower calorie dip then simply don't add any oil and to make it even lower in fat only use a small amount of tahini (though this will affect the flavour and texture).
You can omit the salt too if that's something you're looking to cut down on but half a teaspoon isn't much when you consider that our recipe makes enough hummus for four. Served with some carrot, cucumber and peppers this makes for a great, super-healthy lunch, whilst it's also great as a snack or as part of larger mezze-style meal.
Nutrition
Based on the recipe above a serving (one quarter of the recipe) of our great vegan hummus delivers the following:
139 calories – perfect for a low calorie lunch or a snack or side dish
8.5g of fat – mainly "good" fats (monounsaturated and polyunsaturated)
1.1g saturated fat – less than 5% of an adult male's recommended limit
0.4g sugar – very low in sugar
6.6g of protein – around 15% of the recommended intake
4.6g fibre – around 16% of your daily requirement
Vitamins C, A and E, plus B3
Calcium, iron, zinc, selenium, magnesium, potassium and phosphorus