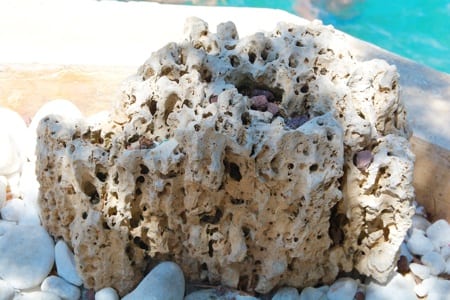 Calcium carbonate may sound more like something you used in a science experiment at school than something you would encounter in food but it is actually found in a number of things that we eat regularly. When trying to stick to a vegan diet, the challenges are many. Aside from the obvious ones, vegans need to also decipher lists of complex ingredients and understand which of the many weird and wonderful food additives are vegan friendly and which are not.
Before we look at where you might find calcium carbonate, why it is used and why calcium itself is required by humans, let's cut right to the chase and answer the question of whether or not calcium carbonate is vegan.
Calcium Carbonate is Vegan (Often!)
Calcium carbonate is another of our is it vegan? series for which, sadly, we can't provide a simple yes or no answer. Instead, as is so often the case in the confusing world of plant-based eating, we have to offer up caveats in the shape of "ifs", "buts" and "sometimes". Sorry about that, but don't blame us – it's the food industry and regulations about labelling at which we point the finger!
What is Calcium Carbonate?
Calcium carbonate is a chemical compound, which means it is a mixture of more than one chemical element. Unsurprisingly it contains calcium, as well as carbon and oxygen and has the chemical formula CaCO3. It occurs naturally, often in rocks, but is also what many marine animals' (and snails') shells are made of, as well as being a constituent of pearls and the eggshells of most animals.
For those who can put two and two together and get a number midway between three and five, that should give you a good idea about the caveats regarding the vegan credentials of calcium carbonate. If maths and clues aren't your strong points, in short, if calcium carbonate is produced from geological sources (rocks) it is vegan, but if it is produced from biological sources (animal eggs or shells), then it isn't vegan.
Issues with Labelling
It all sounds so simple right? Rocks = vegan. Animals = not vegan. Sadly, as ever, it isn't quite that straightforward when it comes to real world veganism because foodstuffs that contain calcium carbonate are not always labelled in such a way that makes it clear where the good old CaCO3 has come from.
Because calcium carbonate is so abundant in a range of rocks, including limestone, chalk and marble, as well as being found in a number of other minerals, much of the calcium carbonate used in food, supplements and household products is indeed vegan.
However, calcium carbonate produced from oyster shells, eggshells, snails' shells and a variety of sea shells is also deemed to be economically viable on an industrial scale and is regularly used. Calcium carbonate is used in so many products that for a vegan to be absolutely 100% sure they are avoiding biologically sourced versions of this compound they would need to contact a huge range of manufacturers and even then they may struggle to obtain a definitive answer.
Looking for the Vegan Symbol
When it comes to food we can make generalisations and say with reasonable certainty that the majority of calcium carbonate used is derived from rocks. That is partly due to the fact that producing it from abundant, readily available rocks is the cheapest and easiest way to obtain this compound. It is also based on letters to various food producers where they have clarified that they only use such calcium carbonate.
However, unfortunately the bottom line is the same as is so often the case: if you want to be 100% certain, only eat or use items that are marked as vegan, that list that the calcium carbonate is obtained from geological sources or where the manufacturer has confirmed the product is vegan friendly.
What Goods & Foods Use Calcium Carbonate?
Calcium carbonate has so many applications that we can't list them all but you can see a range of the most common uses in the table below. When it is used as a food additive, it may be listed as E number E170.
Use
Purpose
Various foods, for example, soy milk
Calcium fortification
Various foods, including biscuits, bread, tinned/bottled fruit and veg, and sweets
As a food colourant, preservative, acidity

regulator, stabiliser or firming agent

Toothpaste
As an abrasive and also a whitener
Various pharmaceutical uses
As an antacid and also as a filler in tablets
Building/construction
As an ingredient in cement and as aggregate
Sugar refining
Used to remove impurities
Paints
Used as a filler
Sealants and glues
Filler, rheology modifier and helps toughen and improve strength
Iron production
Purification
Compost/soil additive
Neutralise acidic soil
Calcium carbonate, as we can see, is used in such a huge range of ways, that it is impossible for a vegan to avoid it. Whilst we can assume that most of the calcium carbonate used in foods is vegan, we cannot know, for example, that the paints we buy, or the soil are vegetables were grown in, haven't used non-vegan calcium carbonate somewhere along the way.
Ultimately, we would argue strongly that this should not be an area for concern though. Animal products and derivatives can only be excluded as far as is practicable and possible (the accepted definition of veganism uses those precise words). In the scheme of things, time and effort can be better spent fighting the vegan argument elsewhere than worrying whether the steel in your house was made from iron that was processed with oyster shells.
Calcium Carbonate as a Vegan Source of Calcium
As per the table above, calcium carbonate is used to fortify some foods, notably non-dairy milks, fruit juices and health foods but also others. Calcium carbonate is particularly useful for this purpose as the bioavailability of the calcium is high. That means that calcium in this form is easily used and absorbed by the body and is not simply excreted.
We have a more detailed feature on good vegan sources of calcium that also details why calcium is so important. If you want a quick answer it is that humans use calcium in the following key ways:
To maintain healthy and strong bones and teeth
To control muscle contractions, including in the heart
For nerve functioning
For the action of various enzymes
To ensure blood clots normally
Many foods, such as soy and almond milk, that are fortified with calcium carbonate may be marked as vegan. If they are not, in the absence of clear labelling, we believe it is best to contact the manufacturer for assurance that they have used geologically produced CaCO3. Sadly, many foods that are vegan friendly are not marked as such and so until you are familiar with a particular product, it is better to check.