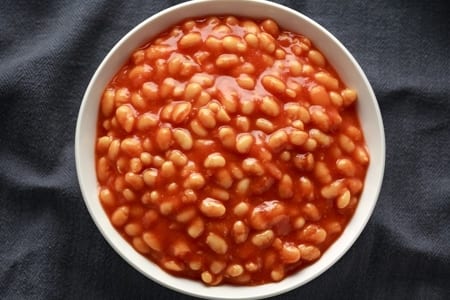 Baked beans are a food with which many people have a real affinity. They remind many of us of being kids and they are a food that is quick and easy to make, as well as being very versatile. They are actually pretty healthy too, at least in some regards, and can be a great comfort food on a cold evening. Their versatility means they are a staple constituent of a full breakfast (English, Irish, Scottish or Welsh but always vegan!), they are perfect for lunch or as a snack or indeed they can be a great part of an evening meal.
On top of that, as we discuss in our feature on vegan protein, when served in conjunction with their classic partner, a humble slice or two of toast, they form a "complete protein", delivering all the essential amino acids required by humans. But, are baked beans vegan?
Well, in suggesting they a good source of vegan protein and stating that they are a key constituent of a vegan breakfast, we may well have given the game away somewhat; but yes, baked beans are vegan friendly. Cue a huge sigh of relief amongst fans of these orange gems of goodness. That said, there are a few things worth being aware of when it comes to beans. Let's start with the end of the alphabet and consider not beans, but Beanz…
Are Heinz Baked Beanz Vegan Friendly?
As reported in Business Insider, the largest baked beans factory in the world is located in… Wigan. It will surprise few people that this is a Heinz factory and it churns out more than three million cans of Heinz Beanz every single day. Our rudimentary calculations suggest that a year's worth of beans stacked end to end would reach more than 100,000km into the sky and that in less than four years that Wigan factory could build a bean-tin tower that would reach the moon!
Silly facts aside, the point we are making is that when it comes to baked beans, for many people, that effectively means Heinz, and therefore baked beanz. It is estimated that Heinz's market share is around 65% in the UK. That figure changes over time and has been higher in the past, whilst it did drop as low as 32% in the 1990s. Right now though, we reckon that about two thirds of the people asking "are baked beans vegan?" really mean "are Heinz Beanz vegan?"
So, when we say that yes, beans are vegan, what we really mean is that the beans/beanz in the iconic turquoise tin are suitable for vegans. The labelling actually states that they are "Vegetarian Friendly" but we can confirm that they are also vegan friendly.
What Is in Heinz Baked Beanz?
The ingredients in Heinz's beans are actually relatively simple and are as follows:
Beans (51%)
Tomatoes (34%)
Water
Sugar
Spirit Vinegar
Modified Cornflour
Salt
Spice Extracts
Herb Extract
Now, even those relatively few and seemingly straightforward ingredients can throw up a number of questions and vegans may not feel 100% confident, especially given the "Vegetarian Friendly" labelling. For example, has the sugar they use has come into contact with bone char (sometimes used to purify sugar)? What is "modified cornflour"? Are the spice or herb extracts in some way non-vegan?
Sadly, committed vegans who want to be absolutely sure they are not eating anything of animal origin have to ask these questions. Heinz Beans are not certified as vegan, nor labelled as such. Thankfully, however, as already said, we can 100% confirm that despite these possible grey areas, these beans are perfectly suitable for a vegan fry-up or however else you like your favourite tomato-doused beans (we know someone here at Vegan Friendly who eats them straight from the pan, with a bit of – vegan-friendly – Reggae-Reggae Sauce thrown in for added flavour!).
In response to our enquiry, a UK Heinz spokesperson said,
Our standard Heinz beans are perfectly suitable for vegetarians (and vegans) as are our reduced sugar and salt beans.
So there you go, tuck into your favourite beans guilt free and safe in the knowledge that they are definitely vegan … unless. …
Are Other Beanz by Heinz Vegan?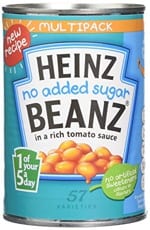 Sadly and somewhat confusingly, not all beans made by Heinz are vegan friendly. The same Heinz source went on to state that:
…our new no added sugar Heinz beans are also suitable for vegetarians (but) the recipe is not vegan.
The Heinz website itself is particularly – and we have to feel maybe deliberately – confusing and this sort of behaviour really makes life hard for those looking to follow a plant-based diet. Their FAQ rather unhelpfully reveals the following:
Are Heinz Beanz suitable for vegetarians or vegans?

No need to worry, our delicious standard Heinz Beanz in tomato sauce are suitable for vegetarians and vegans.
There is no mention that this applies only to the standard beans and equally no suggestion that other products within the range are not vegan friendly. We think this is really poor.
The Heinz Range in Review
At the time of writing, the Heinz UK website doesn't actually list the reduced sugar and salt version alluded to above. However, they do highlight the following varieties and beans-related products:
| Heinz Beanz | Notes | Vegan Friendly? |
| --- | --- | --- |
| Heinz Baked Beanz | The standard, "normal" beans | Yes |
| No Added Sugar Beanz | Includes "snap pots" | No |
| Beanz with Pork Sausages | The Heinz Bean Meals range | No |
| Five Beanz | Also available in snap pots | TBD |
Looking at the range, things are very clear when it comes to the standard product, which we have already clarified is vegan; and also when it comes to Beanz with Pork Sausages, which are obviously not vegan friendly; and also the No Added Sugar Beanz, which sadly, due to a flavouring used, are also non-vegan.
But what about the Five Beanz? This includes haricot beans and also pinto, cannellini (which are the principle bean used in most Heinz beans), borlotti and kidney beans. From a health point of view, this is great as you are getting a wider range of micronutrients and different types of fibre. But, is this product vegan?
Once again, it is labelled as being "Suitable for vegetarians", which must be very reassuring for vegetarians everywhere but isn't overly helpful to vegans. Based on the ingredients and what we know about Heinz products we believe this to be vegan too but we'll try to get 100% clarification and update this feature in due course.
Are Other Brands of Baked Beans Vegan?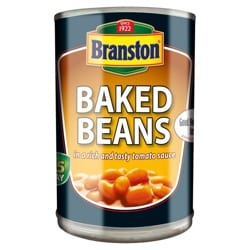 Much as Heinz are the big player in this market, they are far from the only brand of baked beans around. Knowing that Heinz Baked Beanz are vegan is of course no use if they are not the beans of choice in your family, so we have also considered some of the other main brands.
Pretty much every supermarket has their own-brand beans, whilst the other big player when it comes to this product is Branston, made by Crosse & Blackwell. It is good news and as far as we know all of the major supermarkets' beans and those made by Branston are vegan.
That said, we can't speak for all of the different beans-based products made by all supermarkets and producers so, as usual, if in doubt check with the manufacturer.
Are Baked Beans Healthy?
There are lots of valid health reasons to go vegan but a given food or diet isn't healthy just by virtue of being vegan. So, whilst most baked beans are vegan, it is also worth considering if they are healthy and whether or not they are something you should be including in your diet or that of your children, friends or family.
The picture is a little mixed when it comes to baked beans (and here we are looking specifically at the standard Heinz product, though the nutrition is similar for all "normal" baked beans, i.e. not those with reduced sugar or salt).
Nutrition in Baked Beans
The traffic light system used in the UK shows that they are classed as green for calories, fat, saturated fat and sugar, and orange for salt. A standard serving (half a can, or 207g), provides the following:
162 calories
0.4g of fat
9.8g of sugar
1.2g of salt
In addition to those nutrients, the same serving also offers up 7.7g of fibre and 9.7g of protein. That's almost 20% of your recommended protein intake and more than a quarter of your fibre (there is no RNI for fibre but 30g per day is widely accepted to be a good intake).
Those are really good numbers and with a high fibre diet being linked to so many positive health outcomes and protein being one of the nutrients vegans can sometimes struggle to get enough of, it would seem that baked beans are a great addition to a vegan diet.
Too Much Salt & Sugar?
The reason that beans are not quite the superfood manufacturers would want you to believe they are is down to the salt and sugar levels. Reductions over the past few years mean Heinz Beanz get a green traffic light for sugar but they only just scrape that and 10g per half can is still quite a lot of sugar.
There is natural sugar in the tomatoes and sugar is still the fourth ingredient listed on the can. Whilst they have done well to reduce the total sugar and they officially get the green light, we would say this is still something to be aware of, especially for those trying to reduce their overall sugar or carbohydrate intake.
In terms of salt, the orange light is definitely more of a concern. Half a can of beans is not a lot of food and yet it contains more than a fifth of your recommended salt intake. What's more, that is based on an intake of 6g of salt per day, a level many feel is too high.
Potentially compounding this issue is the most common accompaniment to beans – toast. Mass produced bread is often very high in salt, something lots of people are not aware of. According to news reported by the NHS, "bread contributes a fifth of many people's daily salt intake" and a couple of slices can contain as much as 50% of the recommended daily amount.
All in all though we have to conclude that baked beans are a healthy addition to a vegan diet. They shouldn't be eaten every day but given their fibre and protein levels, plus other vitamins from the tomatoes, they are certainly an excellent store-cupboard staple.
Make Your Own Vegan Baked Beans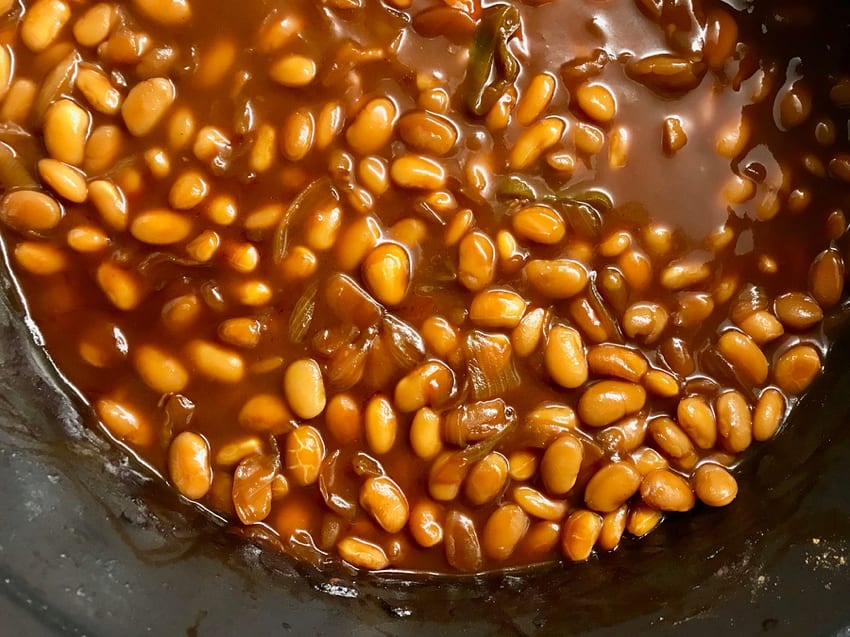 Of course, one way to make your beans even healthier is to make your own. As with almost all dishes made from scratch, the end result will be healthier (if you choose to make it so) and a lot tastier. You'll have full control over the nutrition, taste and, most importantly, you can be absolutely 100% certain that your beans are vegan.
As with most of the vegan recipes we feature, this is a flexible one, so feel free to switch ingredients in and out and play around with the quantities and cooking times. We like our beans rich and smoky with lots of tomato flavour and just a touch of background heat from the chilli.
Homemade Vegan Baked Beans
Ingredients
1 can of cannellini
1 medium red onion
100g of good quality passata
2 cloves of garlic
1 tablespoon of tomato puree
1 teaspoon of smoky paprika
A bay leaf
Chipotle flakes
Lots of salt & pepper and a little oil
Method
Finely dice the onion and gently fry in a teaspoon of oil (rapeseed is our pick) for 10 minutes until soft.
Crush and mince the garlic and fry for two more minutes.
Add the smoky paprika and season very well with salt and pepper, then add the tomato puree and cook for one minute.
Add the passata and bay leaf and cook over a low heat for 15 minutes.
Remove the bay leaf and add the chipotle flakes to taste.
We use red onion to add a depth of flavour and also add a little natural sweetness as there is no added sugar in our recipe. The secret to this recipe is patience, so take your time to soften the onions and to reduce the tomato sauce. You want it to be really thick and rich at the end.
Season to taste once again at the end but be generous with the salt as even then it will contain far less salt than standard shop-bought beans. Lastly, a small sprinkle of dried chipotle flakes will give just the slightest tingle of background heat whilst adding another layer of smokiness. If you don't have these, any chilli will do, whilst if you don't like your beans to have a kick, simply leave the chilli out entirely.