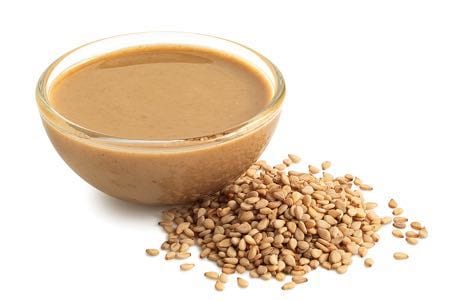 Tahini is a sesame seed-based condiment that can be served as a standalone dip or used as an ingredient in a huge number of other dishes. Tahini has been popular in the Middle East and Eastern Mediterranean areas for millennia and its use as one of the main ingredients of hummus has brought it to the attention of vegans and vegetarians over the years, as well as those who just love delicious food. But can we be sure that tahini is vegan? Well, thankfully, yes, we can.
What Is Tahini & How Is It Made?
Given that hummus is something of a vegan staple, it should come as no surprise that tahini, a key ingredient, is also vegan friendly. The reason is that tahini is generally made from no more than just three ingredients, all of which are suitable for vegans.
In fact, the best tahini should be just 100% pure sesame seeds, in the same way that almond butter is ideally made from just almonds with no other additions.
Sesame Seeds – Sesame seeds come from the sesame plant (Sesamum indicum), which was one of the first oilseed crops that is known to have been cultivated. Suffice to say, sesame seeds are vegan friendly as they come from a plant.
Oil – Oil is not normally added but where it is, various oils can be used to make tahini. However, there is no reason to choose anything other than a nut or vegetable oil, all of which are vegan, with olive oil being a popular choice.
Salt – Again, there is no need to add salt but we have seen some brands do so. Salt – a compound made from chlorine and sodium – is vegan.
How to Make Tahini
Making tahini is a very simple process, mainly due to the fact you only really need one ingredient! Of course you can buy tahini readymade in jars in most big supermarkets, and most of these will not contain any additional ingredients. But if you fancy making your own, just follow these simple steps:
Tahini Ingredients
100g hulled sesame seeds – hulled sesame seeds give a much nicer flavour than the unhulled alternative
A little neutral oil – there are lots of great vegan oils but you want a neutral one, such as rapeseed
Tahini Method
Toast the sesame seeds in a dry, wide pan over a low to medium heat (do not add oil or water); be sure to stir the whole time and take off the heat once they start to get a little colour. This enhances the flavour and aroma but be careful not to overdo it
Once cooled, add the toasted seeds to a food processor and blitz them until they begin to form a paste-like consistency
It isn't necessary or traditional but a little oil as you blend can help get a smoother tahini, more akin to shop-bought products
Your tahini is now ready to use as a dip, add to your hummus recipe or use as an ingredient in another dish, such as baba ghanoush
Is Tahini Good For You?
Seeds are nutritional powerhouses, packed with goodness, and given tahini is effectively just sesame seed "butter" it should be no surprise that it is indeed very good for you. It is a very good source of thiamine (vitamin B1), niacin (vitamin B3), phosphorous, zinc and iron and also has good levels of calcium, magnesium, potassium and other B vitamins.
With around 17g of protein per 100g, it is also a very good source of vegan protein. Given that some of these nutrients can be hard to get regularly on a vegan diet, tahini can be a very useful addition to a plant-based eating regimen.
While there are around 52-55g of fat per 100g of tahini, only around 7g of that is saturated fat, with about 20g of monounsaturated fat and 23g polyunsaturated fat (depending on the oil used when making it). Sesame seeds also contain varying quantities of omega-3 and omega-6 fats too. As with all nut and seed butters, the high fat content makes tahini calorie-dense, so it should be eaten in moderation, healthy and nutritious though it is.
It is also worth noting that some people can have quite a severe allergic reaction to sesame seeds, so if you are serving tahini (or other sesame seed products) at parties or gatherings, it's probably worth making sure none of the guest have such allergies, or labelling the product accordingly.
Which Vegan-Friendly Dishes Use Tahini?
There are loads of Middle Eastern, Mediterranean and African dishes that include tahini amongst their ingredients. Here are some of our favourites, though you can experiment making simple yet delicious dips just by adding lemon or lime juice, or yoghurt, to tahini, plus whatever spices take your fancy.
Hummus – A vegan staple made with chickpeas, tahini, oil, lemon juice and salt, and various other ingredients according to personal taste
Baba Ghanoush – Another vegan-friendly dip that uses aubergine as its main ingredient
Icing – Tahini can be mixed with maple syrup and a little coconut oil to make icing for cakes
Salad Dressing – You can easily turn tahini into a tasty salad dressing by making it a little less viscous: adding lemon juice, white wine vinegar, or even just water, and some seasoning can do the trick nicely
Marinade – Drizzling tahini over carrots, parsnips and other vegetables prior to roasting can bring out a lovely earthy flavour
Halva – Tahini is pretty versatile and it can be used for both savoury and sweet dishes; Halva – a Middle Eastern sweet – being a great example of the latter
Where Do Sesame Seeds Come From?
Thought to have been domesticated thousands of years ago by people in China and ancient Egyptians, sesame seeds may have originated in Asia or East Africa. They have been used both as ingredients in cooking and for other purposes (such as the burning of their oil) for centuries.
In modern times, the biggest producers of sesame seeds include China, India, Tanzania, Myanmar, Nigeria and Sudan. There might be some ethical concerns among some people about buying produce from some of those regimes on human rights grounds, but we urge further research and personal choice on that front.
Tahini: Conclusions
As items in the Is It Vegan? section of our site go, the case for tahini being vegan is certainly a conclusive one: it is made from seeds from a plant that is easy and sustainable to grow. No animals are involved anywhere along the way and on top of all that, it's pretty darn healthy and very darn tasty. So, vegans, tahini is very much on the menu!