Marzipan is a sweet, almond-based substance that is commonly used as icing (for instance, when used as a layer between cake and royal icing on wedding cakes) or to make (often artistically shaped) sweet treats. It is popular in many countries around the world and is used in a wide variety of ways, which we'll investigate shortly. But let's get straight to main point of this article and answer the question: is marzipan vegan?
The good news for marzipan lovers who are following a plant-based diet is that marzipan certainly can be vegan friendly. Indeed, you will often find that shop-bought marzipan is fine for vegans to consume as they will often contain only ingredients that have originated from plants (this is the case, for instance, with Tesco Ready Rolled Marzipan and both the Golden Marzipan and White Marzipan options from Waitrose).
What Would Make Some Marzipan Non Vegan?
But, some marzipan, especially that which is sold by more artisan confectioners, may contain non-vegan ingredients, including eggs or honey.
Problems might arise also, when it comes to marzipan that is sold as one of the constituents of a cake or some other product. Of course, most vegans would be on the alert for non-vegan ingredients when it comes to cakes anyway – which often contain eggs, butter and possibly milk – so, it is unlikely that the way the marzipan has been made would be the main or only culprit in rendering a cake non-vegan.
In general, you should be able to find a vegan-friendly marzipan without too much bother, and if not you can make your own with relatively little hassle. Let's take a look at the main ingredients that are likely to pop up in marzipan and then we'll check out some of the main products it is used for.
What Is Marzipan Made From?
As mentioned, marzipan is based around almonds and it can be made with very few ingredients with just sugar, almonds and water being sufficient to produce a basic marzipan. Commercially produced marzipan will often include one or two more ingredients.
Ingredients in Tesco Marzipan
For instance, the Tesco own-brand pre-rolled marzipan has the following items listed:
Sugar
Almonds (25%)
Glucose syrup
Invert sugar syrup
Almond oil
Invertase
Stabiliser (xanthan gum)
Though some of those ingredients might not sound great, they are all usually vegan. It is possible that some sugar isn't vegan on account of the use of bone char during the refinement process. But, in this case, Tesco have labelled their marzipan as suitable for vegans so we are confident bone char was not used for their sugar (or sugar-related ingredients).
Another ingredient with which people might be unfamiliar is invertase, but that is synthesised from yeast, which is a member of the fungus kingdom rather than the animal kingdom, and so it fine for vegans to consume. Finally, xanthan gum is a common food ingredient that is derived from simple sugars that are fermented with the aid of bacteria. Again, no animals involved so it is fine for vegans.
Main Ingredients in Marzipan Recipes
If you search for marzipan recipes on that big old Internet, you will find that many will include a wide range of other ingredients that either add flavour or alter the colour, consistency or mouthfeel of the end product. Here are some of the main ingredients that commonly pop up in marzipan recipes:
Ground almonds
Caster sugar
Icing sugar
Eggs (sometimes yolks, sometimes whites, sometimes whole eggs – clearly, eggs are not vegan, but they are not an essential ingredient)
Almond extract
Cinnamon
Orange zest and/or juice
Lemon zest and/or juice
Rose water
Vanilla pods
There are many variations that include other ingredients to bring different flavours to the end marzipan product. It is also the kind of foodstuff with which you can experiment to find the combination that suits you.
What Is Marzipan Used For?
Marzipan is used in various foods and exactly how it is utilised varies in different countries or geographical regions. Note that many of these foods will not be vegan friendly but that there may be ways to make vegan versions of them (for example, it is possible to make the traditional German Christmas bread stollen with only vegan-friendly ingredients – i.e. by replacing butter, milk and eggs with vegan alternatives).
Marzipan Pigs
Marzipan shaped into pigs is a popular and tradition sweet treat in Germany and Scandinavia. Whether vegans want to eat pigs, even marzipan ones, is another matter!
Stollen
As mentioned this is a German bread product that is popular around Christmas – when it is known as Weihnachtsstollen. Marzipan is often added to the dough that also includes dried fruit, vanilla, sugar, milk, eggs, butter and usually a bit of rum. Clearly, this is not vegan friendly when made in a traditional manner.
Marzipan Eggs
Eggs moulded out of marzipan are common treats at Easter in Scandinavia. We prefer chocolate and, if you are the same, check out our feature on Vegan Easter Eggs!
Christmas Cake & Wedding Cake
A layer of marzipan is often added to fruit cakes (whether for Christmas cakes or wedding cakes) before a layer of white royal icing. As with stollen, it is possible to make vegan versions of these cakes, but generally, they will include non-vegan ingredients if you buy one in a shop.
Marzipan Fruit & Veg
If marzipan pigs or eggs are a little off-putting, you might fancy a nibble of Italian favourite: frutta martorana. These are marzipan sweets that have been shaped and coloured (using vegetable dyes) to resemble various fruits and vegetables.
Especially popular in Palermo, Sicily, they are usually dished out to kids on All Saints' Day on the 1st of November. Marzipan fruit is also popular in Portugal and particularly so in the Algarve region.
Marzipan Flowers
Marzipan flavoured with orange-flower water and shaped into flowers is a favourite in areas of the Middle East, including Lebanon.
Peanut Marzipan
In South America, a version of marzipan (mazapán) is made using peanuts rather than almonds and is popular around the Christmas period.
Cashew Nut Marzipan
In Goa, in India (a former Portuguese colony), their version of marzipan (maçapão) uses cashew nuts as the primary ingredient instead of almonds and it is used to make sweets in various Christmas-themed shapes as well as Easter eggs.
Marzipan Conclusions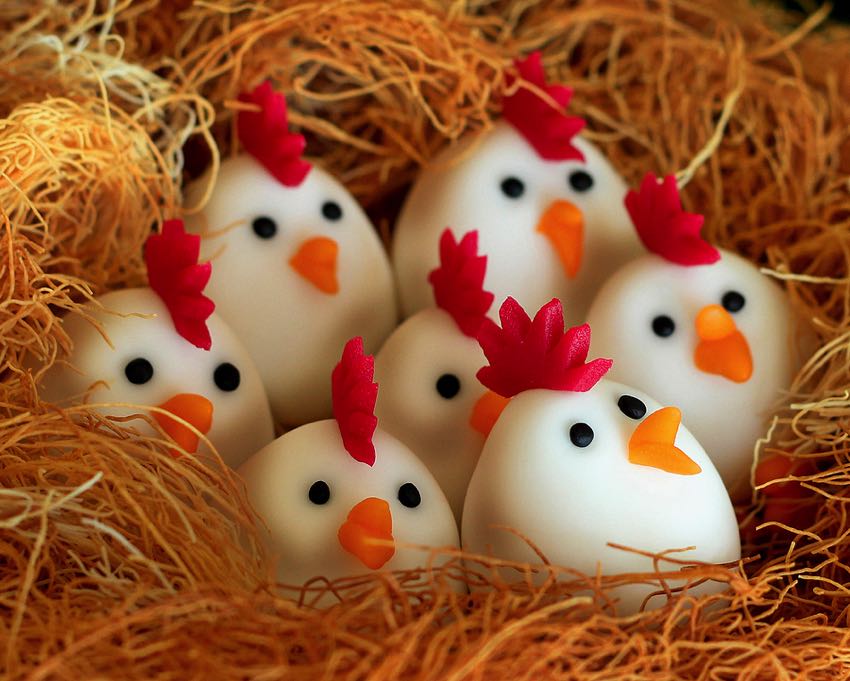 In summary, this almond-based, malleable sweet treat is very often vegan, but it is worth being aware that some marzipan, or marzipan products, could well contain non-vegan ingredients (with eggs being the main culprit in the marzipan itself).
It's never too difficult to find vegan-friendly marzipan, however, and most mass-produced versions that you will find in your local supermarket are fine for vegans to consume. Always check the ingredients to be on the safe side though.