As ever in our Is It Vegan? section though, the key question here is simple: are Kit Kats vegan? And, thankfully, we have a simple answer: most are not, but – fanfare please! – they have launched a vegan Kit Kat which is indeed vegan. Obviously!
Vegan Kit Kat: KitKat V
In June 2021, the vegan Kit Kat was launched in the UK (and Poland, plus the three Baltic nations, Latvia, Estonia and Lithuania). Known as the KitKat V, the bar is 100% plant based and is certified as vegan. The wafer is vegan, as is the chocolate that coats it, meaning the KitKat V is a goer for vegans everywhere.
Coming in a stylish packet that includes some of the traditional red but lots of green and a bit of a rainforest feel, the KitKat V is a great addition to the world of vegan chocolate. Whilst a lot of dark chocolate is naturally vegan, when it comes to the vegan Kit Kat, plenty of work has gone into creating a product that is very close to the original but does not include any milk or other non-vegan ingredients.
Nestle Responded to Demand
As with Kit Kat's standard range, this product uses sustainable cocoa (Kit Kat used to work with Fairtrade but switched to the Rainforest Alliance) but the key for vegans is the removal of milk. It is replaced with an alternative made from rice that took a lot of perfecting but that the makers now feel "gives the perfect texture and flavour".
York-based Louise Barrett, who is Head of the Nestlé Confectionery Product Technology Center, noted that the main challenge was "to create a vegan-friendly KitKat … using plant-based alternatives. To achieve this, we worked very hard to get the right balance between the milk alternative and the cocoa." She went on to say that "The result is a vegan chocolate that we're very proud of, and I hope all KitKat fans will love it as much as we do." The early signs are good… very good.
Is the KitKat V Nice?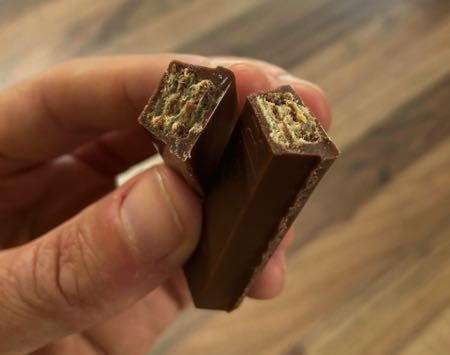 Yes, yes it is! We've tried it ourselves (well, six times and counting actually as we like to be thorough!) and it really is a brilliant example of a vegan version of a classic piece of confectionary. It might be a push to say that Kit Kat's #veganbreak marketing has broken the internet, or even really scratched its surface, but even so, there are plenty of positive comments about the KitKat V using the tag.
Personally, we thought they were a really good "impersonation" of a standard KitKat, although we are working from memory, of course. That said, we gave them to our non-vegan tasters who agreed. Perhaps the flavour was very slightly different but we are very confident that if you simply gave someone a KitKat V they would not question it. And, when we talk about a vegan version of something or a vegan substitute, that really is the gold standard. So, well done KitKat V, and if you were a fan of the original then this is 100% a product we recommend.
Where Can I Buy a Vegan KitKat?
Well, it took a lot of searching for us to actually get hold of one and in the end we actually had to give up, at least by normal means. We just could not find a vegan KitKat anywhere. So, we contacted makers Nestle who told us that for the time being at least they are only available in Sainsbury's. Strange.
Anyway, once we had this information, getting hold of a KitKat V was easy. We went to Sainsbury's. Whether this is a supply issue or a period of exclusivity or a trial we do not know but hopefully they will become far more widely available before too long.
Are Any Other Kit Kats Vegan?
Once again we can give a simple answer to this because the KitKat V is the only Kit Kat product that is vegan at the time of writing. We hope and suspect that this will change because first, who doesn't want a vegan Kit Kat chunky? Second, at the moment, these plant-based bad boys are only available in four-finger packets and our waistline is expanding rapidly due to the fact that they taste great… and the other fact that we have very little willpower.
So, whilst Kit Kat's non-vegan offering is hugely diverse, with a range of flavours, sizes and styles, vegans must simply stick to the standard four-finger version. This is better than nothing but we certainly hope there is more to come.
You may be wondering why dark chocolate Kit Kats are not vegan. Well, like with all the bars that Nestle make under the Kit Kat brand, even though this does not use milk chocolate, it does include a number of milk-based or milk-derived ingredients. We'll explain more about this below.
What Makes Other Kit Kat Products Non-Vegan?
A standard KitKat contains a number of non-vegan ingredients, all of which are milk-based. Essentially it is a wafer covered in milk chocolate so this is no real surprise and the ingredients list for a normal bar includes the following:
Sugar, Wheat Flour (contains Calcium, Iron, Thiamin and Niacin), Milk Powders (Whole and Skimmed), Cocoa Mass, Cocoa Butter, Vegetable Fats (Palm, Shea, Mango Kernel, Sal), Lactose and Proteins from Whey (from Milk), Whey Powder (from Milk), Butterfat (from Milk), Emulsifier (Lecithins), Yeast, Raising Agent (Sodium Bicarbonate), Natural Flavourings

If it wasn't for the obvious inclusion of so many milk-based ingredients, we would question the emulsifier (which is probably vegan but we would need to check), the "natural flavourings" (again, probably vegan but who knows?) and some people may be unhappy about the use of palm oil. However, we simply do not need to worry about possibly non-vegan inclusions when there are so many clearly non vegan ones.
What About the Dark Chocolate KitKat?
Chocoholics fear not because there is loads of great vegan chocolate out there and a lot of dark chocolate is naturally vegan. But despite this, the dark chocolate version of the nation's favourite biscuit/chocolate/wafer is not vegan, as we have mentioned above.
Once again, it is milk that is the offending item, or rather milk derivatives. The KitKat dark is not exactly a luxury, high cocoa product with few ingredients and in fact the list of ingredients is very, very similar to the standard version of the product, as below:
Sugar, Cocoa Mass, Wheat Flour (contains Calcium, Iron, Thiamin and Niacin), Vegetable Fats (Palm, Shea, Mango Kernel, Sal), Cocoa Butter, Butterfat (from Milk), Emulsifier (Lecithins), Milk Powders (Whole and Skimmed), Yeast, Raising Agent (Sodium Bicarbonate), Lactose and Proteins from Whey (from Milk), Whey Powder (from Milk), Natural Flavourings

Ultimately, as far as we are aware, all the different variations of this iconic biscuit, KitKat V aside of course, include some form of milk-based item. As such, if you are a vegan, it is just the KitKat V for now, though we hope they expand the range and at the very least the stockists sooner rather than later.
Kit Kat Trivia
Now you know why standard Kit Kats are not vegan and know all about the brilliant new vegan Kit Kat, it's time for a break: a Kit Kat trivia break! Get the kettle on, peel back the wrapper and break off a vegan Kit Kat finger or two!
Invented in 1935 – The Kit Kat was born in York in 1935.
History – Though first made in 1935, Rowntree's trademarked "Kit-Cat" and "KitKat" as early as 1911 and launched a box of chocolates in the 1920s under those names.
Name Change – It was initially known as a "Rowntree's Chocolate Crisp".
What's in a Name? – As Nestle themselves confirm, "Kit Kat was originally the name of a seventeenth Century literary and political club that met in the pie shop of a pastry cook called Christopher Catling" – Kit Cat is a shortened form of his name.
4 Fingers First – The first Kit Kat was four fingers, with the small two-finger one coming later on and the chunky version later still.
Big in Japan – Kit Kats are so popular in Japan the phenomenon even has its own page on Wiki! Japan's favourite flavours include cherry blossom and green tea!
Lucky Kit Kats – The main reason Japanese people so love having a break is that the name sounds a lot like the good luck phrase "Kitto Katsu".
Ownership – Nestle bought Rowntree's in 1988, although in the US, Kit Kat's are made by a subsidiary of chocolate giant Hershey.
Chocolate, Biscuit… Or Cake?! – As said, we're leaving the chocolate bar/biscuit debate well alone but just to blow your mind a little further, Kit Kats were originally cakes! Well, they were made in the Cake Department at any rate, due to chocolate being referred to as "a cake of chocolate" in those days.
KitKat V – As you may have heard, in June 2021, the "KitKat V" hit the shelves – a fully plant-based, 100% vegan Kit Kat! Now you can have a break without hurting a cow!