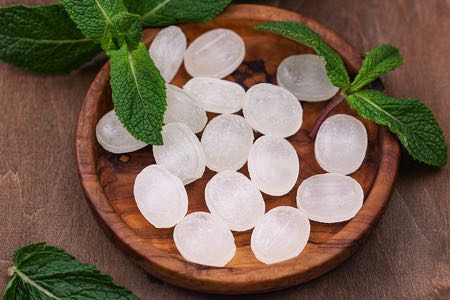 Mints are refreshing sweets that come in many guises, from hard to soft, chewy to crumbly. And though they share similar minty flavours (based on the mentha genus of plants) and often similar colours (white being most commonly associated with mints) they can vary greatly in style.
But whether you are a lover of Polos, Tic Tacs or even old school Everton Mints, you will probably want to know the answers to the question at hand: which mints are vegan? And indeed, which mints are not vegan?
Not All Mints Are Vegan, But Plenty Are!
Luckily for vegan mint-lovers out there, there are plenty of very nice vegan-friendly mints on the market. Sadly, there are some notable mints that are out of bounds for committed vegans though. In this article, we'll run through the top vegan mints and we'll list those that vegans should avoid (along with the offending ingredient(s) that causes them to be non-vegan).
We like to start things off in a positive fashion, so let's begin with some of the best vegan-friendly mints available in the United Kingdom, which includes a couple we feature in our more general Vegan Sweets article.
Note that for this article we are looking at mint sweets in the traditional sense, so this would include those that come in cylindrical packets (such as Polos, Extra and Softmints), bag-like packets (such as Everton Mints and Murray Mints), box-like packaging (such as After Eights or Tic Tacs), and indeed those that are still sold by the quarter at traditional sweet shops (such as Mint Imperials). So, let's get things rolling with our top vegan-friendly mints:
Top 10 Vegan Mints
Here, in no particular order, are our Top 10 Vegan Mints. Note that there are plenty of specialist vegan-friendly mints out there but we've focussed on the most popular and widely available options that are likely to appear at most supermarkets and sweet shops in the UK. Also note that the mints mentioned are vegan at the time of writing, but it's always wise to check ingredients in case they change.
1. Polo Mints
First made by Rowntree's in 1948 and now owned by Nestlé, the mint with the hole is very popular… and vegan! The company confirmed as much in a July 2018 document, stating that Polo Mints Original, Polo Spearmint, and Polo Sugar Free Mints were all suitable for those on a vegan diet.
There are occasionally spin-off or special edition Polo products and these should be investigated on a case by case basis by checking the ingredients and, if unsure, by contacting Nestlé directly.
2. Trebor Softmints

For those who prefer their mints to be a little softer, you can't really beat Softmints. They contain carnauba wax, but that is fine for vegans, as are the other ingredients.
3. Smints
These sugar-free breath-freshening mints are very popular and according to the FAQ page on the Smint website, their Mint, Spearmint and Peppermint flavours are fine for vegans to consume. However, vegans should avoid the Strawberry flavour as they contain E120, otherwise known as carmine or cochineal, which is made from insects and is not vegan friendly.
4. Fox's Glacier Mints
A favourite of grandparents in the 1980s, Glacier Mints were first produced by Leicester-based Fox's in 1918. The company has changed hands a number of times in the last few decades, and is now owned by Valeo Foods under the Big Bear Confectionery banner. The mints themselves, though, have changed little over the years, and are fine for vegans to eat.
5. Mentos
Some Mentos mints appear to be vegan friendly, though others have not been confirmed as such. On their product pages it is clearly stated that Mentos Spearmint Roll are suitable for vegans, though this is not stated for other mints, so to be on the safe side, stick with the Spearmints.
We contacted their customer care teams and they said, "I can confirm that our Mentos Mint Roll is not suitable for vegans as it contains Beeswax." But the Spearmints are fine.
6. Bendicks Mints

These semi-luxurious dark mint chocolates have a Royal Warrant from the Queen, and they are not only very tasty, all their mints are vegan friendly, as they state on their website.
7. Mint Imperials (Sometimes!)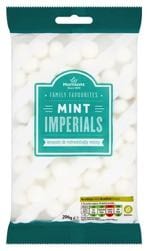 Mint Imperials are often the kind that appear with the bill at the end of a meal at a restaurant, and some of them are vegan friendly… but many are not. For instance, Morrisons Mint Imperials and Waitrose Mint Imperials are fine, but Tesco Mint Imperials are not (as they contain beef gelatine).
As such, if you are not buying your own and hence can check the ingredients, it might be better to play it safe and give those minty post-meal freebies a swerve unless the waiting staff can let you know where they bought them.
8. Waitrose Mint Crumbles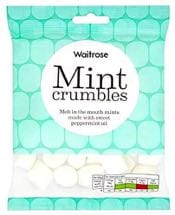 Essentially balls of minty sugar (97% sugar to be precise!) there is not much to these, but they are very palatable – if not at all healthy – and perfectly vegan friendly.
These are actually quite good for grandparents or anyone who don't want to risk breaking their teeth on some of the harder mints in the list!
9. Peppersmith Mints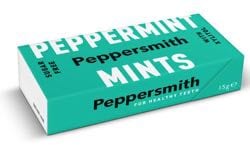 Peppersmith make various mints (and gum) that uses plant-based sweetener xylitol instead of sugar. As they confirm on their website, everything they make is approved by the Vegetarian Society to be suitable for both vegetarians and vegans.
10. Tic Tacs (Sometimes!)
Another iconic mint that was first produced back in 1968 by Italian company Ferrero (of Ferrero Rocher and Nutella fame). Whilst they apparently used to use shellac (from insects) as a glazing agent, they now use plant-based carnauba wax. As such, the mint flavours are fine for vegans, and certainly the Fresh Mint flavour.
Note that some of the other flavours sold in the UK, notably Lime & Orange and Cherry/Cola, include carminic acid, which is derived from insects and so these are not vegan. Also, check any non-standard flavours that might appear from time to time in case they include non-vegan ingredients.
Bonus Entry: Kendal Mint Cake
Though some might dispute whether Kendal Mint Cake should even be in the 'mints' category, we think it should, so it's here as a bonus entry rather than as part of the Top 10.
Made from sugar, water and peppermint, this sweet, traditional energy source for walkers and climbers is fine for vegans to consume.
Non-Vegan Mints to Avoid
Here we'll list the most popular mints sold in the UK that are not vegan, along with the ingredient that puts them on the naughty step.
Mint
Company/Brand
Notes
Extra Strong Mints
Trebor
Contains gelatine, made from animal hooves or other parts, and hence they are not suitable for vegans.
Butter Mints
Various (e.g. Tesco Butter Mintoes)
The clue is in the name here; butter mints are generally made with butter, which comes from milk which comes from cows… so they are not vegan. Note that some butter mints may be vegan if made with vegan butter substitutes instead of dairy butter.
Humbugs
Various (e.g. Morrisons Mint Humbugs)
Humbugs tend to contain milk derivatives, such as butter oil and condensed milk, and so are not vegan. There might be exceptions that do not contain milk-based ingredients, so check the ingredients just in case.
Everton Mints
Various (e.g. Maynard Bassetts Everton Mints, Morrison Everton Mints)
Essentially a slight variation on humbugs, Everton Mints were thrown to fans at Goodison Park who came to watch Everton FC, the black and white stripes of the mint replicating the team's kit at the team.

Alas, like other humbugs, there are milk derivatives used in most Everton Mints and so vegans – even those who support Everton – should give them a miss.

After Eights
Nestlé
The archetypal after dinner mint is not vegan as they contain butterfat from milk. As we explain in our dedicated article on After Eights though, there are plenty of vegan-friendly alternatives.
Welsh Mints
Various
Another variant of humbugs and another that contains milk derivatives and hence are no good for vegans.
XXX Extra Strong Mints
Big Bear Confectionary
As with Trebor Extra Strong Mints, these hard-hitters of the mint world also include gelatine amongst their ingredients.
Curiously Strong Mints
Altoids (Mars Wrigley)
Altoids mints have been going (curiously) strong for almost 250 years, but unfortunately they – like the M&S curiously similar Curiously Strong Mints – contain gelatine so are not suitable for vegans.
Which Ingredients Stop Mints Being Vegan?
There are many similarities between the animal-derived ingredients found in some mints and those that crop up in sweets in general. Some are more obvious than others, with gelatine being a prime example.
Others though require a little more research and knowing which E numbers are vegan can save you a lot of head-scratching when you're doing your weekly shop or popping into the sweet shop. Here are the main ingredients that are likely to render mints non-vegan.
Gelatine
Gelatine (E441) is made from various animal parts, including hooves, cartilage and bones and is present in lots of sweets in general, including some of the mints mentioned above.
Shellac
It is possible that shellac (also known as E904) could be used as a coating for some mints.
Beeswax
Beeswax comes from bees, which are animals, and though it doesn't necessarily kill them, acquiring beeswax could potentially harm them and certainly exploits them so, as with honey, beeswax is not vegan. It is used in some well-known mints, such as Mentos Mint Roll.
Milk or Milk Derivatives
As present in humbugs and related mints, milk and derivatives of milk can cause mints to be non-vegan.
Cochineal
Made from crushed insects, this colouring – which also goes by the names of carmine, carmine lake, natural red or E120 – is unlikely to be present in most mints (that tend to be white), but it might pop up in spinoffs of mint brands, such as the Strawberry Smints.
Conclusions: Best Vegan Mints
Luckily, there are many mints out there that are fine for vegans to suck or chew on. Most of these are what would be seen as accidentally vegan, and they cover most styles of mint from the iconic Polo to the chocolate-covered Benedicks offerings, with plenty in between.
There are, of course, a few notable mints that are off the vegan menu, including most varieties of Extra Strong Mints, humbugs and their variants, and After Eights. But there are enough vegan-friendly mints available to satisfy most mint-lovers.